7.7

/

10

Alchetron

8.4

Rate This




Director

Don Hertzfeldt


Duration




Language

English






Genre

Animation, short, Comedy


Writer

Don Hertzfeldt





Release date

2000 (2000)





Similar

Grandma Got Run Over by a Reindeer (film), Rugrats in Paris: The Movie, The Scarecrow (2000 film)
Rejected best oscar award winner movie
Rejected is an animated short comedy film by Don Hertzfeldt that in 2000 was nominated for an Academy Award for Best Animated Short Film at the 73rd Academy Awards. It received 27 awards from film festivals around the world.
Contents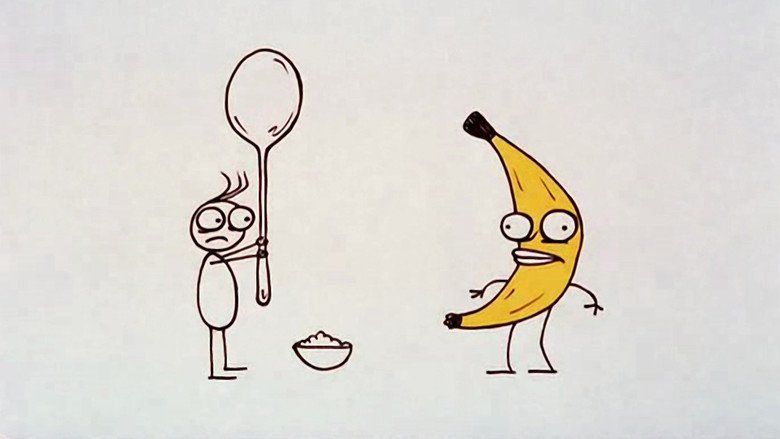 Rejected has a cult following and has grown into a pop culture icon that is frequently quoted or referenced. In 2009, it was the only short film named as one of the "Films of the Decade" by Salon.com. In 2010, it was noted as one of the five "most innovative animated films of the past ten years" by The Huffington Post.
Story
A fictional frame story explains that Hertzfeldt was commissioned to do animated segments for commercials and television network interstitials, but they were all rejected upon receipt. This is followed by a collection of short, surreal vignettes, presented as a reel of rejected corporate advertising work. According to the frame story, Hertzfeldt was assigned to do commercial segments for the Family Learning Channel, which were rejected after review. He would later do commercials for the Johnson & Mills Corporation, which was rejected outright. After the Johnson & Mills Corporation Advertisements, the frame story states that Hertzfeldt began finishing commercials and shorts with his left hand. After the short segments, the story says that the rejected cartoons were running out of control, and later on fell apart. The animator begins to break down mentally and the animated world he created literally begins to (like the frame story said) fall apart, brutally killing all of his characters in the process.
Exhibition History
Rejected world-premiered at the San Diego Comic Convention in 2000. Between hundreds of film festival appearances since then, Rejected also toured North American theaters in 2000, 2001, and 2002 with Spike and Mike's Sick and Twisted Festival of Animation; in 2001 and 2002 again with a retrospective touring program of Hertzfeldt's and animator Bill Plympton's films called "The Don and Bill Show"; and returned to theaters once again in 2003 and 2004 with Hertzfeldt's own the Animation Show tour.
In 2003, two of the "Fluffy Guy" characters reappeared in three Hertzfeldt cartoons created to introduce and book-end the first year of the Animation Show: Welcome to the Show, Intermission in the Third Dimension, and the End of the Show.
Rejected was scheduled to air on Adult Swim in 2001 but was delayed for unknown reasons—it was rescheduled to air in November 2002 "uncut and commercial free", and was heavily promoted on the network that week. However, the short was pulled from the schedule at the last minute, for unknown reasons. Rumors about the reasons behind this highly unusual action have included: the film's brief use of the phrase "Sweet Jesus" ("Jesus" being a word allegedly not allowed on a Turner Network back then), and an anonymous high-ranking network executive simply not finding the short to be funny. Rejected has since aired without incident on the Cartoon Network in other countries as well as on other international television networks, but has to date never been broadcast on American television. However, a brief clip from the film has since aired on the Adult Swim anthology series Off the Air, 14 years later, in the episode Holes. The scene mentioned in the episode is the scene with the "fluffy guys" in which one announces that his "anus is bleeding."
Rejected returned to movie theaters in 2006 as part of the Sundance Institute's 25th anniversary "Art House Project", a special screening series of Sundance films for local audiences nationwide. Rejected was one of 5 shorts and 25 features from Sundance's history selected as "essential" and representative of the spirit of the Sundance Film Festival.
Most recently, the film returned to theaters in 2008–2009 as part of the Evening with Don Hertzfeldt screening series.
DVD
Ever since its original theatrical run, the film has been a very popular target for Internet bootlegs, and in 2001 Bitter Films released a limited edition DVD "single" to give fans a proper alternative. Hertzfeldt has stated on the Bitter Films website that his concern with bootlegs has always been over quality control issues, and never a financial one. The DVD "single" featured a deleted scene as well as an audio commentary, and is now out of print.
In 2006, Rejected was remastered and restored in high definition for inclusion on the DVD, "Bitter Films Volume 1", a compilation of Don Hertzfeldt's short films from 1995-2005. Special features on this DVD relating to Rejected include a new text commentary by Hertzfeldt (via closed-caption boxes), footage from the abandoned cartoon "the Spanky the Bear Show" that later evolved into a central scene in the film, original pencil tests, the 2001 audio commentary, and dozens of pages devoted to Hertzfeldt's original sketches, storyboards, notes, and deleted ideas from the film. The DVD is available exclusively from the Bitter Films website.
A 35-second deleted scene from Rejected was only released on the 2001 DVD "single". In it, a father inquires into his son's desire to drink goat's blood. The scene appears to fit in with the "Johnson & Mills" portion of the original film, and is revealed to be an advertisement for cotton-swabs at the end.
Inspiration
Although the film is fictional and Hertzfeldt has never done any commercial work, he did receive many offers to do television commercials after Billy's Balloon garnered international attention and acclaim. Hertzfeldt is an artist with anti-corporate leanings and in appearances has often told the humorous story of how he was tempted to produce the worst possible cartoons he could come up with for the companies, make off with their money, and see if they would actually make it to air. Eventually this became the germ for Rejected's theme of a collection of cartoons so bad they were rejected by advertising agencies, leading to their creator's breakdown.
Hertzfeldt has never accepted "real" commercial work and has stated numerous times on his website and in public appearances that he never will, as he feels they are "lies" and does not want to lie to his audience.
Besides the iconic Allegro ma non troppo from Beethoven's 9th that plays in the text introductions to each segment, a particular segment with the "Fluffy Guys" uses background music from the Swedish Christmas song Nu är det jul igen.
References
Rejected Wikipedia
(Text) CC BY-SA
Rejected IMDb
Rejected themoviedb.org