6

/

10

1

Votes

Alchetron

Rate This




Initial release date

1998




Publisher

THQ




Mode

Single-player video game






Developer

GTE Interactive Media




Genre

Action-adventure game






Platforms

Microsoft Windows, Macintosh operating systems




Similar

Dust: A Tale of the Wired West, Jump Raven, China: The Forbidden City, Titanic: Adventure Out of Time, Lunicus
Let s play redjack revenge of the brethren 1
Redjack: Revenge of the Brethren is an action-adventure video game developed by Cyberflix and GTE Entertainment, and released by THQ in 1998.
Contents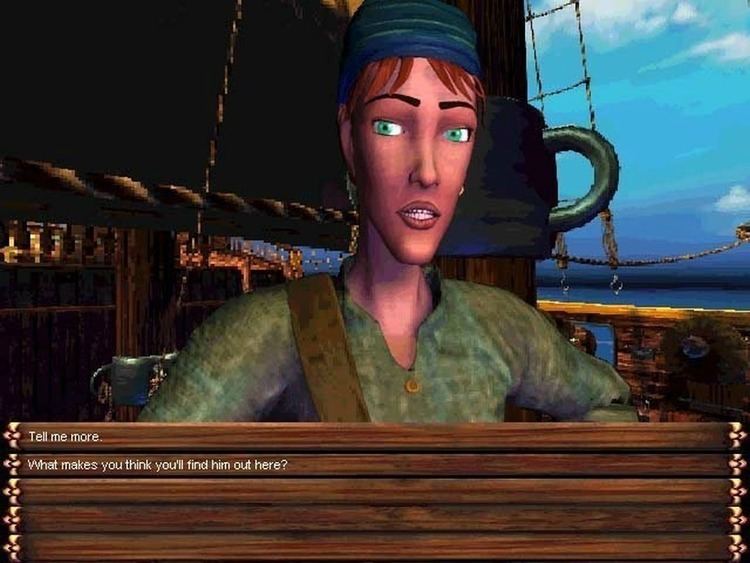 Let s play redjack revenge of the brethren demo
Gameplay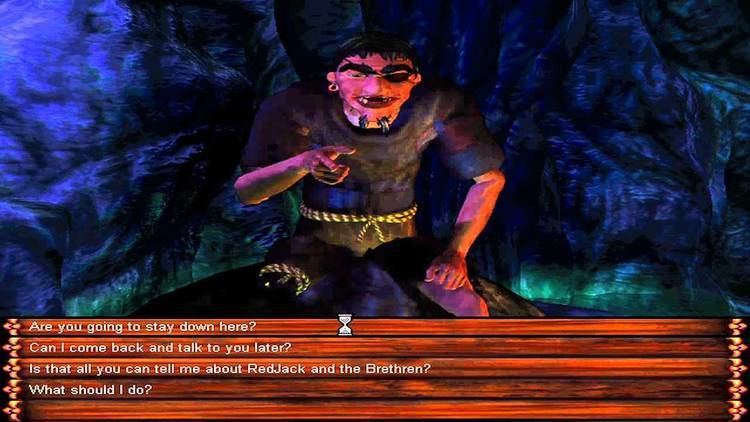 Redjack had several different engines implemented into the game, the main engine was rotatory 3D engine, used for the main exploration and adventure. When the character gets into a fight, the game loads a new engine for fighting characters, generally one-on-one. There are also different screens, such as when concocting a volatile drink, shooting from a cannon on a speeding cart on tracks, figuring out a color system to make a pair of doors open, and several others.
Plot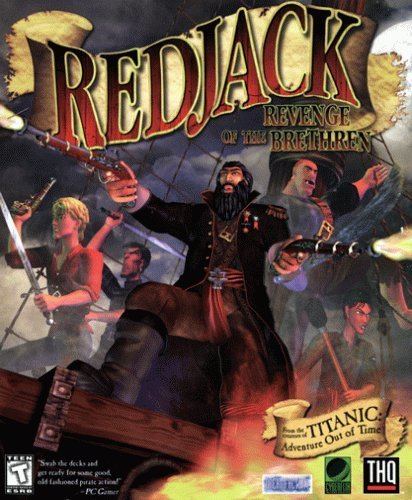 You play a young blond-haired man named Nicholas Dove who inhabits Lizard Point. You are being pressured by many people who are close to you to make something of yourself and you decide to join a pirate crew in order to make your living. You meet a pirate named Lyle who tells you that the captain is hiring men because he lost some in an "accident", Lyle also saves you from some cutthroat assassins. Captain Justice only hires those that are generally brave enough to form his crew and dares you to kill a shark and it is a must to be able to fight. After killing the shark (with poison) and finding a sword and learning to fight from the drunken pirate Lyle, you may return to him and join the crew.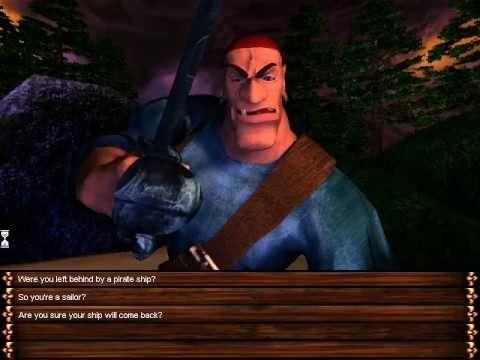 After taking the pirate's oath, you are free to roam the ship and you meet Sullivan, who admits to you that she is in fact a woman disguised as a man. When you set port in Port Royal, you are given a watch by Captain Justice so as not to be late getting back to the ship. You visit Erzulie who tells you of your future. You then witness the murder of Captain Justice by assassins and you are blamed for it as you are in possession of his watch. After escaping from prison you are captured by Bone and saved later on by Lyle who manages to get you marooned on a desert island with Sullivan, who was found out.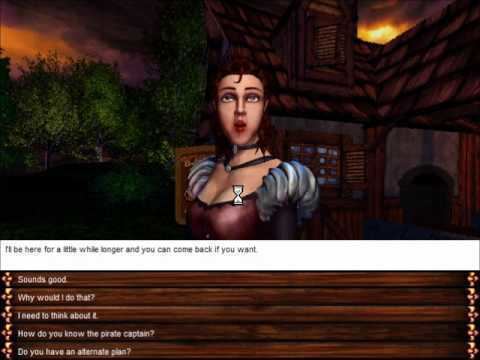 You wash ashore onto Redjack Island where you explore the island and get inside a monument of sorts and find out that Redjack is there, sitting dead watching the ocean. You light a fire signal and are found by a balloon ship. You are then taken to Blackbeard's fortress and request an audience with him after making him a drink. He tells you a little about the mythology of the brethren but is knocked unconscious in the middle of it by Bone and his men. You fight the men and kill Bone and set sail for Cartagena.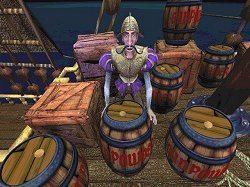 You enter the city through a secret sewer entrance and get inside the building, you free your captive friends, Elizabeth and your brother, who you find trapped in cages, you then enter the Viceroy's room and get captured by a man named Marquez, who turns out to have been Redjack's betrayer. After breaking up the reunion of the brethren, Marquez included, you fight his men and then later rescue Anne and kill Marquez, then going on to sink the Spanish fleet and rescuing Blackbeard and you then find treasure at the wreckage of Redjack's ship.
Characters
Nicholas Dove - the main character, Nicholas is a pirate charged with the safety of Redjack's daughter and with finding his betrayer.
Lyle - a drunken pirate who teaches you to fight.
Anne or Sullivan - Redjack's daughter and a disguised crew member aboard Captain Justice's ship.
Redjack - the leader of the brethren.
Elizabeth - a possible love interest in the game.
Captain Justice - one of the brethren and captain of the ship which you set sail from in Lizard Point.
Blackbeard - a pirate captain.
Marquez - the viceroy and Redjack's betrayer.
Bone - a nasty pirate who has a particular dislike for Nicholas.
Rockfish - an inventor and former member of the brethren.
Cross - a forecaster of things to come.
Erzulie - a seer who tells you of your future and gives you 2 potions.
Reception
Redjack: Revenge of the Brethren received mixed to positive reviews, most reviewers praising the adventure, 3D engine and dialogue but criticizing the action and blotty pixelation. GameSpot summarised their review by saying that: "It's a shame that someone decided to go and spoil a decent adventure game by including action elements" and gave it a 6.0/10 which makes it a "fair" game.
References
Redjack: Revenge of the Brethren Wikipedia
(Text) CC BY-SA