Ratangarh (?????) is a town in the Churu district in Rajasthan, India. Ratangarh was previously called Kolasar. It is famous for grand havelis (mansions) with frescoes, which is an architectural speciality of the Shekhawati region. Ratangarh is also famous for its handicraft work.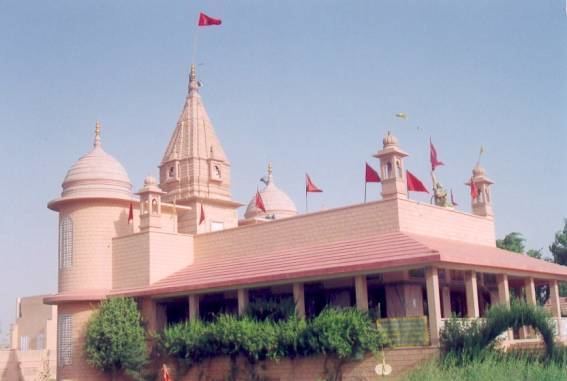 According to historical documents Ratangarh was founded by Surat Singh, the maharaja of Bikaner in the year 1798 (Samvat 1855) while he was returning from Churu with his son Ratan Singh. He selected the place Kolasar and Rajia ki dani for a new town and named it Ratangarh on his sons name. He handed over the responsibility to Purohit Hulashchand, Deepchand and Charan Sidayach Shankar to build Ratangarh as a modern 1812 (Samvat 1869) during the layout of Ratangarh. According to some old people present Ratangarh was built at Kolasar village, and Asha Charni (Lado Bhuwa) constructed Raghunathji temple.
A historical Devali was found near village Hudera just three kilometers from Ratangarh. This is located at MEGA HIGHWAY near by 320KV GSS, Devali of Samvat 1309 was found in an old Sidhan Jogioan Nath math. According to historians this Devali is nearly 750 old. As per a text written on Devali, This Devali is the wife of Rathoor Nahardass when she became satti on Baishak sudi 1, Samvat 1309. A similar Devali was also found in Rajaldeshar near Ratangarh. This Devali called Rajasi ki Devali is also 475 years old. Samvat 1581, Ashad Sudi 10 is written on the Devali. An artistic slab stone of 11th Centaury engraved with dancing figures was found in Ratangarh which is now placed in Government Museum, Bikaner.
In the year 1812 (Samvat 1869) Ratangarh fort was also completed. It is said that Ratangarh fort was attacked two times by Thakur Prithvi Singh the son of Churu with the support of Maharaval Laxman Singh of Sikar in the year 1815 and 1816 (Samvat 1872and 1873). In both attacks caretakers of fort Lalshah Syed and Purohit Jethmal were killed. According to famous historian Gourishankar Hirachand Ojha, Maharaja Ratan Singh held a meeting with Cornel Velsin in 1834 to organize Sekhawati Brigade of English army.
Ratangarh was planned before construction and its bazaar is laid out in the design of a cross with shops painted like the town. The massive fort (garh) was constructed in the middle of the town with a boundary wall around the city with four gates. A second small fort was built in the city. But now the original fort and also the second fort has nothing left except for a few ruined monuments and now used as offices of civil courts. A Clock Tower is at the main crossing of the bazaar called Ghantagar.
Ratangarh is a place of well known businessmen, learned people, great saints, literary person, poets, vaidyas, artists and great patriots. Ratangarh was also called second Kashi due to its centre of learning. Shri Hanuman Prasadji Poddar founder Kalyan is an international figure.
Ratangarh region also remain the part of ancient culture. A 10th-century stone silalekh engraved with folk dance was found from an old temple now placed in Bikaner museum. Ratangarh Mathadish Sivalaya was supposed to be built 200 years before the foundation of Ratangarh. Bikaner maharaja Sujan Singh (Year 100- 1735) gifted Kolasar village (present Ratangarh) to Charan Mala of Nath sect for his Rajasthani literature Gari bat doye . Charan Mala built Karniji temple in Kolasar which now at the heart of the town. Sidhan Math of Nath sect in Hudera village is said to be built in early 10th century.
With the efforts of Maharaja Ganga Singh railway station built in 1910 and electricity was availed in 1930. Water Works was built and Water to houses was introduced in 1945 by Seth Durgadutt Anantram Thard. Seth Surajmal Jalan and Seth Nagarmal Bajoria was the main contributors to develop the town in the present form. They laid network of roads( in 1945), opened hospital (1939), schools and colleges, public library, parks and several charitable societies.
(,)http://upload.wikimedia.org/wikipedia/commons/1/1c/Panchmukhi-Balaji-Ratangarh.jpg(,)http://www.discoveryhospitality.com/images/pushkar-camps.jpg(,)http://images2.mygola.com/17c11edf32fa0727f4ec15d41a402415_1394401740_l.jpg(,)http://images6.mygola.com/7712f597f6c5c11651e2e3c54a03a0c9_1394401754_l.jpg(,)http://images2.mygola.com/ee357a0f665a1c2d07e3aec8ec295b9b_1394401738_l.jpg(,)http://www.mapsofindia.com/maps/rajasthan/districts/churu-district-map.jpg(,)http://images2.mygola.com/7b7f35758cf1e62309ca5c71f5d7f983_1394401749_l.jpg(,)http://images6.mygola.com/adc941e9ceb1471da8e06e80f330bfae_1394401760_l.jpg(,)http://images2.mygola.com/67171542eaa361f0484cd55401fc8eb9_1394401777_l.jpg(,)http://i.ytimg.com/vi/SA8z3wnRw4U/maxresdefault.jpg(,)http://mw2.google.com/mw-panoramio/photos/medium/49314137.jpg(,)http://i.ytimg.com/vi/C2E88vK-r58/hqdefault.jpg(,)http://i.ytimg.com/vi/aEgnmBb_fKY/hqdefault.jpg(,)http://i1.ytimg.com/vi/twAUpbuXZ9w/0.jpg
(,)http://www.trodly.com/pictures/destination/2682.jpg(,)http://www.epilepsycareandresearchfoundation.com/img/gallery/032.jpg(,)http://www.indiapmsociety.com/images1/ipms6.jpg(,)http://www.irfca.org/gallery/main.php%3Fg2_view%3Dcore.DownloadItem%26g2_itemId%3D386712%26g2_serialNumber%3D2(,)http://maps.maphill.com/atlas/28n15-74e50/maps/satellite-map/satellite-map-of-28n15-74e50.jpg(,)http://mw2.google.com/mw-panoramio/photos/medium/49859310.jpg(,)http://mw2.google.com/mw-panoramio/photos/medium/47024138.jpg(,)http://i.ytimg.com/vi/uly4p9zqN-o/hqdefault.jpg(,)http://i.ytimg.com/vi/TFw284dHoW8/hqdefault.jpg(,)http://i.ytimg.com/vi/J9CJ9DEDTYY/hqdefault.jpg
(,)http://www.rajasthandirect.com/wp-content/uploads/2012/12/RTDC-Motel-Ratangarh.jpg(,)http://www.rajasthandirect.com/wp-content/uploads/2012/11/ramgarh-churu-rajasthan.jpg(,)http://media-cdn.tripadvisor.com/media/photo-s/01/8d/c0/ff/a-view-of-the-hotel-from.jpg(,)http://media-cdn.tripadvisor.com/media/photo-s/01/cb/c8/37/bhawani-resorts-churu.jpg(,)http://www.indiapmsociety.com/images1/ipms4.jpg(,)http://static.panoramio.com/photos/medium/49859310.jpg(,)http://static.panoramio.com/photos/medium/82152660.jpg(,)http://i.ytimg.com/vi/J9CJ9DEDTYY/0.jpg