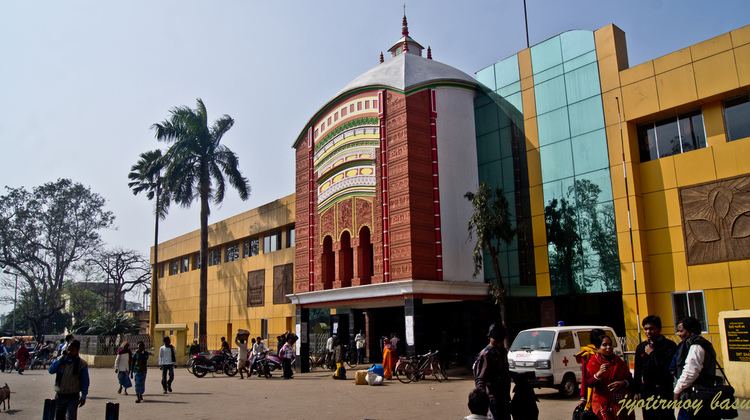 Rampurhat is located at 24.17 North and 87.78 East.
As of 2011 India census, Rampurhat has a population of 57,833 including block-I(mostly the municipal area) and block-II. Males constitute 52% of the population and females 48%. Rampurhat has an average literacy rate of 73%, higher than the national average of 59.5%: male literacy is 79%, and female literacy is 66%. In Rampurhat, 11% of the population is under 6 years of age.
The town is also known for stone crushers and mines, which are situated on the Bengal - Jharkhand border (most are in Jharkhand). This belt provides employment to a wide range of peoples from all over Birbhum District and Santhal Pargana.There are almost 350 crushers installed.
Tourism is an industry in Rampurhat and adjacent temple town Tarapith area. hundreds of Hotels were established there for the people of religious interest.
Tarapith is situated almost 3 kms. from Rampurhat township.
There is a Rampurhat municipality.It is divided into 18 wards.Currently,it is controlled by the Indian National Congress-Trinamool Congress alliance.In the 2010 municipal elections,the municipality faced a hung verdict.Later,the Trinamool Congress with 7 elected councillors,formed the municipal board taking support of 4 Congress Councillors (including 2 independents).
There are 6 major schools for high studies - namely Rampurhat J. L. Vidyabhavan(one of the best educational institutes in Birbhum, estd. in 1955) which is co-educational after 10 standard,Rampurhat High School (one of the best in Birbhum and the oldest school of Rampurhat established in 1886), Rampurhat Girls' High School (a prestigious high school for girls estd. in 1900),Rampurhat High School for Girls. The schools follow WB Board .One school,The Heritage School follows CBSE curriculum. St Paul's School is affiliated to CISCE. Other important schools are Railway Adarsha vidyamandir(HS) & more than 17 primary schools. There are two colleges - Asleha Girls college and Rampurhat College. Soon a Medical College will come up in the town.
Rampurhat is also well known for cultural activities. A number of schools teach music, dance, recitation and drama. Every year during Dolutsab a big function is arranged in Netaji Subhas Muktomancha, involving multiple cultural performance groups. Rabindra Jayanti is celebrated in the town with many cultural programmes across all localities. During Saraswati puja cultural programmes are organized in the schools. The local tribal people, mostly belonging to the Santhali groups, frequently arrange for programmes representing their cultural aspects. Railway Auditorium and Raktakarabi Puro Mancha are the leading auditoriums. Town Hall is also a place where small programmes are organized. Rampurhat Sangeet Samaj is a proactive cultural and social service organization based out of the town.
Rampurhat is well connected with Kolkata and other cities of West Bengal by bus and railways. Many express and passenger trains pass through the Rampurhat railway station. Bus services are available from Rampurhat to Kolkata, Asansol, Durgapur, Burdwan, Siuri, Berhampur, Krishnanagar etc.