Iraq


192,556 (1987)




Al Anbar Governorate




University of Anbar, Al Maarif University College



Ramadi (Arabic: ?; BGN: Ar Ramadi) is a city in central Iraq, about 110 kilometers (68 mi) west of Baghdad. It is the capital of Al Anbar Governorate. The city extends along the Euphrates and is the largest city in Al-Anbar.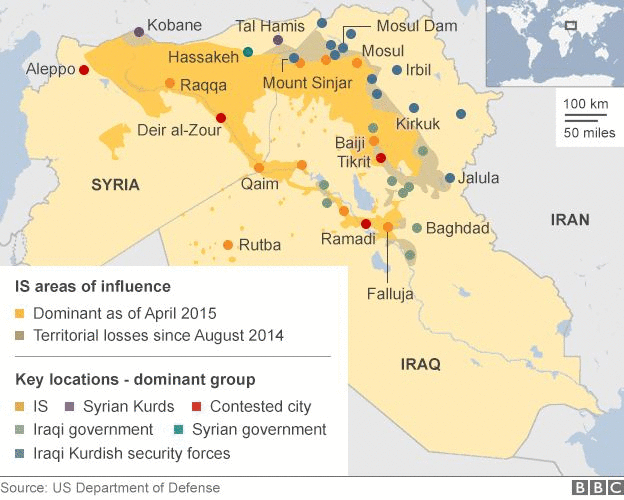 Ramadi is located in a fertile, irrigated, alluvial plain, within Iraqs Sunni Triangle. It was founded in 1869 under the Ottoman Empire. The main purpose of the city was to give the Ottomans a base for communications with and control of the Dulaim tribe of the region.
During the Mesopotamian Campaign of World War I, British forces under Lieutenant General Frederick Stanley Maude took Ramadi. In November 1917, British forces fought what was left of the Ottoman forces there. General Maude died soon after Ramadi was taken.
During the Anglo-Iraqi War during World War II, Ramadi was held by a brigade-sized unit loyal to Rashid Ali.
Ramadi was a base of insurgency to the U.S. forces between 2003 and 2006.
Ramadi is being contested by Iraq and ISIS as of the 2011 Iraqi insurgency (2011–present)
Ramadi Wikipedia
(,)http://ichef.bbci.co.uk/news/624/media/images/82319000/gif/_82319105_ismap.gif(,)http://americasmightywarriors.org/_a/wp-content/uploads/2014/01/Screen-Shot-2014-12-10-at-7.57.13-PM-1024x765.png(,)http://i.dailymail.co.uk/i/pix/2012/01/02/article-2081430-0F522AC200000578-949_634x705.jpg(,)http://ichef.bbci.co.uk/news/624/media/images/82359000/jpg/_82359281_8fcc376f-4c12-49e3-bb1a-269e0ebfb148.jpg(,)http://ichef.bbci.co.uk/news/660/media/images/82363000/jpg/_82363000_82359282.jpg(,)http://www.usnews.com/dims4/USNEWS/1626b9a/2147483647/resize/652x%253E/quality/85/%3Furl%3D%252Fcmsmedia%252F20%252Fdfb597be5222595d4d9d7526471f49%252Fmedia%253A908a3746c37b4579b7273dd04637c4dcMideastIraqIslamicState.JPEG(,)http://www.unhcr.org/thumb1/49c3c6da0.jpg(,)http://pics.mcclatchyinteractive.com/wire_photos/aq1x7l/picture18762405/ALTERNATES/FREE_960/170Mideast%2520Iraq%2520Islamic%2520State.JPEG(,)http://media.dma.mil/2005/Jan/10/143404/640/360/0/050610-m-0245s-002.jpg
(,)http://image.slidesharecdn.com/ramadiismyhometown-131008024419-phpapp02/95/ramadi-is-my-hometown-14-638.jpg%3Fcb%3D1381218327(,)http://www.sltrib.com/csp/mediapool/sites/dt.common.streams.StreamServer.cls%3FSTREAMOID%3DEc2fyPeLiBeBh0yEBRha08%24daE2N3K4ZzOUsqbU5sYu7QKr_EyekVCt04ZgN55PJWCsjLu883Ygn4B49Lvm9bPe2QeMKQdVeZmXF%249l%244uCZ8QDXhaHEp3rvzXRJFdy0KqPHLoMevcTLo3h8xh70Y6N_U_CryOsw6FTOdKL_jpQ-%26CONTENTTYPE%3Dimage/jpeg(,)http://www.haaretz.com/polopoly_fs/1.627860.1416649978!/image/207509258.jpg_gen/derivatives/landscape_640/207509258.jpg(,)http://jto.s3.amazonaws.com/wp-content/uploads/2015/04/f-anbar-a-20150417.jpg(,)http://www.jihadwatch.org/wp-content/uploads/2015/04/Ramadi.jpg(,)http://www.sltrib.com/csp/mediapool/sites/dt.common.streams.StreamServer.cls%3FSTREAMOID%3D2AhYAZXvXKA202ic1wGugM%24daE2N3K4ZzOUsqbU5sYtaZNLOALmERiZABM8HwGzYWCsjLu883Ygn4B49Lvm9bPe2QeMKQdVeZmXF%249l%244uCZ8QDXhaHEp3rvzXRJFdy0KqPHLoMevcTLo3h8xh70Y6N_U_CryOsw6FTOdKL_jpQ-%26CONTENTTYPE%3Dimage/jpeg(,)http://www.sltrib.com/csp/mediapool/sites/dt.common.streams.StreamServer.cls%3FSTREAMOID%3DyGXjt_vv6n47RF90d9gzp8%24daE2N3K4ZzOUsqbU5sYsJWpJ4h1k5SDLeJQ8CxCPqWCsjLu883Ygn4B49Lvm9bPe2QeMKQdVeZmXF%249l%244uCZ8QDXhaHEp3rvzXRJFdy0KqPHLoMevcTLo3h8xh70Y6N_U_CryOsw6FTOdKL_jpQ-%26CONTENTTYPE%3Dimage/jpeg(,)http://image.slidesharecdn.com/ramadiismyhometown-131008024419-phpapp02/95/ramadi-is-my-hometown-9-638.jpg%3Fcb%3D1381218327(,)http://image.slidesharecdn.com/ramadiismyhometown-131008024419-phpapp02/95/ramadi-is-my-hometown-10-638.jpg%3Fcb%3D1381218327(,)http://image.slidesharecdn.com/ramadiismyhometown-131008024419-phpapp02/95/ramadi-is-my-hometown-3-638.jpg%3Fcb%3D1381218327(,)http://image.slidesharecdn.com/ramadiismyhometown-131008024419-phpapp02/95/ramadi-is-my-hometown-7-638.jpg%3Fcb%3D1381218327(,)http://www.stuff.co.nz/content/dam/images/1/4/1/m/w/3/image.related.StuffLandscapeSixteenByNine.620x349.1420gt.png/1426142591994.jpg(,)http://image.slidesharecdn.com/ramadiismyhometown-131008024419-phpapp02/95/ramadi-is-my-hometown-18-638.jpg%3Fcb%3D1381218327(,)http://image.slidesharecdn.com/ramadiismyhometown-131008024419-phpapp02/95/ramadi-is-my-hometown-6-638.jpg%3Fcb%3D1381218327(,)http://image.slidesharecdn.com/ramadiismyhometown-131008024419-phpapp02/95/ramadi-is-my-hometown-13-638.jpg%3Fcb%3D1381218327(,)http://jto.s3.amazonaws.com/wp-content/uploads/2015/04/f-anbar-c-20150417.jpg(,)http://www.sltrib.com/csp/mediapool/sites/dt.common.streams.StreamServer.cls%3FSTREAMOID%3DlHsLkogougNecoFXgBLgo8%24daE2N3K4ZzOUsqbU5sYuTRWe8s7QvobpitjFBi6wOWCsjLu883Ygn4B49Lvm9bPe2QeMKQdVeZmXF%249l%244uCZ8QDXhaHEp3rvzXRJFdy0KqPHLoMevcTLo3h8xh70Y6N_U_CryOsw6FTOdKL_jpQ-%26CONTENTTYPE%3Dimage/jpeg