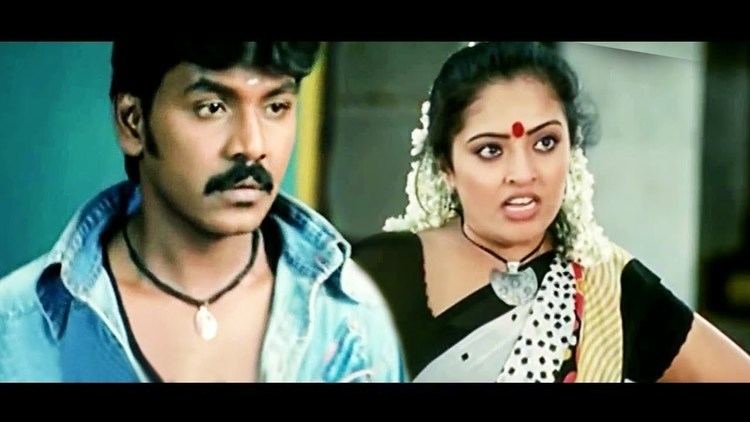 Raja (Raghava Lawrence), a native of Coutrallam, is a happy-go-lucky-youngster. Tragedy strike his life when his father loses his hand when a doctor in an inebriated condition operates on him. As expected his father is gagged by cops and lawyers. They assault him. In his death bed, his father gets a promise that he would make his three brothers into a cop, lawyer and doctor. Though Raja realises his mission, he falls for his own acts. The trio (who become doctor, policeman and a lawyer) gang up with a baddie Shylu (Mumtaj), a gangster, who rises to become a Minister. It is up to Raja to end their atrocities and teach them a lesson. In between, Raja comes across young women (Snigdha, Kamna Jethmalani and Meenakshi) and sings foot-tapping romantic duets with kamna a nurse whose dress changing and nudity is captured by his doctor brother and he helps her.Shylu dislikes Raja as he had attacked her earlier.Shylu had shared her bed earlier to many for her position now.
Raghava Lawrence as Raja
Karunas as Krishnamoorthy
Mumtaj as Shailja
Neelima Rani as Raja's sister
Prem Sai
After Sandai, Sakthi Chidambaram announced his next project called Rajathi Raja title derived from Rajinikanth's 1989 film of same name. Sakthi has acquired the rights of title from Pavalar creations, production company of music composer Ilayaraja which produced the original film. The film was launched in July 2008 at AVM Studios.
Snigdha Akolkar was chosen for a role after Kajal Aggarwal, Pooja, Sandhya, Namitha and Lakshmi Rai all pulled out of the film. Actress Samiksha's role was removed, as the length of the film was getting too long. Meenakshi of "Karuppasamy Kuthagaithaarar" and Kamna of Idhaya Thirudan were selected as another heroines while Mumtaj was selected to play negative role and also dubbed her voice for the first time making her comeback.
Initially Dhina was selected as composer but he was removed and got replaced by comedian Karunas who made his debut as music director in this film. Paul Jacob, Sri Lankan composer who composed for films like Thalaimagan and Kizhakku Kadarkarai Saalai was another composer. The audio was released on 11 May 2009.
Kandha Kadambha Kathiresa
Elanthapazham (Remix)
Yaaro Oruthi
Kathirikaa
Aandipatti Arasampatti
Nowrunning wrote:"Rajaathi Raja is such a bad film that the sequence of events in the movie would fail to convince even a three-year-old child". Behindwoods wrote:"Overall, Rajadhi Raja is a tale of gross underestimation of audiences' tastes. There is a very fine line between being commercial and being crass. Unfortunately, Shakthi Chidambaram finds himself on the wrong side of the line this time". Rediff wrote:"For sheer, mind-numbing crudity, there's no equal to Rajadhi Raja". Sify wrote:"Sakthi Chidambaram's Rajadhi Raja is the crudest masala movie seen in recent times".
Posters in newspapers carrying the quote "Nabigalna Mecca Rajanna Pucca" hurt the sentiments of Muslims. The association has demanded an apology from the film's producer Shakthi Chidambaram.
After the release, Shakti Chidambaram lashed out at actress Suhasini for giving bad reviews against his film.