Raja is an Indian Hindi romantic movie released on 2 June 1995, starring Madhuri Dixit, Sanjay Kapoor, Paresh Rawal, Mukesh Khanna and Dalip Tahil. The film was Sanjay Kapoor's second film after his debut Prem with Tabu in Bollywood. Prem was a flop, but this film, though panned by critics to have many flaws did excellent business in Bollywood. Its success was attributed to Madhuri Dixit because of her ardent fans. It was the fourth highest grosser of the year at the box office Madhuri Dixit received a Filmfare Best Actress Award nomination, and won the Star Screen Award Best Actress for the year.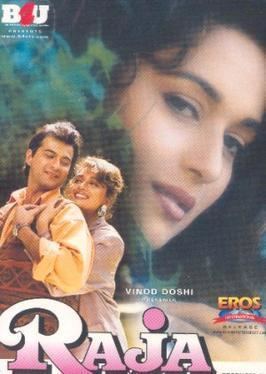 1. Paresh Rawal portrayed the role of Brijnath 'Birju' Patangwala in the film. The role was originally offered to Nana Patekar and he also started shooting for the film but he kept on interfering with the direction so Indra Kumar dropped him from the film.
2. After Nana Patekar, Naseeruddin Shah was approached for the role. But he rejected the offer as he did not want to invest time in prepping up for a challenging role like that of Birju. He wanted to take a break from intense characters on screen and wanted to go for simple roles while Birju's character was that of a mentally deranged man.
3. Shahrukh Khan was also interested in playing Birju's role in the film but at that time Indra Kumar wanted to cast Kamal Hasan.
4. Tabu was supposed to be roped in as the female lead for the film but eventually, the makers changed their decision and Madhuri Dixit was signed.
5. While the tune of Ankhiyan Milao was sourced from intro music of the song "Jewel" from the album Star Crazy by Bally Sagoo. Nazrein Mili was copied from the theme of "Come September".
6. Raja was the first superhit film of Sanjay Kapoor but Madhuri Dixit garnered all the attention. Many critics even said that the film should have been named 'Rani' rather than Raja.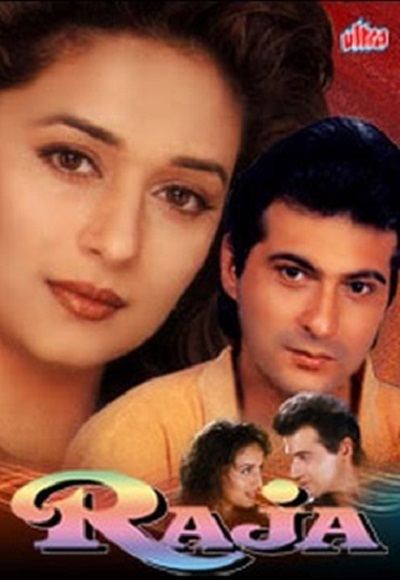 Rana Mahendra Pratap Garewal (Mukesh Khanna) is a businessman and Vishwa (Dalip Tahil) is his brother. They are good friends with Brijnath (Birju) (Paresh Rawal) who is initially very rich but loses all his wealth in a fire in his factory. The Garewal brothers had initially proposed the marriage of Rana's younger sister Madhu (Madhuri Dixit) and Brijnath's younger brother Raja (Sanjay Kapoor) (both are young; their brothers are adults). They break the marriage off. Shocked and saddened at the rejection by his best friends, Birju goes mad and gets electrocuted by accident. Raja then stays in the city outskirts with his brother taking care of him by doing petty jobs.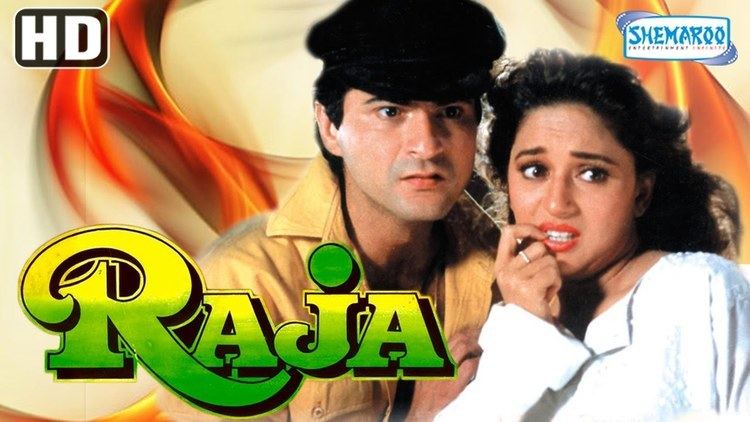 After many years, Madhu meets Raja and falls in love. After Raja reveals that he is the same childhood Raja, their love deepens. Rana and Vishwa soon find out and are determined to keep Madhu away from Raja. They continually humiliate and insult Raja, beating him up and forcing him to walk on broken glass to prove his love. One day Madhu runs away with Raja. Eventually, Rana pretends to give in and accept Raja into the family. When Raja leaves the city for a few days, Rana invites Birju to stay at the Garewal mansion. While he is there, they have one of their assistants dress up like Birju and break into Madhu's room at night and pretend to attempt to rape her. Madhu duly screams that Birju is trying to rape her. The assistant quickly escapes; the room is only dimly lit before Madhu can see his face. Rana and Vishwa call a mental hospital and force Birju into it as a prisoner in all but name. Raja is now forced to choose between believing Madhu's and Birju's words. He chooses to believe his brother's protestations of innocence and breaks up with Madhu. However, he still deeply loves her, and it is now up to him to dig for the truth and figure out what happened to Madhu on that fateful night.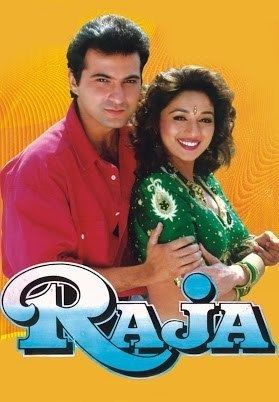 In the end, Raja gets a hold of the assistant who dressed up as Birju and extract a confession from him. In the process he has an accident and is critically injured. Birju goes to Madhu asking her to save him but she insults him. Rana's wife (Rita Bhaduri) tells the truth to Madhu. Madhu is so shocked to hear that her own brothers set up her rape that she leaves them and is on the verge of going to Raja's house. Rana realises his mistake and begs forgiveness, but Vishwa doesn't accept and starts beating Madhu and Rana. Raja comes and saves everyone. He marries Madhu in front of everybody. In the final scene, Rana and Vishwa come to Raja's house and beg the trio for forgiveness. They forgive the brothers on the condition that they bless the marriage of Raja and Madhu.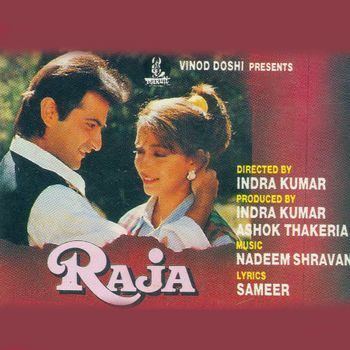 Madhuri Dixit as Madhu Garewal
Sanjay Kapoor as Raja
Paresh Rawal as Brijnath 'Birju' Patangwala
Mukesh Khanna as Rana Mahendra Pratap Garewal
Dalip Tahil as Vishwa Garewal
Rita Bhaduri as Sumitra Garewal
Tiku Talsania as Neta Ji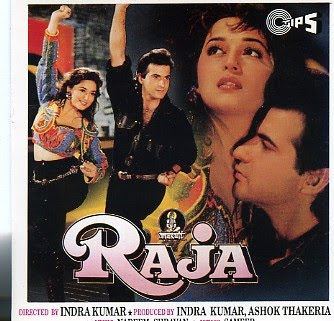 Filmfare Awards : Raja received many awards nominations but lost against Dilwale Dulhania Le Jayenge.
Nominations'
Filmfare Award for Best Movie: Indra Kumar
Filmfare Award for Best Director: Indra Kumar
Filmfare Best Actress Award: Madhuri Dixit
Filmfare Best Supporting Actor Award: Paresh Rawal
Filmfare Best Supporting Actress Award: Rita Bhaduri
Filmfare Best Music Director Award: Nadeem-Shravan
Filmfare Best Female Playback Award: Alka Yagnik for "Akhiyaan Milaun Kabhi"
Screen Awards: Raja received 2 Screen Awards with Dixit receiving her second award for best actress.
Wins
Screen Award for Best Actress: Madhuri Dixit
Screen Award for Best Supporting Actor : Paresh Rawal
The film had songs composed by Nadeem-Shravan while lyrics were penned by Sameer. All songs were hit that year and the music album went to become second most sold album of 1995