India




Guru Hargobind College of Pharmacy




Punjabi




Punjab




Ludhiana



Raikot is a city and municipal council in Ludhiana district in Indian state of Punjab.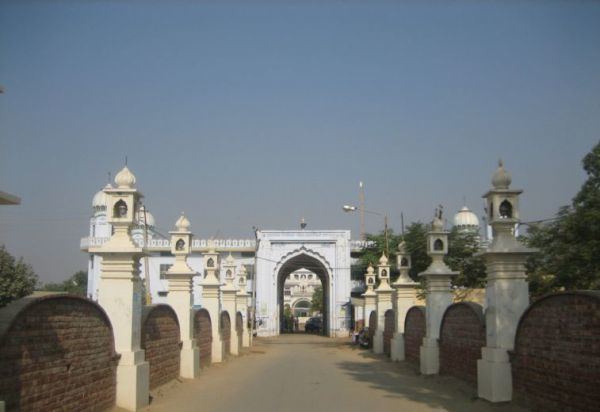 Raikot, the walled city,[see Reference] was founded by Rai Ahmad in 1648.[see Reference]
One story about the leader of the city Rai Kalha III, the Muslim Rajput chief of Raikot, says that he once had the opportunity to offer his hospitality to Guru Gobind Singh, the founder of Sikhism, in 1705, at the risk of losing everything, including his life and that of his family. In appreciation and gratitude,Guru Gobind Singh gave him a Ganga Sagar, a sword, and a wooden rehel (used for reading religious scriptures) as personal gifts for his brevity and courage.[see References- Kalha Rai]
The Rai family of Raikot migrated to Pakistan in 1947 lead by Rai Inayat Khan, Rai Nasarullah khan and Rai Rashid khan , of Raikot.

Raikot is located at 30.65°N 75.6°E? / 30.65; 75.6. It has an average elevation of 235 metres (770 feet).
Raikot Wikipedia
(,)http://www.worldgurudwaras.com/media/com_mtree/images/listings/m/2200.jpg(,)http://www.affimer.org/photos/image27.jpg(,)http://simplebooklet.com/userFiles/a/7/7/3/9/2/G8JCgwM4LRYBUWNqlTpxCR/UDFnXwlZ.7.0.jpeg(,)http://www.namdhari-world.com/nw/images/p020_1_01.png(,)http://upload.wikimedia.org/wikipedia/commons/5/5b/Dance_of_Swati_Guests_with_traditional_music_at_baltit_fort_2014.jpg(,)http://2.bp.blogspot.com/-7_wIY1m36as/UQVkQOjzRCI/AAAAAAAAATc/MaswtC0MBBk/s1600/raikpt%2Bbridge.jpg(,)http://4.bp.blogspot.com/-zgLBFdnuQyM/T2mU2Ht2UHI/AAAAAAAAA6M/WpWoncoyQ7U/s1600/DSC01775.jpg(,)http://www.merilocal.com/hotspicy/images/wpapers/img110881pic151181/Miscelleneous-80.jpg(,)http://boparaisudhar.com/history/photos/nihang%2520shamsher%2520singh.jpg(,)http://i.ytimg.com/vi/CZRSVxw5AQE/0.jpg(,)http://upload.wikimedia.org/wikipedia/en/1/1d/Durga-lithography.JPG(,)http://mw2.google.com/mw-panoramio/photos/medium/26251795.jpg(,)http://i.ytimg.com/vi/OkfyqdFfzFw/0.jpg
(,)http://farm7.static.flickr.com/6158/6200215177_1ce86d586f_t.jpg(,)https://c2.staticflickr.com/4/3249/3101182538_bce9a10430_b.jpg(,)http://static2.demotix.com/sites/default/files/imagecache/a_scale_large/300-2/photos/1276058574-raikot-bridge-to-tatu-village-_352062.jpg(,)http://farm5.static.flickr.com/4119/4760619133_5ccb8cca32_t.jpg(,)http://i.ytimg.com/vi/CZRSVxw5AQE/hqdefault.jpg
(,)http://lh5.ggpht.com/-sasyuU4VdDQ/U2DflScv6II/AAAAAAAACLU/GxA2SpTsKGs/s0/Raikot-1%2525252012.jpg(,)http://images.mapsofindia.com/my-india/2014/04/bath-castle-marriage-resort-665x886.jpg(,)http://lh6.ggpht.com/-16jYmzqOF5A/UzUhkRZTWzI/AAAAAAAACNI/WyKo7GdVjY0/s0/DSC08275.JPG