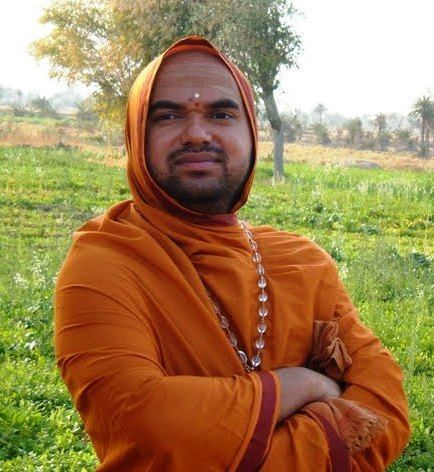 Sri Bharathi in his early days before taking initiation was known by the name Hareesha Sharma. He was born in the village called Chaduravalli in Sagara, Karnataka .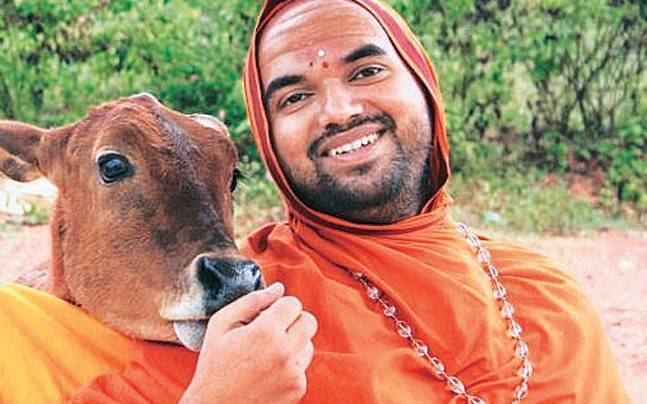 He studied Vedantha, Yoga, Astrology and Sanskrit in Gokarna and later in Mysore.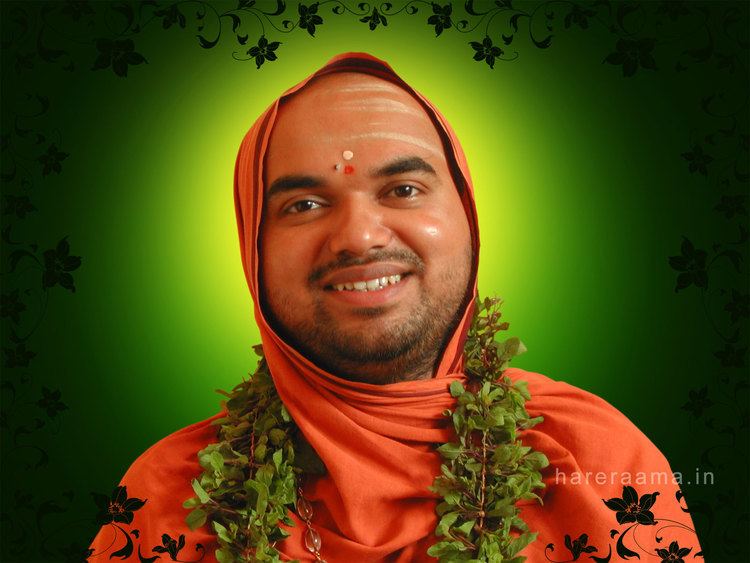 On 28 April 1999, Sri Bharati was made pontiff following the sadgati of Sri Sri Raghavendra Bharathi Swamiji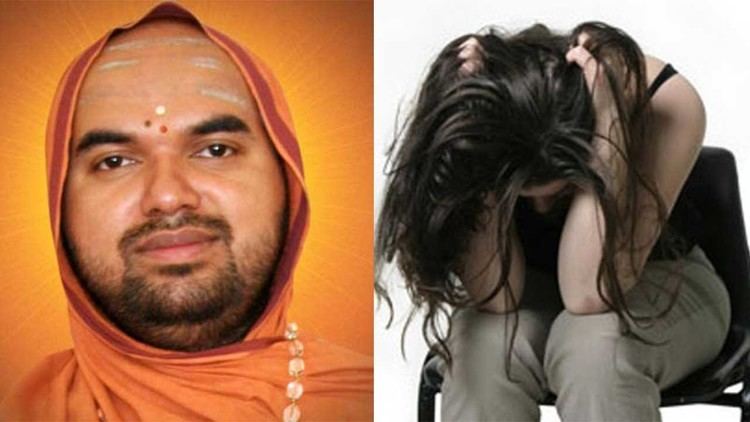 He stresses the need to protect Vedic culture, and its activities along with other social activities.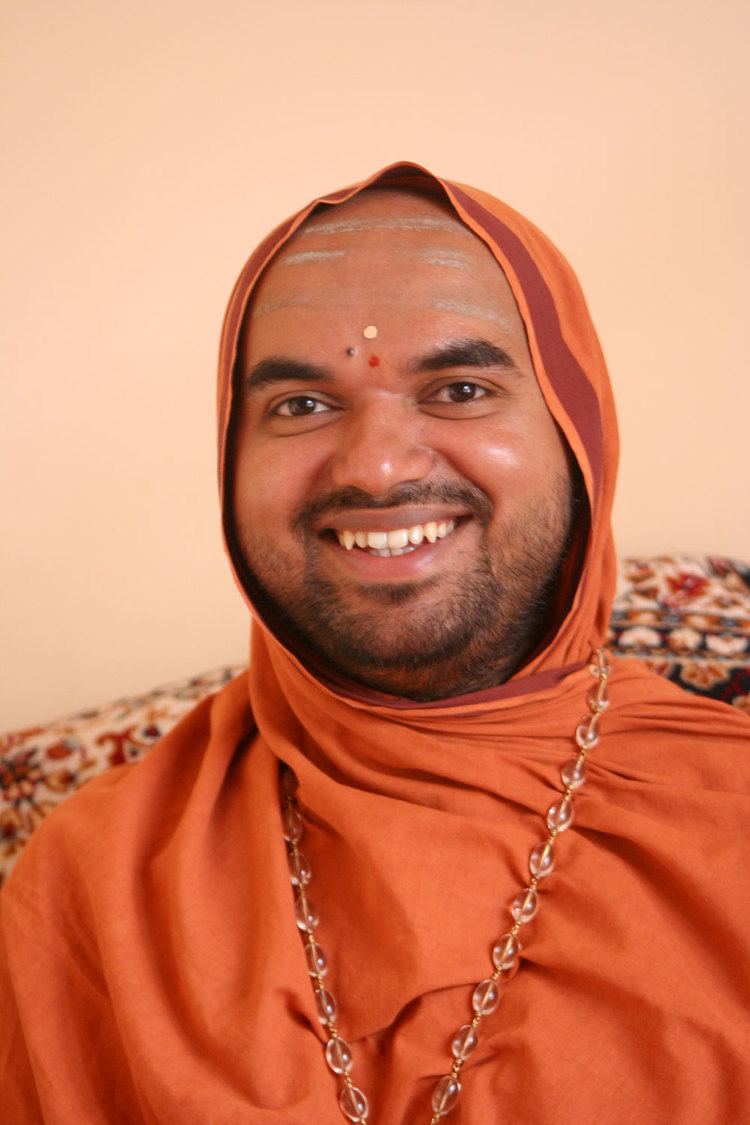 One of the plans instituted by him in the Mutts is Musti Bikshe Yojana wherein each devotee keeps a fist full of rice daily as gift to the Mutt, and collectively later feeds the needy and hunger, as old age orphans, hostels for homeless or at the time of natural calamity, etc.
He frequently conducts Rama Katha (Story of Rama) for the general public — a blend of discourse, dance, music and drawing — all that depict various incidents of Ramayana at various places.
He established the Bharathiya Nethra Chikitshalya in Mujangavu, Kumbla in Kasaragod dist, to cater the need of rural eye patients, criss-crossing the boundaries of religion in social service.
Bharathi led a protest march by environmentalists against mining in and around Kodachadri. For opposing mining activities, he has to face the ire of mining agencies.
Under his Project Vanajeevana Yajna, thousands traditional and medicinal plants have been planted. Citizens are encouraged to plant at least five saplings every year under the project.
At 2003, Manganese mining activities started at Ambaragudda (Kodachadri, Karnataka), situated at western ghats (India). Mine owners promised to build hospitals, roads for locals and got an approval for mining of 18 acres. But, they unearthed hundreds of acres of land unofficially. Sri Raghaveshwara Bharathi Swamiji of Ramachandrapura Mutt came to know about this matter and decided to fight against mining at Ambaragudda. He personally visited the place, looked at the casualty and created a stage called Kodachadri Sanjeevini to fight against mining. He brought locals, Forest officials, local MLAs into this stage and protested all over the place. As a result of this movement, forest department forfeit mining machines, equipments and stopped mining activities at Ambaragudda. Officials from Ministry of Environment visited the place and agreed upon casualty done to the environment. State High Court ordered to stop mining activities and encouraged to protect environment. On 16.05.2005, locals and devotees of mutt planted new plants at Ambaragudda. Swamiji had a life threat in this case and Karnataka State Government had appointed a gun man for his security. Today this place is announced as Natural Heritage Site by Biodiversity Board.
Bharathi has campaigned for the preservation of indigenous cow breeds through a programme called "Kamadugha". On 22 April 2007, he led a nine-day Vishwa Go-Sammelan (World Cow Conference).
Projects are on to start 108 goshalas, of which few are already started in Karnataka, Maharashtra, Kerala, Tamil Nadu. This work is highly noted, as so far no institutions in India, govt or NGO's, had started the work. The Mutt has many breeds in its collection. Work is being done to preserve the same for future. Some rare breeds as Amrithmahal, Vechur, which count less than 100 in numbers, are protected here . He has been working stressing the need to promote products other than milk products, as Go-ark, medicines from cow, Doopa, etc.
He also led and inspired the 108-day-long (30 September 2009 – 17 January 2010 ) 'Vishwa Mangala Gou Grama Yathra' with the support of various saints and Hindu organizations. The yathra covered the whole of India to highlight the importance of preservation and protection of cow with demands such as to declare cow as the national animal of India and to formulate laws to preserve various breeds of Indian cows. It ended with the one of the biggest mass signature campaign signed by over 83 million people across India calling for the end of cruelty to cow and to declare cow a national animal which is then submitted to President of India on 31 January 2010. An 18-member delegation which visited the President of India was led by Bharathi including yoga Guru Baba Ramdev, Pejavara Vishvesha Tirtha, many other senior saints and Shankaracharyas, religious leaders from Islam and Christianity, cow scientists, experts, organic farmers and leaders belonging to various organisations of the country.
In 2010, four people were arrested when they attempted to defame him by making a fake CD using a lookalike. There was also controversy concerning his organization taking charge of the Mahabaleshwara Temple in Gokarna, Uttara Kannada district. The Government of Karnataka was accused of transferring public property to a private body. The High Court of Karnataka dismissed a petition objecting to the transfer.
In 2014, a singer associated with his "ramakatha" annual fest accused him of raping her repeatedly. Although he denied the accusation and Lower Court granted him conditional bail, Karnataka High Court twice rejected the seer's request to quash the case. A controversy erupted when four judges of High Court recused themselves from hearing his plea.
On 31 March 2016, Court dismissed rape charges against the seer. Judge said neither the call records nor DNA samples derived from cloth stains had provided clinching evidence. The judge noted that the singer's statements, during the hearing and interrogation, had been contradictory. With no proof of rape, this is not a fit case for trial, the Court ruled.
He declined the offer of an honorary doctorate from Gulbarga University in 2013.
Suresh Oberoi, Bollywood actor
Arvind Bhat, International Badminton player
Rama Jois, Former Chief Justice of the Punjab and Haryana High Court,Former Governor of Jharkhand and Bihar
Radhe Shyam Agarwal, - Indian Entrepreneur, Founder of Emami Industries, Kolkata