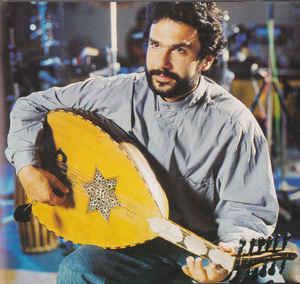 Rabih Abou-Khalil grew up in Beirut and moved to Munich, Germany during the civil war in 1978. He lives part-time in Munich and part-time in the South of France with his wife.
From early on, he learned to play the oud, a fretless string instrument, similar to the European lute. He studied in the Beirut conservatory from oud virtuoso Georges Farah. After moving to Germany, he studied classical flute at the Academy of Music in Munich under Walther Theurer.
He has often blended traditional Arab music with jazz, rock and classical music, and has earned praise such as "a world musician years before the phrase became a label—makes the hot, staccato Middle Eastern flavour and the seamless grooves of jazz mingle as if they were always meant to." Together with Anouar Brahem he has helped highlight the oud as a vehicle of eclectic "world jazz". Abou-Khalil's oud playing style has often been likened to jazz guitar: "Abou-Khalil spins more oud notes in 10 seconds than most jazz guitarists do in their short commercial lifespans".
Abou-Khalil's music uses elements from Arab music traditions, together with many jazz, rock and classical references, particularly to the school of Ornette Coleman and Don Cherry, which itself broke ground in terms of introducing new global influences. Other influences include Frank Zappa, Béla Bartók, and such unexpected musicians as the Mighty Sparrow and Lord Kitchener from Trinidad. Jazz elements are present in most of his recorded work, for instance in the use of the acoustic pizzicato bass, generally played by recognized jazz musicians like Steve Swallow and Glen Moore. At the Beijing Jazz Festival of 2003 he performed to great acclaim accompanied by tuba and clarinet as well as the percussion he has always favoured.
In his first CD release for the ECM company, Nafas (1988), largely traditional Arabic elements are to the fore, although a combination of drums of different national origin signals the eclecticism to come. In Al-Jadida and Blue Camel (1992), the former with alto saxophonist Sonny Fortune and the latter with alto saxophonist Charlie Mariano and flugelhorn player Kenny Wheeler, Turkish influence comes to the fore, in the form of complex time signatures (like 11/4 for the composition "Sahara"). Classical Turkish metres like 10/8 (phrased as 3+2+2+3), are found widely in Abou-Khalil's opus ("Nightfall" on Between Dusk and Dawn, "Ziriab" on Blue Camel, "After Dinner" on Tarab, and "On a Bus " on Yara). In recent years mixtures of these metres have emerged, setting new standards in complexity while retaining freshness, wit and the jazz value of swing.
Nafas and Tarab make use of the ney, the Turkish end-blown flute. 1995's Arabian Waltz featured Abou-Khalil's compositions for string quartet (performed by the Balanescu Quartet), along with oud, tuba (or serpent), and frame drums.
Morton's Foot (2004) brings in Luciano Biondini on accordion and Sardinian singer Gavino Murgia whose bass vocals create an exotic blend of European and Eastern traditions.
Journey to the Centre of an Egg (2005) features a trio of oud, piano (Joachim Kühn, who doubles on alto saxophone) and drums.
In 2008, Abou-Khalil released an album entitled "Em Português" ("In Portuguese"), where he mixes Fado with Arabic music, with the participation of the fadista Ricardo Ribeiro.
Rabih Abou-Khalil hosted the television series Visions of Music. This 13-part documentary series produced by EuroArts Entertainment set out to explore the blending of jazz with traditional music (Caribbean salsa, Brazilian samba, Argentine tango, French musette, Spanish flamenco, Jewish klezmer, New Orleans R&B and Mississippi blues, as well as West African, South African, Indian and Middle Eastern music) through historical footage and interviews of musicians (by Abou-Khalil). The music of the TV-series was released on the album Visions of Music - World Jazz by Enja Records in 1998.
Humor is a very important ingredient in Abou-Khalil's art and live performances. For instance, the song Dr. Gieler's Wiener Schnitzel (Morton's Foot, 2004) is inspired by an alleged Austrian dentist who settles in Abu-Dhabi to open a restaurant where his Wiener schnitzel soon establishes a reputation for healing the blind and deaf. The restaurant, however, is banned and closed by the authorities which forces Dr. Gieler back to Austria where he is now selling ties to businessmen. Various compositions are inspired by such humorous stories, common to many is the absurdity of "commuting between cultures".
Rabih Abou-Khalil's CDs are conspicuous for their high quality covers depicting Arabic non-figurative art, some designed by the author himself.
Howard Levy (harmonica)
Glen Velez (frame drums, percussions)
Milton Cardona (conga)
Sonny Fortune (alto saxophone)
Glen Moore (bass)
Steve Swallow (bass)
Gabriele Mirabassi (clarinet)
Luciano Biondini (accordion)
Michel Godard (tuba)
Mark Nauseef (percussion)
Gavino Murgia (vocals, tenor saxophone)
Jarrod Cagwin (drums)
Selim Kusur (vocals, nay)
Setrak Sarkissian (darabukka)
Joachim Kühn (piano, alto saxophone)
Ramesh Shotham (Indian percussion)
Alexander Bălănescu (violin)
Nabil Khaiat (percussion)
Charlie Mariano (alto saxophone)
Gevorg Dabagyan (duduk)
Kenny Wheeler (Flugelhorn)
ARTE Quartett (saxophone quartet)
Compositions & Improvisations (MMP, 1981)
Bitter Harvest (MMP, 1984)
Between Dusk and Dawn (MMP, 1987; Enja Records, 1993)
Bukra (MMP, 1988; Enja Records, 1994)
Nafas (ECM, 1988)
Roots & Sprouts (MMP/Enja Records, 1990)
World Music Orchestra: East West Suite (Granit Records, 1990)
Al-Jadida (Enja Records, 1991)
Blue Camel (Enja Records, 1992)
Tarab (Enja Records, 1992)
The Sultan's Picnic (Enja Records, 1994)
Arabian Waltz (Enja Records, 1996)
Odd Times (Enja Records, 1997)
Yara (Enja Records, 1998)
The Cactus of Knowledge (Enja Records, 2001)
Il Sospiro (Enja Records, 2002)
Morton's Foot (Enja Records, 2004)
Journey to the Centre of an Egg (Enja Records, 2005)
Songs for Sad Women (Enja Records, 2007)
Em Portugues (Enja Records, 2008)
Selection (Enja Records, 2009)
Trouble in Jerusalem (Enja Records, 2010)
Hungry People (World Village, 2012)
Chris Karrer: Dervish Kish (Schneeball/Indigo, 1990/91)
Michael Riessler: Heloise (Wergo, 1992)
Charlie Mariano & Friends: Seventy (veraBra records, 1993)
Glen Moore: Nude Bass Ascending (Intuition, 1996/97)
Ramesh Shotam: Madras Special (Permission Music, 2002)
Jakob Wertheim & Rabih Abou-Khalil: KopfKino (cassette, Ohrbuch-Verlag, 1988)
The Jazz Club Highlights (DVD, TDK JAZZ CLUB, 1990)
Rabih Abou-Khalil presents Visions of Music - World Jazz (accompanying TV series, Enja Records, 1999)