Covid-19
8

/

10

1

Votes

Alchetron

Rate This




Silent film





Clarence G. Badger




Bernard McConville




United States








Silent English intertitles




April 9, 1922 (1922-04-09)




Quincy Adams Sawyer and Masons Corner Folks by Charles Felton Pidgin




Bernard McConville, Charles Felton Pidgin (novel)




Blanche Sweet

,

Lon Chaney

,

Barbara La Marr

,

John Bowers




Quincy Adams Sawyer was a 1922 American silent comedy-drama film directed by Clarence G. Badger. Distributed by Metro Pictures, the film is based on the 1900 novel Quincy Adams Sawyer and Mason's Corner Folks, written by Charles Felton Pidgin. The film was re-released in 1927, after LaMarr's death, by Metro-Goldwyn-Mayer, and is now considered a lost film.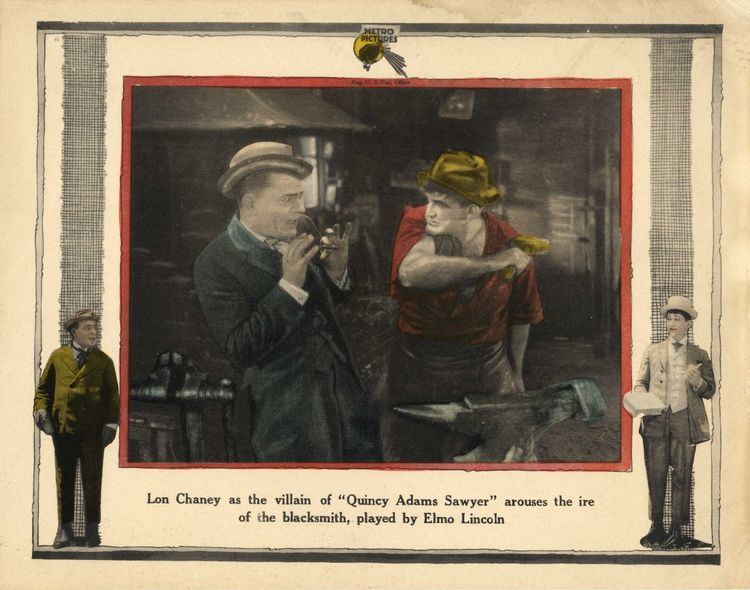 Quincy Adams Sawyer is a young attorney who one day meets a girl in the park. He is immediately smitten with her, but is summoned to the village of Mason's Corners by his father's friend Deacon Pettengill to investigate a villainous lawyer named Obadiah Strout before he can pursue her. Meanwhile, Mrs. Putnam, an old woman, is being swindled by Strout. Putnam's daughter Lindy, a natural vamp, attempts to seduce Sawyer. He shows interest, until he finds out who the girl from the park is: Alice, Pettengill's niece who has become blind since their first meeting.
Despite this tragedy, Sawyer falls in love with Alice. Meanwhile, Strout attempts to scare away Sawyer and convinces Abner Stiles, who once committed a murder, that Sawyer is in town to investigate him. Lindy, on the other hand, tries to get rid of Alice and, with the help from Strout, Lindy lures her onto a boat, after which the rope is cut. The little boat is sent adrift and she is off to the water falls.
Lindy is initially glad to be rid of Alice, but soon regrets her decision. She rushes to Quincy and tells him the entire truth. Quincy races to the water falls and rescues her from a fatal fall. Overcome by excitement, she regains her sight. Her father is unaware that his daughter has been saved and becomes convinced that Strout has killed her. He grabs a revolver and attempts to shoot Strout, but he appears to have arrived too late. Stiles, who realized he was being lied to, has killed Strout in a rage.
John Bowers as Quincy Adams Sawyer
Blanche Sweet as Alice Pettengill
Lon Chaney as Obadiah Strout
Barbara La Marr as Lindy Putnam
Elmo Lincoln as Abner Stiles
Louise Fazenda as Mandy Skinner
Joseph J. Dowling as Nathaniel Sawyer
Claire McDowell as Mrs. Putnam
Edward Connelly as Deacon Pettengill
Victor Potel - as Hiram Maxwell
June Elvidge as Betsy Ann Ross
Gale Henry as Samanthey
Hank Mann as Ben Bates
Kate Lester as Mrs. Sawyer
Billy Franey as Bob Wood
Film magazine Moving Picture World was uninspired by the film's story, but called it an entertaining film. The New York Times thought the film was 'superficial' and stated that not even Lon Chaney's acting could save it. Variety praised 'the fearful hokum purveyed in the story' and was especially positive about Chaney and Elmo Lincoln. Barbara La Marr received favorable reviews from the critics as well, and the film was a success at the box office.
Quincy Adams Sawyer Wikipedia
(Text) CC BY-SA
Quincy Adams Sawyer IMDb