Name

Qazi Yasir







Mirwaiz Qazi Ahmed Yasir Speaks out The truth of deoband. 1
Qazi Ahmed Yasir is a Kashmiri cleric, the Mirwaiz of Southern Kashmir and a renowned scholar.
Contents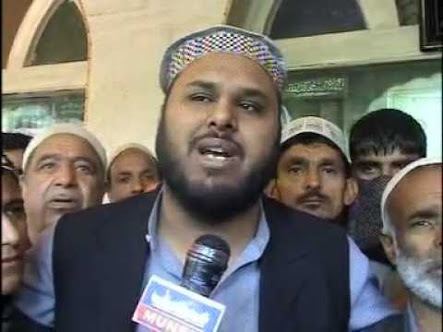 Life
Yasir's family finds its roots in the times of Kashmiri ruler Yusuf Shah Chak. His grandfather founded J&K Tableegh ul Islam in southern Kashmir. His father, Dr. Qazi Nisar , was one of the greatest scholars of South Asia. He founded the Islamic Research Institute in 1985; the institute produces at least fifty Islamic preachers and scholars every year. Dr. Qazi Nisar was also the founder of MUF.
Yasir was born in 1984 in South Kashmir's township, Anantnag, and pursued his primary education there in a local school, Hanfiya High School. At an early age of 10 9 years he was arrested by Indian Army and tortured inhumanely. After his father, Dr. Qazi Nisar was martyred in 1994,he was titled as the head preacher of South Kashmir by Mufti Rasheed, the head Mufti of South Kashmir. He went to Al Jamiat Ul Ashrafiya to receive Islamic education and stayed there for six years. He moved to Aligarh Muslim University, where he completed his graduation in Islamic Studies and also received his master's degree in Islamic studies.
Yasir returned to Kashmir Valley in 2006, and in April 2007, he led a hunger strike against a wine shop in the district that had been opened near two educational institutes. The wine shop was shut down after four days of the hunger strike. In 2008, he led the agitation in Southern Kashmir against SASB After the same, the demand rose against the saffron terrorists who blocked rations and supplies to the valley at Jammu. In 2009 he led an agitation against a sex scandal involving many people backed by state and law enforcement agencies. He also led the agitation against a double-rape and triple-murder case at Shopian earlier that year. in 2009 he raised a Fatwa in favour of Stone Throwing In the summer of 2010, the valley again saw an uprising and Yasir as the lone leader in this southern town. He also called for a social boycott with the Local Police.
In 2004, he had returned to the valley to find himself arrested when he was scheduled to address a Pro Freedom group at Seer, a village in southern Kashmir. He was arrested and sent to Central Jail Srinagar for two weeks, along with five of his associates. The same year during his vacations, he was arrested one more time, when many teenagers were arrested for their alleged involvement in militant activities.
He was arrested again in 2008, but he was released after public outrage. Again in 2010 he was booked under PSA for 17 months and lodged in Kot Bhalwal Jammu. He was released and arrested again in 2012 for one month, and in 2013 for two months.
Qazi Yasir, the Mirwaiz of Southern Kashmir leads Jammu kashmir Ummat i Islami, which is a socio-religious organization. Mirwaiz Yasir, the Chairman of Islamic Research Institute is also the chief spokesman of Mutahida Ulema i Ahli Sunnat, an amalgam of 47 religious organisations of the state. Qazi Yasir, the chief preacher of South Kashmir is Mirwaiz South Kashmir, Qazi Ahmed Yasir.
Mirwaiz Qazi Ahmed Yasir and Ummat e Islami worked for relief and rehabilitation operations during the catastrophic floods that hit the state. The area of operation though remained confined to the Southern Kashmir. in 2015, he was arrested several times and he also challenged the government openly on the controversial "BEEF BAN" Mirwaiz Yasir. In the same year, he laid the foundation of Khyri Aam Trust which provides food and Langar services for the poor and provides financial assistance to the downtrodden. His was given less or no space to perform his religious and social duties and was put behind bars constantly
He has a published book under the title of Burhan i Yasir. He also Composed book a titled Rashihat e Qalm.
References
Qazi Yasir Wikipedia
(Text) CC BY-SA