Similar

Pune Airport, Pune Metro, Mumbai Pune Expressway

Proposed by

Vilasrao Deshmukh

Cost

₹104.08 billion (US$1.3 billion)
Pune Ring Road is a proposed circular road for Pune city. This decision was taken on 12 June 2007 by the then Chief Minister of Maharashtra Shri Vilasrao Deshmukh. The Pimpri-Chinchwad Municipal Corporation, Pune Municipal Corporation and the Pune Metropolitan Region Development Authority are responsible to make necessary provisions for this plan. The total length of road is 161.73 kilometers. The total cost will be ₹104.08 billion (US$1.5 billion).
Contents
Next Generation News : Ring Road Pune
Introduction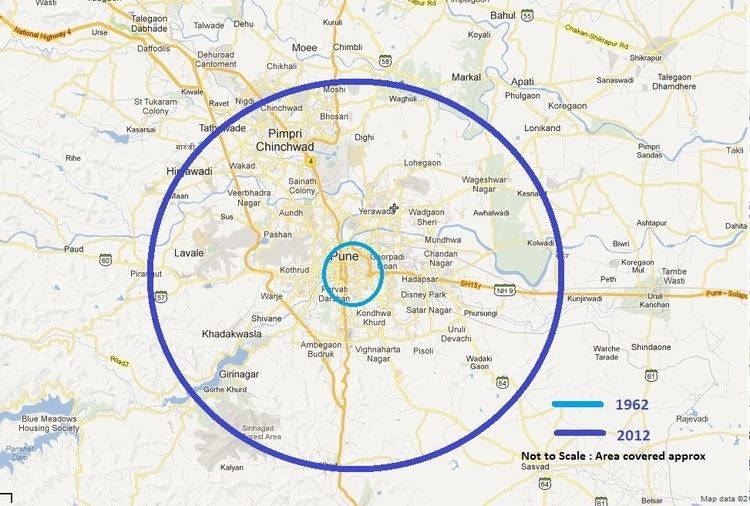 The passenger and freight traffic in and around the city has been increasing at a rapid pace due to increase in the number of industries, IT hubs and other socio-economic development. Vehicular traffic from highways such as Mumbai-Pune-Solapur highway pass through the city, causing traffic congestion. The purpose of the ring road is to divert the passing-by traffic from outside towards other cities, without letting them enter Pune. It will also provide connectivity to important areas of the city. It is predicted that nearly 10 lakh vehicles will use the ring road to enter, leave or pass through the twin city.
Project Details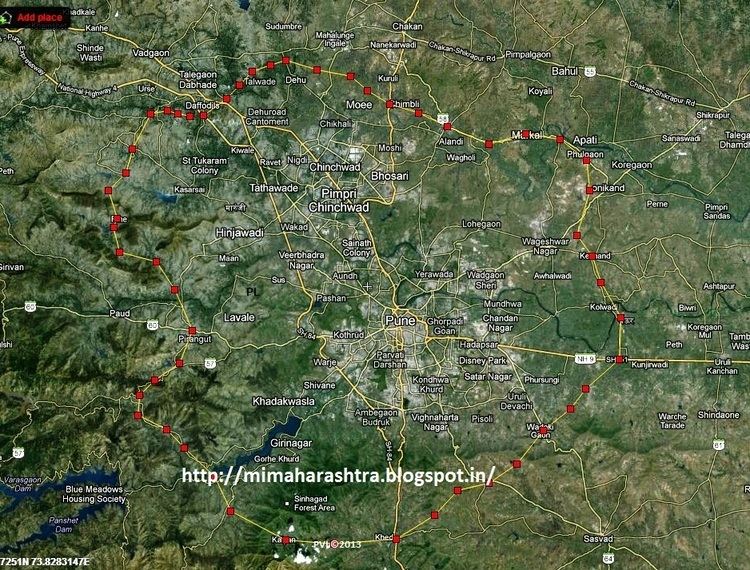 The ring road will cover 29 villages of Pune district. They are Kesnand, Wagholi, Bhivandi, Tulapur, Alandi, Kalegaon, Chimbli, Nighoje, Sangrude, Shelarwadi, Shirgaon, Chandkhed, Rihe, Gothawade, Pirangut, Uradve, Mutha Bahuli, Sangrun, Nigde, Khamgaon, Ghera Sinhagad, Kalyan (Pune District), Kondhanpur, Sriramnagar, Gogalwadi, Patharwadi, Bhivri and Kanifnath. The Pimpri-Chinchwad Municipal Corporation and Pune Municipal Corporation will acquire the necessary land for this project. The Public Works Department has suggested the Design-Finance-Build-Operate-Transfer(DFBOT) model for this project. It would connect highways such as Pune-Nashik, Mumbai-Pune-Solapur, Pune-Ahmednagar and Pune-Satara that pass either through Pune and Pimpri-Chinchwad or skirt around these cities.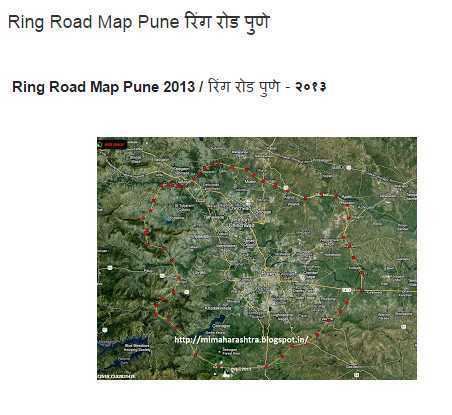 Total Length: 161.73 km
Total Cost:

₹

104.08 billion (US$1.5 billion)
Land required: 48 ha(government) and 25 ha(private)
Service Lanes: 2 on both sides
Flyovers: 12
Rail Bridges: 4
Bridges: 7 (over Valleys)
Subway Roads: 14
Tunnels: 13
Planning
This project will be completed in four phases:
Phase 1: Theur Phata (On NH 9) - Kesnand - Charholi - Wagholi - Bhavdi - Tulapur - Alandi - Kalegaon - Chimbli (On NH 50)
Phase 2: Chimbli (On NH 50) - Moee - Nighoje - Sangurde - Shelarwadi - NH 4 - Shirgaon - Chandkhed - Pachne - Pimpoli - Rihe - Ghotawde - Pirangut.
Phase 3: Pirangut - Urwade - Mutha Bhuli - Sangrun - Nigde - Khamgaon - Ghera - Sinhagad - Kalyan - Kondanpur - Khed Shivapur - NH 4.
Phase 4: NH 4 -Khed Shivapur- Gogalwadi - Patharwadi - Bhivri - Kanifnath - Theur Phata (On NH 9)
Progress
12 July 2007: Maharashtra Chief Minister suggests ring road project for the city. District Guardian Minister Ajit Pawar said the ring road should be 120-meter wide with service roads.
16 January 2014: Maharashtra State government approves MSRDC's proposal for preparing a detailed project report.
2 April 2015: Maharashtra State government issues a notification announcing the formation of Pune Metropolitan Region Development Authority (PMRDA). PMRDA prioritizes Metro and Ring Road work, promises to take radical steps to turn these plans into reality.
26 July 2015: Pune NCP leader Ajith Pawar admits to that there were certain irregularities in the Detailed Project Report(DPR) prepared for the ring road project. He assures full cooperation from his side for completion of the Metro rail and ring road projects. Thus the Maharashtra Chief Minister Devendra Fadnavis announced new survey for the same, the work was given to PMRDA.
7 November 2015: The Pune Metropolitan Region Development Authority (PMRDA) completes the survey of land required for the project. Maharashtra State Road Development Corporation (MSRDC) will further take measures to commence the work on ground.
Other Proposals
Monorail is being considered along this road to reduce the use of private vehicles on this road.
Transit-oriented development has been proposed along the ring road around Pune and Pimpri-Chinchwad.
References
Pune Ring Road Wikipedia
(Text) CC BY-SA