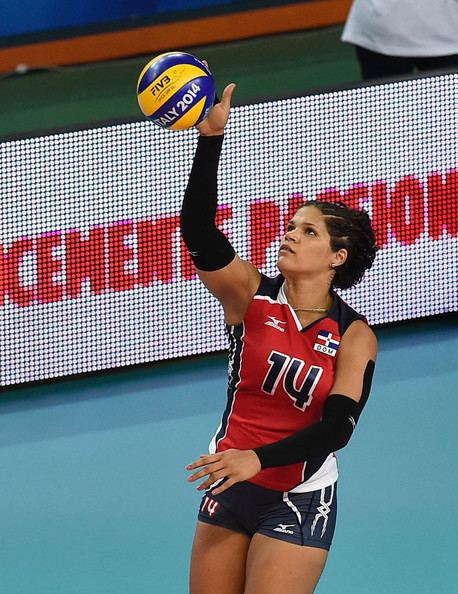 She played with the Girls National Team at the 2001 Girls Youth Volleyball World Championship in Pula, Croatia, helping her team to reach the 8th place. That year, she also played with the senior team at the 2001 NORCECA Championship winning with her team the bronze medal.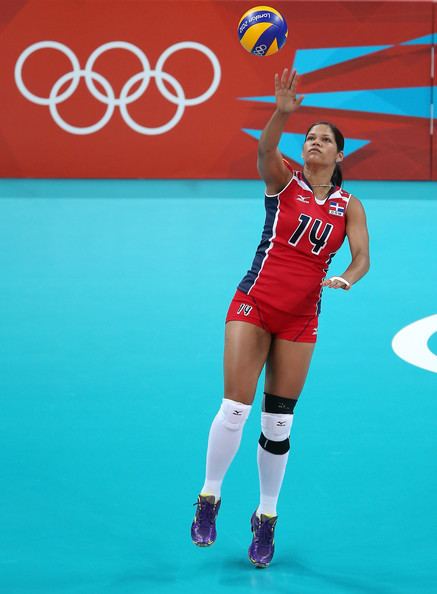 With her National Team, she won the Gold Medal at the 2003 Pan American Games.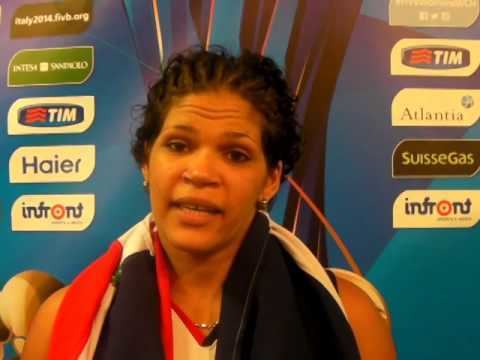 She competed for her native country at the 2004 Summer Olympics in Athens, Greece, wearing the number #14 jersey. There she ended up in eleventh place with the Dominican Republic women's national team. Rivera played as a middle-blocker.
Playing in home soil Professional Tournament, Prisilla won the "Metropolitan League Championship" with her team Los Prados and awarded "Final Series Most Valuable Player". This year she was selected "Best Attacker" at the Salonpas Cup.
At the 2006 FIVB Grand Prix, Prisilla Altagracia helped her team to finish in the 8th place, not qualifying for the final round.
Won with her team Grupo Murcia 2002, the 2007 Supercup, her team also win the Superliga, and Queens Cup.
For the 2008/2009 season with Grupo 2002 Murcia won the "Most Valuable Player" award at the Spanish Supercopa won by her team and the same award, MVP at the 2008/2009 Superliga Championship and the 2008/2009 Queen's Cup.
As the captain of her club, CAV Murcia 2005 she won her 11th title with this Spanish club, the 2010 Spanish Queen's Cup Spanish: Copa de la Reina, defeating Universidad de Burgos in Monforte de Lemos, Lugo.
She won the Most Valuable Player and the gold medal with her National Team at the 2010 Pan-American Cup held in Rosarito and Tijuana, Mexico.
Rivera won with CAV Murcia 2005 the 2011 Spanish Queen's Cup Championship, contributing with 25 points, winning her fifth consecutive Spanish Cup.
After being competing in Murcia since 2006, Rivera left CAV Murcia to join the Puerto Rican team Mets de Guaynabo, in late March 2011. Prisilla and her team finished the season as League Runner-Up, after being swept away in 4 matches by Criollas de Caguas.
With her national team, Rivera won the "Best Spiker" award and the silver medal at the 2011 Pan-American Cup. Rivera signed with the Brazilian club Vôlei Bauru.
San Pedro (1998–2001)
Mirador (2002–2004)
Los Prados (2005)
Grupo 2002 Murcia (2006–2008)
CAV Murcia 2005 (2008–2011)
Mets de Guaynabo (2011)
Igtisadchi Baku (2011–2012)
Pinkin de Corozal (2013)
Lokomotiv Baku (2013–2014)
Bursa (2014–2015)
Südtirol Neruda Bolzano (2015–2016)
Vôlei Bauru (2016–2017)
2005 Dominican Metropolitan League Final Series "Most Valuable Player"
2005 Salonpas Cup "Best Attacker"
2006/2007 Spanish Second Division "Most Valuable Player"
2007/2008 Spanish Superliga Final Series "Most Valuable Player"
2008/2009 Spanish Queens Cup "Most Valuable Player"
2008/2009 Spanish Superliga Final Series "Most Valuable Player"
2009 NORCECA Championship "Most Valuable Player"
2009 Spanish Super Cup "Most Valuable Player"
2009/2010 Spanish Queens Cup "Most Valuable Player"
2010 Pan-American Cup "Most Valuable Player"
2011 Pan-American Cup "Best Spiker"
2005 Dominican Metropolitan League – Champion, with Los Prados
2006 Spanish Supercup – Champion, with Grupo 2002 Murcia
2007 Spanish Supercup – Champion, with Grupo 2002 Murcia
2007 CEV Top Teams Cup – Champion, with Grupo 2002 Murcia
2007 Spanish Superliga – Champion, with Grupo 2002 Murcia
2007 Spanish Queen's Cup – Champion, with Grupo 2002 Murcia
2008 Spanish Superliga – Champion, with Grupo 2002 Murcia
2008 Spanish Queen's Cup – Champion, with Murcia 2005
2009 Spanish Superliga – Champion, with Murcia 2005
2009 Spanish Queen's Cup – Champion, with Murcia 2005
2009 Spanish Supercup – Champion, with Murcia 2005
2010 Spanish Queen's Cup – Champion, with Murcia 2005
2010 Spanish Supercup – Champion, with Murcia 2005
2011 Spanish Queen's Cup – Champion, with Murcia 2005
2011 Puerto Rican League – Runner-Up, with Mets de Guaynabo
2013 Puerto Rican League – Runner-Up, with Pinkin de Corozal
2014–15 CEV Challenge Cup – Champions, with Bursa BBSK