Religion

Hinduism




Honors

Sri Madhviraat




Literary works

Kalagnanam









Born

1610 (age 83), YSR District




Died

1693 (aged 83), Brahmamgari Matam, Palugurallapalle Part IV
SRI POTULURI VEERA BRAHMENDRA SWAMY JEEVITA CHARITRA||UNTOLD HISTORY TELUGU||UHT
Pothuluri Veerabrahmam (or Pothuluri Veerambotlayya or Veerappayacharyulu or Veerabrahmendra Swamy) & Brahmamgaru was a well-known sage in Indian History. He has been credited to be the "future predictor (fore-teller)" of from 17th century. He is the author of 'Kalagnanam' with future predictions where most of the predictions came true and continuing to happen.He named his texts of prophecies as 'Govinda Vakyas'. He has also written a book called "Jeevaikya Bodha" available at his matam. He had thousands of disciples who followed his principles and theories.
Contents
(*Note: Though his birth year is stated as 16-17AD, he should have been born a few centuries earlier. In his Kalagyanam, he mentioned that "Downfall of Chola dynasty will happen". The last Chola king was Rajendra Chola III and the dynasty perished in 1279 AD. So does it not mean that Brahmamgaru should have lived before 12th century? Similarly, he mentioned, "Swetha mukham people will rule the land". The British East India emerged in India in 1600s and so it is also evident that his prediction should have been much before. People wouldn't have accepted the predictions if he had mentioned the past or ongoing incidents at that time of his existence. -: S.Chandrasekar, Author and genealogist, Chennai)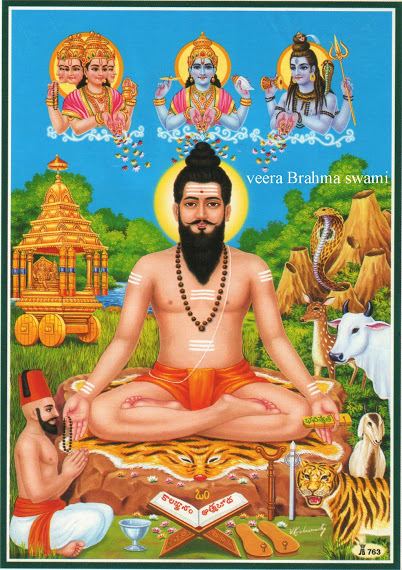 Biography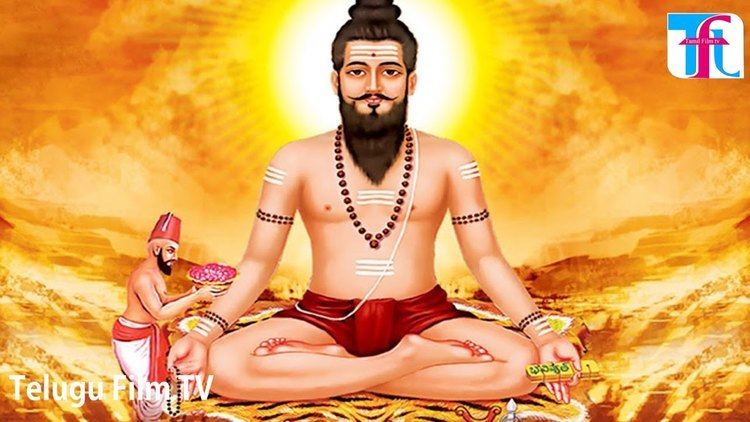 There is no historical evidence about Veerabrahmam's exact date of birth but believed to be born before the fall of Chola dynasty (Around 9th Century AD). Some believed him to be born in 1608. The legend born to religious couple 'Paripurnayacharya' and 'Prakruthamba' of a vishwabrahmin family near the river Saraswathi in Brahmandapuram village. The couple sacrifed Swamy's birth and Veerambotlayya was brought up at Atri Mahamuni Ashram near Kashi (present Varanasi). Later Veerabhojayacharya, Head of the Papagni Mutt, Chikballapur, Karnataka, was on his pilgrimage tour with his wife. The couple visited the Sage Atri Ashram, and Sage Atri gave the child to the Veerabhojayacharya and Prakruthamba couple. The Veerabhojayacharya couple took the child as God's gift, and returned to Papagni Mutt. The child was named as 'Veeram Bhotlaiah'. Veerabrahmendra Swamy, as Veerambhotliah at Papagni Mutt, at the age of 11, authored the Kalikamba Sapthashathi (the manuscript written in praise of goddess Kalikamba). A few days later, Veerabhojayacharya sacrifed and Veerambhotlayya told his step mother that he has refused to take homage responsibilities and started his spiritual journey. His prime disciple was 'Siddaiah', who was a [Dudekula] ( Noorbasha ) by birth. He was called Dudekula Siddaiah.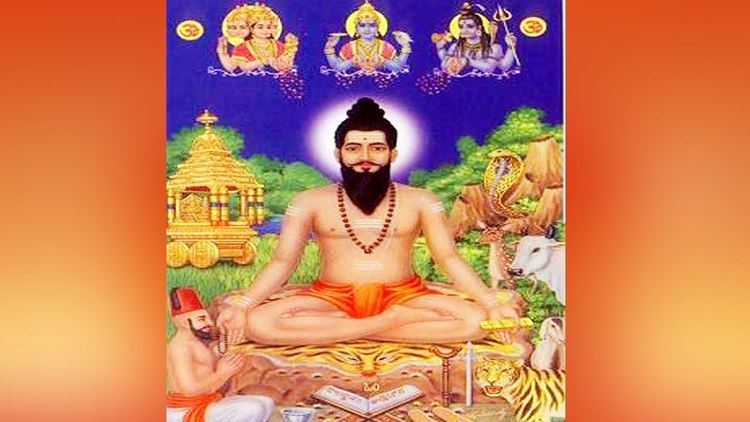 People started listening to his chantings and philosophical poems and with due respect, called him 'Sri Madvirat Pothuluri Veera Brahmendra Swami'. Thousands of people gathered to hear his famous 'Kalagnanam'(Over 14000 Prophecy's). He predicted that amrutam will come out from bark of a tree which took place near Markolpalli for 3 days from trees bark and the interesting thing is no human could touch it or drink it. The moment someone placed their hands amrutam would disappear or stop coming out. It is credited that he predicted Ramakrishna Hegde, M.G.R and NTR to rule in democracy. He predicted the Kurnool floods. According to his followers, almost 90 percent of his predictions came true. The much publicised Yaganti Basavaiah to live and shout is yet to happen. There are many stories in Andhra Pradesh about his life, but very few of them are backed with historical evidence.
Sri Veerabrahmendra Swamy went into 'Jeevasamadhi' in the year 1694 AD on Vaishak Shudha Dashami.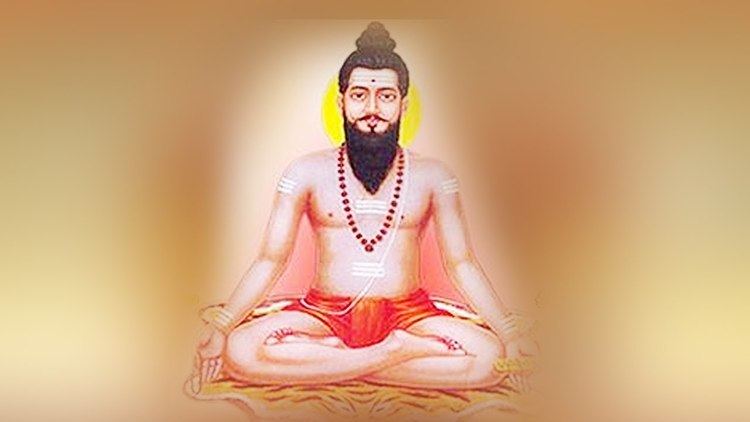 (*Note: As per original texts, Brahmamgaru had said that "After spending 175 years, today on suddha dhasami day in Vaisaka month of kaliyuga 4094, I enter into samadhi." Say, we are now in Kali 5118. If so, his samadhi year was in April-992 AD and the birth year was 817 AD. There are several clues left behind by him to say that his existence was between 9-10th century. -: S.Chandrasekar, Author and genealogist, Chennai)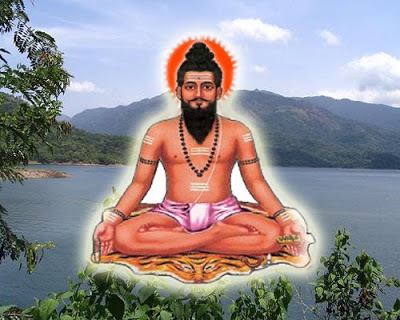 In the later period of Kaliyug end, Veerabrahmendra Swamy would take rebirth as Veera bhoga vasantharayulu and rule for 108 years.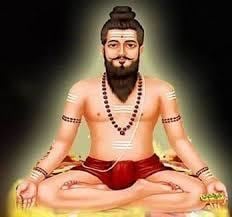 (Note: Brahmamgaru had said, "From this year of Kali-4094, after 16 samvathsra cycles, I will take birth in Vishwavasu year." As per his statement, 16 cycles after the samadhi year is 1965-66. Further, he has said, "At the time I come with full powers as Kalki, Kandimallaiyapalle would have developed into a big city and a Navartna mandapam equivalent to Booloka kailasam would be built." It was in 2004 that this massive navartna mandapam was built by a viswabrahmin Sri Patnala Sanyasi Rao of Chennai. :- S.Chandrasekar, Author and genealogist, Chennai)
Kalagnana Poems (In Telugu)
Veera Brahmam Yokka Vedha Vakyambulu
Dharanilo Thappaka Jarigenayaa
Kalimaayalo Padaka Nannu Nammiyu Meeru
Kadatheru Margammu Vethakandayaa
Swayamugaa Veligeti Sakthi Deniki Ledhu
Sarveswaruni Thappa Theliyandayaa
Surya Chandradhulu, Sarvagrahambulu
Aaa Velugulo Velugu Chunnaraya om→
Legacy
Brahmam gari matam in Kadapa district is a pilgrimage centre in Andhra Pradesh and Veera Brahmendra Swamy wrote Kalagnanam in kurnool district
A sajeeva samadhi matham of Veerabrahmam at Kandi Mallayapalle is being worshiped and an tourist place in Cuddapah district.
The editor, T Ganapati Sastri of the book 'BrahmaTatwa Prakasika of Sadasivendra Saraswati' (Trivandrum Sanskrit Series No VII), published in 1909, makes a passing mention of a Tamil work called 'Ascharya-Darpana' that supposedly details a wide description of his deeds.
Many religious books are written on the life history of him.
One film is made on his life in 1984 entitled "Shrimad Virat Pothuluri Veerabrahmendra Swami Charitra" in which late Chief Minister of Andhra Pradesh N. T. Rama Rao acted and directed. The film became a runaway hit in Andhra Pradesh.
References
Pothuluru Veerabrahmendra Wikipedia
(Text) CC BY-SA