Ponaka Kanakamma (1892–1963) was a social worker, activist and freedom fighter, imprisoned over a year, as a disciple of Mahatma Gandhi, in India. She founded Sri Kasturidevi Vidyalam, a large school for girls in Nellore.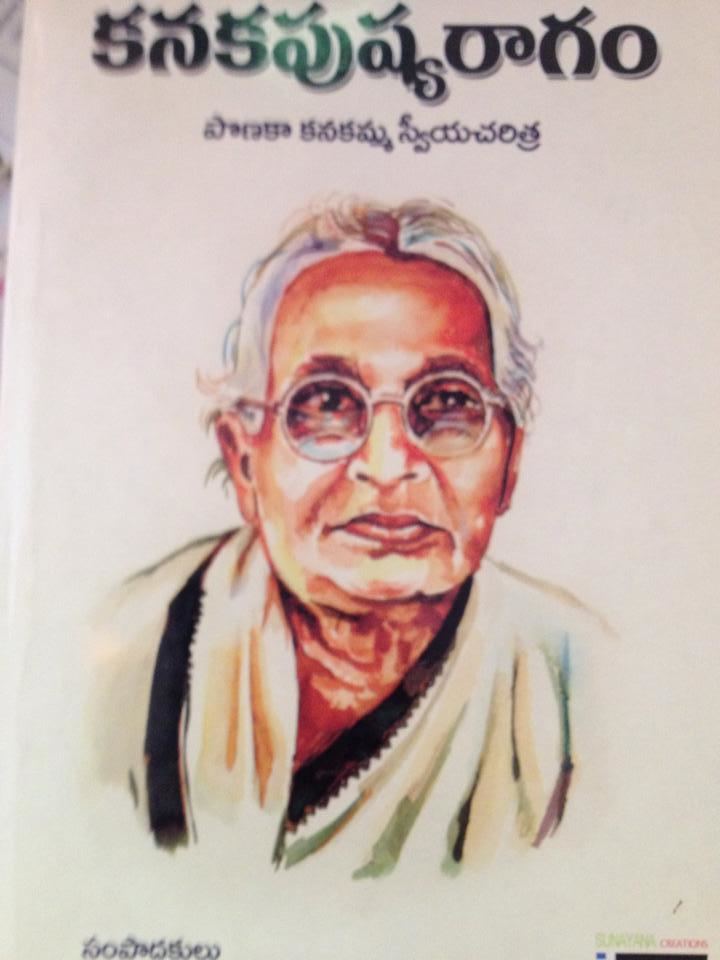 Ponaka Kanakamma was born in Nellore district, on 10 June 1892 at Minagallu. Her father was Marupooru Konda Reddy and mother: Kaamamma.
She hailed from a very rich landlord community. She got married in her childhood. Though she had no formal schooling, she acquired proficiency in Telugu, Hindi and Sanskrit by her own efforts. In 1913, she started 'Sujana Ranjani samajam' in Potlapudi village, near Nellore to serve the society. She worked for the uplift of Harijans and poor. Her friends established 'Vivekananda Library' in Kottur in the year 1913, with the help of people Nellore Rama Naidu and others. For a brief period, she was under the spell of revolutionary politics and later became the ardent disciple of Mahatma Gandhi.
Gandhiji inaugurated in Pallipadu village, about 6 miles (9.7 km) from Nellore, the 'Pinakini Satyagraha Ashram' on 7 April 1921. Chaturuvedula Krishnaiah, Digumarti Hanumantu Rao and others founded the Ashram and Kanakamma donated 13 acres of land to establish the Ashram. She participated in the non-cooperation movement and Salt Satyagraha. She underwent one and a half years rigorous imprisonment, in two installments at Rayavellore. She hosted Bipin Chandra Pal during his visit to Nellore in 1907.
In 1923, she founded Sri Kasturidevi Vidyalam as a part of Gandhiji's constructive programme, a school for girls in Nellore, and Gandhiji laid the foundation stone for the permanent building in 1929. This sprawling Kasturidevi Vidyalam campus, extended to about 23 acres (93,000 m2), is the living monument for Kanakamma. For some time, she acted as a member of AICC. She also acted as vice-president of Andhra Congress committee. After she lost her only daughater, M.Venkatasubbamma who was a budding writer and social worker, she became a devotee of Ramana Maharshi and Ramayogi (of Annareddy palem). Ponaka Kanakamma and Dronamraju Lakshmibaiyamma were the first twin poetesses. They wrote several philosophical poems on Ramana Maharshi - important ones are Aradhana and Nivedyam. They translated Bhagavadgita into Telugu by name "Gnana Netram". She wrote the auto-biography of Sri Rama Yogi, both in Telugu and English. She lost her property due to the tyranny and repression of Venkatagiri Zameendar. Her short stories,essays and poems are published in Anasuya, Gruha Lakshmi, Hindu sundari, Bharati, Jameen raitu (newspapers ) etc. She established an industrial training centre for under-privileged women. During her life, she hosted many eminent freedom fighters and poets at her residence in Potalpudi. She is the recipient of 'Grulakshmi Swarnakankana' sanmanam (felicitation). In connection with the silver jubilee celebrations of Madras Mahila Sabha organisation, Smt. Durga Bhai Deshmukh honoured Kanakamma with a silver plank.
Ponaka Kanakamma died in Nellore, on 15 September 1963.
In 2011, her auto-biography in Telugu by name "Kanakapushyaragam" was released by Dr.K.Purushotham.