Covid-19
Pollok Football Club




5,000 (All Standing)




Tony McInally




'The Lok'





1908







West of Scotland Super League Premier Division




West of Scotland Super League Premier Division, 5th




Newlandsfield Park, Newlandsfield Road, Glasgow, G43 2XR





Twitter

YouTube
Pollok Football Club is a Scottish football club based in Newlands in the southside of the city of Glasgow. They are one of the biggest football clubs operating in Scottish Junior football, regularly attracting crowds of around 600, more than many clubs in the third division and even some in the second division of the Scottish Football League can reasonably expect to attract. They compete in the West of Scotland Super League Premier Division. Pollok play at Newlandsfield Park and wear black and white stripes. Their traditional rivals are Arthurlie of Barrhead.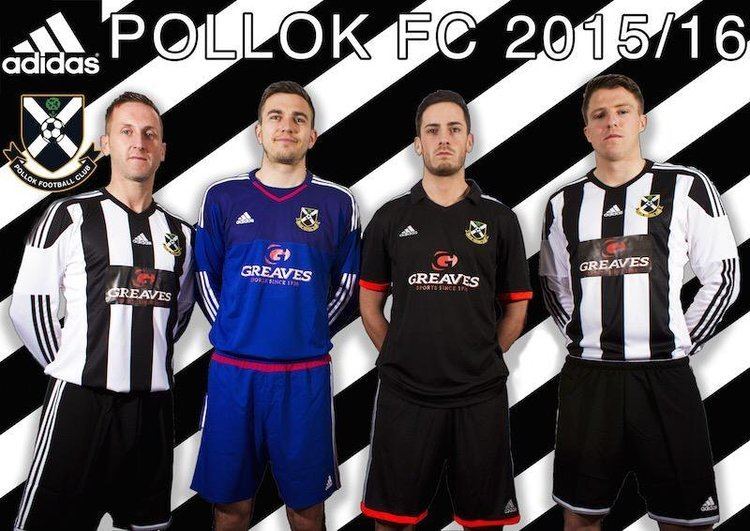 Formed in 1908, Pollok were one of many average clubs in Junior football in Glasgow. The club eventually rose to prominence upon the demise of Third Lanark in 1967 with many supporters opting to support Pollok, being in close proximity on the south side of Glasgow. Pollok eventually became champions of the Central League in 1978–79, and won their first major honour, the Scottish Junior Cup in 1980–81. Pollok have since gone on to win the Junior cup a further two times, in 1984–85 and 1996–97.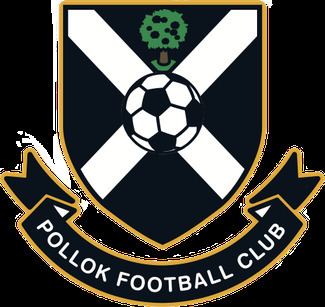 Junior football in the west of Scotland was restructured in 2002, amalgamating the Central and Ayrshire leagues to form the West Region. Prior to this Pollok had been champions of the Central league eight times. The top league of the new set up was the West Premier League which Pollok have won four times, more than any other club.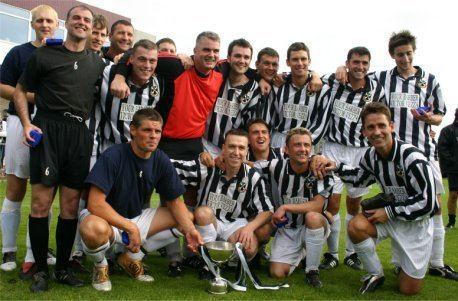 Beginning in the 2007–08 season the SFA began inviting the winners of the four major Junior honours (Scottish Junior Cup, West Premier League, East Super League, & North Premier League) to take part in the Senior Scottish Cup. Pollok were reigning champions of the West Premier League at the time, and took part in the 2007–08 Scottish Cup. In the 1st round 'Lok were drawn away against St Cuthbert Wanderers of the South of Scotland League. The match took place at St. Mary's Park, Kirkcudbright with Pollok winning comfortably by 6 goals to 2. Montrose of the Third Division were to be Pollok's opponents in the second round. Pollok performed admirably against the Scottish League club, achieving a 2–2 draw at Links Park. In the replay at Newlandsfield 'Lok were not as successful and lost 1–0.
The following year saw Pollok once again crowned West Premier League Champions. At the start of the season they were eliminated in the second round from the 2008–09 Scottish Cup by Edinburgh-based East Of Scotland team Spartans. At the end of the season Pollok had a chance once again to retain their West Premier League championship but lost the last league game of the season away to Auchinleck Talbot by failing to defend a 1–0 lead in the last eight minutes. Having exited the Scottish Junior Cup at the semi-final stage for the second year in a row, manager Jim Sinnett promptly resigned after the game.
2009–10 did not go well for Pollok with an early exit in the Scottish Junior Cup away to Newtongrange Star. In March 2010 manager Rab Sneddon resigned for work reasons and was succeeded by Willie Irvine.
Season 2010–11 saw Pollok suffer a shock exit at home to Neilston Juniors in the Scottish Junior Cup. Season 2011–12 saw Pollok lose four of their opening seven league fixtures, prompting Willie Irvine to tender his resignation on Monday, 10 October 2011. His eventual replacement was John Richardson, who kept the club in the top flight after a relegation play-off against Renfrew. Season 2012–13 saw Pollok win both the Central Sectional League Cup and the Central League Cup as well as narrowly avoiding relegation for the second year running. Only three players were retained from the previous season for 2013–14. This season was a disaster for Pollok. The club was embroiled in many off field controversies and had four different managers throughout the season.
Current manager, Tony McInally, was appointed in December 2013 but Pollok were finally relegated on 28 April 2014 with a 3–2 loss to Glenafton Athletic. Under McInally, Pollok were promoted as Champions the following season and won the Evening Times Champions Cup. The club reached the final of the 2015–16 Scottish Junior Cup but lost to Beith Juniors on penalty kicks after a 1–1 draw.
As of 24 August 2016
Note: Flags indicate national team as defined under FIFA eligibility rules. Players may hold more than one non-FIFA nationality.
These players have achieved success playing for teams in the Senior leagues.
Dougie Arnott – Motherwell
Fraser Wishart – Motherwell, St Mirren, Rangers, Motherwell
Stuart Gordon – Hamilton Academical
Gary Clark – Falkirk, Sliema Wanderers, Hamilton Academical
Ian Spittal – Partick Thistle, Stranraer, Clyde
Robert Prytz – Malmo, Rangers, Sweden
Bobby Collins – Celtic, Everton, Leeds United, Scotland
Sandy Stewart – Hearts
Danny Diver – Kolding IF, RC Tournai, Ayr United, Hamilton Academical
Chic Charnley – Hamilton Academical, Djurgårdens IF, Partick Thistle, Bolton Wanderers, Hibernian
Andy McLaren-Dundee United, Reading, Kilmarmnock
On settling the Intermediate dispute in 1931 Pollok sold the following players to senior football: J.McBride, J.Robertson and R.Griffiths to Chelsea; Charlie M. Thomson to Sunderland and T.Armstrong to Airdrieonians. Other Pollok players who have also played in the Scottish Football League or Football League include Brian Bilsland, Kevin Budinauckas, Ross O'Donoghue, Craig Cranmer and Danny Diver. Former Pollok striker Dougie Arnott achieved Scottish Cup success with Motherwell. In recent years, Pollok have had numerous players move up to senior level including John Sweeney – Current Clyde Captain, Arbroath keeper Scott Morrison, Airdireonians assistant/player Paul Lovering, Albion Rovers defender Ross Dunlop and Dundee striker (now Zebbugg Rangers) Carlo Monti.
Pollok play their home games at Newlandsfield Park in the Newlands area of Glasgow, a ground they have used since the 1928–29 season. The stadium has a capacity of 4,000 (1,500 covered), and is largely terracing.
Pollok's first ground was at Haggs Park in the Pollok Estate, but they were forced to move out in 1926–27 as Glasgow City Council wanted the land for school pitches. After playing temporarily at Rosebery Park and the Queen Mary Tea Gardens at Speirsbridge (in Thornliebank), they acquired Newlandsfield Park, which has been their ground ever since.
Winners: 1980–81, 1984–85, 1996–97
Runners-up: 1985–86, 1997–98, 2015–16
Winners: 2002–03, 2004–05, 2006–07, 2007–08
Winners: 2014–15
West of Scotland Cup winners: 1944–45, 1986–87, 1991–92, 1997–98, 1999–2000
SJFA Supercup: 2003–04, 2005–06
Scottish Cup 2nd Round: 2007–08
Central League Premier Division winners: 1984–85, 1985–86, 1986–87, 1990–91, 1994–95, 1995–96
Central League champions: 1978–79, 1980–81
Central League A Division winners: 1980–81
Central League B Division winners: 1968–69, 1978–79
Glasgow Junior Cup: 1941–42, 1953–54, 1961–62
Glasgow Dryburgh Cup: 1930–31, 1941–42, 1948–49
Central League Cup: 1977–78, 1979–80, 1983–84, 1987–88, 1989–90, 2004–05, 2008–09, 2010–11, 2012–13, 2015–16
Central Sectional League Cup: 1983–84, 1987–88, 1990–91, 1992–93, 1996–97, 1999–2000, 2003–04, 2006–07, 2012–13
Evening Times Cup Winners Cup: 1983–84, 1984–85, 1985–86, 1987–88, 2003–04, 2006–07, 2007–08, 2014–15
Pollok F.C. Wikipedia