Covid-19
Pierre Johanns





1955, Arlon, Belgium






To Christ Through the Vedanta: The Writings of Reverend P. Johanns, S.J.
Pierre Johanns (1 April 1882, Heinerscheid, Luxembourg - 8 February 1955, Arlon, Belgium) was a Luxemburger Jesuit priest, missionary in India and Indologist.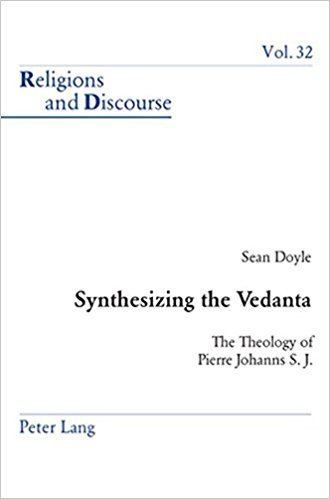 Johanns was ordained priest on 1 August 1914 at Louvain, three days before World War I broke out and Germany invaded Belgium. He had studied philosophy under the prestigious metaphysician and mystic, Pierre Scheuer. Johanns' superior intelligence, nearing genius, had been recognized and he was destined to further studies while awaiting a still impeded passage to India. He took a full Licentiate in Philosophy from the Catholic University of Leuven (Belgium), and was then sent to Oxford as soon as the end of the war permitted it, in 1919. To evaluate his doctoral dissertation on "The Agent Intellect in the Western and Eastern Philosophies," Oxford University could not find suitable examiners, and had to have recourse to Cambridge. From there came the extraordinary verdict: "only once in a hundred years does one meet such an intellect." Oxford gave him the doctorate with the highest honours and offered him, despite his being a Roman Catholic and Jesuit, a professorship. But his call was for Calcutta, which he reached in November 1921. He taught philosophy at St. Xavier's College, Calcutta, at St Mary's, the Jesuit theologate at Kurseong, Darjeeling, and even in a Vaisnava monastery. He studied ever more deeply the Hindu tradition. Because he always approached the Real in terms of Value, he felt attuned to the aims and methods of Vedanta. As early as October 1922, he and another Oxford graduate and Jesuit confrere, Georges Dandoy, started The Light of the East, a monthly directed to the Hindu intelligentsia as an instrument of interfaith reflection and dialogue. His contributions amounted to 216, 146 of which constitute the work To Christ through the Vedanta. In 1938 ill health forced him to go back to Belgium, where he nevertheless founded an "Indian Juniorate" which, until 1955, would train young Jesuits for work in Bengal.
A pioneer in promoting a new approach to Hindu Spirituality and Theology which he popularized through his Review Light of the East he prepared the radical change of outlook towards Eastern non-Christian religions that ultimately found its way into the Vatican II declaration Nostra aetate (on non-Christian Religions). Inspired by the writings of Brahmabandhab Upadhyay (1861-1907), Johanns found in Shankara, the great Hindu Philosopher of the 9th century, spiritual and theological paths leading to Christ. Doing so he initiated an 'inculturation' movement of the Christian faith. His main work was published in 1932-33 : Vers le Christ par le Vedanta (2 vol.). Due to ill health he returned to Europe and died in Arlon (Belgium) in 1955.
Pierre Johanns Wikipedia