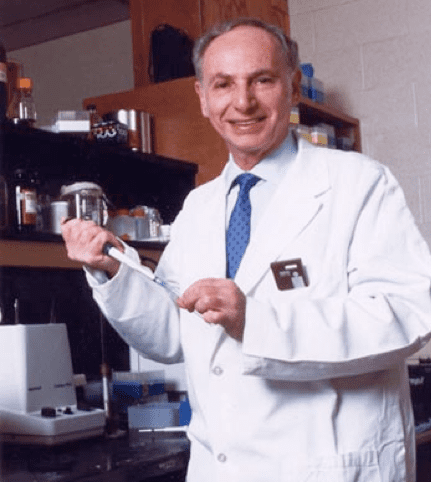 Philip Seeman was born on February 8, 1934 in Winnipeg, Manitoba and raised in Montreal. He received a Bachelor of Science degree, honours Physics & Physiology (1955), a Master of Science degree, Physiology of Transport & Secretion (1956), and a Doctor of Medicine (1960) from McGill University. Following McGill, Seeman took an internship at the Harper Hospital in Detroit, where he has stated he decided to go into medical research after seeing that the state of medicine at that time was unable to cure his patients sufficiently. In 1966, he received a Ph.D. in Life Sciences from Rockefeller University, and later pursued a post-doc at Cambridge University.
In 1967, Seeman became an Assistant Professor in the Department of Pharmacology at the University of Toronto. In 1970, he was appointed a Professor. In 1977 Seeman became the Chair of the Department of Pharmacology at the university, holding the position until 1987. He has also held the University Tanenbaum Chair in Neuroscience, and is now Professor Emeritus of the University of Toronto Departments of Pharmacology and Psychiatry. Seeman has published about 750 scientific articles, book chapters, and books, including his 1976 text Principles of Medical Pharmacology.
In 1963 Seeman began researching schizophrenia while pursuing his PhD in New York City, when his wife was working at Manhattan State Hospital. While there, he first came across patients suffering from psychosis. After encountering them, his wife suggested that he might be interested in trying to find the cause of the disease. In 1974, having spent years in search for the binding site of antipsychotic medication, he discovered the dopamine D2 receptor, the basis for the dopamine hypothesis of schizophrenia, which became a foundational hypothesis for drug development for the treatment of psychosis. The discovery occurred through work that measured the clinical potency of various anti-psychotic drugs and their simultaneous correlation with their capacity to block the dopamine receptors.
In 1978, Seeman published findings in Nature that showed after an autopsy, the brains of schizophrenics have 50% or more dopamine receptors than the average human brain, though their research also pointed to the possibility that these additional receptors may have been caused by the medication the schizophrenic patients had been taking as treatment. This led to further research that the medication itself was a cause for the increase of dopamine D2 receptors. During the early 1980s, Seeman's work was contrary to a prevailing idea that schizophrenia was a socially constructed disorder that could be cure through psychotherapy, with Seeman claiming that the source of the disorder was biological instead.
In 1989 Seeman discovered that endogenous neurotransmitters could displace receptor radioligands, for use in measuring the release of neurotransmitters during brain imaging. He then invented the radioactive PHNO to label D2High receptors in 1993. Seeman went on to research the efficacy of atypical antipsychotic drugs such as quetiapine, showing that they dissociated from the D2 receptor more quickly than prior drugs. His lab then hypothesized that those suffering from schizophrenia show an increase in the proportion of their D2 receptors in a state of high affinity for dopamine. He also published findings showing that narcotics such as amphetamines and ketamine cause a stimulation of D2 receptors that cause psychotic symptoms, including a higher causation in schizophrenic patients than the average person. Seeman continued to pursue the research of how schizophrenia could be treated through drugs affecting the D2 receptor. In 2005 Seeman published that most psychotic-triggers, such as narcotics, gene mutations or lesions on the brain, cause an increase in D2High receptors and their resultant schizophrenic symptoms. Seeman also discovered that all anti-Parkinson's disease drugs stmulate dopamine D2High receptors.
In 2001 Seeman founded the company Clera Inc., a drug research company focusing on novel small-molecule therapies for schizophrenia, psychosis, and Parkinson's Disease. The company has received $9 million in research grants and $5 million in private funding for his research into drugs targeting the D2 receptors. Seeman holds the position of Scientific Officer with the company.
In 2001, he was made an Officer of the Order of Canada "for his research on dopamine receptors and their involvement in diseases such as schizophrenia, Parkinson's and Huntington's". In 1985, he was made a Fellow of the Royal Society of Canada. He is also a recipient of the Killam Prize, and an honorary doctorate from the University of Toronto.