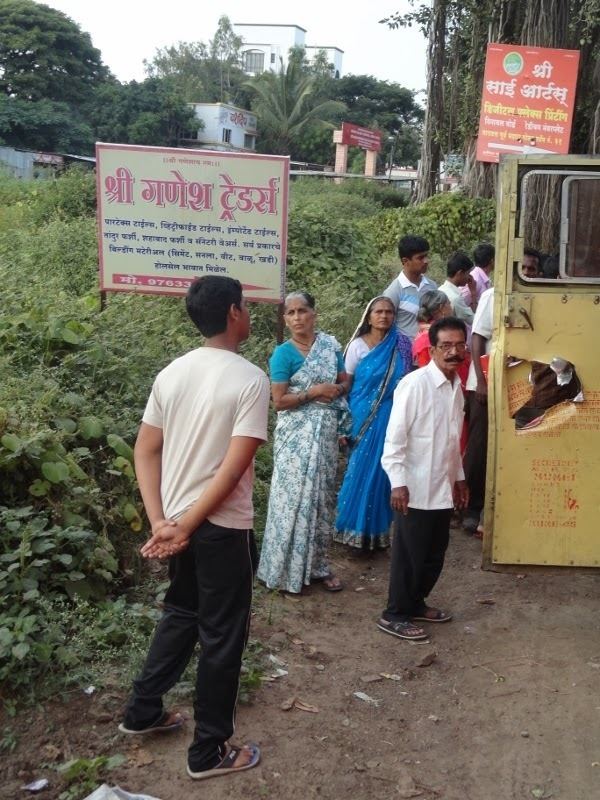 Phaltan State along with Wathar was one of the non-salute Maratha princely states of British India, under the central division of the Bombay Presidency, under the states of the Kolhapur-Dekkan Residency, Satara Agency and later the Deccan States Agency. It was one of the Satara Jahagirs. The state measured 397 square miles (1,028 km²) in area. According to the 1901 census, the population showed a decrease of 31% in the decade at 45,739. The population of the town itself was 9,512 in that year. In 1901, the state enjoyed revenue estimated at £13,000- and paid a tribute to the British Raj of £640. Its flag was a rectangular bicolor, orange over green.
The Hindu ruling family was descended from Naik Nimbaji Nimbalkar (1284–1291), a Maratha who received a grant from a Mughal emperor in the 17th century. The ruler had the title of Raja, or Naik Nimbalkar. The first wife, SaiBai, of 17th century emperor Shivaji was from Phaltan. Major HH Raja Bahadur Shrimant Malojirao Mudhojirao Nanasaheb Naik Nimbalkar IV was the last Ruler of Phaltan.Currenty the present king of phaltan is Shri Ramraje Naik Nimbalkar and the throne will soon succeed to the prince Shri Aniket Ramraje Naik Nimbalkar, Wathar also known as the brother of Phaltan Is ruled by Shri Jetendra Kumar Naik Nimbalkar which will succeed to the prince, Shri Satyajit Naik Nimbalkar and then to the youngest male member of the Royal Family Shri Suryaditya Naik Nimbalkar, The Royal Naik Nimbalkar family is one of the most reputed and respected royals in the world and has properties and assets in billions
Phaltan acceded to the Dominion of India on 8 March 1948 and is currently a part of Maharashtra state.[2]
List of Rulers
Nimbraj I Nimbalkar, Naik 1284-1291
Padakhala Jagdevrao Dharpatrao Nimbalkar, Naik 1291-1327
Nimbraj II Nimbalkar, Naik 1327-1349
Vanang Bhupal Nimbalkar, Naik 1349-1374
Vanangpal Nimbalkar, Naik 1390-1394
Vangoji I Nimbalkar, Naik 1394-1409
Maloji I Nimbalkar, Naik 1409-1420
Baji I Nimbalkar, Naik 1420-1445
Powwarao Nimbalkar, Naik 1445-1470
Baji II Nimbalkar, Naik 1470-1512
Mudhoji I Nimbalkar, Naik 1512-1527
Baji Dharrao Nimbalkar, Naik 1527-1560
Maloji II Nimbalkar, Naik 1560-1570
Vangoji II Jagpalrao Nimbalkar, Naik 1570-1630
Mudhoji II Nimbalkar, Naik 1630-1644
Bajaji I Nimbalkar, Naik 1644-1676
Vangoji III Nimbalkar, Naik 1676-1693
Janoji Nimbalkar, Naik 1693-1748
Mudhojirao III Nimbalkar, Naik 1748-1765
Sayajirao Nimbalkar, Naik 1765-1774
Maloji III Rao Nimbalkar, Naik 1774-1777
Janrao II Nimbalkar, Naik 1777-1827
Bajaji II Rao Nimbalkar, Naik 1827-1841
Mudhoji IV Rao Naik Nambalkar, Raja Shrimant, 1841-1916 (longest-reigning monarch in India)
Maloji IV Rao Mudhojirao Naik Nimbalkar, Raja Bahadur Shrimant 1916-1948
Phaltan is located at 17.98°N 74.43°E / 17.98; 74.43. It has an average elevation of 568 meters (1,863 feet).
Places of interest around Phaltan are: Vimantal (Airport); Goddess Maljai Mandir; Saibaba Mandir; Nimblak (which has been named after Naik-Nimbalkars as Nimblak) and Nimblak Naka, the oldest place in ancient Phaltan; Dhumalwadi (15 km or 9 mi from Phaltan, famous for waterfall)and Jabareshwar Mandir There are some forts around Phaltan, such as Wadgaum Nimbalkar, Santoshgad, Varugad, Mahimangad and Vardhangad. The fort Vardhangad can be reached from Satara also.
Phaltan's climate is an inland climate of Maharashtra. The temperature has a relatively high range between 15 to 45 °C (59 to 113 °F). Summer in Phaltan is comparatively hot, and dry, compared to neighboring inland cities. Maximum temperatures exceed 40 °C (104 °F) every summer and typically range between 38–45 °C (100–113 °F). Lows during this season are around 25–28 °C (77–82 °F).
The city receives much less rainfall from June to September, and it has been declared as a drought-prone place by the Government. The city sometimes gets nil rainfall during the rainy season.
Winter starts in Phaltan from November to February. The winter temperatures are significantly higher compared to other cities in Maharashtra such as Pune and Nasik. Lows range from 14–16 °C (57–61 °F), while highs are in the range of 29–32 °C (84–90 °F). Humidity is low in this season, making weather much more pleasant.
Phaltan crosses a drought-prone area, and going towards the south and south-west of Phaltan, a dry area begins. Water supply to Phaltan for drinking and irrigation is done by water from Veer Dam on the Nira river. Nira Right Bank Canal (NRBC) flows through Phaltan, making it a partially green town.
As of 2001 India census, Phaltan had a population of 60,172. Males constituted 51% of the population and females 49%. Phaltan has an average literacy rate of 75%, higher than the national average of 59.5%: male literacy is 80%, and female literacy is 70%. In Phaltan, 12% of the population is under 6 years of age.
Phaltan is a very ancient city. The ancient name of Phaltan was Phalapattan (फलपट्टण ) . As per local mythology, the origin of this name was taken from Saint Phalapattan Rishi . In literary sources Ramayna, Phaltan was part of Dandakaranya., and Shree Ram, Laxman, Seeta was came here in Vanvaasa. It has a Temple of Shri Ram, who is said to be Gram daivat of the city. There is a Temple of lord shiva, which is called as Jabreshwar Mandir, this temple has beautiful stone carvings. Other temples in the city are Maljai Temple, Nageshwar temple, Sri Dnyaneshwar Mandir, Upalekar Maharaj Samadhi Mandir, Haribaba Samadhi mandir, Sai mandir in Jadhavwadi. There are many beautiful Jain temples in Phaltan. People of Mahanubhav panth identify Phaltan as South Kashi. The city has a mosque called Badshahi Masjid. A village named Rajale is home for an ancient temple of goddess Janai. Festivals like Diwali, Ganesh chaturthi, and Nagpanchami are celebrated here, mainly. In the month of November or December, the annual fair will be celebrated which is called as Shri Ram Rathostav. The idols of Lord Sri Ram and Sita made up of five metals (Panchdhatu) are placed in a decorated rath worshipped and is taken on a procession all over the city, this procession is called as Nagar pradakshina. The city is also an important center for Mahanubhav (Jaykrishni) Sampraday.
Places of Entertainment at Phaltan are: Namvaibhav Theater or Namvaibhav theatre is good running by multiplex City Pride Cinea Namvebhav Chitramandir. Rajvaibhav Theater (Rajvaibhav theaters is non operative as of now) and Indira Gandhi Sanskritik Bhavan (for art and cultural celebrations).
Places of shopping are: Sriram Bazar, City Bazar, local shops near Ambedkar chowk and Shankar market.
Phaltan Taluka has two Sugar Factories: New Phaltan Sugar Works Ltd., Sakharwadi and Shri Ram Sahakari Sakhar Karkhana Pvt. Ltd., Phaltan. Sakharwadi's sugar factory is the 2nd sugar factory of Maharashtra and moreover, the 1st private sugar factory in Maharashtra State.
Cummins India Ltd. has its 300-acre 'mega-site' plant in Phaltan, which is being used to manufacture engines.
Most of the people prefer to use State Transport (Maharashtra Government) buses. Private vehicles, auto rickshaws can be used on rent basis. Traffic is quite chaotic, with no signals. Most of the people use two-wheelers or bicycles as a mode of transportation. The city has a nonfunctional airport, 2 km (1 mile) from the city. The airport has a facility to land 1 helicopter at a time. On the other hand, there is no flight landing facility. A few private buses also have daily service to Pune, Mumbai every night, with very affordable rates. There is no railway in Phaltan. The closest railway station is Lonand, 29 kilometres (18 mi) away. New highway construction has occurred from Phaltan to National Highway number 4.
Phaltan Education Society College of Engineering, Phaltan
Mudhoji High School and Junior College
Mudhoji college
MalojiRaje Agriculture College, Phaltan
Shrimant Shivajiraje English Medium School (SSEMS)
Borawake ITI college
Kamla Nimbkar Bal Bhawan a school run by Pragat Shikshan Sanstha [1]
Yashwantrao Chavan College, Phaltan
Rajiv Gandhi Polytechnic, Phaltan [2]
Sakharwadi Vidyalay
Sardar vallabhbhai Patel high school, Sakharwadi
Jaybhavamni high school, Tirakwadi
Government D.Ed. college for girls
Law college, Girvi Naka
Brilliant Academy
Industrial Training institute (ITI)
Sahakar Maharshi Hanmantrao Pawar High School, Phaltan
wunderbarkids, phaltan
vishwajyot international school
Shrimat Jayshreemaladevi Naik-Nimbalkar Institute of Management Studies, Phaltan
Phaltan is also the home of the Nimbkar Agricultural Research Institute(NARI), focusing on agriculture, renewable energy, animal husbandry and sustainable development.NARI's work on energy self-sufficient taluka (which became a national policy) was based on the extensive research on biomass availability in Phaltan Taluka.
Ideal Kids International School
Emperor Chatrapati Shivaji Maharaj's first wife Maharani Saibai was from Phaltan and belonged to the Nimbalkar dynasty.
Nandini Nimbkar President of Nimbkar Agricultural Research Institute.
Anil K. Rajvanshi Director of Nimbkar Agricultural Research Institute.
B. V. Nimbkar, Padma Shri winner and founder of Nimbkar Agricultural Research Institute
Shivajirao Bhosale(deceased)