7.6

/

10

Alchetron

7.6

Rate This





Theme music composer

Franz Waxman


First episode date

15 September 1964






Genre

Soap opera




Country of origin

United States




Final episode date

2 June 1969







Created by

Grace Metalious(original 1956 novel)


Starring

(in premiere episode)Dorothy MaloneWarner AndersonEd NelsonMia Farrowand (over the entire run of the series) a cast of over 200 actors in primary and secondary roles




Opening theme

"Theme from Peyton Place"




Awards

Primetime Emmy Award for Outstanding Supporting Actress in a Drama Series




Cast

Mia Farrow, Ryan O'Neal, Barbara Parkins, Ed Nelson, Dorothy Malone
Peyton place episode 1 series opener
Peyton Place is an American prime-time soap opera which aired on ABC in half-hour episodes from September 15, 1964, to June 2, 1969.
Contents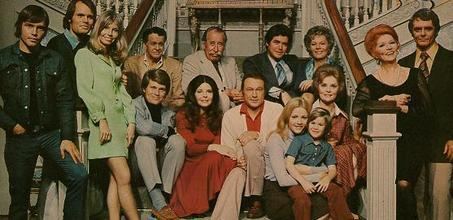 Based upon the 1956 novel of the same name by Grace Metalious, the series was preceded by a 1957 film adaptation. A total of 514 episodes were broadcast, in black-and-white from 1964 to 1966 and in color from 1966 to 1969. At the show's peak, ABC ran three new episodes a week. Produced by 20th Century Fox Television. A number of guest stars appeared in the series for extended periods, among them Dan Duryea, Susan Oliver, Leslie Nielsen, Gena Rowlands, and Lee Grant, who won an Emmy Award for Outstanding Performance by an Actress in a Supporting Role in a Drama for her role of tough-as-nails Stella Chernak. The series served as the springboard for such performers as Mia Farrow, Ryan O'Neal, Barbara Parkins, Christopher Connelly, David Canary, Mariette Hartley, and Lana Wood.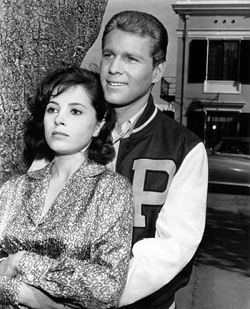 History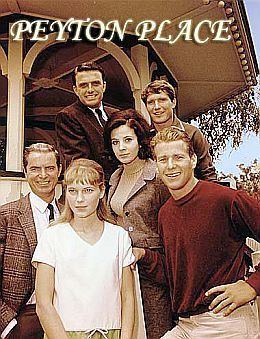 With Peyton Place, ABC hoped to bring the success of the English soap opera, Coronation Street, to America. Inspired by that soap opera, it was decided that it should be aired in prime time. Producer Paul Monash wanted to launch a revival of Grace Metalious' novel of the same name. He refused to acknowledge it as a soap opera, calling it a 'high-class anthology drama'. An hour-long pilot was shot in 1962. Originally, the Cross family from the novel was included, but when Irna Phillips was contacted to change the pilot, she decided to scrap it. Various disagreements between the makers ensued, and the official pilot was not aired until September 15, 1964.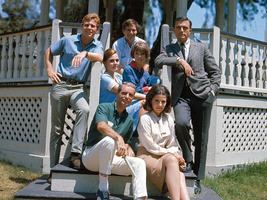 When the series premiered in late 1964, it marked the birth of the primetime American soap opera. The early stories were adapted from the 1956 book and 1957 film of the same name, although some principal character names, backstories and occupations were changed or simply eliminated. The time setting was changed from the early 1940s (of the novel and film) to the present day, and the town's location, which had previously been unidentified, was established as being in the state of Massachusetts in the fourth episode. Some sensational plot lines from the novel (like incest) were replaced with less controversial themes (like teen pregnancy). The series, nevertheless, immediately was criticized for the sexual themes with which it dealt.
Peyton Place was an instant hit; especially in the early years, when it had a loyal following from fans around the world. Originally, it was aired twice a week, but because of its success, it was increased to three airings a week in June 1965. When Dorothy Malone was rushed into emergency surgery, the producers were faced with the dilemma of what to do with her character, Constance, who at that point was too deeply embroiled in the plot line to disappear without reason. Lola Albright was hired to take over the role and continued in the series until Malone returned.
The show's downfall began in September 1966. Ratings dropped after Mia Farrow's departure. Farrow never expected the show to become a success and immediately tried to get out of her contract when the show started its airing. On the urging of her then-husband, Frank Sinatra, the producers decided to write her off the show in the summer of 1966. The character Rachel Welles, portrayed by Leigh Taylor-Young, was written into the show as her replacement. The addition of Taylor-Young's character, however, was not successful in increasing the ratings. The show was cut back to two airings a week. By 1968, most of the original characters had been written out of the show, in many cases at their own request. Critics agreed the show had become 'dated' and, because of the constant change in characters, confusing as well. The writers, already beginning work on what would be the final season, announced several new characters would be written into the show. They would deal with 'electrifying subjects, the war, the draft, riots, music, God, and godlessness'. Although several well-known actors were added to the cast, including Ruby Dee, it was cancelled on June 2, 1969.
Major changes between the 1956 novel and the series
The book is set in the years surrounding World War II. The series was set in the then modern day.
The entire Cross family, an important family in the novel, does not appear in the television series.
In the novel, Michael Rossi was a high school teacher and the school principal. In the television series, he served as the town's doctor.
In the novel, Matthew Swain was the town's doctor. In the television series, he serves as the editor of the local newspaper.
In the novel Rodney Harrington and Norman Page are unrelated. In the television series, they are both brothers, sons of Leslie Harrington.
In the novel, Betty Anderson is more bad-natured than in the television series.
In the novel, Constance runs a clothing store; in the television series, she operates a bookstore.
Plots
The series opens with a shot of a church's steeple, and the words "Peyton Place" superimposed, with a tolling of church bells. Announcer Dick Tufeld announces "This is the continuing story of Peyton Place." The scene changes to scenes of the town square, a rolling brook, and a panoramic view of Peyton Place. It dissolves to cast members, and then narration of previous episode events by Warner Anderson, who also played Matthew Swain. In 1966 the message was changed to "In color, the continuing story of Peyton Place." Warner Anderson left the series after the first season, but continued as narrator to the series until the final episode.
Season 1 (1964–1965)
In the first episode, Dr. Michael Rossi (Ed Nelson) arrives from New York City to set up practice in town. Newspaper editor Matthew Swain (Warner Anderson) tells him people usually try to get away from towns like Peyton Place, not move to them. Matthew's third cousin Allison MacKenzie (Mia Farrow), a close friend of classmate Norman Harrington (Christopher Connelly), has begun to fall in love with his older brother, Rodney (Ryan O'Neal); she is smitten as soon as they share their first kiss. At the end of the episode, Allison's mother, Constance (Dorothy Malone), makes it clear she disapproves of her daughter's newfound relationship with Rodney.
Rodney is startled to find his father, Leslie (Paul Langton), in a passionate embrace with his secretary, Julie Anderson (Kasey Rogers), the mother of Rodney's girlfriend, Betty (Barbara Parkins). Confused, Rodney tells Betty he cannot date her anymore and begins to see Allison instead. Betty, confused and hurt because he offered no reason for breaking up with her, discovers she is pregnant and tells Rodney. He agrees to marry her, and then, following a car accident, Betty miscarries their child, but she does not tell Rodney until after they are wed. They soon find out they are not meant to be together and file to have the marriage annulled.
Midway through the first season, another principal character arrives in Peyton Place. Elliot Carson (Tim O'Connor), Allison's birth father, who had been imprisoned for 18 years after being convicted of murdering his wife, Elizabeth, though the actual culprit was Catherine Peyton Harrington (Mary Anderson), Rodney & Norman's spoiled, sickly, and manipulative mother. Only after Elliot is shot by Betty's disturbed father, George Anderson (Henry Beckman), does Leslie Harrington feel guilty enough to promise to clear Elliot's name. After Leslie tells the Peyton family attorney (Patrick Whyte) that Catherine committed the murder, the reaction makes him realize that most people will believe that Leslie is the real murderer who is dragging his dead wife's name through the mud, a suspicion that rears its head throughout the run of the show, especially when Catherine's father, the show title town's patriarch, becomes a dominant regular character long after initial references to him as a dying invalid. Elizabeth Carson's affair and murder have been noted by scholars for setting up the town's legacy of transgressive women.
With his name clear, Elliot eventually marries Constance, but their decision to reveal to Allison that he is her real father, and that her mother hid that fact from her to protect her from association with a convicted murderer, does not go over too well with a daughter who had a firmly established view of the fictionalized father she had been brought up to believe in. Meanwhile, Norman falls in love with working class girl Rita Jacks (Patricia Morrow), whose mother, Ada (Evelyn Scott), owns the local tavern. They start a relationship, but Norman is constantly bothered by Rita's aggressive ex-boyfriend Joe Chernak (Don Quine). Rodney tries to defend his brother and get Joe to back off and winds up in a fight with him on the wharf, during which Joe accidentally falls off the wharf, strikes his head and, after getting up and trying to come at Rodney again, drops forward and dies.
All of this is witnessed by Kim Schuster (Kimberly Beck), the six-year-old deaf-mute daughter of David (William Smithers) and Doris (Gail Kobe). She did not want to move from New York City to Peyton Place and, as a result, starts to rebel against her mother. She only bonds with Allison, who serves as her babysitter.
Season 2 (1965–1966)
The first half of the second season focused on the Joe Chernak "murder" trial against Rodney, who is prosecuted by Attorney John Fowler (John Kerr). Rodney proclaims he is innocent, but soon more and more people turn their back on him. Only Allison truly believes in his innocence. Steven Cord is hired by Rodney to be his defence attorney. The murder trial is worsened by Joe's sister, Stella (Lee Grant), who arrived in Peyton Place earlier and felt guilt over abandoning her brother years earlier and now wants to see Rodney put behind bars even though she knows Rodney did not intend to kill her brother. She starts spreading lies about him and even gives false testimony. She is soon hated by almost everyone in Peyton Place, except for Michael Rossi, with whom she becomes romantically involved. Rita and Kim are also having emotional problems as a result of the trial. Rita feels it is all her fault, but Norman stays by her side and they elope right after she gives her testimony. Kim is also forced to give testimony, She is so traumatized by the night of Joe's death, her mother Doris decides Peyton Place is not the right environment for her daughter to live in, and they return to New York City. Rodney is eventually found not guilty, and Stella leaves town, much to the delight of almost everyone, including Mike at that point.
Another plot in the early part of this season involves Allison, who is hit by a car and lands in a coma. Prosecuter John Fowler's wife Marian (Joan Blackman) is the one who hit her, but she hides the evidence, fearing punishment along with the revelation that she was contemplating an affair with a physical therapist at the hospital right before the accident occurred. Elliot Carson is determined to find out who is guilty. When Allison awakens, she cannot remember what happened for the entire past year, including the revelation that Elliot is her real father and Rodney being on trial for murder. Michael advises Constance not to tell Allison about Elliot, claiming it will work against her recovery. This troubles Elliot, who is angry for not being allowed to see his daughter. When Allison eventually finds out the entire truth, she finds it too hard to deal with and starts to rebel and cuts her trademark long blond hair. This causes a lot of pain to Constance, who is denounced by her own daughter. In the end, Michael Rossi makes clear to Allison she is acting selfishly and convinces her to return home. She and Rodney continue their relationship, but they soon find out they have very little in common and break up.
The second half mostly focuses on an accident involving Chris Webber (Gary Haynes), who was allegedly pushed off a cliff by Ann Howard (Susan Oliver) and blinded when they were both children. Chris' tough brother, Lee (Steve Oliver), accused Ann Colby, who left town with her father following the accident. She returns as an adult to prove her innocence. Lee, however, is determined to bully her out of town, and his wife, Sandy (Lana Wood), is pushed toward Rodney, who Lee works for at the Shoreline Garage which Rodney bought with his inheritance from his mother. Meanwhile, Ann befriends Allison and becomes romantically involved with Michael Rossi.
Hannah Cord (Ruth Warrick), the housekeper/assistant to patriarch Martin Peyton (George Macready), is determined to make Ann leave town as well. Martin is the father of Catherine and grandfather of Rodney and Norman. He intimidates everyone in town, except for Betty, who is not afraid to challenge him. He admires that quality in her and hires her as his second assistant. Hannah, meanwhile, carries a dark secret about her son Steven's (James Douglas) past. Steven was already introduced in the first season as an attorney who returns to Peyton Place & represents Rodney in his trial for murdering Joe Chernack, and he later marries Betty. However, he remains suspicious of her love for Rodney despite the fact Rodney and Betty were divorced long before he met Betty. After it is established that Steven has spent much of his life living in the Peyton Manor with his "mother", Hannah Cord, and the Peyton-Harringtons, Betty and the Harringtons expect that Martin Peyton will reveal that he is Steven's father. When Betty asks him about it point blank, Steven startlingly reveals that he himself does not know: that he has always been waiting for them to tell him. Even though Hannah and Martin obviously know of Steven's expectation to be told of his apparent Peyton and Cord lineage, they have been allowing him to believe in this falsehood. It is eventually revealed that Steven and Ann are twins, the illegitimate children of Hannah's husband Brian Cord and Catherine Peyton, who gave birth to them out of wedlock. Ann had been sent away with her father, Brian, while Steven was adopted by Hannah, who pretended he was her son, as a punishment to her now ex-husband, who had always wanted a son. Martin and Hannah are the only two remaining people who know of this travesty, but soon Betty finds out as well. She confronts them, but they beg her to keep silent, claiming the truth will ruin Steven's life. Betty reluctantly agrees, but the constant lying this requires makes Steven determined to think she is indeed secretly seeing Rodney. He even goes as far as leaving her, until the truth is revealed.
In a very dramatic season finale, Allison leaves Peyton Place for good without saying goodbye to anyone. With Rodney having proposed to her only a few hours before, an angry Chris tells her that she is incapable of loving anyone, which strikes a nerve making her realize his statement is true. Apparently giving up on the town where all her previous beliefs have been shattered, from her nonexistent father to her own inability to commit to Rodney, the episode ends with her first spying on Rodney who obviously expects a happy life with her, and after a verbal confrontation by Lee Weber, she then slowly walks down the road out of town to the show's main title music (reflecting in real life actress Mia Farrow's walking off the show to accommodate the desire of her then-husband, Frank Sinatra).
With her exit being viewed simply as a disappearance, the townspeople immediately start to look for her but without any luck. Meanwhile, Lee has become the prime suspect in the murder of Ann Colby [Cord], who was found earlier by Allison at the bottom of the bluff, which only added to her inner turmoil. Chris turns his back on Lee and becomes outraged when he finds out Steven will serve as his lawyer, especially when it was revealed hat Ann was Steven's twin sister. Not only does he try to convince him to withdraw, but he also tries to push Sandy to stop protecting her husband.
Season 3 (1966–1967)
Season 3 begins in color and at first focuses on Connie, who has to go into premature labor, and gives birth to a son, who she names Matthew [gift from God]. Although she is happy for her, Rita desires to have a baby as well. Norman notices this and tells her that if she has a baby, he will have to drop out of college and work full-time to support the family. As she feels that his education is very important, Rita abandons the idea and starts working as Matthew's babysitter instead. The primary focus of the third season is the trial called 'The people versus Lee Webber'. Steven, serving as Lee's attorney, is still bothered with a lot of criticism for defending him. The trial receives a lot of attention from the townspeople, mainly because of Martin Peyton's and Hannah Cord's testimonies.
Hannah tries to reconcile with Steven, but he does not let her in, giving her a hard interrogation instead. In the heat of this, she confesses that she is not Steven nor Ann's natural mother. She reveals that Catherine Peyton had an affair with her husband Brian Colby and gave birth to them. Martin tried to hide the scandal by hiring Hannah as her maid and letting her claim that Steven was her son. Ann was sent away with Brian, who was paid to keep silent. Furthermore, she claimed that she saw Lee pushing Ann off the cliff. In the end, Hannah is denounced by her son, and Lee is released on a technicality. He returns home joyfully, but he is not welcomed by anyone anymore. Chris, determined his brother is a murderer, tries to kill him but fails and almost shoots Steven, who sends him away from Peyton Place to live in California, as well as Sandy, who has filed for a divorce and starts dating Rodney.
The other main storyline in the third season involves Rachel Welles (Leigh Taylor-Young), a young woman who ran away from home. After being taken to Peyton Place, she reacts violently to everyone's attempt to get to know her. People soon start to notice that she has Allison's bracelet, which makes Elliot and Rodney think that she knows more about her fate. Rodney forces her to tell the truth, but she claims that she found it on the road near her home. Not believing her, she is questioned relentlessly by Elliot & Rodney, which estranges her from the people even more. Only Michael is able to get close to her. When he finds out that her uncle Jack Chandler (John Kellogg) abused her, he tries to protect her from him. Jack tries to make her return with him, which frightens her. She threatens to tell everyone that she found Allison's bracelet in the floor of his truck if he keeps on harassing her, after which he gives up his legal claim to the custody of her, but threatens to harm the Carsons, including baby Matthew, if she ever reveals the truth.
Rachel moves into the Carson home but soon notices that Elliot and Constance are quarrelling a lot about her. Fearing that she might break up their marriage, she leaves the house and tries to end all confusion by trying to prove Chandler was responsible for Allison's disappearance. This leads her to his old farmhouse, where she is attacked by him. She is able to run away and returns to Peyton Place in tears. Elliot comforts her and finally admits that he wants to take care of her, even if she does not reveal any information on Allison. Following a period of peace during which she grows close to Michael, Rachel is again harassed by Chandler. In the end, he kidnaps her, and it turns out Rachel has been lying the entire time because she accidentally killed her aunt Lucy, which was witnessed by Allison. She refused to speak about Allison, because talking about her would have meant admitting to involuntary manslaughter. Rachel is able to escape but loses her mind and thinks she is Allison. Michael finally decides to send her to a clinic in Boston. Meanwhile, Chandler is arrested by the police.
Following Ann's death trial as well as rescuing Martin Peyton from a fire at the Peyton Mansion set by a departing Hannah Cord (who torches the oil portrait of Catherine Peyton), Steven moves into the Peyton mansion with Betty, ostensibly to keep his enemy close. Peyton does the same with Lee, whom he hires as his chauffeur to eventually make him pay for killing Ann. Leslie, meanwhile, is unamused with Steven seeming to have become Peyton's favorite son. Fearing that he disinherited Rodney and Norman, Leslie blackmails Betty into breaking into his safe to find out more on his past, threatening to reveal a report which falsely claims that Betty was dating several men while in New York. The truth eventually comes out, and Leslie is denounced, while Betty is forgiven. Leslie continues his criminal actions by, under pressure, helping Chandler escape from jail. This is seen by Norman, who blackmails his father into giving him a job, so he can support Rita, who now is pregnant. Weeks later, it is reported Chandler has been shot down by the police.
At the end of the season, the town is stirred by the arrival of two people: Adrienne Van Leyden (Gena Rowlands) and Eddie Jacks (Dan Duryea). Adrienne is a widow who is hired by Peyton to break up Steven's and Betty's already unstable marriage by seducing Steven. Because Betty is immediately suspicious of her, Peyton comes up with a scheme of introducing her as his fiancée. However, Adrienne is able to seduce Steven and they start an affair. Meanwhile, Ada is unamused by the arrival of her estranged husband Eddie, who left her 19 years ago. He insists on getting back in touch with his daughter, and Rita is shocked when she meets him.
Season 4 (1967–1968)
The primary focus of the series in the beginning of the season remain Adrienne and Eddie. Adrienne starts falling in love with Steven, which is noticed by Peyton, who criticizes her for her indulgence. During her stay in Peyton Place, several claims of Adrienne's notorious past are revealed. She is rumored to have driven her late husband to commit suicide, and she has been paid multiple times for entertaining men. Betty eventually finds out about the affair and immediately leaves her husband, turning to Rodney. Uncertain because of Steven's frequent claims of his loyalty, Betty confronts Adrienne, during which Adrienne accidentally falls off the stairs. She dies on the night before her wedding to Peyton.
Meanwhile, Rita decides she wants to learn to know Eddie and starts to quarrel with Ada, whom she blames for never having met her father. Unlike Rita, most people in town are suspicious of Eddie's motivations on his return. Norman and Peyton blame Eddie for having returned to profit from Rita's marriage to a wealthy family, but Eddie claims he returned to make sure Rita will not get hurt by Norman. Because of Eddie's mysterious meetings with Leslie, Elliot thinks that Eddie may have had a connection to Chandler. Leslie, again thinking Peyton will change his will, offers Eddie money to kill Peyton. After a contract is signed, Eddie sets out to the Peyton mansion but is found hovering over Adrienne's body. He is shortly put in jail, until Steven, who serves as Eddie's lawyer, finds out Betty was in the mansion when Adrienne died.
Peyton soon comes to the conclusion that Leslie hired Eddie to kill him and convinces Lee to murder Leslie as revenge. When away, Peyton calls Leslie to warn him, and it turns out Peyton is planning on letting Lee and Leslie kill each other to make Lee pay for murdering Ann. Leslie shoots Lee in defense and a severely wounded Lee returns to the mansion to confront Peyton with his betrayal. The moment Lee is about to shoot Peyton, Steven comes in, and, following a struggle, a shot is heard which kills Lee.
Later, Jill Smith (Joyce Jillson) comes to town with an infant she claims is Allison's baby, although in these pre-DNA times the child's parentage is never proved. She gives the care of the baby to the Carsons, much to Rodney's anger, who thinks the baby is his. It turns out she was in a scheme with Joe Rossi (Michael Christian), Michael's rebellious younger brother, who came to town following some criminal activities gone bad in New York. When Jill admits the baby is hers, Connie suffers a mental breakdown and soon leaves town with Elliot.
Following a confrontation between Norman and Eddie, Eddie decides to leave town. Rita is shocked when she finds this out and collapses. After two surgeries, it is revealed she suffered a miscarriage. Afterwards, she sinks into depression and has severe nightmares of Joe Chernak, caused by Joe Rossi, who resembles Chernak a lot. To recover, she contacts Reverend Tom Winter (Robert Hogan), who is unhappily married to his alcoholic wife Susan (Diana Hyland). Winter also serves as a support for Carolyn Russell (Elizabeth Walker), a rebellious teenager who has difficulty processing the divorce of her parents Marsha (Barbara Rush) and Fred (Joe Maross). She acts out by flirting with Joe and dating band member Jeff, which escalates when Marsha starts dating Michael.
Furthermore, Winter takes Jill under his care, encouraged by his wife. Susan hopes Jill, with her youth and beauty, will entice Winter, and Winter will leave the ministry out of guilt and spend more time with her. Winter indeed tries to seduce Jill, who is horrified by the sexual tension and suddenly leaves the Winter house. This prompts Winter to leave the ministry and move out of their home. He gets a job trapping lobsters and moves into a fishing boat on the wharf. Susan, realizing that she has lost her husband, breaks down and is hospitalized following a drunken binge. The child welfare authorities interpret these events as instability and give the custody of Jill's child to Norman and Rita. Steven, as her lawyer, tries to prove that Jill was actually the victim of Susan's plan, but he is pre-occupied with Rodney and Betty, who have now remarried. He was determined to break up their marriage, until Rodney was suddenly paralyzed after a car accident that Steven accidentally caused. He has been feeling guilty ever since and attempts to help him out, but Rodney refuses to be involved with him.
Season 5 (1968–1969)
In the final year, Ed Nelson became the lead actor on the series, and many of the stories revolved around him. His relationship with Marsha becomes serious, even though she is reluctant to take it to the next level, due to Carolyn's disapproval. Carolyn continues to hurt her mother's feelings for having left Fred, and, one night, Marsha walks in on Carolyn involved in a heavy kissing scene with Jeff. In panic, Marsha calls Fred for help, but he blames her for being a bad parent and threatens to sue for custody. This plan is aborted when Carolyn decides that she wants nothing to do with him any longer after finding out that her father is indeed an adulterer when she leaves to stay with him and finds his latest conquest in his bedroom in his apartment. Around the same time, Michael convinces Marsha that her life should not revolve around Carolyn's approval and they become engaged.
Susan, desperate to save her marriage, threatens to ruin Jill's life unless Tom takes her back. Tom, however, files for divorce. He is constantly bothered by Joe, who holds him responsible for Jill having lost her baby to the courts. Despite his behavior, Joe reconciles with Jill, and they marry. Afterwards, they regain custody and happily leave town. Susan, meanwhile, turns to Steven for comfort, and after a short-lived affair, she plans on marrying him and moving into the Peyton mansion, even though Betty tries to buy the same mansion - with the money she has inherited from Martin Peyton, who has recently died - to drive Steven out of town. She does this because Rodney is convinced that - while he is in hospital trying to regain movement in his feet - she is having an affair with Steven. Norman suspects the same, which upsets Rita. For a short while, Betty is able to convince him otherwise, until Steven - bitter over having inherited nothing from Peyton, plots to ruin Betty's life. In a plot twist, a new will by Martin Peyton is revealed that leaves nothing to any of his family, to include Betty. She debates whether or not to contest the will, but finally realizing she loves Rodney more than the money, she leaves town with Rodney when he decides to return to college.
During all this, an African-American family is introduced into town: neurosurgeon Dr. Harry Miles (Percy Rodriguez), his wife Alma (Ruby Dee) and 17-year-old son Lew (Glynn Turman). Harry and Alma are worried about Lew, whose behavior has drastically changed since an internship in New York with one of Harry's mentors. Unlike in the past, Lew does not communicate with his parents anymore and has no desire to become a doctor. He struggles with his racial identity and carries a dark secret involving a hit-and-run accident [he was a passenger in the car] while he was in New York that involves Vickie Fletcher (Judy Pace), who comes to town, and announces her pregnancy. Wanting her baby to grow up in a stable environment, she blackmails Lew into agreeing to marry her, threatening to claim that he caused a car accident if he does not, even though Lew did not cause it.
In the final episode (which is notably more rushed from scene to scene than any other in order to tie off a lot of loose ends within one episode), Ed Nelson's character, Michael Rossi, is arraigned for the murder of Carolyn's ex-husband, Fred, who died following a confrontation with Mike. Shockingly, Steven Cord is unsuccessful in creating reasonable doubt, and Mike is held over for trial. Lew who has been contemplating giving himself up for his involvement in the hit-and-run in New York, wonders how, if the court system can think this very popular White doctor killed a man, what chance at fairness does he as a Black man have? Word reaches the Peyton Police of his involvement, and he agrees to turn himself in rather than run. The series ends with Dr. Rossi sitting alone in his jail cell contemplating what his future might be, and we are left to wonder the same thing.
Original cast
Constance MacKenzie (Dorothy Malone, 1964–1968, episodes 1–435; 440 Lola Albright briefly played the role in Malone's absence)
Allison's mother. Although Constance initially has a good relationship with Allison, their relationship become strained after Allison finds out Constance lied to her about who her father is. Constance later marries Elliot Carson.
Matthew Swain (Warner Anderson, 1964–1965, episodes 1–111)
The editor of the town newspaper. He is the father figure in Allison's life and is a good friend of his second cousin, Constance.
Dr. Michael Rossi (Ed Nelson, 1964–1969, entire run)
The doctor who moved from New York City to Peyton Place for mysterious reasons. He clashes several times with colleague Dr. Robert Morton but eventually gets accepted in the town. He becomes romantically involved with several people, including Dr. Morton's daughter Claire.
Allison MacKenzie (Mia Farrow, 1964–1966, episodes 1–263)
The quiet and smart daughter of Constance. She likes to spend her time reading books and usually befriends older people. She also becomes romantically involved with Rodney several times.
Rodney Harrington (Ryan O'Neal, 1964–1969, episodes 1–501)
The oldest son of Leslie and Catherine Harrington. He is more social and popular than his brother Norman and falls in love with Allison. Their relationship never really progresses, because his old girlfriend Betty always tries to stop them. An interesting fashion note is that the Baracuta G9 jacket that Rodney Harrington often wore, became known as the
Harrington jacket
and is still sold under that name by Baracuta
Betty Anderson (Barbara Parkins, 1964–1969, entire run)
The daughter of George and Julie. She is in love with Rodney and does everything to win him over, although he is in love with Allison. This includes lying about being pregnant and tricking him into marrying her.
Julie Anderson (Kasey Rogers, 1964–1966, episodes 1–252; 435-436)
Wife of George and mother of Betty. She was introduced as the secretary and secret lover of Leslie. After ending their affair, she became a full-time housewife.
George Anderson (Henry Beckman, 1964–1965, episodes 4–59)
Husband of Julie and father of Betty. Known as the aggressive guy, who abused his wife. He eventually loses his mind and is taken to a sanatorium.
Leslie Harrington (Paul Langton, 1964–1968, episodes 1–69; 121–436; 452-454)
Husband of Catherine and father of Rodney and Norman. Although Leslie only wanted the best for his family, he was one of the most hated people of Peyton Place. He was a suspect of the murder of Elizabeth Carson and eventually left town because of his bad reputation.
Norman Harrington (Christopher Connelly, 1964–1969, 1-514)
The youngest son of Leslie and Catherine and shy younger brother of Rodney. He is in love with Allison, but never stands a chance with her. He later becomes romantically involved with Rita Jacks, despite their social differences.
Laura Brooks (Patricia Breslin, 1964–1965, episodes 2–36)
Sister of Leslie and widow of Dr. Donald Brooks. After Dr. Rossi arrived in town, she immediately fell in love with him and became his secretary. They never had a relationship. She eventually left town to move to Europe, explaining she could not live in a town with so many problems.
Catherine Harrington (Mary Anderson, 1964, episodes 2–20)
Daughter of Martin Peyton, wife of Leslie and mother of Rodney and Norman. Despite her death, she remained a character who was recurrently talked about. It was later revealed she was to blame for Elizabeth Carson's murder and was the mother of Steven Cord and Ann Howard.
Dr. Robert Morton (Kent Smith, 1964–1965, recurring afterwards, episodes 8–137, 214–240)
Husband of Grace and father of Claire. He was a rival of Dr. Rossi, but they later reconciled. He is a close friend of the Harrington family.
Later main characters
Elliot Carson (Tim O'Connor, 1965–1968, episodes 25–435; 440)
Son of Eli, husband of Connie and father of Allison. He spent 18 years in jail for a false accusation and later became the editor of the local newspaper.
Rita Jacks (Patricia Morrow, 1965–1969, episodes 52–514)
Daughter of Ada and Eddie. She grew up in a poor family but fell in love with wealthy Norman Harrington. Their relationship had its problems, since Rita was constantly bothered by her former boyfriends.
Claire Morton (Mariette Hartley, 1965, episodes 56–109)
Daughter of Robert and Grace who lived very long in Peru with her husband Vincent. She returned to Peyton Place when her marriage failed, running away from her husband without filing for a divorce. She falls in love with Michael.
David Schuster (William Smithers, 1965–1966, episodes 69–202)
Husband of Doris and father of Kim, who came to town to take over the Peyton Mill from Leslie. He had big marriage problems and was suspected to have feelings for Allison, Kim's babysitter.
Doris Schuster (Gail Kobe, 1965, episodes 69–147, 187-189)
Wife of David and mother of Kim, who is devastated she can not have a close relationship with her daughter, who makes no secret she hates her mother. Because of their different ideas in the raising of Kim, she and David fight a lot.
Kim Schuster (Kimberly Beck, 1965, episodes 69–140, 187-189)
The six-year-old daughter of David and Doris who is deaf. She hates her mother, but is fond of her babysitter, Allison. She suffers a traumatic experience when she witnesses the death of Joe.
Steven Cord (James Douglas, 1965–1969, episodes 77–514)
Believed to be the son of Hannah Cord, but turned out to be an illegitimate son of Catherine Harrington. He starts to work as a lawyer and is involved in a love triangle involving Betty and Rodney.
Hannah Cord (Ruth Warrick, 1965–1967, episodes 90–302, 435-436; 476; 480; 505-506)
Believed to be the mother of Steven Cord, but it turns out she adopted him. She works as the loyal maid of Martin Peyton. When the truth about Steven's true parents comes out, she becomes depressed.
Stella Chernak (Lee Grant, 1965–1966, episodes 111–199)
The daughter of Gus and older sister of Joe, who is hated by almost everyone in town because she is lying to the police, which is the cause of Rodney facing a jail sentence. Only Michael believes in her innocence and hires her as his personal assistant.
Martin Peyton (George Macready, 1965–1968, episodes 133–402; Wilfrid Hyde-White briefly played the character in Macready's absence)
The father of Catherine Harrington and the most powerful and influential man in Peyton Place. Because of his bitter personality and short temper, he is feared by most people. He bonds with Betty and wants her to be Rodney's wife.
Ann Howard (Susan Oliver, 1966, episodes 205–254)
Ann was believed to be the person who blinded Chris Webber. She is determined to prove her innocence and is supported by Michael. She turns out to be Catherine Harrington's daughter, twin sister of Steven.
Lee Webber (Stephen Oliver, 1966–1968, episodes 206–400)
The brother of Chris and bad boy of the town. He likes to beat his wife Sandy and regularly fights with Rodney. Ann blames him for having blinded Chris, and he is determined to do everything to silence her.
Rachel Welles (Leigh Taylor-Young, 1966–1967, episodes 276–354)
A teen who is abused by her uncle. She is romantically involved with Michael and moves in with the Carson family. She is eventually abducted by her uncle and loses her mind.
Jill Smith (Joyce Jillson, 1968, episodes 402–473)
The woman who claims to have Allison's child. This results in several men in town thinking they are the father of the child. It turns out she herself is the mother of the child, with Michael's younger brother being the father.
Joe Rossi (Michael Christian, 1968, episodes 411–473)
The younger brother of Michael who has a romantic history with Jill and agrees to help her with her scheme.
Tom Winter (Robert Hogan, 1968–1969, episodes 419–514)
The husband of Susan. He works as a minister. He tries to convince his wife to end her alcoholism.
Susan Winter (Diana Hyland, 1968–1969, episodes 421–514)
The alcoholic wife of Tom. She has marriage problems, because she refuses his attempts to end her addiction.
Carolyn Russell (Elizabeth Walker, 1968–1969, episodes 430–514)
The wild daughter of Marsha and Fred. She falls in love with Lew, but her father disapproves of him because he is Black.
Marsha Russell (Barbara Rush, 1968–1969, episodes 433–514)
The mother of Carolyn and wife of Fred. She is beaten up by Fred several times and therefore files for divorce. She next falls in love with Michael.
Fred Russell (Joe Maross, 1968–1969, episodes 446–514)
Father of Carolyn and husband of Marsha. He is known as the bad guy who beats his wife.
Dr. Harry Miles (Percy Rodriguez, 1968–1969, episodes 450–514)
A well-respected surgeon who is married to Alma. He is the father of Lew.
Alma Miles (Ruby Dee, 1968–1969, episodes 467–514)
The wife of Harry and mother of Lew, who always has wonderful manners.
Lew Miles (Glynn Turman, 1968–1969, episodes 469–514)
The son of Harry and Alma, who always has good grades in school. He falls in love with Carolyn, but her father disapproves of him because he is Black.
Secondary characters
Eli Carson (Frank Ferguson, 1964–1969, episodes 18–507)
Caring father of Elliot Carson. Carson never had a substantial storyline and usually served as a person people went to for advice. Married Maggie Riggs during the last months of the series.
Dr. Bradley (Charles Irving, 1964, episodes 22-29)
Doctor at the hospital, friend of Doctor Morton. Lied to protect Dr. Morton when Catherine Harrington died and nearly cost Dr. Rossi his career and reputation.
Ted Dowell (Patrick Whyte, 1964–66, episodes 24-204)
Leslie Harrington's lawyer and friend.
Grace Morton (Edith Atwater, 1964-1965, episodes 29–109)
The mother of Claire Morton and wife of Doctor Robert Morton.
Ada Jacks (Evelyn Scott, 1965–1969, episodes 36–514)
The mother of Rita and owner of her own Tavern at the wharf. She grew up in the poor side of the town and often feels guilty for not raising Rita the right way when she was a teenager.
Sharon Purcell (Dayna Ceder, 1965, episodes 36–41)
A friend of Betty who lives in New York City. She spends her time seducing older rich men to get what she wants.
Calvin Hanley (Whit Bissell, 1965, episodes 38-48)
Father of Elliot's murdererd wife Elizabeth and owner of the drugstore/iced cream parlor. Hates Elliot and was responsible for his son Paul giving testimony against Elliot. Knows more than he lets on about the truth surrounding his daughter's killer.
Paul Hanley (Richard Evans, 1965, episodes 38–68)
Brother of Elliot's murdered wife Elizabeth and a professor of English at Peyton College who bonds with Allison when she becomes a student in his Freshman English class. He is an enemy of Elliot, because as a child he gave false testimony which sent Elliot to jail for 18 years.
Esther Choate (Erin O'Brien-Moore, 1965–1969, recurring from 50 to 507)
Head Nurse at the hospital, initially antagonistic toward Dr. Rossi, later more a sympathetic friend.
Reverend Jerry Bedford (Ted Hartley, 1965-1966, episodes 69-204).
Returns to Peyton Place as the new minister, dates Betty Anderson for a time but loses her to Steven Cord.
Mrs. Dowell (Heather Angel, 1965, episodes 79-85).
Joe Chernak (Don Quine, 1965, episodes 83–113)
The son of Gus and younger brother of Stella who has the reputation for being the bad guy. He is the ex-boyfriend of Rita and is still in love with her. When she starts dating Norman, Joe constantly harasses him.
Vincent and Kenneth Markham (Leslie Nielsen, 1965, episodes 90–109)
Vincent is the husband of Claire and was left behind in Peru, where he works as a doctor. He also travels to Peyton Place to take his wife back and is eventually visited by his twin brother, Kenneth, who tells him that he is ill and will die if he stays in Peyton Place.
Gus Chernak (Bruce Gordon, 1965–1966, episodes 111–177)
Alcoholic father of Gus and Stella who makes her daughter perjure herself. He hates the Harrington family and when he gets fired, he is determined to take revenge on Martin Peyton.
John Fowler (John Kerr, 1965–1966, episodes 117–298)
Lawyer and husband of Marian, who is enraged when he finds out his wife is having an affair. He is a district attorney who is determined to get Rodney Harrington behind bars. Elliot blames him for being too subjective, because, according to him, John hates the Harrington family.
Marian Fowler (Joan Blackman, 1965–1966, episodes 133–191)
Wife of John Fowler, who was secretly seeing Dr. Russ Gehring. She hit Allison with her car but did not stop to help and keeps the accident a secret instead. She also has marriage problems and eventually admits she has an affair.
Sandy Webber (Lana Wood, 1966–1967, recurring afterwards, episodes 209–346, 404)
The wife of Lee who falls in love with Rodney. She is beaten up by her husband several times but does not want to leave him. She becomes a rival of Betty, because she is in love with Rodney as well.
Chris Webber (Gary Haynes, 1966–1967, episodes 224–312)
The brother of Lee who has been blind since he was a child. Ann tries to convince him she was not the one who blinded him, but Chris initially refuses to believe his own brother was responsible.
Jack Chandler (John Kellogg, 1966–1967, episodes 288–357)
The uncle of Rachel who started to sexually abuse her after the death of his wife. He follows her to Peyton Place and, after blackmailing Leslie, abducts her.
Adrienne Van Leyden (Gena Rowlands, 1967, episodes 355–393)
Introduced as the fiancée of Martin Peyton, but was actually involved in his scheme to break up Steven's and Betty's marriage. Although being hated by the townspeople, she is successful in seducing Steven.
Eddie Jacks (Dan Duryea, 1967–1968, episodes 363–429)
Estranged husband of Ada and father of Rita, who left his family behind when Rita was a kid. However, he is now determined to change his life and wants to contact his daughter.
Sergeant Goddard (Garry Walberg, 1965–1966)
Recurring police officer investigating, among other things, the death of Gus Chernak at the Peyton mansion.
Minor characters played by recognizable actors
Thomas was Martin Peyton's chauffeur, originally portrayed by James Doohan from Star Trek in about a dozen episodes; just one episode after Thomas leaves town on an errand, another Star Trek actor, Nichelle Nichols turns up for two episodes as Martin Peyton's nurse. Later Doohan returned for an episode before the character Thomas was taken over by another actor.
Another recurring policeman character was portrayed by Greg Morris.
The member of the parole board who contemplates the release of Eliott Carson was portrayed by Dabbs Greer.
A future Academy Award-winning actor who had two brief appearances on the series was Richard Dreyfuss. In one early episode he is seen dropping stacks of the newspaper The Clarion from the back of a delivery truck. In the episode in which Rodney and Allison are preparing to graduate from high school, he has dialogue as an annoyed student who has been waiting for them as they are the last ones to pick up their caps and gowns.
Schedules
When the show premiered in 1964, Peyton Place aired twice a week. Both installments of the show were Top 20 hits in the Nielsen ratings and this inspired ABC to air the show three times a week starting in the fall of 1965. This move caused trouble for people who followed the show religiously, and many people tuned out. The season ratings for Peyton Place never rose into the Top 30 again and the serial's production was dropped back to two episodes a week. In 1969, with the show losing viewers with each episode, Peyton Place aired in one installment a week until the final episode was shown in June.
The show was one of the first seen on US network television to talk about sex and infidelity in a frank manner. As such, ABC executives would only allow the show to be aired at 9:30 p.m. Eastern/Pacific time, a time at which many children and teenagers were expected to be in bed. With the show in a ratings slump in 1968, the show was moved to 8:30 p.m. in order to draw the viewers they once had shunned.
The series was revived as a daytime serial from April 3, 1972 to January 4, 1974 as Return to Peyton Place. Three of the actors from the primetime series reprised their roles on the daytime series – Frank Ferguson as Eli Carson, Patricia Morrow as Rita Harrington, and Evelyn Scott as Ada Jacks. However, the daytime series did not prove to be as successful as the primetime series had been.
Two television movies followed. The first; Murder in Peyton Place was broadcast on NBC in the fall of 1977. Billed as a reunion movie it focused on the mysterious deaths of Rodney Harrington and Allison MacKenzie, as well as a diabolical plot of a powerful person to ruin the community. It reunited original cast members Dorothy Malone, Ed Nelson, Tim O'Connor, Joyce Jillson, and Christopher Connelly. The second; Peyton Place: The Next Generation which aired in the spring of 1985 on NBC, was conceived as a one-shot sequel, that would hopefully revive the popular series and was therefore also promoted as a television pilot. Although a new series of the show never came to fruition; the film did reunite original cast members Dorothy Malone, Ed Nelson, Tim O'Connor, James Douglas, Christopher Connelly, Ruth Warwick and Barbara Parkins, who had declined to appear in Murder in Peyton Place.
Ratings
1964–65: 25.5
1965–66: 19.5
1966–67: 17.7
1967–68: 16.1
1968–69: 12.3
DVD releases
Peyton Place: Part One, was released on May 19, 2009 by Shout! Factory as a five-disc set containing 31 half-hour episodes. Shout! Factory released Peyton Place: Part Two, a five-disc set including 33 half-hour episodes, on July 14, 2009.
References
Peyton Place (TV series) Wikipedia
(Text) CC BY-SA