Born

December 10, 1941 (age 74) (

1941-12-10

)

Spouse

Constance Fleurat (m. 1966)

Children

Michael Goetz, Kevin Goetz

Parents

Esther L. Goetz, Irving A. Goetz

Movies

Scenic Route, Father of the Bride, Father of the Bride Part II, My Girl, King Kong Lives




Similar People

Kevin Goetz, Kate McGregor‑Stewart, Charles Shyer, Howard Zieff, John Guillermin



Peter Michael Goetz (born December 10, 1941) is an American actor.
Contents
Early life and education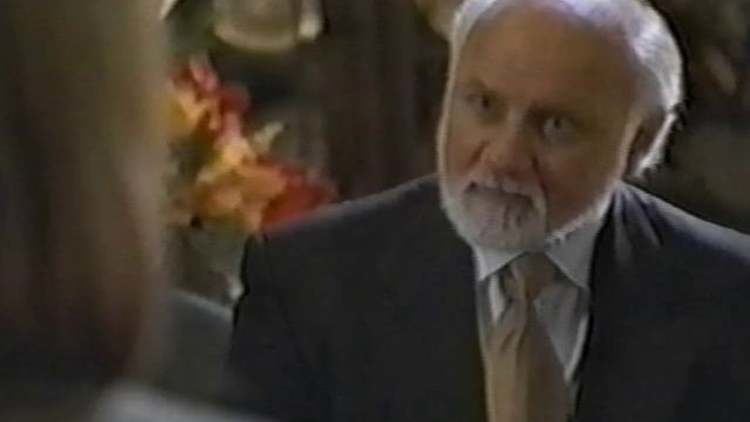 Goetz was born in Buffalo, New York, the son of Esther L. and Irving A. Goetz, a construction engineer.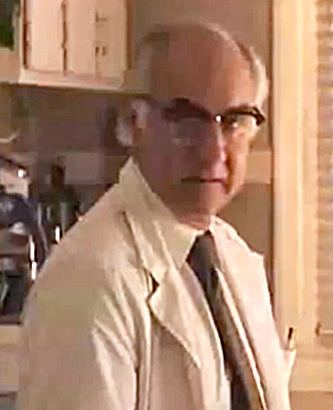 Goetz studied at the State University of New York at Fredonia, Southern Illinois University Carbondale, and the University of Minnesota, from which he graduated.
Career
After college, Goetz joined the Guthrie Theater in Minneapolis, where over the course of 40 years he has appeared in numerous productions, including Death of a Salesman, All My Sons, A Moon for the Misbegotten, The National Health, An Enemy of the People, Cat on a Hot Tin Roof, The Matchmaker, Arsenic and Old Lace, Waiting for Godot, A Midsummer Night's Dream, and The Taming of the Shrew.
Goetz made his Broadway debut as John Barrymore in the 1981 Colleen Dewhurst-directed play Ned and Jack, which closed on opening night. Additional New York City theatre credits include Beyond Therapy, Brighton Beach Memoirs, The Government Inspector, The Last Night of Ballyhoo, Macbeth, and the off-Broadway productions The Jail Diary of Albie Sachs and Alan Ayckbourn's Comic Potential.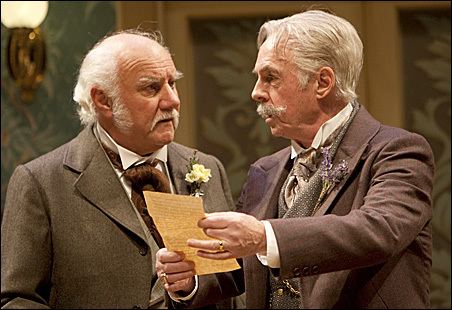 Feature films in which Goetz has appeared include Wolfen, Prince of the City, The World According to Garp, Jumpin' Jack Flash, King Kong Lives, Father of the Bride, Dad, Glory, My Girl, and The Empty Mirror.
His many television credits include AfterMASH, Lou Grant, St. Elsewhere, The Facts of Life, Simon & Simon, Matlock, The Golden Girls, L.A. Law, The Cavanaughs, Twin Peaks, Picket Fences, Touched by an Angel, The Practice, The West Wing, Gilmore Girls, Without a Trace, Arrested Development, in addition to numerous television films and mini-series.
Personal life
Goetz married Constance Fleurat in 1966. They have two sons, Michael Goetz, Kevin Goetz.
Filmography
Actor
2019
A Violent Separation
as
Riley Jenkins
2016
Rush Hour (TV Series)
as
Rooney
- O Hostage! My Hostage! (2016) - Rooney
2015
Martyrs
as
Professor (uncredited)
2013
Scenic Route
as
Old Man in Car
2009
Mending Fences (TV Movie)
as
Doc Beatty
2006
Psych (TV Series)
as
Griffin Mahoney
- Weekend Warriors (2006) - Griffin Mahoney
2006
Where There's a Will (TV Movie)
as
Donnie Paul Lugger
2006
Arrested Development (TV Series)
as
Dr. Farmer
- Fakin' It (2006) - Dr. Farmer
2003
Without a Trace (TV Series)
as
Mr. Mandel
- A Tree Falls (2003) - Mr. Mandel
2001
Gilmore Girls (TV Series)
as
Straub Hayden
- Dear Emily and Richard (2003) - Straub Hayden
- Christopher Returns (2001) - Straub Hayden
2001
That's Life (TV Series)
as
Ron Winters
- M.Y.O.B. (2001) - Ron Winters
2001
The West Wing (TV Series)
as
Paul Hackett
- 18th and Potomac (2001) - Paul Hackett
2000
The Practice (TV Series)
as
Dr. Dennis Murphy
- An Early Frost (2001) - Dr. Dennis Murphy
- Show and Tell (2000) - Dr. Dennis Murphy
- Appeal and Denial (2000) - Dr. Dennis Murphy
2000
The View from the Swing
as
Dr. Mullins
2000
Chicken Soup for the Soul (TV Series)
as
2000
- Letters to Suzie (2000) - 2000
2000
Family Law (TV Series)
as
Mr. Yarborough
- A Mother's Son (2000) - Mr. Yarborough
1999
Home Improvement (TV Series)
as
Dr. Hanover
- The Long and Winding Road: Part 3 (1999) - Dr. Hanover
- The Long and Winding Road: Part 1 (1999) - Dr. Hanover
- Loose Lips and Freudian Slips (1999) - Dr. Hanover
1999
Valerie Flake
as
Douglas Flake
1998
My Engagement Party
as
Robert Salsburg
1997
Fame L.A. (TV Series)
as
Mr. Hicks
- The Guru (1997) - Mr. Hicks
1997
413 Hope St. (TV Series)
as
David L. Forrest
- Redemption (1997) - David L. Forrest
1997
Ellen (TV Series)
as
Dr. Haddassi
- Makin' Whoopie (1997) - Dr. Haddassi
1996
Star Wars: Return of the Jedi - The Original Radio Drama (TV Series)
as
General Madine
- Pattern and Web (1996) - General Madine (voice)
1996
Touched by an Angel (TV Series)
as
Jordan Du Bois
- The Violin Lesson (1996) - Jordan Du Bois
1996
The Empty Mirror
as
Sigmund Freud
1996
The Pretender (TV Series)
as
Dr. Miles Hendricks
- Pilot (1996) - Dr. Miles Hendricks
1996
Infinity
as
Dr. Gell-Mann
1996
The Faculty (TV Series)
as
Principal Herbert Adams
- Julie's Party (1996) - Principal Herbert Adams
- The Brain Teaser (1996) - Principal Herbert Adams
- Clark's Crisis (1996) - Principal Herbert Adams
- Parents' Night (1996) - Principal Herbert Adams
- Bus Stop (1996) - Principal Herbert Adams
- He's the Janitor (1996) - Principal Herbert Adams
- Daisy's Secret (1996) - Principal Herbert Adams
- Spirit Day (1996) - Principal Herbert Adams
- Behavior Among Adults (1996) - Principal Herbert Adams
- Somewhere There's Music (1996) - Principal Herbert Adams
- Opportunity Knockers (1996) - Principal Herbert Adams
- Carlos Garcia (1996) - Principal Herbert Adams
- Pilot (1996) - Principal Herbert Adams
1996
Sisters (TV Series)
as
Elton Grenthal
- The Best Man (1996) - Elton Grenthal
1995
Father of the Bride Part II
as
John MacKenzie
1995
My Brother's Keeper (TV Movie)
as
Tabor
1995
The Buccaneers (TV Mini Series)
as
Colonel St. George
- When Nan (1995) - Colonel St. George
- Capture (1995) - Colonel St. George
- Conquest (1995) - Colonel St. George
- Invasion (1995) - Colonel St. George
1994
The Boys Are Back (TV Series)
as
Ron Ginrich
- Mikey at Nike (1994) - Ron Ginrich
1993
The Day My Parents Ran Away (TV Movie)
as
Waldo
1993
Picket Fences (TV Series)
as
Dr. Haber
- Cross Examination (1993) - Dr. Haber
1992
Room for Two (TV Series)
as
Ken Kazurinsky
- 'M' Is for the Many Things (1993) - Ken Kazurinsky
- Big Noise from Mendota (1993) - Ken Kazurinsky
- Moving On (1993) - Ken Kazurinsky
- To Book or Not to Book (1993) - Ken Kazurinsky
- Sex, Rugs, and Rock 'n' Roll (1993) - Ken Kazurinsky
- Look Ma, Four Hands (1992) - Ken Kazurinsky
- A Home, a Loan (1992) - Ken Kazurinsky
- All Edie's Children (1992) - Ken Kazurinsky
- All Men Are Created Equal, Bummer (1992) - Ken Kazurinsky
- Dog Day Afternoons (1992) - Ken Kazurinsky
- The Night of the Living Lou (1992) - Ken Kazurinsky
- And Now, a Pause for Menopause (1992) - Ken Kazurinsky
- Ken, We Hardly Knew Ye- Much (1992) - Ken Kazurinsky
- A Night with the Jetsons (1992) - Ken Kazurinsky
- If It's Saturday, It Must Be Meat Loaf (1992) - Ken Kazurinsky
- My Right Foot (1992) - Ken Kazurinsky
- A Couple of Couples (1992) - Ken Kazurinsky
- Little White Lies (1992) - Ken Kazurinsky
- A Couch with a View (1992) - Ken Kazurinsky
- Winners and Other Losers (1992) - Ken Kazurinsky
- Psyched! (1992) - Ken Kazurinsky
- Private Parts (1992) - Ken Kazurinsky
- Help (1992) - Ken Kazurinsky
- Whose Mouth Is It Anyway? (1992) - Ken Kazurinsky
- Not Quite- Room for Two (1992) - Ken Kazurinsky
- Pilot (1992) - Ken Kazurinsky
1992
The Water Engine (TV Movie)
as
Soapbox Speaker One
1991
Father of the Bride
as
John MacKenzie
1991
Stat (TV Series)
as
Ira
- Safe Smuggling (1991) - Ira
1991
Tagget (TV Movie)
as
Alex Howell
1990
Fine Things (TV Movie)
as
Bergosian
1990
Gabriel's Fire (TV Series)
as
Petroni
- To Catch a Con: Part 2 (1990) - Petroni
- To Catch a Con: Part 1 (1990) - Petroni
1990
Twin Peaks (TV Series)
as
Jared (segment 'Invitation To Love')
- The Last Evening (1990) - Jared (segment 'Invitation To Love')
- Cooper's Dreams (1990) - Jared (segment 'Invitation To Love')
- Rest in Pain (1990) - Jared (segment 'Invitation To Love')
1990
L.A. Law (TV Series)
as
Dr. Robert Woolf
- Whatever Happened to Hannah? (1990) - Dr. Robert Woolf
1990
The Golden Girls (TV Series)
as
Dr. Stein
- Like the Beep Beep Beep of the Tom Tom (1990) - Dr. Stein
1989
Matlock (TV Series)
as
Steven Abbot
- The Scrooge (1989) - Steven Abbot
1989
Glory
as
Francis George Shaw
1989
Mancuso, FBI (TV Series)
as
Kaufman
- Weapons-Grade (1989) - Kaufman
1986
The Cavanaughs (TV Series)
as
Chuck Cavanaugh
- Just Weaseled (1989) - Chuck Cavanaugh
- The Cavanaugh Curse (1989) - Chuck Cavanaugh
- The Last Temptation of Chuck (1989) - Chuck Cavanaugh
- Fair Weather Friend (1989) - Chuck Cavanaugh
- Gimme Shelter (1988) - Chuck Cavanaugh
- Strange Bedfellows (1988) - Chuck Cavanaugh
- Smoke Gets in Your Eyes and Up Your Nose (1988) - Chuck Cavanaugh
- Many Happy Returns (1988) - Chuck Cavanaugh
- Suggestive Dancing (1988) - Chuck Cavanaugh
- Monk's the Word (1988) - Chuck Cavanaugh
- Careers (1988) - Chuck Cavanaugh
- Coastal Disturbance (1988) - Chuck Cavanaugh
- Weasel Waltz (1988) - Chuck Cavanaugh
- Aunt Mom (1987) - Chuck Cavanaugh
- He Ain't Heavy, Father- (1987) - Chuck Cavanaugh
- Banned in Boston (1987) - Chuck Cavanaugh
- A Chorus Malign (1987) - Chuck Cavanaugh
- The Eyes Have Had It (1987) - Chuck Cavanaugh
- The Arrangement (1987) - Chuck Cavanaugh
- Strike Too (1987) - Chuck Cavanaugh
- Angst a Lot (1987) - Chuck Cavanaugh
- The Bishop's Back (1986) - Chuck Cavanaugh
- Yes, Virginia, There Is a Pop (1986) - Chuck Cavanaugh
- Love with an Improper Stranger (1986) - Chuck Cavanaugh
- Not So Gently Into the Night (1986) - Chuck Cavanaugh
- Member of the Wake-ing (1986) - Chuck Cavanaugh
1989
I Know My First Name Is Steven (TV Mini Series)
as
Pat Hallford
- Episode #1.2 (1989) - Pat Hallford
- Episode #1.1 (1989) - Pat Hallford
1989
What's Alan Watching? (TV Special)
as
Leo Hoffstetter
1989
The Outside Woman (TV Movie)
as
Madison
1989
Midnight Caller (TV Series)
as
Stanton Durose
- But Not for Me (1989) - Stanton Durose
1989
The Karen Carpenter Story (TV Movie)
as
Harold Carpenter
1988
A Stoning in Fulham County (TV Movie)
as
Keller
1988
Maybe Baby (TV Movie)
as
Mayor Vincent Maneri
1988
A Father's Homecoming (TV Movie)
as
Housemaster Chapin
1987
Spenser: For Hire (TV Series)
as
Peter Dorian
- Consilum Abditum (1987) - Peter Dorian
1987
Right to Die (TV Movie)
as
Woodie Charris
1987
The Bronx Zoo (TV Series)
as
Dr. Messina
- Signs of Life (1987) - Dr. Messina
1986
King Kong Lives
as
Dr. Andrew Ingersoll
1986
Promise (TV Movie)
as
Stuart
1986
Jumpin' Jack Flash
as
Mr. Page
1986
My Little Girl
as
Norman Bettinger
1986
Lime Street (TV Series)
- Treasure Hunt (1986)
1986
Simon & Simon (TV Series)
as
Michael Fielding
- Eye of the Beholder (1986) - Michael Fielding
1986
The Twilight Zone (TV Series)
as
American Ambassador Fraser (segment "A Small Talent for War")
- Monsters!/A Small Talent for War/A Matter of Minutes (1986) - American Ambassador Fraser (segment "A Small Talent for War")
1985
The Facts of Life (TV Series)
as
Fred Burnett
- A New Life (1985) - Fred Burnett
1984
AfterMASH (TV Series)
as
Wally Wainright
- Saturday's Heroes (1985) - Wally Wainright
- Wet Feet (1984) - Wally Wainright
- Ward Is Hell (1984) - Wally Wainright
- The Recovery Room (1984) - Wally Wainright
- Madness to His Method (1984) - Wally Wainright
- Trials (1984) - Wally Wainright
- Strangers and Other Lovers (1984) - Wally Wainright
- Calling Doctor Habibi (1984) - Wally Wainright
- Less Miserables (1984) - Wally Wainright
1985
Braker (TV Movie)
as
Captain Joyce
1984
Best Defense
as
Frank Joyner
1984
All Together Now (TV Movie)
as
Walt Parker
1983
The Edge of Night (TV Series)
as
Harry Lavender
- Episode #1.7015 (1983) - Harry Lavender
- Episode #1.7014 (1983) - Harry Lavender
- Episode #1.7013 (1983) - Harry Lavender
- Episode #1.6994 (1983) - Harry Lavender (credit only)
- Episode #1.6993 (1983) - Harry Lavender
- Episode #1.6992 (1983) - Harry Lavender
- Episode #1.6991 (1983) - Harry Lavender
- Episode #1.6990 (1983) - Harry Lavender
- Episode #1.6989 (1983) - Harry Lavender (credit only)
1983
St. Elsewhere (TV Series)
as
Dr. Larry Andrews
- The Count (1983) - Dr. Larry Andrews
1983
Star Wars: The Empire Strikes Back - The Original Radio Drama (TV Series)
as
Admiral Ozzel
- Fire and Ice (1983) - Admiral Ozzel (voice)
- A Question of Survival (1983) - Admiral Ozzel (voice)
1983
An Invasion of Privacy (TV Movie)
as
Gerald Deims
1982
The World According to Garp
as
John Wolfe
1982
The Phoenix (TV Series)
as
Professor
- One of Them (1982) - Professor
1982
Lou Grant (TV Series)
as
Bob O'Brien
- Obituary (1982) - Bob O'Brien
1982
American Playhouse (TV Series)
- Carl Sandburg: Echoes and Silences (1982)
1982
One of the Boys (TV Series)
as
George Shields
- Double Trouble (1982) - George Shields
- Parents' Weekend (1982) - George Shields
1981
Prince of the City
as
U.S. Attorney Charles Deluth
1981
Another World (TV Series)
as
Dr. Feldman
- Episode #1.4336 (1981) - Dr. Feldman
1980
Act of Love (TV Movie)
as
Dr. Warren Fitzpatrick
Self
-
Uncovering Wolfen (Documentary) (post-production)
as
Self
1983
The 37th Annual Tony Awards (TV Special)
as
Self - Presenter
References
Peter Michael Goetz Wikipedia
(Text) CC BY-SA