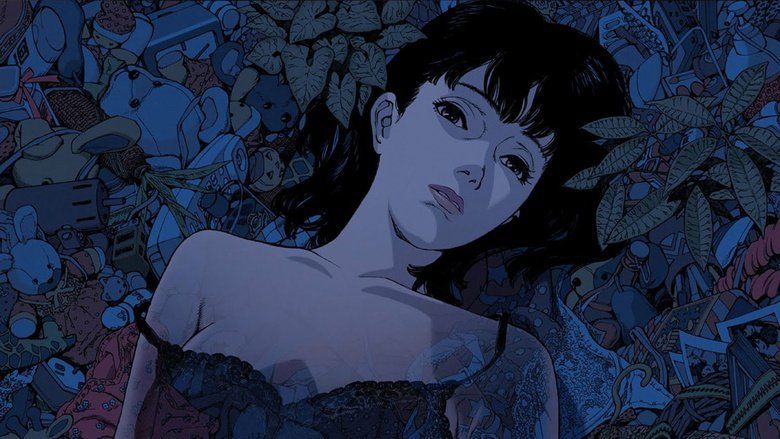 Mima Kirigoe, the lead singer of the fictional J-pop idol group "CHAM!", decides to leave the group to become an actress. Her first role is in a crime drama series, Double Bind. Some of her fans are upset by her change in career, including a stalker known as "Me-Mania". Shortly after leaving CHAM!, Mima receives an anonymous fax calling her a traitor. She finds a website called "Mima's Room", which features public diary entries that claim to be written by her that discuss her life in great detail. She brings the site to the attention of her manager, ex-pop star Rumi Hidaka, but is advised to ignore it.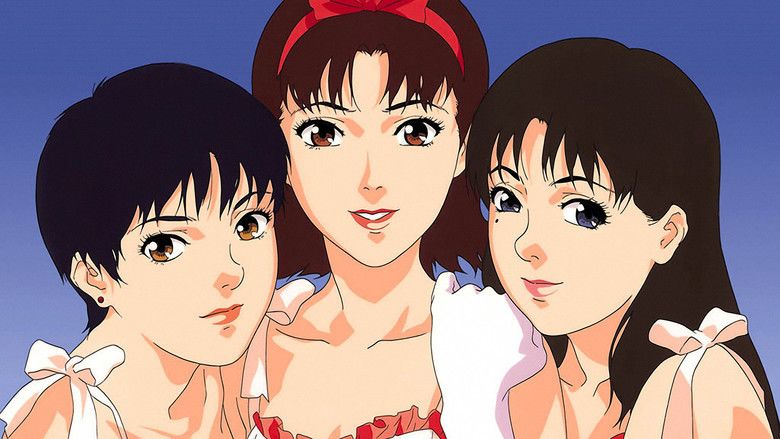 On the set of Double Bind, Mima succeeds in getting a larger part. However, the producers decide to cast her as a rape victim in a strip club. Rumi warns Mima that it will damage her reputation, but Mima accepts the part. The scene traumatizes Mima (as well as Rumi, who leaves the production control room crying), and she increasingly becomes unable to distinguish reality from her work in show business.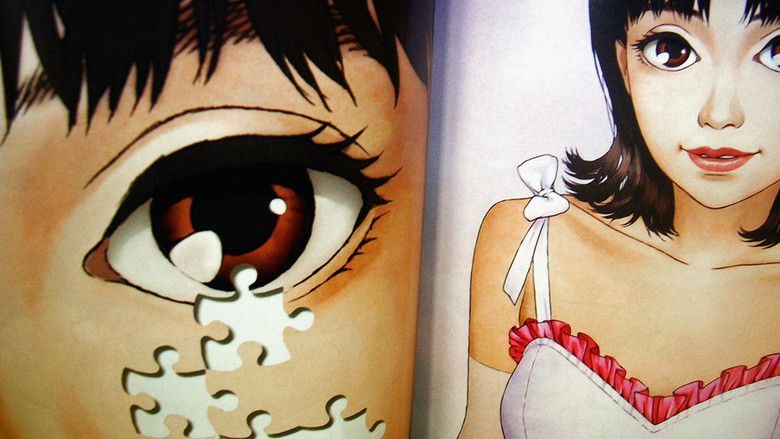 Several people involved in creating Double Bind, including the show's writer and photographer, are found murdered. Mima finds evidence that makes her a suspect in those murders, and her increasing mental instability makes her doubt her own innocence. Meanwhile, Me-Mania is constantly shown standing amongst the Double Bind filming crew, and his further obsession is revealed when he is shown receiving emails from Mima's pop idol persona through the Mima's Room website. It is at this point that reality starts breaking down for the viewer as well: in one scene, Mima is revealed by a police psychiatrist to be the split personality delusion of a woman named Yoko Takakura, only for the Double Bind camera crew to yell "Cut"; in another, Me-Mania finally confronts and attempts to rape Mima, stopped only when Mima hits him in the head with a hammer, knocking him unconscious. Rumi finds Mima backstage immediately afterward, and upon both returning to the scene, Me-Mania's blood and body are not found on the now-empty set. This causes Mima to further doubt her perception of reality.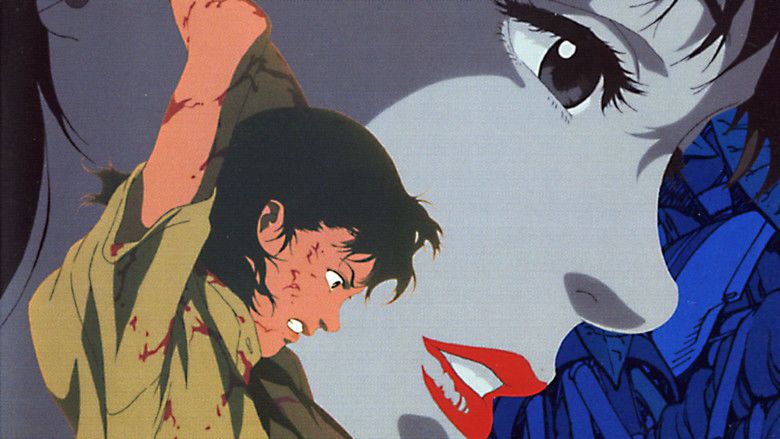 Rumi offers to drive Mima home. Upon arriving, Mima tries to call Mr. Tadokoro, but he does not pick up the phone as he has also been murdered, along with Me-Mania. Mima drops the call upon realizing that she is actually in a completely different apartment, decorated to resemble her own pop idol apartment at the beginning of the film. When Mima encounters Rumi, her manager is wearing a replica of Mima's CHAM! costume and, in a psychotic break, fully believes that she is the "real Mima"; Rumi is in fact the one who committed the murders. Rumi is angry that Mima—who has been suffering from folie à deux throughout the film—has been ruining the "real Mima's" reputation and decides to save her pristine pop idol image by murdering the "fake" Mima. After a chase through the city, Mima, despite being wounded herself, manages to rip off Rumi's wig, causing Rumi to impale herself on a glass shard trying to grab it. Mima then saves Rumi from an oncoming truck, whose headlights she mistakes for stage lights. Both parties collapse as the truck's occupants call for an ambulance.
Mima, now an accomplished actress, shows up at a mental institution to visit Rumi, who still believes herself to be Mima. As Mima leaves, she overhears the nursing staff believing that she is a Mima look-alike, as Mima would have no reason to visit an institution. Mima enters her car and, looking into the rear view mirror, declares "I'm the real thing" and smiles.
The actors in the English adaptation are listed in the credits without specification to their respective roles: James Lyon, Frank Buck, David Lucas, Elliot Reynolds, Kermit Beachwood, Sam Strong, Carol Stanzione, Ty Webb, Billy Regan, Dari Mackenzie, George C. Cole, Syd Fontana, Sven Nosgard, Bob Marx, Devon Michaels, Robert Wicks and Mattie Rando.
Originally the film was supposed to be a live action direct to video series, but after the Kobe earthquake of 1995 damaged the production studio, the budget for the film was reduced to an original video animation. Katsuhiro Otomo was credited as "Special Supervisor" to help the film sell abroad and as a result the film was screened in many film festivals around the world. While touring the world it received a fair amount of acclaim, jump-starting Kon's career as a filmmaker.
Kon and Murai did not think that the original novel would make a good film and asked if they could change the contents. This change was approved so long as they kept a few of the original concepts from the novel. A live action film Perfect Blue: Yume Nara Samete was later made (released in 2002) that is much closer to the novel. This version was directed by Toshiki Satō from a screenplay by Shinji Imaoka and Masahiro Kobayashi.
Like much of Kon's later work, such as Paprika, the film deals with the blurring of the lines between fantasy and reality in contemporary Japan.
Susan Napier uses feminist film theory to analyze the film, stating that, "Perfect Blue announces its preoccupation with perception, identity and performance - especially in relation to the female - right from its opening sequence. The perception of reality cannot be trusted, with the visual set up only to not be reality, especially as the psychodrama heights towards the climax." Napier also sees themes related to pop idols and their performances as impacting the gaze and the issue of their roles. Mima's madness results from her own subjectivity and attacks on her identity. The ties to Alfred Hitchcock's work is broken with the murder of her male controllers. Otaku described the film as "critique of the consumer society of contemporary Japan."
The film was released in cinemas in the United Kingdom by Manga Entertainment in 1999 and the United States by Manga Entertainment on VHS of the same year on both an R-rated version and its original unrated uncut version. It was later released in 2000 in an unrated-only DVD release. The film was also released on UMD by Anchor Bay Entertainment on December 6, 2005. It featured the film in widescreen, leaving the film kept within black bars on the PSP's 16:9 screen. This release also contains no special features and only the English audio track. The film was released on Blu-ray and DVD in Region B by Anime Limited in 2013.
In the U.S., Perfect Blue aired on the Encore cable television network and was featured by the Sci Fi Channel on December 10, 2007 as part of its Ani-Monday block. In Australia, Perfect Blue aired on the SBS Television Network on April 12, 2008 and previously sometime in mid 2007 in a similar timeslot.
The film was critically well received in the festival circuit, winning awards at the 1997 Fantasia Festival in Montréal, and Fantasporto Film Festival in Portugal.
Critical response in the United States upon its theatrical release was mixed. The film holds a 68% approval rating on Rotten Tomatoes, with the Consensus saying "Perfect Blue is overstylized, but its core mystery is always compelling, as are the visual theatrics." Some critics associated it with common anime stereotypes of gratuitous sex and violence. Kon responded to this criticism by stating that he was proud to be an animator and Perfect Blue was more interesting as animation.
Time included the film on its top 5 anime DVD list, and Terry Gilliam, of whom Kon was a fan included it in his list of the top fifty animated films. Perfect Blue ranked #25 on Total Film's all-time animated films. It also made the list for Entertainment Weekly's best movies never seen from 1991–2011.
Tim Henderson from Anime News Network, described the movie as "a dark, sophisticated psychological thriller" with its effect of "over-obsession funneled through early Internet culture" and produces a "reminder of how much celebrity fandom has evolved in only a decade".
Madonna incorporated clips from the film into a remix of her song "What It Feels Like for a Girl" as a video interlude during her Drowned World Tour in 2001.
In 2010 Darren Aronofsky acknowledged there being similarities between Perfect Blue and his film Requiem for a Dream as well as Black Swan. A re-issued blog entry mentioned Aronofsky's film Requiem for a Dream as being among Kon's list of movies he viewed for that year. In addition, Kon blogged about his meeting with Aronofsky in 2001.
Seven Seas Entertainment has licensed the English-language publication rights for the original Perfect Blue stories for release in Q4 2017, and Q1 2018, respectively.