India




Tamil




Tamil Nadu




Thanjavur



Peravurani is a panchayat town in Thanjavur district in the Indian state of Tamil Nadu
Peravurani is located at 10.3°N 79.18°E? / 10.3; 79.18. It has an average elevation of 16 metres (52 feet).The peculiar property of the terrain in this area is that you never find elevations from the sea level i.e. it is completely flat without hills or plateaus, this is true throughout the Tanjore district
Rice,Banana,Gingelly,sugarcane,Groundnuts and coconuts are exported from here to other states in India. Now people surrounding Peravurani are indulged in the cultivation new variety of crops such as cocoa,corn,sunflower etc.But some farmers who feel to lazy to work in his fields convert his cultivation into a coconut plantation(TAMIL-THOPPU)because of this activity of the farmers in this area there is hike in the price of rice and edible crops. This region always has a passion of sugarcane cultivation as it yields more profit and this area is blessed with lots of underground water. The nearby village Mavadukurichi is known for its rich dairy products.Everyday this village yields a large volume buffalo milk that is being distributed to other villages.But now most of the people in this area buy packaged milk due to lack of pastoral land and people here have given up grazing cows. People in this area are very much addicted to sea food that is brought from nearby coastal towns such as Mallipattinam,Adirampattinam, Sethubavachatiram and Muthupettai and the coastal village Manora by road to Peravurani town fish market.At the start of the summer when all the lakes dryup then there are sales of fresh fishes and crabs. During the summer temperature rises up to 45degree celsius to bear this you will find most of the houses ceiled with woven coconut leaf.The aged ones are involved in weaving this coconut. (TAMIL-KEETHU PINNAL).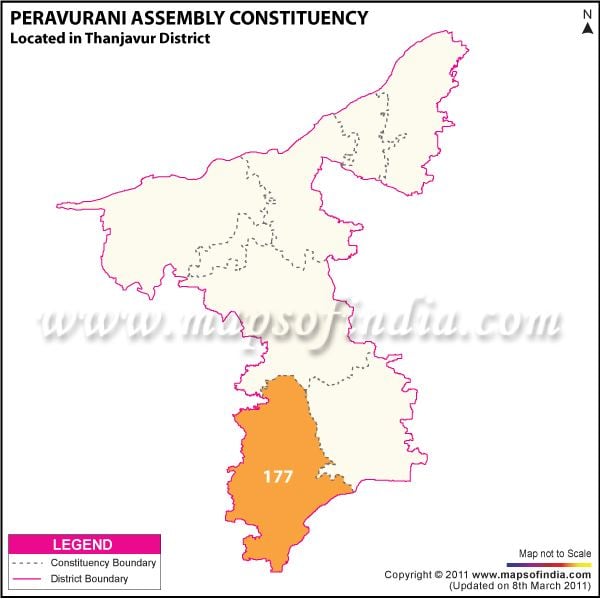 The villages around this town are very beautiful as they are surrounded by coconut plantations. Manora, an eight storied victory tower built by the Maratha King Serfoji in 1814 to commemorate the victory of the British over Napoleon Bonaparte at Waterloo, is a well known tourist destination. The name Manora is derived from the minaret meaning small minar. From the top of this tower, one has a panoramic view of the palm-fringed Bay of Bengal. The tower has also served as a lighthouse. Manora is located about 15 km east of Peravurani. Lord Sri Neelakanda Moorthy Temple is very famous in Thanjavur. This temple is famous for its Chaitrapoornima(Tamil:chitrapournami)thiruvizha or (chitra month's full moon day festival). It is so crowded during the festival that one cannot enter into temple premises. The nearby airport Tiruchirappalli which is 96.5 km and it has its own railway station with local trains connecting Karaikkudi and Mayiladuthurai but for longer travels you have depend upon on Thanjavur station which is 69.7 km or Tiruchirapalli which is 103 km.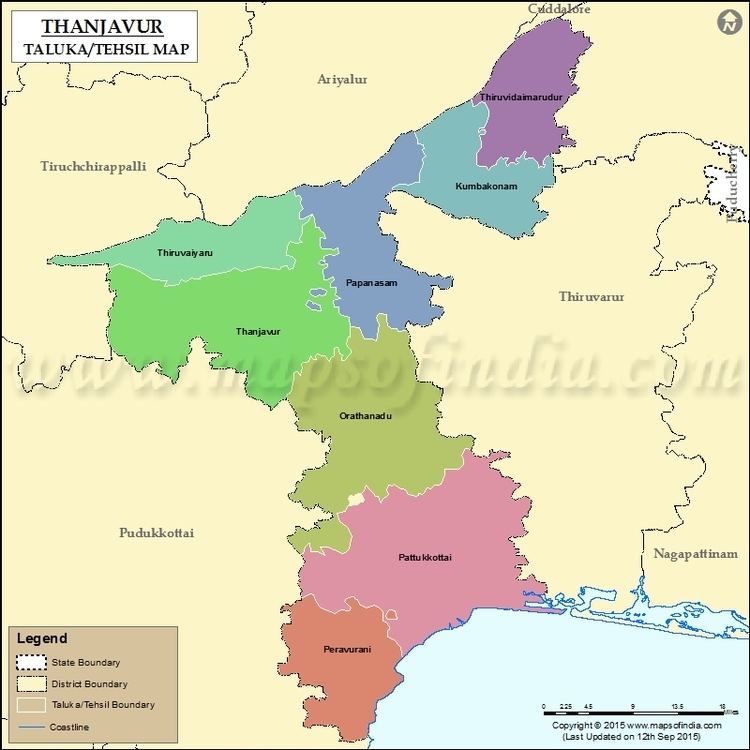 Nearby villages:
Aathalur (Shri Veeramahakaliamman temple and a Shiva temple is located in this village which is very close to the town.) You will see the entrance arch of this temple near the Govt boys higher secondary school on the Pattukottai-Peravurani Highroad.
Ammaiyandi
Andakottai
Athani
*Avanam with half of its population that comprises Islamic people and shares the border with neduvasal village (pudukottai district). All buses that go from pattukottai to aranthangi,peravurani to pudukottai have pass by this village.Shri Muthumariamman temple and Periyanayaki amman kovil and Jummah masjid is located here .
Balacherikkadu
chinnarettavayal
Eanathikkarambai
kallangadu
*Kalathur(consists of nadangadu & sithukkadu village units) Shri Muthumariamman temple,Balamurugan Temple,Shri narayani amman temple,shri ayyanar temple, shri sannasiaiyya temple and pattavar temple is located in this village.It is connected by two buses A5 govt,SJN 5 and 2 mini buses SJN(Ajjay) and GPS(Soorakaliamman)that connect from Thiruchitrambalam, Peravurani and Pattukottai.This village also has shopping street that is approximately 200metres in length with medical shop, tea shops,grocery shops,panchayat office,cycle repair centre and a small restaurant.Vaigasi vishaka perunththiruvizhais a famous festival celebrated in Shri Muthumariamman temple during tamil month of Vaigasi(May-June).
Kalanivasal
Kalagam
Kolakkudi
Kondraikkadu
Korattur
Kundamaraikadu
Paingal

*Kalluranikkau SRI KARUPPANA SAMI &SRI NODIAYYA SAMI June Month in its functioning days.
Kuruvikkarambai with 15 to 30 shops with a reputed government hospital. It has a non functioning old cinema theatre.Here there are several temples such as Madathuvasal murugan temple,Muthumariamman temple,kamatchi amman temple Shri meyyappan swamy temple,market and a durgah.It has a very lake named Periyakulam.Kuruvikarambai is famous for its condiments like Karasev and sugarsev.Famous comedian Karunas was a parota master in the Kuruvikarambai theatre in its functioning days.
*MarungappallamArulmigu Shri Oushadapureeshwarar and Periyanayaki Amman temple is located here with its beautiful theppakulam(tank).
MAVADUKURICHI This village is situated near peravurani, 2 km away on the ponkadu road. This village has Primary Hospital , Agasapillaiyar temple is located on this village very powerful god on this village. and surrounding of this village is a good nature of the peravurani. this village belongs to SRI SANKARA MUTT)
Mudachikkadu
Mudapulikadu
Karambakkadu
Nadiyam
*Nariyangadu This village is situated near Thiruchitrambalam, 2 km away on the peravurani road. This village has shopping street that is approximately 100 metres in length with medical shop, tea shops,grocery shops,cycle repair centre, two wheeler workshop, rice flour mill and a small restaurant.
Neduvasal
Nellaiyadikkadu
Ottangadu[sri Valli Devasena supramaniyan temple is located on this village.Near by this village no more any other Murugan temple]
Pathukkadu
Perumagalur
Pinnavasal (Shri Mariamman temple is located on this village. very powerful god on this village. and surrounding of this village chithathikkadu is a good nature of the peravurani)
Ponnangannikkadu
Pookkollai
Punalvasal
Rettavayal (Shri kannaayeramoorthy temple is located in this village which is very close to the chinna rettavayal) You will see the entrance arch of this temple entrance.and pillaiyar temple amman temple near the bus stop.sambava moorthy temple is located in between rettavayal and chinna rettavayl.2 river and 3 lakes located around rettavayal bus stop.
ruthrachinthamani
Santhampettai
Seevankurichi (Belong to Pazhayanagaram grama panchayat)
Sengamangalam
Serubalkkadu
Solaikadu
Thenangudi (covered with skykissing coconut trees .Etymology:settlement under coconut trees ) Here there are two Shri Kalabhairavar swami temples and old murugan temple.
Thillangkadu
*ThiruchitrambalamThis is most urbanised village with schools,banks,financial enterprises,Fastfood centres,automobile workshops,bakeries fancy item shops and so on. You will find Thiru chitrambalam(Shiva) and Periyanayaki amman temple here.This village is situated on the Aranthangi-Pattukottai high road so it is well connected with all parts of Tamil Nadu.
GENIUS BROWSING CENTER THIRUCHITRAMBALAM.
Thiruppuranikkadu
Thiruvappadi
Thuraiyur
Veerarahavapuram
Veeriyankottai
Vembangudi/Paingal
Vilangulam
Udayanadu
Umathanadu
The only cinema theatre in Peravurani is Aadi Muthu Sarosa theatre(thiraiarangam)with one screen and 5 shows every day and only Tamil movies are viewed here.You can reach this theatre if you travel 550m on the Avanam-Peravurani (SH-71 Musiri-Kulithalai-Manaparai-Pudukottai-Peravurani-Sethubavachatiram) Highroad . During chitrapournami thiruvizha in the month of April there are many stage dance performances,singing performances from pioneer singers of Kollywood,speeches given by actors and actresses,the giant wheel and other similar rides that u will find in amusement parks.
Peravurani Wikipedia
(,)https://www.expatads.com/adpics1/2015/4/Marathon-Nexzone-2-2-5-BHK-at-New-Panvel-Navi-Mumbai552b6768144daf75af3f.jpg(,)https://www.expatads.com/adpics1/2015/4/Are-you-in-looking-for-a-flat-in-Ravet-area-5528eb3d8883f9f6ed64.jpg(,)https://www.expatads.com/adpics1/2015/4/Mona-City-3BHK-environment-friendly-residential-project552b79cbb54173877136.jpg(,)http://mw2.google.com/mw-panoramio/photos/medium/25773661.jpg(,)http://mw2.google.com/mw-panoramio/photos/medium/30883100.jpg(,)http://mw2.google.com/mw-panoramio/photos/medium/30306717.jpg(,)http://i.ytimg.com/vi/2pXKgbcpups/0.jpg(,)http://mw2.google.com/mw-panoramio/photos/medium/53409880.jpg(,)http://mw2.google.com/mw-panoramio/photos/medium/55134786.jpg
(,)https://www.expatads.com/adpics1/2015/1/Birthday-Chocolate-Cake54bf75301ced6e10cebd.jpg(,)http://allthecities.com/system/panoramas/pictures/000/898/671/original/original.%3F1380276775(,)http://allthecities.com/system/panoramas/pictures/000/898/675/original/original.%3F1380276780(,)https://farm7.static.flickr.com/6105/6301582967_81d131cbf0.jpg(,)http://allthecities.com/system/panoramas/pictures/000/898/677/original/original.%3F1380276783
(,)http://www.mapsofindia.com/assemblypolls/tamil-nadu/peravurani-assembly-constituency-map.jpg(,)http://www.mapsofindia.com/maps/tamilnadu/tehsil/thanjavur-taluka-map.jpg