Occupation

Writer, novelist




Spouse

Caroline Symcox (m. 2002)




Born

Paul Douglas Cornell 18 July 1967 (age 48) Chippenham, Wiltshire, England, UK (

1967-07-18

)

Awards

Hugo Award for Best Fancast

Shows

Doctor Who, Scream of the Shalka

Books

Witches of Lychford, Human Nature, Reign of Doomsday, Love and War, No Future




Similar People

Leonard Kirk, Jeff Lemire, Gary Russell, Keith Topping, Terrance Dicks
Q a with paul cornell doctor who the fan show
Paul Douglas Cornell (born 18 July 1967) is a British writer best known for his work in television drama as well as Doctor Who fiction, and as the creator of one of the Doctor's spin-off companions, Bernice Summerfield.
Contents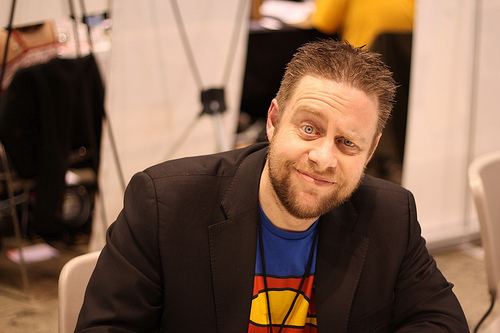 As well as Doctor Who, other British television dramas for which he has written include Robin Hood, Primeval, Casualty, Holby City and Coronation Street. For US television, he has contributed an episode to the modern-day set Sherlock Holmes series Elementary.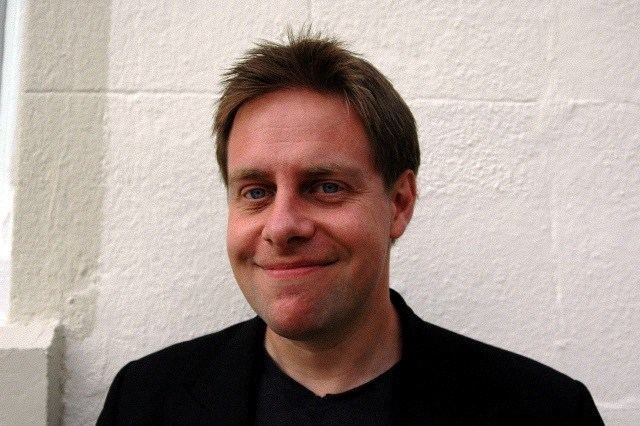 Cornell has also written for a number of British comics, as well as Marvel Comics and DC Comics in America, and has had four original novels published in addition to his Doctor Who fiction.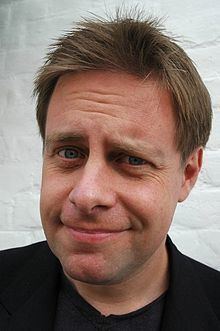 Paul cornell confessions of a comic writer
Career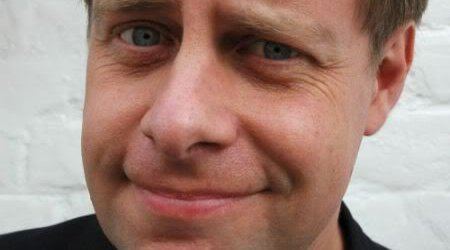 Already known in Doctor Who fan circles, Cornell's professional writing career began in 1990 when he was a winner in a young writers' competition and his entry, Kingdom Come, was produced and screened on BBC Two. Soon after, he wrote Timewyrm: Revelation, a novel for the Virgin New Adventures series of Doctor Who novels. Timewyrm: Revelation was a reworking of a serialised fan fiction piece Cornell had penned previously for the fanzine Queen Bat. Several other Doctor Who novels followed, including the award-winning Human Nature.
Cornell then began working for Granada Television, where he wrote for the popular children's medical drama Children's Ward and created his own children's series Wavelength for Yorkshire Television, which ran for two series. He made the crossover to working in adult television full-time in 1996, when he was one of the main contributors to Granada's supernatural soap opera Springhill, which ran for two years on Sky One and later on Channel 4.
After a short stint on Coronation Street, he began working for other production companies, including contributing an episode in 1999 to Red Production Company's anthology drama series Love in the 21st Century for Channel 4. His episode, entitled Masturbation, starred Ioan Gruffudd as Jack. He was due to be one of the writers on Red Production Company's planned Queer as Folk spin-off series Misfits, but the series was never made, being abruptly cancelled by Channel 4.
In the 21st century he has written mainly for the BBC, contributing episodes to all three of their regular medical dramas: Casualty, Holby City and the daytime soap opera Doctors. He also contributed to the 1950s-set Sunday evening prime time drama series Born and Bred and was one of the writers of the 2005 series revival of Doctor Who, writing the episode "Father's Day". The episode was nominated for the Hugo Award for Best Dramatic Presentation, Short Form in 2006 and came third in terms of votes for its category. Cornell later wrote a two-part story for Doctor Who's 2007 series, based on his 1995 Virgin New Adventures novel Human Nature. The title of the first episode was also "Human Nature", while the second was titled "The Family of Blood". In 2008, the two episodes were nominated for the Hugo Award for Best Dramatic Presentation, Short Form.
In February 2006, Cornell announced in a post on his weblog that he would be writing an episode for the BBC's forthcoming Robin Hood, produced by Tiger Aspect Productions for the same Saturday evening family slot as Doctor Who. He later announced on his blog that he was also writing a second Robin Hood episode for later in the first series. His first episode, "Who Shot the Sheriff?", aired on BBC One on 21 October 2006. His second, "A Thing or Two About Loyalty", followed on 2 December 2006. He also wrote an episode for the second season of another Saturday evening family adventure programme, the ITV science-fiction series Primeval, transmitted in February 2008.
He also wrote the one-off pilot Pulse, which was shown on BBC Three in early June 2010.
Outside of television, he has been active in various other media, having written six Doctor Who novels for Virgin Publishing and BBC Books during the 1990s, three Doctor Who audio dramas for Big Finish Productions and a fully animated internet-broadcast Doctor Who adventure, Scream of the Shalka (starring Richard E. Grant as the Doctor) for bbc.co.uk in 2003. He has also written two mainstream science-fiction novels, Something More and British Summertime for Gollancz, and various novels, short stories and audio dramas based around a character he created for the New Adventures, Professor Bernice Summerfield, and whom he later licensed to Big Finish Productions.
He has also co-authored (often working with Keith Topping and Martin Day) several non-fiction books on television, including The Guinness Book of Classic British TV, X-treme Possibilities (a guide to The X-Files), and The Discontinuity Guide (a humorous guide to Doctor Who). (Topping and Day's Doctor Who novel The Devil Goblins from Neptune was also based on an original idea with Cornell.) He has also written comics, both for Doctor Who Magazine and the 2000 AD spin-off Judge Dredd Megazine.
He has written Wisdom, a 6-issue limited series for Marvel Comics' MAX imprint, featuring the character Peter Wisdom, with art by Trevor Hairsine and Manuel Garcia.
It was announced at the 2007 Wizard World Chicago comic book convention that Cornell would be following Chris Claremont on Marvel's New Excalibur. Plans were subsequently changed with the cancellation of the New Excalibur title and Cornell's new project was announced as being titled Captain Britain and MI: 13. The third trade paperback, Vampire State, was nominated for the 2010 "Best Graphic Story" Hugo Award.
Cornell has also written Young Avengers Presents No. 4 (April 2008) and a Fantastic Four mini-series comic, True Story, which started in July 2008, which featured the team encountering characters from the pages of literary classics. In 2008, he wrote a comic which featured on the Doctor Who website. He has also written the Young Avengers limited series that ties into Dark Reign and Black Widow: Deadly Origin a mini-series that ties into the character's appearance in Iron Man 2.
Cornell became the next Action Comics writer after War of the Supermen. Cornell signed with DC Comics exclusively in 2010 as part of writing for Action Comics. His 16-issue run on the series included number 900. In late 2010 and early 2011, Cornell completed nine issues set in Batman's world: Knight & Squire, a six-issue miniseries, and a 3-issue run in Batman & Robin, #17–19.
In September 2011, as part of DC's The New 52 relaunch, Cornell became the writer for the DC Comics titles Demon Knights and Stormwatch. Cornell's last DC work was the 14-issue science fiction series Saucer Country, which ended with the June 2013 issue.
Cornell is part of the regular panel of the podcast SF Squeecast, which won the 2012 and 2013 Hugo Award for best fancast.
In January 2016 Cornell announced his return to television drama work when he told followers on his Twitter feed that he had written his first script for US television, contributing an episode to the CBS Sherlock Holmes series Elementary.
Personal life
In an interview on the Doctor Who: DWO Whocast, Cornell stated that this entry in Wikipedia described him as "...both a Christian and a pagan...", which he has chosen not to correct as it illustrates his sympathies for the pagan world. He then goes on to state that he is an Anglican but is very "...Low Church, almost a Calvinist.." and this is partly because he doesn't enjoy hymns.
Spiritual themes are not uncommon in his work (for example his novel Something More). Other frequent references in his work include owls.
Cornell is married to Caroline Symcox, who also has written Doctor Who-based audio plays for Big Finish Productions on her own and with Cornell.
In 2010, he appeared as a contestant on an episode of the BBC Four quiz show Only Connect.
References
Paul Cornell Wikipedia
(Text) CC BY-SA