Years active

2001–present




Origin

Venezuela




Role

Musical Artist





Name

Patafunk Patafunk




Website

Patafunk




Labels

Discollage




Albums

Random Stuff EP







Members

Cem Pata PatafunkSu Patafunk




Genres

Nu-disco, House music, Tropical music






Similar

Arca (producer), Kid606, Federico Ágreda




Profiles




SoundCloud
The B 52's - Love Shack Patafunk Remix
Carlos Eduardo Martinez (born December 5, 1978) Venezuelan DJ/Producer/Singer-Songwriter, in 2001, he started traveling with his music with a very eclectic sound that goes from disco/house to reggae/tropical, Patafunk's music can be described as (the sound of the space listened from the beach). Depending on the music he releases, Patafunk can be seeing in different formats, from a solo artist playing as DJ to a several people playing as Live Band, anyway, formats are not too important on Patafunk's music, there is always a continuous evolution and transformation through an endless experimentation
Contents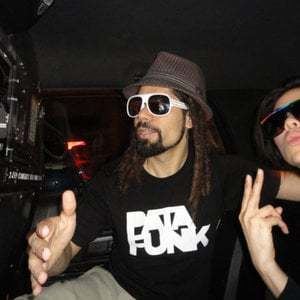 In 2008 Patafunk's debut album "Dubdelic" was released in Venezuela and Latin America physically and around the world thru iTunes, getting great reviews on Rolling Stone and having 4 songs on Venezuelan nationwide radio, the song "Surferston feat G2" reached #2 on Venezuelan billboard called "record report".
In 2010 after touring his entire country for almost 2 years, Patafunk moved to Brooklyn/NY where his DJ sessions and productions became more focused on dance music and the blending with his tropical touch.
In 2011 Patafunk releases "Playa" his second album, a 10-songs of latin funk mixed with auto tune folk in Spanglish, in terms of lyrics "Playa" goes from eternal love to the union of the nations, not to racism and a general call to relaxation. The album was featured by iTunes on "news and noteworthy" section and the song "NegraChinaLatina" is number 1 in Venezuelan radio and featured in an MTV Latin
After more than 5 years of DJing around all NYC, playing as a band at festivals like SXSW or CMT and making remixes for another artists (both vintage and modern) Patafunk releases "Free Your Feet EP" a 6-songs extended play that gathers Patafunk's singles from 2012 to 2015, the most recently one "Hit & Run! feat DaniBlau" is also part of a nu-disco compilation released by french label New's Lighter Records.
Since summer 2015 Patafunk is the resident DJ at the Rooftop of Hotel Hugo Soho called "Azul" world music beats and culture experimentation has inspired Patafunk to make music that crosses frontiers
Patafunk is currently working on the his third album called "High Life" a mix Deep House, Dubdelic, High Life, Love, Nu Salsa, Playa, R&B & Reggaeton, and its planned to be released in Spring 2017
Discography
PATAFUNK Albums & EPs:
High Life! - (2017)
Free Your Feet EP - (2015)
Playa - (2011)
Dubdelic - (2008)
PATAFUNK Remixes:
Nerio's Dubwork feat Darryl Pandy - Feel It (2016)
Minoo Javan - Nessa Nessa (2016)
De La Soul feat Shaka Khan – All Good? (2015)
The Wailing Wailers - Simmer Down (2015)
[[{[C+]}]] - Who's The One (2014)
Pat Lok feat Bear Mountain – Same Hearts (2014)
Eddie Amador – House Music (2013)
Treasure Fingers & The Knocks – My Body (2013)
Goldroom – Morgan's Bay - (2013)
Phoenix – Trying To be Cool - (2013)
The Sandals – The Endless Summer - (2013)
Willie Colón & Hector Lavoe – Todo Tiene Su Final - (2013)
The B-52's – Love Shack - (2013)
Stardust – Music Sounds Better With You - (2012)
Aldemaro Romero – La Caracola - (2007)
Patafunk free your feet feat sephira
References
Patafunk Wikipedia
(Text) CC BY-SA