Occupation

Actress




Name

Pat Priest





Role

Actress




Books

Easy Come, Easy Go





Full Name

Patricia Ann Priest




Born

August 15, 1936 (age 87) (

1936-08-15

) Bountiful, Utah, U.S.


Education

Washington-Lee High School




Children

Pierce Jensen, Lance Jensen




Spouse

Frederick Hansing (m. 1981), Pierce Jensen Jr. (m. 1955–1967)




Parents

Ivy Baker Priest, Roy Fletcher Priest


Movies and TV shows

The Munsters, The Incredible 2‑Heade, Easy Come - Easy Go


Similar People

Beverley Owen, Butch Patrick, Fred Gwynne, Al Lewis, Yvonne De Carlo
Patricia Ann Priest (born August 15, 1936), mainly credited as Pat Priest, is an American actress known for portraying the second Marilyn Munster on the television show, The Munsters (1964–1966) after original actress Beverley Owen left after 13 episodes.
Contents
Early life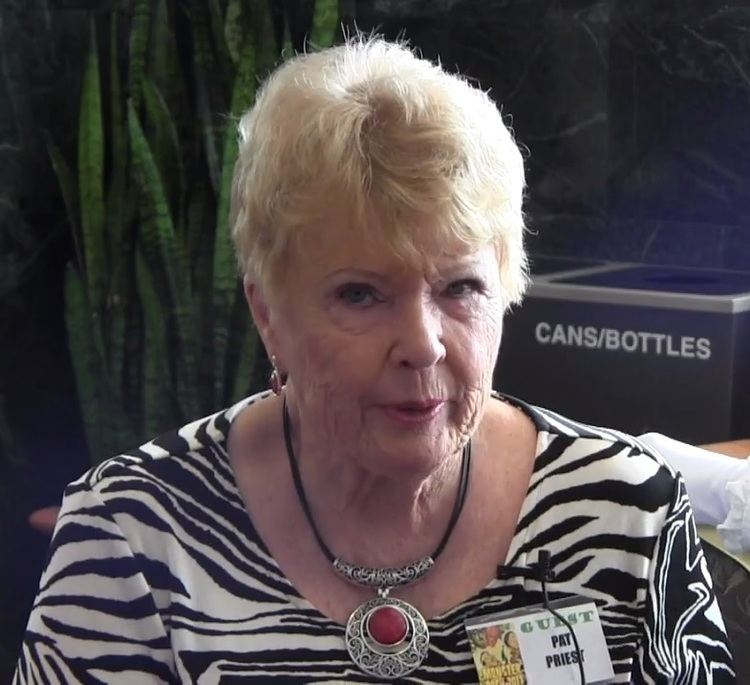 Priest was born and raised in Bountiful, Utah. Her mother, Ivy Baker Priest, was the United States Treasurer from January 28, 1953 to January 29, 1961, whose signature appeared on currency printed during her tenure. Priest resided in Washington, D.C., with her mother. Priest graduated in 1954 from Washington-Lee High School in Arlington, Virginia. (See Washington-Lee, Arlington, Virginia, Alumni Directory for the year 1955).
Show business career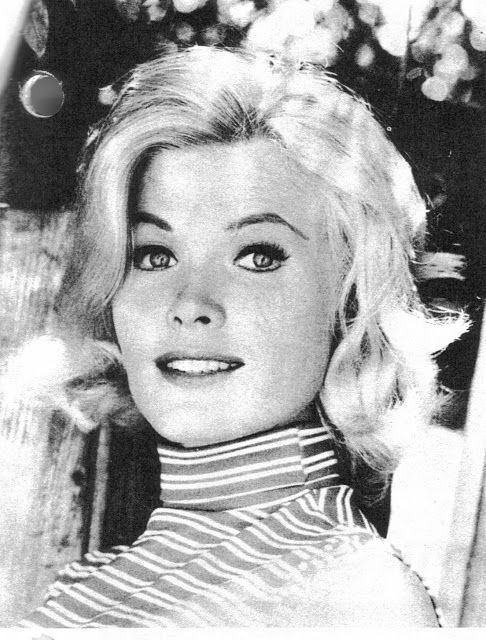 Priest replaced actress Beverley Owen on the television sitcom The Munsters; Owen quit the series after the first 13 episodes. The running gag of Marilyn's character was that this beautiful blonde woman was keenly aware that she was the "ugly" or "plain" one in a family composed of a Frankenstein's monster for an uncle, an undead vampire for an aunt, a vampire for a grandfather, a werewolf for a cousin, and other equally odd members. Another tongue-in-cheek gag was that the character's name recalled sex symbol Marilyn Monroe. In a move that angered many fans of the series, Universal Pictures decided to use starlet Debbie Watson (12 years Priest's junior) in the role of Marilyn Munster in the 1966 feature Munster, Go Home! (1966), instead of Priest, as Watson was under contract to the studio and it had plans to make her a film star.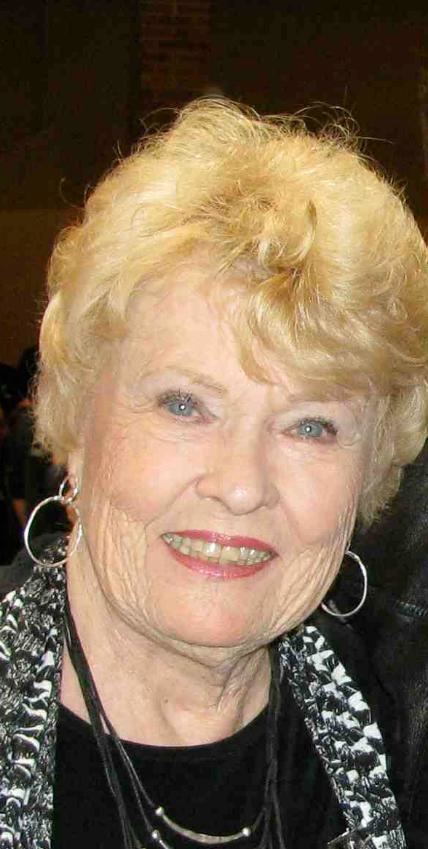 After the series ended, Priest appeared on episodes of television programs, such as Bewitched, Perry Mason, Death Valley Days, and Mary Tyler Moore, in which she played Betty White's character's unappreciated younger sister.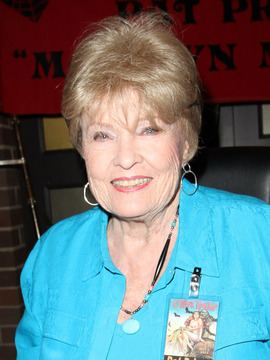 Her only film roles were in Looking for Love (1964), with Connie Francis, Easy Come, Easy Go (1967), with Elvis Presley, the horror film The Incredible Two-Headed Transplant (1971), with Bruce Dern, and Some Call It Loving (1973), starring Zalman King.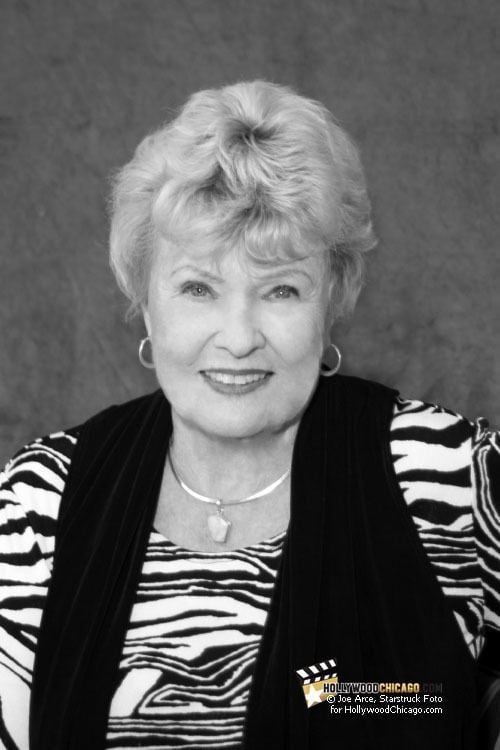 She retired from acting in the 1980s, but continues to attend some of the nostalgia conventions and "Munster" revivals around the country. She was restoring and selling homes in Idaho, where she has lived for over two decades, but she is now retired. Married twice, she has two sons.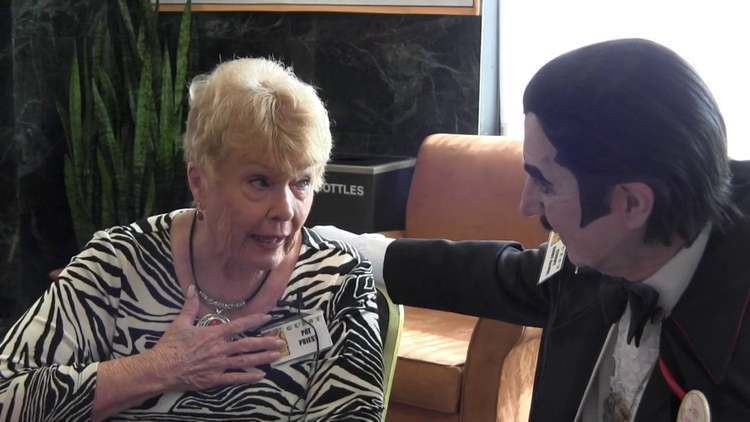 She has been treated for lymphoma in recent years; her exact condition remains undisclosed. In 2001, Priest was diagnosed with non-Hodgkin's lymphoma. She finished maintenance treatments at St. Luke's Mountain States Tumor Institute and is now in remission.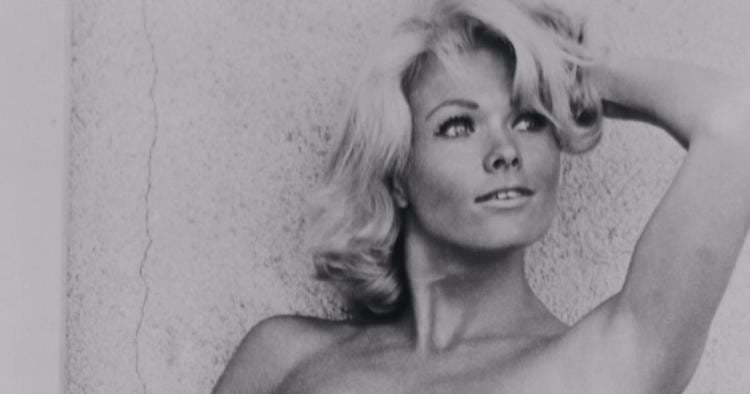 Filmography
Actress
2022
The Munsters
as
Transylvania Airlines Announcer (voice)
1995
Here Come the Munsters (TV Movie)
as
Restaurant Guest
1976
The Mary Tyler Moore Show (TV Series)
as
Lila Nivens
- Sue Ann's Sister (1976) - Lila Nivens
1974
Run, Joe, Run (TV Series)
as
Grace Gilbert
- Blind Girl (1974) - Grace Gilbert
1973
Some Call It Loving
as
Carnival Nurse
1971
The Incredible 2-Headed Transplant
as
Linda
1971
Mission: Impossible (TV Series)
as
Kathrine Berat
- The Field (1971) - Kathrine Berat (as Patricia Priest)
1970
Airport
as
Mrs. Jerry Copeland (uncredited)
1969
Bewitched (TV Series)
as
Ruthie Campbell / Nurse / Mrs. Goodall
- Just a Kid Again (1970) - Ruthie Campbell
- Samantha's Lost Weekend (1970) - Nurse
- And Something Makes Four (1969) - Mrs. Goodall
1969
The Virginian (TV Series)
as
Mary Lou
- The Substitute (1969) - Mary Lou
1969
Ironside (TV Series)
as
Goldie
- Alias Mr. Braithwaite (1969) - Goldie
1966
The Red Skelton Hour (TV Series)
as
Generous Woman in Park / Wax Figure-Silent Spot / Ruby - San Fernando's Assistant / ...
- Guess Whose Dinner Is Coming to Freddie? (1968) - Generous Woman in Park / Wax Figure-Silent Spot
- San Fernando: Man with a Heart of Stolen Gold (1968) - Ruby - San Fernando's Assistant
- Our Man Fink (1966) - Tessie Torso
1968
Run for Your Life (TV Series)
as
Susan
- Beware My Love (1968) - Susan
1967
Mannix (TV Series)
as
Louise Carter
- Beyond the Shadow of a Dream (1967) - Louise Carter
1967
Easy Come, Easy Go
as
Dina Bishop
1966
The Lucy Show (TV Series)
as
Stewardess
- Lucy Flies to London (1966) - Stewardess
1964
Perry Mason (TV Series)
as
Norma Fenn / Sally Young
- The Case of the Crafty Kidnapper (1966) - Norma Fenn
- The Case of the Tandem Target (1964) - Sally Young
1964
The Munsters (TV Series)
as
Marilyn Munster
- A Visit from the Teacher (1966) - Marilyn Munster
- Herman's Lawsuit (1966) - Marilyn Munster
- Herman's Sorority Caper (1966) - Marilyn Munster
- A House Divided (1966) - Marilyn Munster
- Herman, the Tire Kicker (1966) - Marilyn Munster
- Eddie's Brother (1966) - Marilyn Munster
- A Visit from Johann (1966) - Marilyn Munster
- Prehistoric Munster (1966) - Marilyn Munster
- The Musician (1966) - Marilyn Munster
- Cyrano De Munster (1966) - Marilyn Munster
- Zombo (1966) - Marilyn Munster
- The Fregosi Emerald (1966) - Marilyn Munster
- Grandpa's Lost Wife (1966) - Marilyn Munster
- The Most Beautiful Ghoul in the World (1966) - Marilyn Munster
- Big Heap Herman (1966) - Marilyn Munster
- Just Another Pretty Face (1966) - Marilyn Munster
- Herman Picks a Winner (1966) - Marilyn Munster
- Herman's Peace Offensive (1965) - Marilyn Munster
- The Treasure of Mockingbird Heights (1965) - Marilyn Munster
- Underground Munster (1965) - Marilyn Munster
- Will Success Spoil Herman Munster? (1965) - Marilyn Munster
- Herman's Driving Test (1965) - Marilyn Munster
- A Man for Marilyn (1965) - Marilyn Munster
- John Doe Munster (1965) - Marilyn Munster
- Lily's Star Boarder (1965) - Marilyn Munster
- Operation Herman (1965) - Marilyn Munster
- Happy 100th Anniversary (1965) - Marilyn Munster
- Herman, Coach of the Year (1965) - Marilyn Munster
- Herman Munster, Shutterbug (1965) - Marilyn Munster
- Bronco Bustin' Munster (1965) - Marilyn Munster
- Herman, the Master Spy (1965) - Marilyn Munster
- Herman's Child Psychology (1965) - Marilyn Munster
- Yes, Galen, There Is a Herman (1965) - Marilyn Munster
- Herman's Raise (1965) - Marilyn Munster
- Hot Rod Herman (1965) - Marilyn Munster
- Herman's Happy Valley (1965) - Marilyn Munster
- Munster the Magnificent (1965) - Marilyn Munster
- Lily Munster--Girl Model (1965) - Marilyn Munster
- Mummy Munster (1965) - Marilyn Munster
- Love Comes to Mockingbird Heights (1965) - Marilyn Munster
- Country Club Munsters (1965) - Marilyn Munster
- Herman the Rookie (1965) - Marilyn Munster
- Movie Star Munster (1965) - Marilyn Munster
- Munsters on the Move (1965) - Marilyn Munster
- Far Out Munsters (1965) - Marilyn Munster
- Come Back, Little Googie (1965) - Marilyn Munster
- Love Locked Out (1965) - Marilyn Munster
- Follow That Munster (1965) - Marilyn Munster
- Dance with Me, Herman (1965) - Marilyn Munster
- Don't Bank on Herman (1965) - Marilyn Munster
- Bats of a Feather (1965) - Marilyn Munster
- Eddie's Nickname (1965) - Marilyn Munster
- If a Martian Answers, Hang Up (1965) - Marilyn Munster
- All-Star Munster (1965) - Marilyn Munster
- Grandpa's Call of the Wild (1965) - Marilyn Munster
- Herman's Rival (1964) - Marilyn Munster
- Grandpa Leaves Home (1964) - Marilyn Munster
1965
Marineland Carnival: The Munsters Visit Marineland (TV Movie)
as
Marilyn Munster (as The Munsters)
1964
Death Valley Days (TV Series)
as
Nora Jackson / Nancy
- The Wild West's Biggest Train Holdup (1965) - Nora Jackson
- The Left Hand Is Damned (1964) - Nancy
1964
My Favorite Martian (TV Series)
as
Della Darwell
- My Uncle the Folk Singer (1964) - Della Darwell
1964
Dr. Kildare (TV Series)
as
Student Nurse
- A Candle in the Window (1964) - Student Nurse
1964
Wendy and Me (TV Series)
as
Betty Allison
- Jeff, the Senior Citizen (1964) - Betty Allison
1964
Voyage to the Bottom of the Sea (TV Series)
as
Karen Joyce Pennell
- The Price of Doom (1964) - Karen Joyce Pennell (uncredited)
1964
Quick, Before It Melts
as
Stewardess (uncredited)
1964
Valentine's Day (TV Series)
as
Lola
- The Life You Save Is Yours (1964) - Lola
1964
Looking for Love
as
Waitress (uncredited)
1964
Bob Hope Presents the Chrysler Theatre (TV Series)
as
Miss March
- Her School for Bachelors (1964) - Miss March
1964
The Jack Benny Program (TV Series)
as
1st Dancer
- Jack and Dennis Do Impersonations (1964) - 1st Dancer
1963
The Lieutenant (TV Series)
as
Waitress / Diane
- Fall from a White Horse (1963) - Waitress
- To Take Up Serpents (1963) - Diane
Thanks
2003
Biography (TV Series documentary) (very special thanks - 1 episode)
- The Munsters: America's First Family of Fright (2003) - (very special thanks)
Self
2018
Sidewalks Entertainment (TV Series)
as
Self - Guest
- The Munsters' Pat Priest (2018) - Self - Guest
2015
Bizarre Transmissions from the Bermuda Triangle (TV Series)
as
Self
- New Years Extravaganza 2016 (2015) - Self
2015
Shipping Wars (TV Series)
as
Self
- Munsters - The Final Frontier (2015) - Self
2014
Entertainment Minute (TV Series)
as
Self
- Interview with Pat Priest of The Munsters (2014) - Self
2000
Biography (TV Series documentary)
as
Self
- The Munsters: America's First Family of Fright (2003) - Self
- Al Lewis: Forever Grandpa (2000) - Self
- Yvonne DeCarlo: Gilded Lily (2000) - Self
1997
The Legend of Forrest Tucker (Documentary short)
as
Self
1968
The Jonathan Winters Show (TV Series)
as
Self
- Al Hirt, Buddy Ebsen, Susan Barrett (1968) - Self
1967
Dateline: Hollywood (TV Series)
as
Self - Actress
- Episode dated 29 June 1967 (1967) - Self - Actress
Archive Footage
2021
History of the Sitcom (TV Series documentary)
as
Marilyn Munster
- Freaks, Geeks & Outsiders (2021) - Marilyn Munster
2015
Auto-Tune the Munsters: A Rock Opera (TV Special)
as
Marilyn Munster
2014
The Sixties (TV Mini Series documentary)
as
Marilyn Munster
- When Television Came of Age (2014) - Marilyn Munster
2011
The Lego Munsters (Short)
as
Marilyn Munster
1995
50 Years of Funny Females (TV Movie documentary)
as
Self
References
Pat Priest (actress) Wikipedia
(Text) CC BY-SA