The film starred Ava Gardner and James Mason, featuring Nigel Patrick, Sheila Sim, Harold Warrender, Mario Cabré and Marius Goring. The cinematographer was Jack Cardiff. Most of the movie was shot on location in Tossa de Mar, Catalonia, Spain, where a statue of Gardner has been erected on the hill overlooking the town's main beach.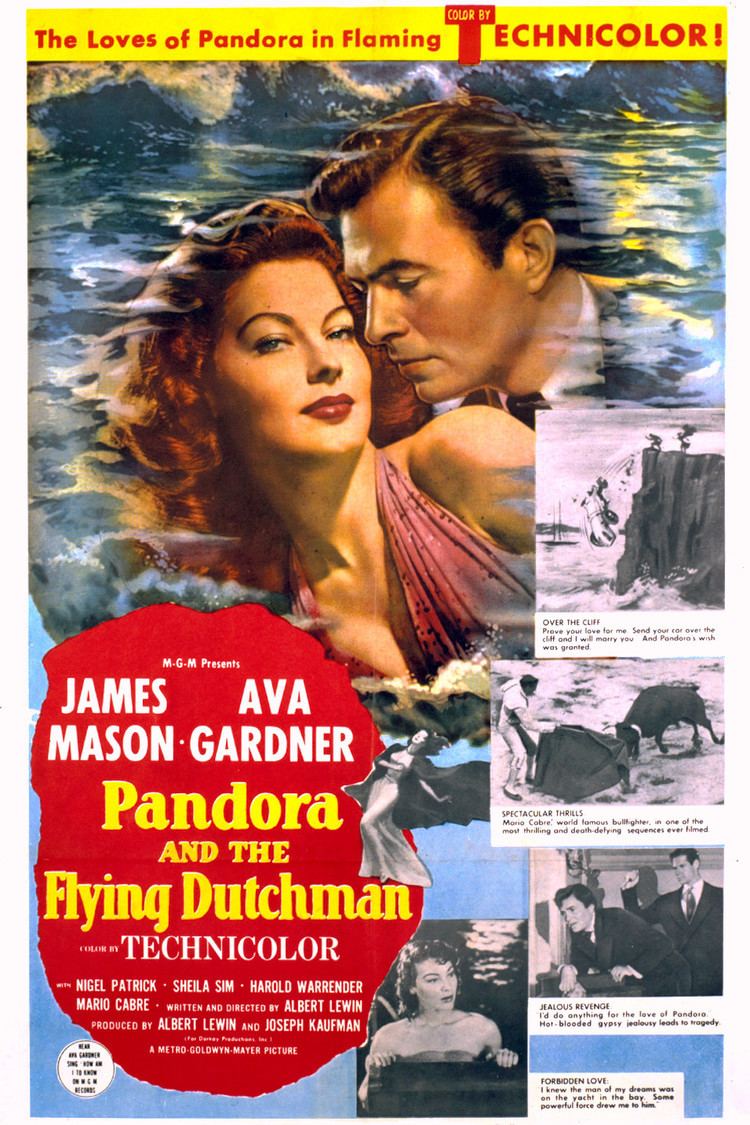 In 1930, fishermen in the small Spanish port of Esperanza make a grim discovery in their nets, the bodies of a man and a woman. The resultant ringing of church bells in the village brings the local police and the resident archaeologist, Geoffrey Fielding (Harold Warrender), to the beach. Fielding returns to his villa, and, breaking the "fourth wall", retells the story of these two people to the audience.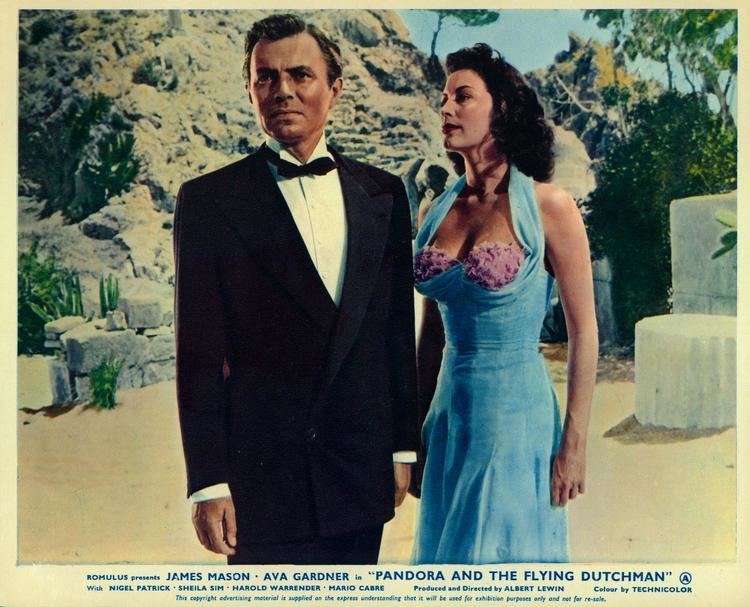 Esperanza's small group of English expatriates revolves around Pandora Reynolds (Ava Gardner), an American nightclub singer and femme fatale. All the men love her (or believe that they do), but Pandora is unable to love anyone.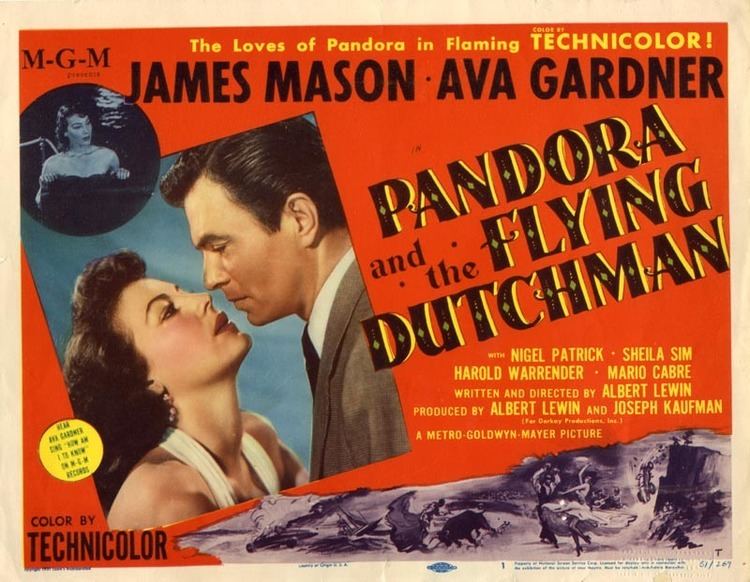 She tests her admirers by demanding they give up something they value, citing Geoffrey Fielding's quote that the "measure of love is how much you are willing to sacrifice for it." One of her admirers (Marius Goring) even commits suicide in front of Pandora and her friends by drinking wine that he has laced with poison, but Pandora apparently shows indifference.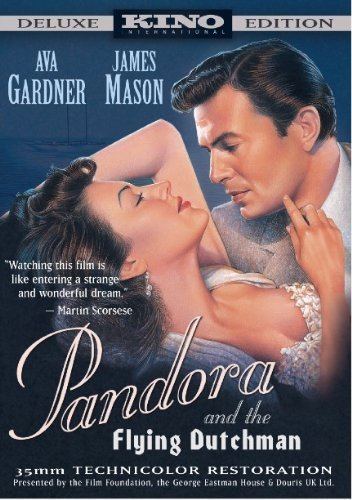 Pandora agrees to marry a land-speed record holder, Stephen Cameron (Nigel Patrick), after he sends his racing car tumbling into the sea at her request. That same night, the Dutch captain Hendrick van der Zee (James Mason) arrives in Esperanza. Pandora swims out to his yacht and finds him painting a picture of her posed as her namesake, Pandora, whose actions brought an end to the earthly paradise in Greek mythology. Hendrick appears to fall in love with Pandora, and he moves into the same hotel complex as the other expatriates.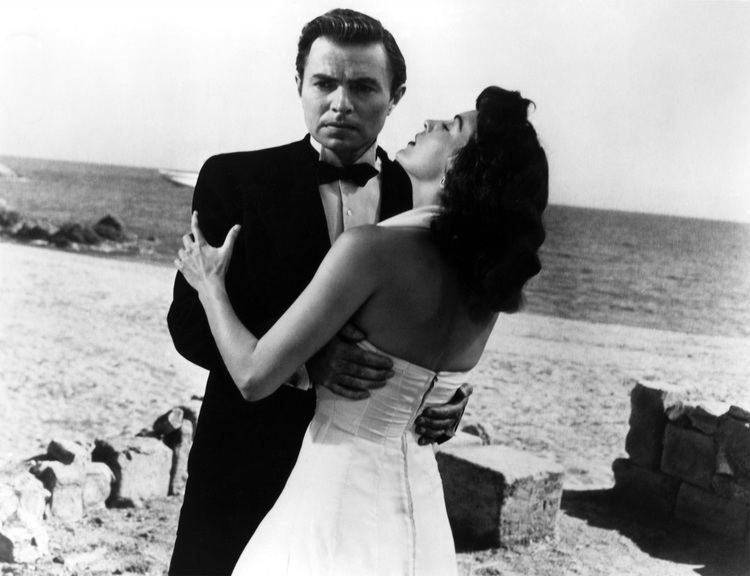 Geoffrey and Hendrick become friends, collaborating to seek background information on Geoffrey's local finds. One of these relics is a notebook written in Old Dutch, which confirms Geoffrey's suspicion that Hendrick van der Zee is the Flying Dutchman, a 16th-century ship captain who murdered his wife, believing her to be unfaithful. He blasphemed against God at his murder trial, where he was sentenced to death.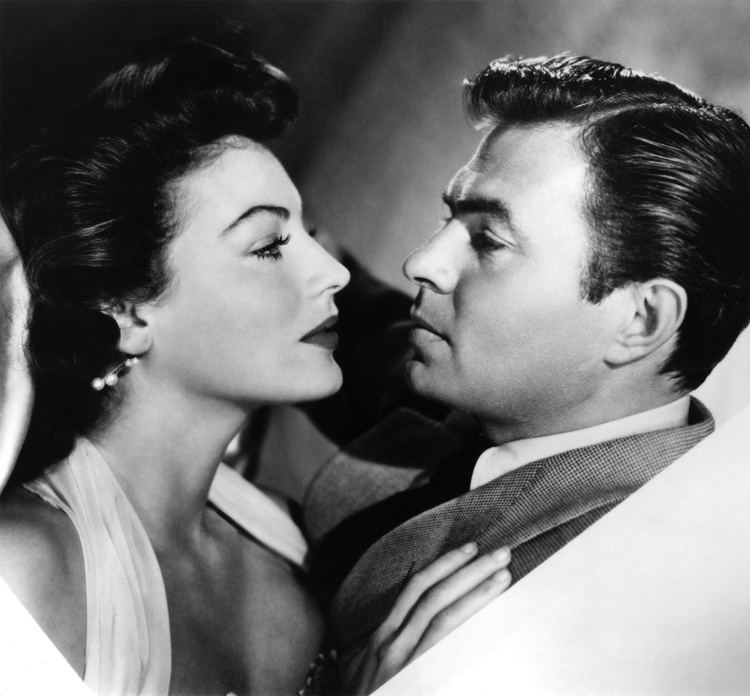 The evening before his execution, a mysterious force opened the Dutchman's prison doors and allowed him to escape to his waiting ship, where in a dream it was revealed to him that his wife was innocent and he was doomed to sail the seas for eternity unless he could find a woman who loved him enough to die for him. Every seven years, the Dutchman could go ashore for six months to search for that woman.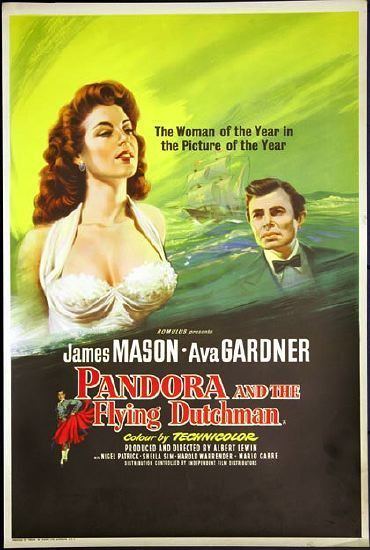 Despite her impending wedding to Stephen, Pandora declares her love for Hendrick, but he is unwilling to have her die for his sake, and tries to provoke her into hating him.
Pandora is also loved by Juan Montalvo (Mario Cabré), an arrogant, famous bullfighter, who murders Hendrick out of jealousy. But as soon as Montalvo leaves, Hendrick comes back to life as if nothing had happened. He attends the bullfight the next day, and when Montalvo sees him in the audience, he becomes petrified with fear and is fatally gored by the bull. Before dying, Montalvo tells Pandora about his murder of his romantic rival, leaving her confused.
On the eve of her wedding, Pandora asks Geoffrey if he knows anything about Hendrick that will clear up her confusion. Once he sees the Flying Dutchman preparing to sail away, he hands her his translation of the notebook. However, the Dutchman's yacht is becalmed. On learning the truth, Pandora swims out to Hendrick again. He shows her a small portrait of his murdered wife. She and Pandora look exactly alike. Hendrik explains they are man and wife and that through her he has been given the chance to escape his doom, but he rejected it because it would cost her death. Pandora is undaunted, however. That night, there is a fierce storm at sea. The next morning, the bodies of Pandora and the Dutchman are recovered.
Louella Parsons wrote, "This story is done with the same artistry that Art Lewin puts into all his motion pictures. ... Moreover, this is a love story and a beautiful one, and that, I believe, is what the public likes."
Hedda Hopper wrote, "A WINNER – I predict that when Pandora and the Flying Dutchman gets into circulation, Ava Gardner will be tagged the sexiest woman of the century.
Jimmie Fidler wrote, "Highly imaginative tragedy, beautifully produced in Spain and England, that will draw cheers in the art houses, but get a less favorable reaction from general audiences."
"And when Sinatra showed up, Mario started to show off. In the bullfight scene, he took chances no actor should ever take. Mario wanted to impress Ava. There was one time when he fell down and almost got gored by the bull. It was terrific stuff! We left it in–but it was all an accident."
"Ava Gardner's triangle with a bullfighter and crooner Frank Sinatra in Spain last summer helped her turn in the greatest screen performance of her career."
Frank Morriss wrote, "Walter Winchell says Ava Gardner's singing of 'How Am I To Know' in Pandora and the Flying Dutchman is a 'great sexcess'."
"One of the most thrilling and breathtakingly beautiful pictures made in recent years. ... its exciting love story is that of the provocative pagan known as Pandora and the inscrutable man out of nowhere, The Flying Dutchman."
Erskine Johnson wrote, "Ava Gardner, who balked at going abroad for Pandora and the Flying Dutchman, is now telling pals that it is her best film role to date." And, "Promised and hoped for: Ava Gardner shucking off her clothes and swimming to join James Mason on his ship in Pandora and the Flying Dutchman."
Film director Adonis A. Kyrou wrote, "The two hands united in Pandora's fishnet are a conclusion full of consequences and the stunning Ava Gardner, who personifies the eternal lover of the flying Dutchman, is for me the perfect example of a woman in love. Lewin highlighted throughout his entire film the predestination of a great love. As a cultivated and intelligent man (and as an aesthete too), he proclaimed his fierce faith in love."
Pauline Kael wrote, "shows more visual feeling than common sense. ... Lewin's direction is static, yet his staging is so luxuriantly mad that it's easy to get fixated on what, if anything, he could have had in mind. Sally Bowles might have called it divinely incoherent--it's as nutty-fruity as another Ava Gardner film, The Barefoot Contessa, but without as much talk."
"Albert Lewin's film turns this improbable premise into an irresistible romantic fantasy, a key factor in this alchemy being Jack Cardiff's photography."
"A labour of love for the Hollywood maverick Albert Lewin, Pandora and the Flying Dutchman is filmed in a richly hued, dreamlike style inspired by the Powell and Pressburger classic The Red Shoes."
"What more is there to say about this magical film from Albert Lewin, the academic who became a filmmaker rather late and was considered too cultured by the studios? What art and beauty reigns unchallenged in the marriage of two myths, that of Pandora and that of the Flying Dutchman, condemned to wander the oceans waiting for the woman. With touches of golden yellow, bull's blood crimson, emerald green and azure blue, Lewin creates a veil of baroque fabric to illuminate Ava – Venus plunging into the waves."
Dennis Schwartz gave it a mixed review, stating, "It seems pretentious, lacks imagination and has many dull spots, but it's well acted by James Mason, is pleasingly lush in its visuals, the dramatics are polished and it retains a certain magical quality (despite being unconvincing) that keeps things watchable as a possible dry work of art."
"Lewin was, in Hollywood terms, an unusually cultured director, and his script shows familiarity not only with the legend but with the Rubaiyat of Omar Khayyam, which provides a remarkably apt closing stanza. The film's sophistication is matched by an irresistible glamour. It's almost as if Lewin sensed in his actress the spell that lures, in the story, so many men to their fate, or, hopefully, their salvation."
Dave Kehr wrote that "'Pandora' achieves a feverish, dreamlike quality, with its eerie landscapes ... It should be kitsch, and yet 'Pandora' carries such conviction that it achieves a kind of crazy grandeur ..."
Susan Felleman, author of Botticelli in Hollywood: The Films of Albert Lewin, called it "[A film] about a woman unable to love and a man unable to die – a baroque synthesis of classical myth and Germanic legend – ..."
According to MGM records the film earned $1,247,000 in the US and Canada and $354,000 elsewhere.
Eastern Color Movie Love #11 (October 1951)