Albanian delegation. Speech by Pandeli Majko Former Prime Minister of Albania at Paris
Pandeli Sotir Majko (born November 15, 1967 in Tirana) is an Albanian politician. He served twice as Prime Minister of Albania; once from 1998 to 1999 and again in 2002.
Contents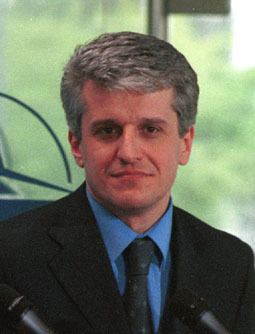 He graduated at the University of Tirana, Faculty of Mechanical Engineering, and later in Law.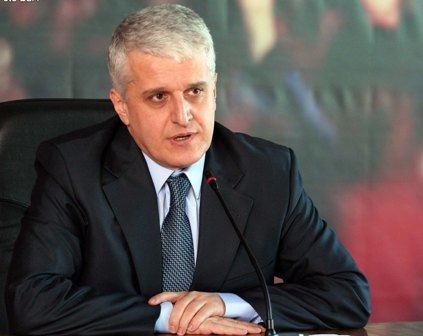 Albania pandeli majko nominated as new prime minister
Early Political Career
Majko has been a member of the Euro-Socialist Youth Forum of Albania (FRESH) since its foundation in 1992. FRESH is itself a member of the International Union of Socialist Youth. From 1992 to 1995, Majko served as President of FRESH. Former Prime Minister Ilir Meta was also a member of FRESH.
In 1992 he entered the Albanian Parliament as MP for the Socialist Party. In 1997-2001 he took part in the parliamentary committee charged with the task of drafting the new Constitution of Albania. In 1997-1998 Majko was secretary general of the Socialist Party and head of its parliamentary group.
Prime Minister (1998-1999, 2002) and Defence Minister (2002-2005)
From September 1998 to October 1999 Majko held his first government as prime minister of Albania. He was the youngest Prime Minister of Albania, appointed when he was 30 years old in 1998 for the first time.
After the government of Ilir Meta, he briefly came back to premiership from February to July 2002. He subsequently held the post of Minister of Defence from July 2002 to September 2005 in the government of Fatos Nano. Following the government's defeat in the 2005 elections, he returned to his former position as secretary general of the Socialist Party.
In 2006, Majko came out in support of Montenegro's vote for independence from Serbia. He was quoted celebrating the reduction in Albania's shared border with Serbia.
He is member of the General Council of the Transnational Radical Party.
As the head of state, he is considered to have played a key role in the Kosovo war, by settling many refugee camps and officially helping the KLA cause.
Personal life
Pandeli Majko was born on 15 November 1967 in Tirana.
References
Pandeli Majko Wikipedia
(Text) CC BY-SA