First appearance

13 October 1958




Created by

Michael BondPaddington and Company (now subsidiary of Studiocanal)

Family

Mary, Henry, Jonathan and Judy Brown

Relatives

Uncle Pastuzo; Aunt Lucy

Similar

Rupert Bear, Sooty, Winnie‑the‑Pooh, Yogi Bear, Peter Rabbit
The adventures of paddington bear the treasure hunt
Paddington Bear is a fictional character in children's literature. He first appeared on 13 October 1958 and has been featured in more than twenty books written by Michael Bond and illustrated by Peggy Fortnum and other artists. The friendly bear from deepest, darkest Peru—with his old hat, battered suitcase (complete with a secret compartment, enabling it to hold more items than it would at first appear), duffel coat and love of marmalade—has become a classic character from English children's literature. Paddington books have been translated into 30 languages across 70 titles and sold more than 30 million copies worldwide. A much loved fictional character in British culture, a Paddington Bear soft toy was chosen by British tunnellers as the first item to pass through to their French counterparts when the two sides of the Channel Tunnel were linked in 1994.
Contents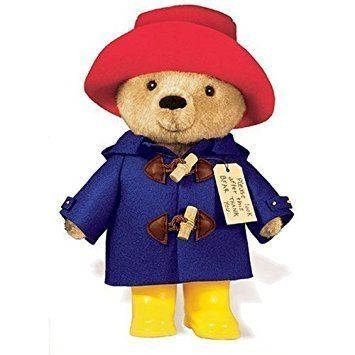 Paddington is an anthropomorphised spectacled bear. He is always polite – addressing people as "Mr", "Mrs" and "Miss", rarely by first names – and kindhearted, though he inflicts hard stares on those who incur his disapproval. He has an endless capacity for innocently getting into trouble, but he is known to "try so hard to get things right." He was discovered in Paddington Station, London, by the (human) Brown family who adopted him, and thus he gives his full name as "Paddington Brown". As of June 2016, Paddington Bear and its copyright and trademark across the world are now owned by Vivendi's Studiocanal. Bond, however, still owns the publishing rights to his series.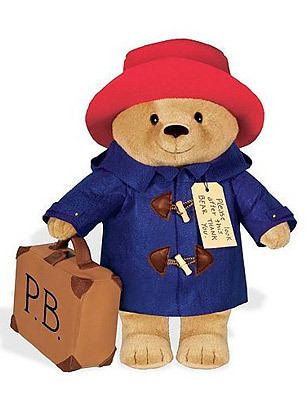 The adventures of paddington bear paddington gets a raise
Origin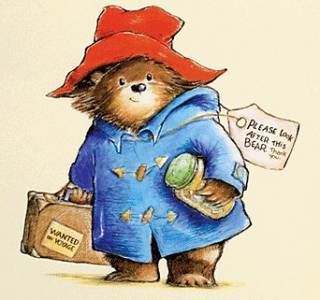 Michael Bond based Paddington Bear on a lone teddy bear he noticed on a shelf in a London store near Paddington Station on Christmas Eve 1956, which he bought as a present for his wife. The bear inspired Bond to write a story; and, in ten days, he had written the first book. The book was given to his agent, Harvey Unna. A Bear Called Paddington was first published on 13 October 1958 by William Collins & Sons.
Stuffed toy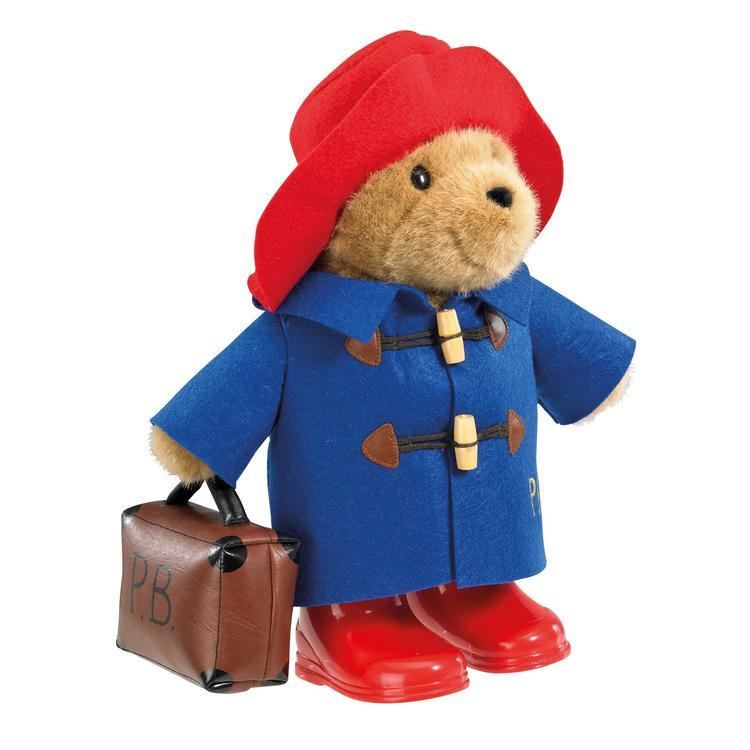 The first Paddington Bear stuffed toy to be manufactured was created in 1972 by Gabrielle Designs, a small business run by Shirley and Eddie Clarkson, with the prototype made as a Christmas present for their children Joanna and Jeremy Clarkson (who later became a well-known British TV presenter and writer). Shirley Clarkson dressed the stuffed bear in Wellington boots to help it stand upright. (Paddington received Wellingtons for Christmas in Paddington Marches On, 1964.) The earliest bears wore small children's boots manufactured by Dunlop Rubber until production could not meet demand. Gabrielle Designs then produced their own boots with paw prints moulded into the soles.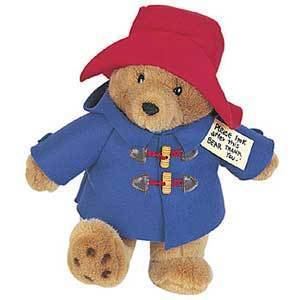 Shirley Clarkson's book describes the evolution of the toy Paddington from Christmas gift to subject of litigation and ultimately commercial success.
Storyline
In the first story, Paddington is found at Paddington railway station in London by the Brown family, sitting on his suitcase (bearing the label "Wanted on Voyage") with a note attached to his coat that reads "Please look after this bear. Thank you." Bond has said that his memories of newsreels showing trainloads of child evacuees leaving London during World War II, with labels around their necks and their possessions in small suitcases, prompted him to do the same for Paddington.
Paddington arrives as a stowaway coming from "Darkest Peru", sent by his Aunt Lucy (one of his only known relatives aside from an Uncle Pastuzo who gave Paddington his hat) who has gone to live in the Home for Retired Bears in Lima. He claims, "I came all the way in a lifeboat, and ate marmalade. Bears like marmalade." He tells them that no-one can understand his Peruvian name, so the Browns decide to call him Paddington after the railway station in which he was found. Paddington's Peruvian name is ultimately revealed to be "Pastuso" (not to be confused with his "Uncle Pastuzo"). Bond originally wanted Paddington to have "travelled all the way from darkest Africa", but his agent advised him that there were no bears in Africa, and thus it was amended to Peru, home of the spectacled bear.
They take him home to 32 Windsor Gardens, off Harrow Road between Notting Hill and Maida Vale (there is no number 32 in the real Windsor Gardens). Paddington frequents the nearby Portobello Road market, where he is respected by the shopkeepers for driving a hard bargain. When he gets annoyed with someone, he often gives them one of his special "hard stares" (taught to him by Aunt Lucy), which causes them to become flushed and embarrassed. Paddington's adventures usually arise from him misunderstanding something and trying to right (what he perceives to be) unfair or unjust situations. This typically ends with him messing things up in some way. But in all his adventures, he ends up on top and everyone involved can laugh about it. (A notable exception to this rule is the Browns' next-door neighbour Mr Curry, who, in every adventure, ends up in trouble.)
The stories follow Paddington's adventures and mishaps in England, along with some snippets of information about his past. For instance, in one story, we learn that Paddington was orphaned in an earthquake, before being taken in and raised by his Aunt Lucy.
Characters
There is a recurring cast of characters, all of whom are in some way entangled in Paddington's misadventures. These include:
Mr. Henry Brown: A hapless but well-meaning City of London worker.
Mrs. Mary Brown: Mr. Brown's more serious-minded yet equally friendly wife.
Jonathan and Judy: The energetic and friendly Brown children. It is never established if one is older than the other, leading to the possibility that they are twins. It is when they are meeting Jonathan and Judy off the train from boarding school that the Browns meet Paddington. In the movie, Judy is the eldest and they were with their parents when they met Paddington.
Mrs. Bird: The Browns' strict but kindly housekeeper. Though she is often annoyed by Paddington's mishaps, she is protective of him. Her first name has never been mentioned.
Mr. Samuel Gruber: The friendly owner of an antique shop on the Portobello Road, with whom Paddington has his elevenses every day. He regularly takes Paddington and the Brown children on outings. He is a Hungarian immigrant. He addresses Paddington as "Mr. Brown".
Mr. Reginald Curry: The Browns' mean and bad-tempered next-door neighbour, who serves as a contrast to Mr Gruber. He addresses Paddington simply as "Bear!" Penny-pinching by nature, Mr. Curry always wants something for nothing and often persuades Paddington to run errands for him. He tends to invite himself to many of the Browns' special occasions just to sample the snacks. In most of the stories, he gets his comeuppance as a frequent victim of Paddington's misadventures; however, he does sometimes benefit from Paddington's mistakes and has even rewarded him for them on occasion.
Aunt Lucy: Paddington's aunt from South America. She was his legal guardian until she had to move into the Home for Retired Bears in Lima, Peru. Why she had to do this was never made clear, until the movie, as she is shown to be of sound mind and body during her visits to England.
Uncle Pastuzo: Paddington's wealthy globe-trotting uncle.
Books
The first book, A Bear Called Paddington, was published in 1958. Although the books are divided into chapters and each book has a time frame, the stories all work as stand alone stories, and many of them were used like this in the TV series. In order of publication the titles are:
A Bear Called Paddington (1958)
The stories in the first book in the series are:
Please Look After This Bear – The Browns first meet Paddington at Paddington station.
A Bear in Hot Water – Paddington's first attempt at having a bath is a disaster.
Paddington Goes Underground – Paddington's first journey on the Underground causes chaos.
A Shopping Expedition – Paddington gets lost during a shopping trip.
Paddington and "The Old Master" – This story introduces Mr Gruber. After hearing Mr Gruber talk about painting, Paddington decides to try his hand at it himself.
A Visit To the Theatre – Paddington goes to see a play with the Browns.
Adventure at the Seaside – Paddington takes part in a sandcastle competition.
A Disappearing Trick – Paddington receives a magic set for his first birthday with the Browns. This story introduces Mr Curry.
More About Paddington (1959)
The stories in the second book in the series are:
A Family Group – Paddington takes a family photo of the Browns.
A Spot of Decorating – Paddington tries to help Mr Brown by decorating his room whilst the family are out.
Paddington Turns Detective – Paddington investigates the disappearance of Mr Brown's prize marrow.
Paddington and the Bonfire – The Browns hold a bonfire party at No. 32 Windsor Gardens.
Trouble at No.32 – Paddington catches a nasty chill when a winter prank goes disastrously wrong.
Paddington and the Christmas Shopping – Paddington buys presents for the Brown family.
Christmas – Paddington enjoys his first Christmas with the Browns
Paddington Helps Out (1960)
The stories in the third book in the series are:
A Picnic On The River – Paddington gets more than he bargained for when the Browns hire a boat for a day on the river.
Paddington Makes A Bid – Mr Gruber takes Paddington to an auction sale.
Paddington and "Do It Yourself" – After reading a DIY magazine, Paddington tries to make presents for Mr Brown and (reluctantly) Mr Curry.
A Visit To The Cinema – The Browns go to see a cowboy film. When the special attraction is cancelled, Paddington comes to the rescue.
Something Nasty in the Kitchen – With Mr and Mrs Brown sick in bed and the rest of the family out of the house, Paddington prepares dinner.
Trouble At The Launderette – A reluctant Paddington takes Mr Curry's laundry to be cleaned.
Paddington Dines Out – The Browns organise a special meal for Paddington's birthday.
Paddington Abroad (1961)
The stories in the fourth book in the series are:
Paddington Prepares – Mr Brown announces a holiday in France.
A Visit to the Bank – A misunderstanding causes uproar at the bank.
Trouble at the Airport – Airport officials suspect Paddington is travelling without a passport.
Paddington Saves the Day – The Browns' car gets a puncture and Mr Brown organises an al-fresco meal.
Paddington and the "Pardon" – Paddington takes part in a local festival.
A Spot of Fishing – The Browns and Paddington go on a fishing trip and get marooned.
Paddington Takes to the Road – Paddington participates in the Tour de France.
Paddington at Large (1962)
The stories in the fifth book in the series are:
Paddington Breaks the Peace – Paddington causes chaos trying to mow Mr Curry's lawn.
Mr Gruber's Outing – Mr Gruber takes Paddington, Judy and Jonathan to the park.
Goings-On at Number Thirty-two – Paddington mistakes a man installing the Browns' new television for a burglar.
Paddington Hits the Jackpot – Paddington wins a TV quiz show.
A Sticky Time – Paddington tries to make toffee.
Trouble in the Bargain Basement – Paddington goes Christmas shopping.
Paddington and the Christmas Pantomime – Paddington helps out at a local panto.
Paddington Marches On (1964)
The stories in this sixth collection are:
Paddington and the Cold Snap – Paddington tries to defrost Mr Curry's pipes.
A Most Unusual Ceremony – Paddington is invited to a ceremony at a marmalade factory.
Paddington Makes a Clean Sweep – Paddington makes a mess cleaning the chimney.
Mr Gruber′s Mystery Tour – Paddington and Mr Gruber go on a mystery tour of London.
Paddington Saves the Day – Paddington plays cricket.
A Day by the Sea – Paddington and the Browns go to the seaside.
An Unexpected Party – The Browns celebrate Paddington's (temporary) return to Peru with a farewell party.
Paddington at Work (1966)
The stories in this seventh collection are:
A Bear at Sea
Anchors Away
Paddington Buys a Share
A Visit to the Stock Exchange
Paddington in a Hole
Too Much off the Top
Paddington Steps Out
Paddington Goes to Town (1968)
The stories in this eighth collection are:
A Day to Remember
Paddington Hits Out
A Visit to the Hospital
Paddington Finds a Cure
Paddington and the "Finishing Touch"
Everything Comes to Those Who Wait
Paddington Goes to Town
Paddington Takes the Air (1970)
The stories in this ninth collection are:
A Visit to the Dentist
A Stitch in Time
Riding High
Paddington Strikes a Bargain
The Case of the Doubtful Dummy
Paddington Recommended
The Last Dance
Paddington's Garden (1972)
A single-story picture book. Later adapted (with new illustrations) as
Paddington in the Garden
, and collected in
The Paddington Treasury for the Very Young
(2010)
Paddington's Blue Peter Story Book (1973)
This collects together stories previously published in the
Blue Peter
annuals, which Michael Bond had written during his time as a cameraman on Blue Peter. The stories all include references to Blue Peter, and feature the contemporary Blue Peter presenters,
John Noakes
,
Peter Purves
and
Valerie Singleton
.
Paddington Takes the Cake
Paddington Gets the Bird
Paddington to the Rescue
Paddington Goes Halves
Paddington Gives a Service
Paddington Weighs In
Paddington at the Tower (1973)

A single-story picture book, aimed at younger readers.
Paddington on Top (1974)
The tenth collection features the following stories:
Paddington Goes to School
Paddington Cleans Up
Paddington Goes to Court
A Birthday Treat
Keeping Fit
Paddington in Touch
Comings and Goings at Number Thirty-two
Paddington Takes the Test (1979)
The eleventh collection in the main series includes these stories:
Paddington at the Wheel – Mr Brown has been ordered to re-take his driving test after a minor accident, but a series of misunderstandings leads to Paddington ending up behind the wheel instead.
In and Out of Trouble – A reluctant Paddington is roped in to test Mr Curry's "new" hammock.
Paddington and the Stately Home – Mr. Gruber takes Paddington, Jonathan and Judy to visit a stately home.
Paddington and "Bob-a-Job" – Paddington takes part in the local scouts' "bob-a-job" week.
Paddington Gets a Rise – Paddington tries to make money to buy Mr Brown a birthday present.
Mr Curry Lets Off Steam – Mr Curry bags himself a free go at Mr Brown's new sauna bath, but lives to regret it.
Pantomime Time – The Browns and Mr Gruber enjoy a Christmas treat.
Paddington on Screen (1980)

Following up
Paddington's Blue Peter Story Book
(1973) this collection collects the remaining stories published in the Blue Peter annuals, which Michael Bond had written during his time as a cameraman on Blue Peter. These stories again feature occasional appearances from the Blue Peter presenters, including newcomer
Lesley Judd
and newsreader
Angela Rippon
.
Paddington's Puzzle
A Spoonful of Paddington
Paddington Clocks In
Paddington Passes Through
Paddington Takes a Cut
Paddington's Christmas Treasure Hunt
Paddington in the "Hot Seat"
Paddington at the Zoo (1984)

A single-story picture book, aimed at younger readers. Later collected in
The Paddington Treasury for the Very Young
(2010)
Paddington and the Knickerbocker Rainbow (1985)

A single-story picture book, aimed at younger readers.
Paddington at the Palace (1986)

A single-story picture book, aimed at younger readers. Later collected in
The Paddington Treasury for the Very Young
(2010)
Paddington's Magical Christmas (1988)

A single-story picture book, aimed at younger readers. This book has not yet been collected or reissued in line with the other picture books.
Paddington Goes to Hospital (2001)

A single-story picture book, aimed at younger readers. Co-written with Karen Jankel. Author's profits went to Action Research.
Paddington and the Grand Tour (2003)

A single-story picture book, aimed at younger readers.
Paddington Here and Now (2008)

This twelfth collection in the main series was published almost thirty years after the last, and coincided with Paddington's fiftieth anniversary. The stories included in this volume are:
Parking Problems
Paddington's Good Turn
Paddington Strikes a Chord
Paddington Takes the Biscuit
Paddington Spills the Beans
Paddington Aims High
Paddington's Christmas Surprise
Paddington Races Ahead (2012)

The thirteenth collection in the main series includes these stories:
Mr Curry's Birthday Treat
A Fishy Business
Spring Cleaning
A Chance Encounter
Paddington in Training
Paddington Flies a Kite
Paddington on Track
Paddington Goes for Gold (2012)

A single-story picture book, aimed at younger readers. Released to coincide with London hosting the
Summer Olympic Games
.
Love from Paddington (2014): A book of letters from Paddington and his Aunt Lucy, which retell stories seen in the previous collections from Paddington's perspective
Special publications
The Adventures of a Bear Called Paddington; A play for children (1974) Adapted by Alfred Bradley from the stories by Michael Bond. Music by Bert Chappell. Lyrics by Bert Chappell, Brenda Johnson and Alfred Bradley. Published and licensed by Samuel French Ltd. London. A full-length small-cast musical play in two acts. The play opened in 1973 in the Nottingham Playhouse and in the Duke of York Theatre in London the following year.
Paddington on Stage – plays for children (1974) Adapted by Michael Bond and Alfred Bradley. A book of seven short play scripts based on the Paddington stories and intended for children to perform. The scripts were based on the play The Adventures of a Bear Called Paddington published by Samuel French. The plays included are: The arrival of Paddington; Paddington paints a picture; Paddington has a holiday; Paddington visits the dentist; Paddington goes to the launderette, Paddington goes to hospital; Paddington turns detective. The book also contains costume notes and the lyrics of two songs: I try so hard and Paddington Bear.
Paddington Rules the Waves (2008) A £1 World Book Day Book
Paddington Here and Now (2008) Published as part of the series' 50th anniversary celebrations.
Paddington's Cookery Book (2011)
Blue Peter and beyond
Author Michael Bond was also a BBC TV cameraman who worked on the popular children's television programme Blue Peter. After this was revealed in 1965, a special Paddington story, in which he got mixed up in the programme itself, appeared in the Blue Peter Annuals for many years. They were collected in the novel-length Paddington's Blue Peter Story Book in 1973. A second book based around Blue Peter was titled Paddington on Screen.
Television
The BBC television series Paddington, produced by Michael Bond and London-based animation company FilmFair, was first broadcast in 1975. The storylines were based on comedic incidents from the books, chosen to appeal to the TV audience which included much younger children than those the books were written for. This series had an extremely distinctive appearance: Paddington was a stop-motion puppet moving in a three-dimensional space in front of two-dimensional backgrounds (which were frequently sparse black-and-white line drawings), while all other characters were 2D drawings. In one scene, Mr Brown is seen to hand Paddington a jar of marmalade that becomes 3D when Paddington touches it. Animator Ivor Wood also worked on The Magic Roundabout, The Wombles and Postman Pat. The series was narrated by Michael Hordern. In the United States, episodes aired on PBS, on the syndicated series Romper Room, on Nickelodeon as a segment on the programme Pinwheel and on USA Network as a segment on the Calliope (TV series) in the late 1970s and early 1980s, as well as in between preschool programming on The Disney Channel as a segment on the program Lunch Box from the late 1980s into the 1990s. The series also aired on HBO in between features, usually when they were airing children's programmes. The series won a silver medal at the New York Film and Television Festival in 1979; the first British animated series to do so.
Paddington Bear's 1989 television series was the first by a North American company, Hanna-Barbera, a co-production with Central Independent Television. This series was traditional two-dimensional animation and featured veteran voice actor Charlie Adler as Paddington and Tim Curry as Mr Curry. The character of an American boy named David, Jonathan and Judy Brown's cousin who arrived in London on the same day as Paddington, was added to the stories in the 1989 cartoon.
The most recent series, produced by Cinar Films, was first broadcast in 1997 and consisted of traditional two-dimensional colour animation. The show was called The Adventures of Paddington Bear.
Paddington Bear also appeared in The Official BBC Children in Need Medley with Peter Kay along with several other animated characters. In the video, Paddington makes a grand appearance by winking at the cameramen when they take photos of him; Kay tries to put a cloak on Paddington, but it keeps sliding off. He also joins the rest of the group for the final act.
Home media
VHS List
(Buena Vista Home Video)
US VHS List ( NTSC/Region 1 Format)
Vol.1 Please Look After This Bear
Vol.2 Paddington, P.I
Vol.3 All Paws
Vol.4 A Paddington Christmas
Vol.5 Backstage Bear
Vol.6 Bargain Basement Bear
In 2011, Mill Creek Entertainment under the licence of Cookie Jar Entertainment, released the complete original 1975 Paddington Bear series on DVD. The 3-disc set also featured three half-hour television specials, "Paddington Birthday Bonanza", "Paddington Goes To School" and "Paddington Goes to the Movies" along with 15 bonus episodes of The Wombles and Huxley Pig. It also had special features for children on DVD-ROM.
Film adaptations
In September 2007, Warner Bros. and producer David Heyman announced a film adaptation of Paddington Bear. Hamish McColl, who penned Mr Bean's Holiday, would write the script. The film would not be an adaptation of an existing story, but "draw inspiration from the whole series" and feature a computer animated Paddington Bear interacting with a live-action environment. Colin Firth had been announced to voice Paddington, however he announced his withdrawal on 17 June 2014, saying: "It's been bittersweet to see this delightful creature take shape and come to the sad realization that he simply doesn't have my voice". In July 2014, it was announced that Ben Whishaw had replaced Firth.
On 25 June 2012, an official teaser poster was released for the film. It states that the film will be released during 2014. A trailer was later released confirming the release to be 28 November 2014. On 17 November 2014, the British Board of Film Classification (BBFC) gave the film a PG certificate and advised parents that the film contained "dangerous behaviour, mild threat, mild sex references, [and] mild bad language". Paul King, the film's director, told BBC reporter Tim Muffett: "I'm not surprised about that [the PG certificate] but I don't think it's a PG for sexiness. That I would find very odd". Paddington's creator, Michael Bond, said he was "totally amazed" at the BBFC's advice. After the film's distributor challenged the certification, the BBFC revised the wording of its parental guidance, replacing "mild sex references" with "innuendo". It also further qualified the "mild bad language" as "infrequent", saying it referred to "a single mumbled use of 'bloody'".
To celebrate the release of Paddington the movie, the Paddington Trail was launched. From 4 November until 30 December 2014, 50 Paddington statues were placed around London close to museums, parks, shops and key landmarks.
The statues have been created by artists, designers and celebrities, including supermodel Kate Moss, actress Nicole Kidman, and Downton Abbey star Hugh Bonneville.
As the lead charity partner of The Paddington Trail, the NSPCC held an online auction in November and a live auction in December for the statues. All proceeds from the sale of the bears went to charity.
During 2015, it was announced that the studio was in talks with the producer about a sequel. The sequel, titled Paddington 2, is scheduled to be released on 10 November 2017 in the UK.
In popular culture
Paddington Bear features in the Marmite UK TV advertisement (first broadcast on 13 September 2007), in which he tries a marmite and cheese sandwich instead of his traditional marmalade sandwich.
Paddington was featured on the Royal Mail 1st class stamp in the Animal Tales series released on 10 January 2006, and had previously been featured on one of the 1st class Greetings Messages stamps, released on 1 February 1994.
On 13 October 2008, Google celebrated the 50th anniversary of the first Paddington publication by placing an image of the travelling bear with a sign showing Peru and London incorporated into Google's logo.
In November 2014, a balloon with Paddington Bear was introduced in the Macy's Thanksgiving Day Parade.
A song about Paddington Bear, "Shine" was released on January 13, 2015 by Gwen Stefani and Pharrell Williams.
Paddington Bear is also used in marketing for Robertson's, on the label of their Golden Shred marmalade.
References
Paddington Bear Wikipedia
(Text) CC BY-SA