Covid-19
Heart attack




P. Ramlee




Film actor







Teuku Zakaria bin Teuku Nyak Puteh


22 March 1929 (

1929-03-22

)

Penang, Straits Settlements (now Penang, Malaysia)




Singer, actor, director, musician, songwriter, composer, producer




Sheikh Ali Sheikh Muhammad (older maternal half-brother)




May 29, 1973, Setapak, Malaysia




Salmah Ismail (m. 1961–1973), Noorizan Mohd. Noor (m. 1955–1961), Junaidah Daeng Harris (m. 1950–1954)




Nasir P. Ramlee, Zakiah bte Ahmad




Pendekar Bujang Lapok, Bujang Lapok, Seniman Bujang Lapok, Ali Baba Bujang Lapok, Labu dan Labi
Tan Sri Datuk Amar Teuku Zakaria bin Teuku Nyak Putih (Jawi: تاوكو زكريا تاوكو ڽق ڤوتيه), commonly known as P. Ramlee (22 March 1929 – 29 May 1973) was a Malaysian film actor, director, singer, songwriter, composer, and producer. Due to his contributions to the movie and music industry and his literary work, which began with his acting debut in Singapore in 1948 to the height of his career and then later moving to Malaysia in 1964 onward where he moves towards his decline and death, he is regarded as a prominent icon of Malay entertainment; with his famed even reaching as far as Brunei and Sumatra, Indonesia as well as in Hong Kong and Japan.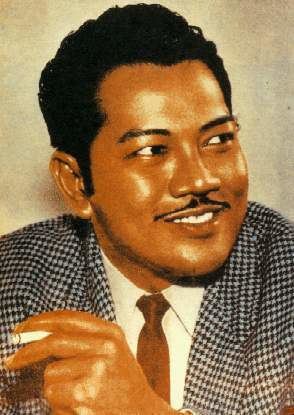 P. Ramlee, or Tengku Zakaria was born on 22 March 1929 to Tengku Nyak Puteh Bin Tengku Karim (1902 - 1955) and Che Mah Hussein (1904 - 1967). His father, Tengku Nyak Puteh, travelled from Lhokseumawe in Aceh, Indonesia) to settle in Penang; where his mother is from.
Ramlee received his education from the Sekolah Melayu Kampung Jawa (Kampung Jawa Malay School), Francis Light English School and then to Penang Free School; in all he was registered as "Ramlee" in school. Reportedly a reluctant student, Ramlee was nevertheless talented in music and football. His studies at the Penang Free School was interrupted by the Japanese occupation from 1942 to 1945, during which he enrolled in the Japanese navy school. He also learnt the basics of music and to sing Japanese songs during this period. When the war ended, he took music lessons that enabled him to read musical notations.
His first screen appearance was in Chinta, a B. S. Rajhans-directed film produced by Malay Film Productions in 1948. Between 1948 and 1955, he has starred in a total of 27 films. He eventually ventured into film directing under the mentoring of Madras-born director L. Krishnan.
On 29 May 1973, P. Ramlee died at the age of 44 years old from a heart attack and was buried at Jalan Ampang Muslim Cemetery, in Kuala Lumpur.
A 90-minute documentary on his life released by History Channel Asia on October 2010 further revealed that his untimely death becoming a shock to the nation and a sense of collective guilt following it began to spread nationwide. This was because, prior to his death, he had been discredited and rejected by the entertainment industry and the public at large who felt that he was a "has-been" and that his songs and films were no longer relevant or marketable. The documentary also revealed that, despite his previous success in the entertainment industry, P. Ramlee had died penniless, having given away the last of his money to a visitor to his house who he felt needed the money more than him.
In 1986, 13 years after his death, in honour of his contributions to the Malaysian entertainment industry, the P. Ramlee Memorial or Pustaka Peringatan P. Ramlee was built in his home in Setapak, Kuala Lumpur. In 1982, the street Jalan Parry, in the center of Kuala Lumpur, was renamed Jalan P. Ramlee in his honour. In 1990, he was posthumously awarded the Malaysian honorific title Tan Sri, and then in 2009, the honorific title of "Datuk Amar" by Sarawak State Government. Then Chief Minister of Sarawak, Abdul Taib Mahmud, an avid fan of P. Ramlee, presented the award to his adopted daughter, Dian P. Ramlee, in a ceremony honouring veteran artists in Kuching.
The P. Ramlee House is a museum situated along Jalan P. Ramlee (formerly Caunter Hall road) in Penang, Malaysia. The building is a restored wooden house that was originally built in 1926 by his father and uncle. The house had previously undergone multiple repairs before being taken over by the National Archives as an extension of its P. Ramlee Memorial project in Kuala Lumpur. Items on display at the house include personal memorabilia related to his life in Penang and items belonging to his family.
Darjah Yang Mulia Pangkuan Negara (Ahli Mangku Negara) - Awarded on September 1962.
Darjah Yang Mulia Setia Mahkota Malaysia (Panglima Setia Mahkota Malaysia) - Awarded posthumously on 6 Jun 1990.
Darjah Yang Amat Mulia Bintang Kenyalang Sarawak (Datuk Amar Bintang Kenyalang (Posthumous)) - Awarded posthumously on 2009.
P. Ramlee was posthumously granted the soubriquet Seniman Agung.
Jalan P. Ramlee, Penang (formerly known as Caunter Hall; renamed on 30 August 1983)
Jalan P. Ramlee, Kuala Lumpur (formerly known as Jalan Parry; renamed in 1982)
Bangunan P. Ramlee and Bilik Mesyuarat Tan Sri P. Ramlee at Sekolah Kebangsaan Hulu Klang, Selangor (used as background in Masam Masam Manis)
Jalan P. Ramlee, Kuching, Sarawak (formerly known as Jalan Jawa)
Taman P. Ramlee (formerly Taman Furlong) a townships at Setapak, Kuala Lumpur and George Town, Penang
Pawagam Mini P. Ramlee at Studio Merdeka, FINAS, Ulu Klang, Selangor
Makmal P.Ramlee at Filem Negara Malaysia, Petaling Jaya, Selangor
P. Ramlee Auditorium (formerly known as RTM Auditorium), Angkasapuri
SK Tan Sri P. Ramlee, Georgetown, Penang (formerly SK Kampung Jawa, his alma mater; renamed on 13 November 2011)
Ramlee Mall at Suria KLCC shopping centre, Kuala Lumpur
Bukit Nanas Monorail station, Kuala Lumpur, formerly known as P. Ramlee Monorail station
All of his films are now the property of the Shaw Organisation.
P. Ramlee Wikipedia