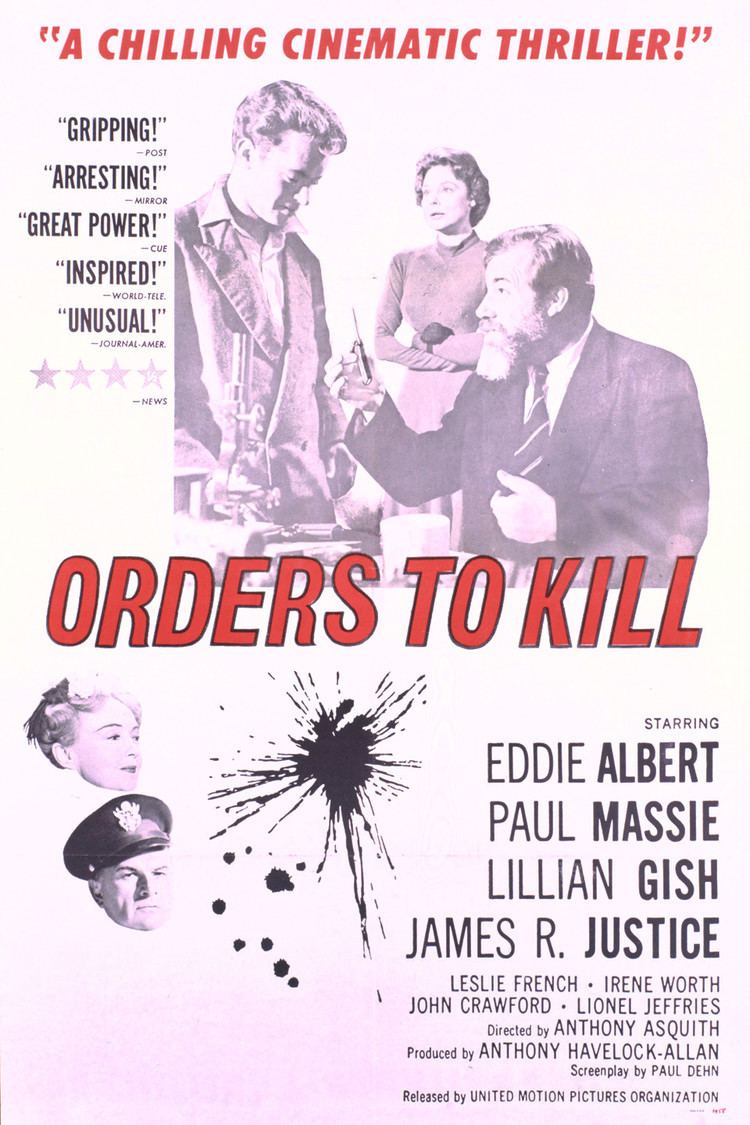 A young American bomber pilot Gene Summers (Paul Massie) is selected by Maj. Kimball (John Crawford) to go on a mission to Nazi-occupied Paris and there kill a man believed to be a double agent working in the French Resistance. He is picked because of his fluency in French and military experience. Summers receives rigorous training by his handler Maj. MacMahon (Eddie Albert) and a British Naval Commander (James Robertson Justice). Summers is enthusiastic, and remembers all of the information he needs by setting his instructions to melodies of childhood songs.
Arriving in France, Summers meets his contact, Leonie (Irene Worth), a seamstress working for the Resistance. Leonie gives Summers more information about the man he is to assassinate. Upon meeting Marcel Lafitte (Leslie French), the man he is to kill, Summers has second thoughts. Lafitte is a gentle henpecked husband, who dotes on his cat "Mimieux." Summers begins to feel that the man may not be guilty.
Summers runs back to Leonie who rebukes him for his foolish error in weakening his mission and returning to her, a dangerous combination. Leonie points out to Summers that he dropped hundreds of bombs on people while he was a pilot. Summers protests, as he understands the difference between killing a lot of people and one person up close. "When I dropped bombs I wasn't there at the other end." Leonie apologizes for her curt behavior and explains to him that her son was killed in the War.
His confidence regained, Summers prepared to kill Lafitte. Summers first cracks a blunt object over the man's head, but the killing is botched. Lafitte is not dead, and, turning over to look directly up into the eyes of the young man, asks him, "Why?" Summers kills Lafitte with a pair of scissors. In a panic, Summers steals money off Lafitte's table to make the scene look like a robbery.
Narrowly escaping the Gestapo, Summers hides the money in a cemetery, and tries to contact Leonie, but it is too late. The Nazis have captured her. Racked with guilt, Summers goes off into the night, not to be heard of again.
Several months later, after Paris has been liberated, Maj. MacMahon is giving the newly promoted Colonel Kimball a tour of the now liberated Paris and informs Colonel Kimball that Summers is in a military hospital. After the assassination, Summers became a drunkard, using the money he stole from Lafitte to pay for his addiction. Summers finds out that Leonie was killed by the Nazis after her capture and at first, the Major and the Colonel try to convince him that Lafitte was guilty. However, Summers learns from MacMahon that Lafitte was innocent after all.
In the final scene of the film, Summers leaves the hospital and for the first time, visits Lafitte's wife and daughter, who are now impoverished. Unable to tell them the truth, Summers tells them both that Lafitte was one of their best agents in the Resistance, and offers them the small compensation of his own back pay.
The famous silent movie actress Lilian Gish plays the pilot's mother. The film was based on an original story by Downes. He was an important OSS officer involved in numerous operations during the war, according to histories of the era. He became a writer after the war. The novel "Orders to Kill" by Downes was written after the film was shot.
The film won three BAFTA film awards and was entered into the 1958 Cannes Film Festival.
At the time of the film's release, The New York Times wrote, "this promising melodrama loses steam and credibility and ends in a sad heap of sentiment that should make an old cloak-and-dagger boy turn gray", while more recently the Radio Times called it "a forgotten gem of the British cinema ... a welcome change from the usual British war movie in which Richard Todd or John Mills carry on regardless."