Type

Heavy rail




Termini

Ali TownDera Gujjran




Operator(s)

Lahore Metro


Locale

Lahore




Status

Under construction




Planned opening

2019




Character

Elevated & underground







Stations

26 (24 elevated, 2 underground)




Similar

Lahore Metrobus, Multan Metrobus, Rawalpindi Islamabad Metrobus
Orange Train Lahore | Metro Train Travel in Lahore
Orange Line is an under-construction rapid transit line being built as part of the Lahore Metro, in Lahore, Pakistan. The Orange Line will be Pakistan's first modern rail-based mass rapid transit transit system, and will be a fully automated and driverless system. It will be Lahore's second rapid transit line, after the Lahore Metrobus, which was completed in 2013.
Contents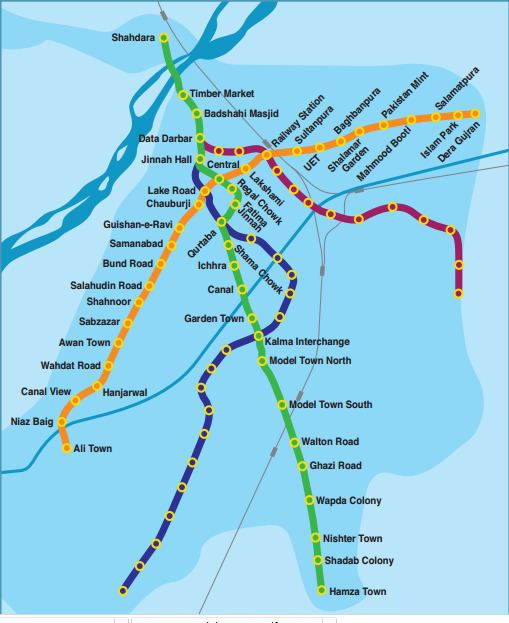 The Orange Line is the first of the three proposed rail lines of the proposed Lahore Metro. The line spans 26.23 km (16.3 mi). 24.38 km (15.1 mi) of the line is to be elevated, while 1.15 km (0.7 mi) km will be underground, and 0.7 km (0.4 mi) of track will be laid in the transition zone between elevated and underground sections.Riders will be served by 26 stations that in total are expected to handle 250,000 passenger daily.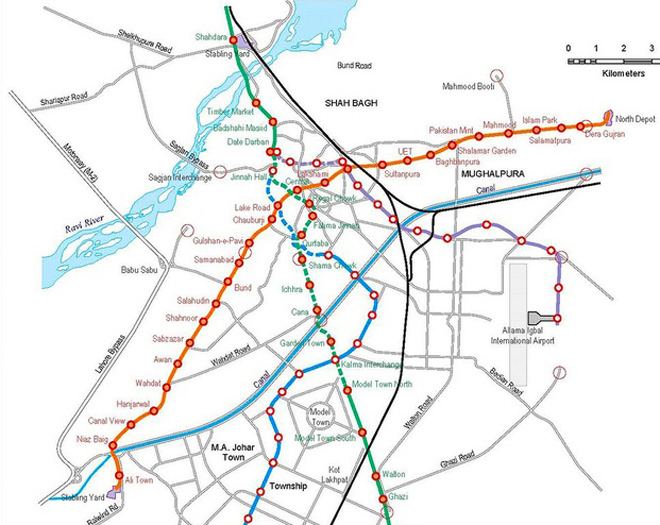 Though the project is frequently mentioned as a part of the wider China Pakistan Economic Corridor (CPEC), the project is financed separately from CPEC, and is being undertaken by the Government of Punjab.

History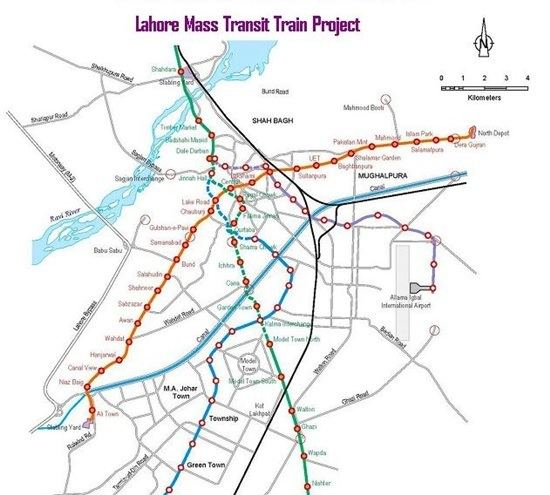 The project was initiated with a signed a memorandum of understanding between the governments of Pakistan and China in May 2014. Financing for the project was secured in December 2015 when China's Exim Bank agreed to provide a soft loan of $1.55 billion for the project. Construction works on the project began in October 2015. This project is under construction and is expected to be completed by October 2019.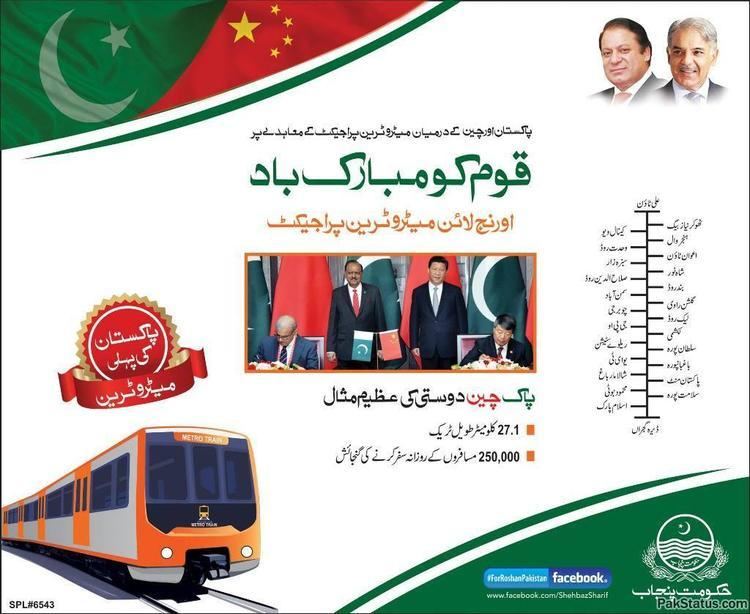 Habib Construction Services was awarded the first Phase of civil works in October 2015 for 21.49 billion rupees. In October 2016, Phase 2 of the project was awarded to ZKB Engineers and Constructors for civil works between Chauburji and Ali Town at a cost of 11.39 billion rupees. On 12 January 2017, 7 labourers perished at a makeshift residence for Orange Line construction workers.
Stations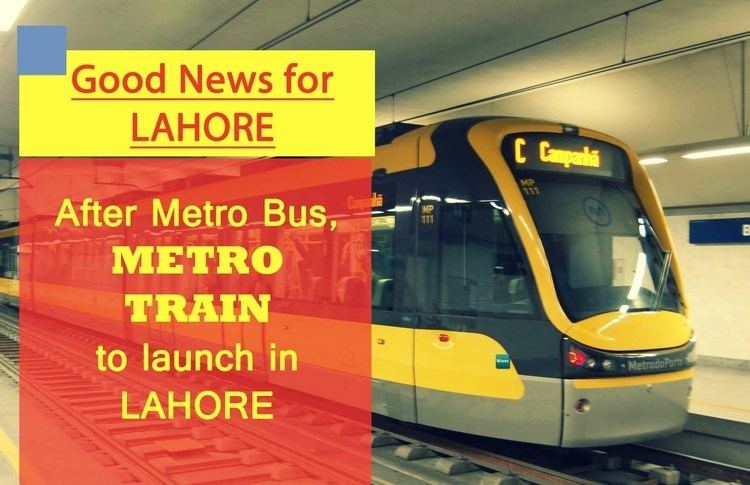 The project will have 26 stations. Anarkali and Central stations will be underground, while the remaining 24 will be elevated. The rail line will run through the centre of each station, with platforms flanking the track. Elevated stations will have a width of 22.5 metres, while Anarkali Station will be 16 metres wide, and Central Station 49.5 metres wide. Elevated stations will all be 102 metres long, while Anarkali and Central Stations will be 121.5 and 161.6 metres long, respectively.
Anarkali and Central Stations were initially planned to have two underground levels, Anarkali Station will now both feature a ground-level concourse with one underground level, while Central Station will have a single underground level, in order to reduce the maximum gradient for trains from 35% to 30%. Rail tracks will be 9.7m below street level at Central Station, and 8.7m below street level at Anarkali Station.
Underground stations will feature automated doors between platforms and trains. Public areas of the station will be air conditioned during warm months. Elevated stations will feature natural ventilation throughout the platforms, with localized air conditioning in public areas of the ticket-hall level.
Rolling stock
Orange Line trains will be composed of five wagons manufactured by China's Norinco, and will be automated and driverless. A standard Chinese "Type B" train-set consisting of 5 cars with 4 doors each will be used, that will have a stainless steel body and will be illuminated by LED lighting. Each car will have a nominal capacity of 200 seated and standing passengers at an average density of 5 persons per square metre with 20% of passengers seated and 80% standing. A total of 27 trains with 135 cars have been ordered for the system, at a cost of $1 billion. A total of 54 trains are expected to be in service by 2025.The trains will be powered by a 750-volt third rail.
Track
The Orange Line's tracks will meet China's national standards, and will employ jointless track circuits. Mainline track will be capable of supporting 60 kg/m, while track in the depot and storage yards will be capable of supporting 50 kg/m. Track will be laid upon a monolithic concrete track bed, with crossovers located between every 2 to 3 stations. Double turnover track will be used at each terminus for turnaround. Tracks will be standard gauge at 1435mm. Fasteners between tracks will be elastic.
Depot
A depot will be constructed at the northeast portion of the line, directly east of the Lahore Ring Road, while a stabling yard will be constructed at the line's southern terminus at Ali Town. The depot will also be site of the Orange Line's central control centre. The depot and stabling yard will respectively require 0.56 and 0.49 kilometres of track.
Alignment
The line spans 26.23 km (16.3 mi). 1.15 km (0.7 mi) of the line is to be underground, while transition zones between underground and elevated portions will cover 0.7 km (0.4 mi). The remaining track will be elevated. The maximum gradient for the track's main-line is 30%, while the minimum turning radius on the mainline is 250 metres.
The planned alignment roughly parallels several of Lahore's major thoroughfares, including the Grand Trunk Road, McLeod Road, Lake Road, Multan Road and Raiwind Road. The Orange Line will connect several important nodes in Lahore, including the Shalimar Gardens, University of Engineering and Technology, Lahore's main train station, Chauburji Square, and Ali Town.
Route description
From Orange Line's northeastern terminus at Dera Gujjran, the track is elevated and runs in the median of the GT Road until Shalimar Station. From Dera Gujjran Station in northeast Lahore, the route travels 5.5 kilometres westward with stations at Islam Park, Salamatpura, Mahmood Booti, Pakistan Mint, and Shalimar Gardens. The track does not run in the GT Road's median near Shalimar Station - it instead turns and travels along the southern edge of the GT Road in order to bypass the garden in order to prevent damage to mature trees there.Traveling west from Shalimar Station, the track returns to the median of GT Road, with stops at Baghbanpura, University of Engineering and Technology, and Sultanpura. From Sultanpura, the line then travel towards Lahore's central Junction Railway Station. From there, it travels southwest along McLeod road towards Lakshmi Chowk Station. The total distance from Sultanpura to Lakshmi Chowk is 2.5 km.
Leaving Lakshmi Chowk, the line travels southwest along McLeod Road, and descends into the 1.15 km underground portion that leads to the first underground station in the system, the Central Station. Central Station is located at the intersection of The Mall and McLeod Road, in front of Lahore's General Post Office (GPO) and the Lahore High Court. From Central Station, the line continues from McLeod Road and travels under Allah Baksh Road before turning south where the second underground station, Anarkali Station, is located. From Anarkali Station, the route continues under Jain Mandir and Lytton Road. It then emerges along Lake Road and again travels above ground towards Chauburji Station.
From Chauburji the line continues 4.5 km towards the southwest, along the median of Multan Road. Elevated stations are located at Gulshan-e-Ravi,Samanabad, Bund Road, Salahuddin Road, and Shahnoor. From Shahnoor, the line shifts from Multan Road's median and travels along the road's southern/eastern side with a stop at Sabzazar Station. The line continues along Multan Road's edge until Awan Road Station, after which it reverts to Multan Road's median. Leaving Awan Road Station, the line continues to travel southwest along Multan Road until it reaches Wahadat Station, which lies 2.85 km to the southwest of Sabzazar Station. The line 5.2 kilometers along Multan and Raiwind Roads, with stops at Hanjarwal Station, Canal View, Niaz Baig, before terminating at Ali Town.
Operations
The Orange Line will be operated by a joint venture of China Railways and Norinco for the first 5 years after the project's completion. Infrastructure for the line has an expected life span of approximately 100 years with routine maintenance.
Projected ridership
The system is designed to handle 30,000 passengers per hour. The Orange Line will initially carry 250,000 passengers per day, with ridership of 500,000 passengers per day three years after commencement of service. The system is designed to operate with a minimum headway of two minutes. It is expected that the station will serve 24,520 passengers per hour in the Orange Line's first year of operations - a figure which is expected to rise to 49,550 by 2025.
The system's busiest station is projected to be Anarkali Station with an estimated 45,550 daily trips in the first year of operations, rising to 110,000 trips in 2025. Lakshmi Chowk is expected to be the second busiest station in the first year of operations with 23,200 trips, and 41,500 in 2025. Lahore Junction Railway Station is expected to be the third busiest station within the line's first year of operation with 17,500 trips, rising to 44,000 in 2025.
Speed
The maximum speed of the trains is 80 km/h (50 mph) per hour. Riders will be served be 26 stations, two of which will be underground stations. The total ride time from one end of the system to the other is estimated to be 45 minutes, compared to the current commute time of 2 to 5 hours.
Hours of operation
The Orange Line is planned to be in operation for 18 hours per day, between 05:30 and 23:30.
Electric supply
The system will require approximately 74 MWs of electricity to power the trains, as well as the system's stations. 80 MWs of electricity have been secured for the project's operations from the Lahore Electric Supply Company. The system will have a back-up unit in case of power failure, while a third emergency system will also be available to if both power sources fail.
Two high-voltage electrical substations will be built for the line - one near UET Station, and the other at Shahnoor Station. The project will also include 16 traction substations.
Finance
The 27-kilometer metro train is expected to cost $1.6 billion, out of which $300 million would come from the Federal Government of Pakistan, the rest is financed through soft loan's by the Government of China. Though the project is frequently mentioned as a part of the wider China Pakistan Economic Corridor (CPEC), the project is financed separately from CPEC, and is being undertaken by the Government of Punjab. These loans will be paid back by Punjab Government in installments over a 20-year period.
In November 2016, the Punjab Provincial Development Working Party approved an additional 391 million rupees towards construction of the Orange Line. In January 2017, the Government of Punjab was awarded 20 billion rupees' worth of tax exemptions to help control costs for the project. Also in January 2017, the Lahore Development Authority noted that it would require an additional 2 billion rupees in order to better integrate the Orange Line with the Lahore Metrobus where they interchange.
References
Orange Line (Lahore Metro) Wikipedia
(Text) CC BY-SA