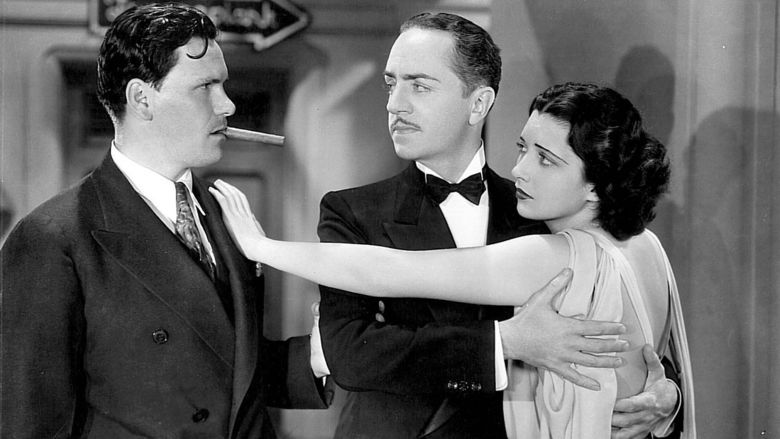 Dan Hardesty (William Powell) is an escaped murderer, sentenced to hang. In Hong Kong, he meets Joan Ames (Kay Francis), a terminally-ill woman, in a bar. They share a drink, then Dan breaks his glass, followed by Joan. Police Sergeant Steve Burke (Warren Hymer) captures Dan when he leaves (though out of sight of Joan) and escorts his prisoner aboard an ocean liner crossing the Pacific to San Francisco. On board, Dan jumps into the water in a bid to escape, dragging a handcuffed (and non-swimmer) Steve with him, but spots Joan among the passengers and changes his mind. Once the ship is underway, he persuades Steve to remove his handcuffs. Dan and Joan fall in love on the month-long cruise, neither knowing that the other is under the shadow of death.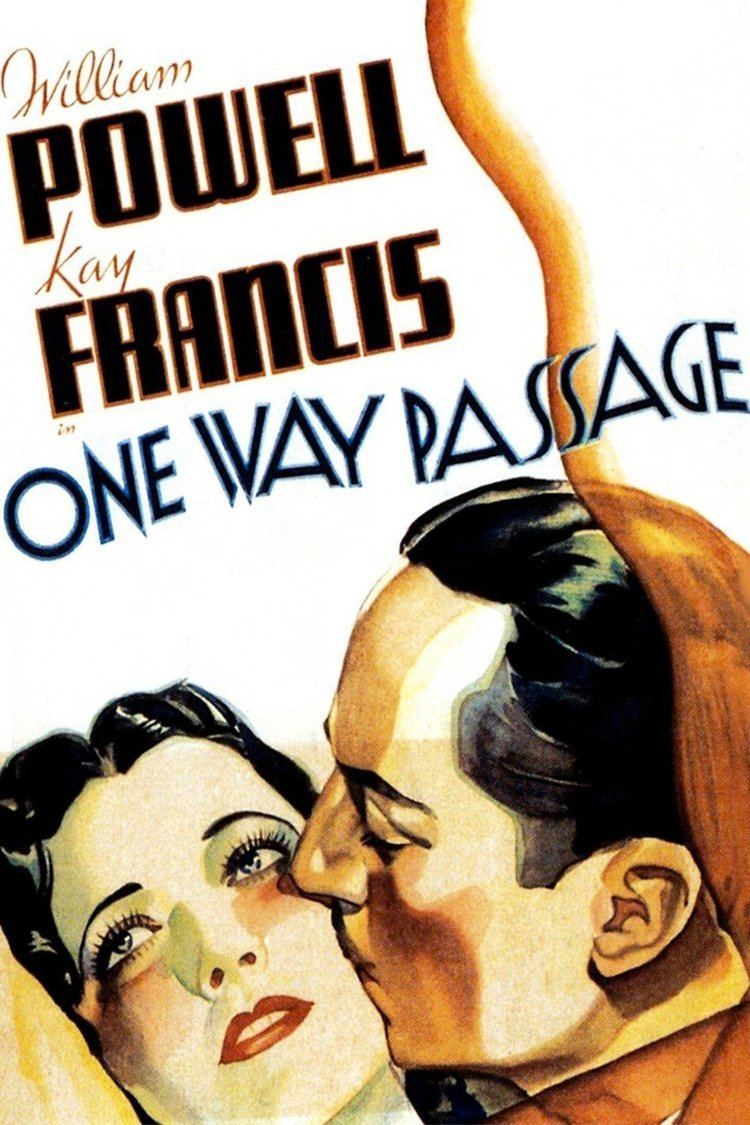 By chance, two of Dan's friends are also aboard, thief Skippy (Frank McHugh) and con artist "Barrel House Betty" (Aline MacMahon), masquerading as "Countess Barilhaus". The countess distracts Steve as much as she can to help Dan. Just before the only stop, at Honolulu, Steve has Dan put in the brig, but he escapes with their help and goes ashore. Joan intercepts him and they spend an idyllic day together. When they drive back to the dock, Dan starts to tell her why he cannot return to the ship, only to have her faint. Dan carries her aboard for medical help, forfeiting his chance. Later, Joan's doctor tells Dan about her condition and that the slightest excitement or shock could be fatal.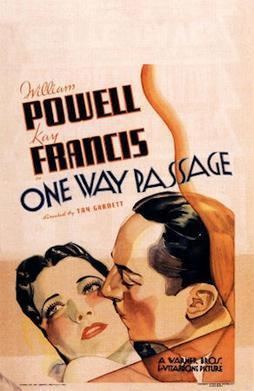 Meanwhile, the "countess" has spent so much time with the policeman that a romance blooms between them. When they near the end of the voyage, he awkwardly proposes to her. She tells him her true identity, but he still wants to marry her. As Steve and Dan get ready to disembark, a steward overhears the grim truth and, when Joan comes looking for Dan, tells her. The two lovers part for the last time without letting on they know each other's secret, and Joan collapses after Dan is out of sight.
They had agreed to meet again on New Year's Eve, a month later. At the appointed time and place, a bartender is startled when two glasses on the bar break with no one around.
William Powell as Dan [Hardesty]
Kay Francis as Joan [Ames]
Aline MacMahon as Betty, aka "Barrel House" Betty and "Countess Barilhaus" and Betty Crowley
Frank McHugh as Skippy
Warren Hymer as Steve [Burke]
Frederick Burton as The Doctor
Mike Donlin as Hong Kong bartender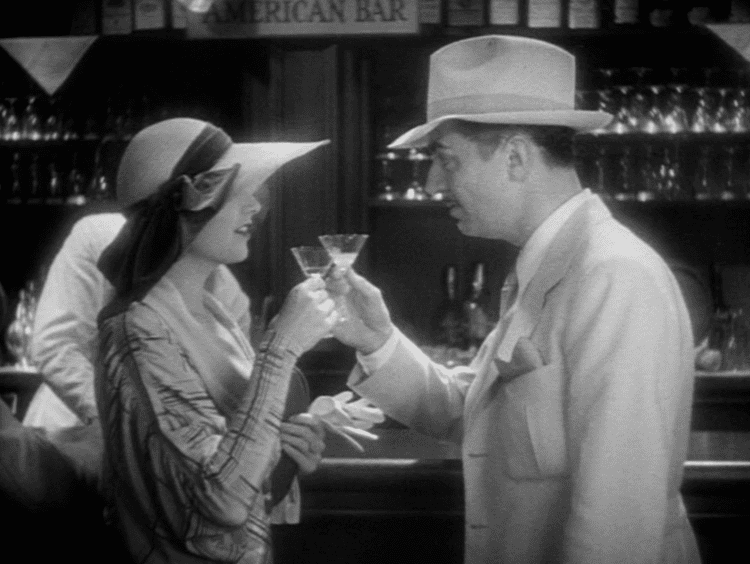 The Hong Kong bartender who opens the film by creating a "Paradise Cocktail" for the main characters was played by retired baseball player Mike Donlin a year before his death.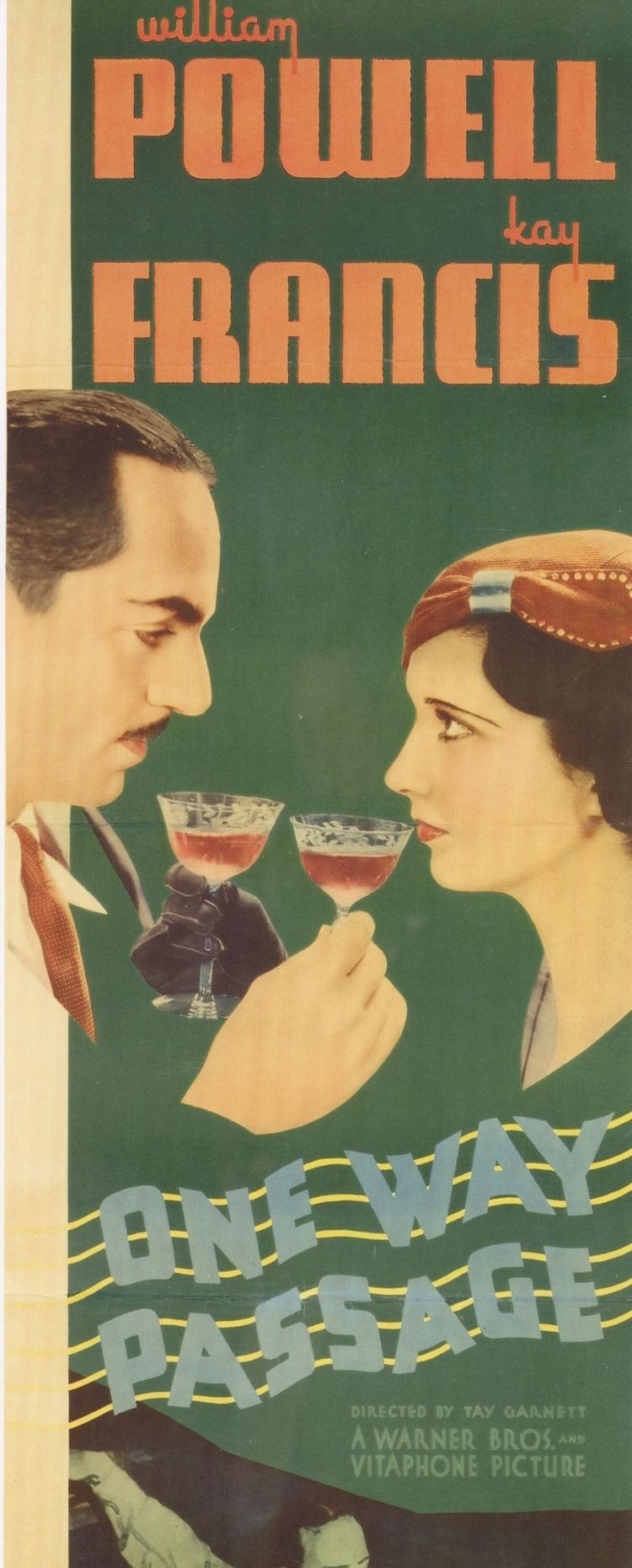 Mordaunt Hall wrote in The New York Times, "In its uncouth, brusque and implausible fashion, 'One Way Passage' ... offers quite a satisfactory entertainment. ... Tay Garnett's direction is clever. He keeps the story on the move with its levity and dashes of far-fetched romance."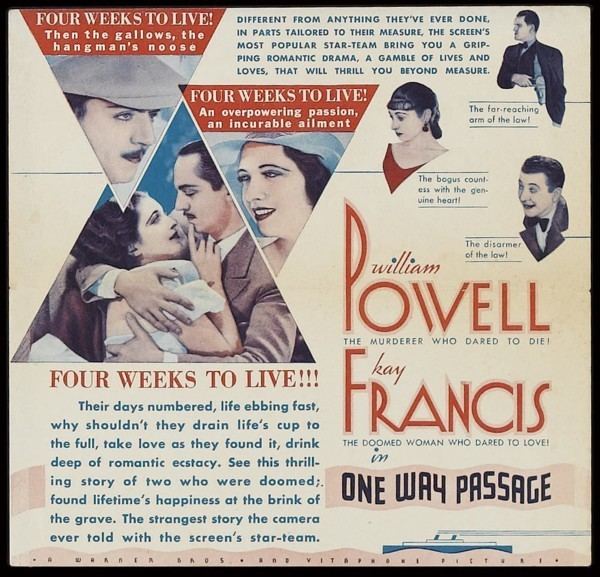 In his autobiography Looking for a Street, Charles Willeford describes seeing the movie as a thirteen-year-old: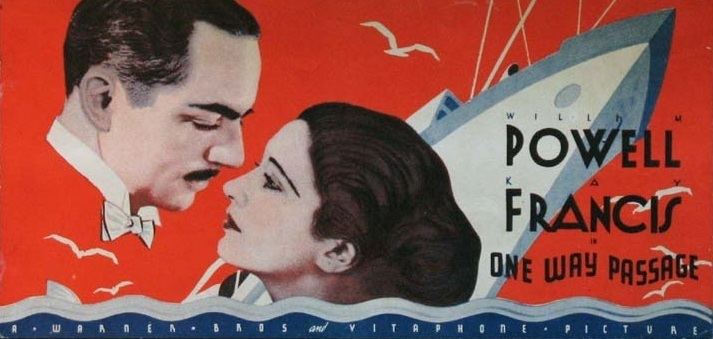 "One Way Passage" is still my all-time favorite movie, but I have never risked seeing it again. I cried so hard when the movie ended the usher took me out of the lobby and gave me a glass of water."
According to Warners records, the film earned $791,000 in the US and Canada and $317,000 elsewhere.
The film is recognized by American Film Institute in these lists:
2002: AFI's 100 Years...100 Passions – Nominated
One Way Passage was remade in 1940 as 'Til We Meet Again, featuring Merle Oberon and George Brent.
One Way Passage was presented on Philip Morris Playhouse September 12, 1941.
One Way Passage was presented on Hollywood Sound Stage February 14, 1952. The 30-minute adaptation starred Ruth Roman and Frank Lovejoy.