Occupation

Actress




Spouse

Louis Zorich (m. 1962)




Role

Actress




Name

Olympia Dukakis




Years active

1962–present










Born

June 20, 1931 (age 92) (

1931-06-20

)

Lowell, Massachusetts, U.S.




Cousins

Michael Dukakis, Stelian Panos Dukakis




Children

Stefan Zorich, Christina Zorich, Peter Zorich




Parents

Alexandra Christos, Constantine S. Dukakis




Movies

Moonstruck, Steel Magnolias, Cloudburst, Look Who's Talking, Big Driver




Similar People

Louis Zorich, Michael Dukakis, Shirley MacLaine, Thom Fitzgerald, Brenda Fricker




Profiles




Twitter
5 24 13 olympia dukakis hollywood star ceremony incl ed asner diane ladd
Olympia Dukakis (born June 20, 1931) is an American actress. She started her career in theater, and won an Obie Award for Best Actress in 1963 for her Off-Broadway performance in Bertolt Brecht's Man Equals Man. She later transitioned to film acting and in 1987 she won an Academy Award, a Golden Globe, and a BAFTA nomination for her performance in Moonstruck. She received another Golden Globe nomination for Sinatra, and an Emmy Award nominations for Lucky Day, More Tales of the City and Joan of Arc.
Contents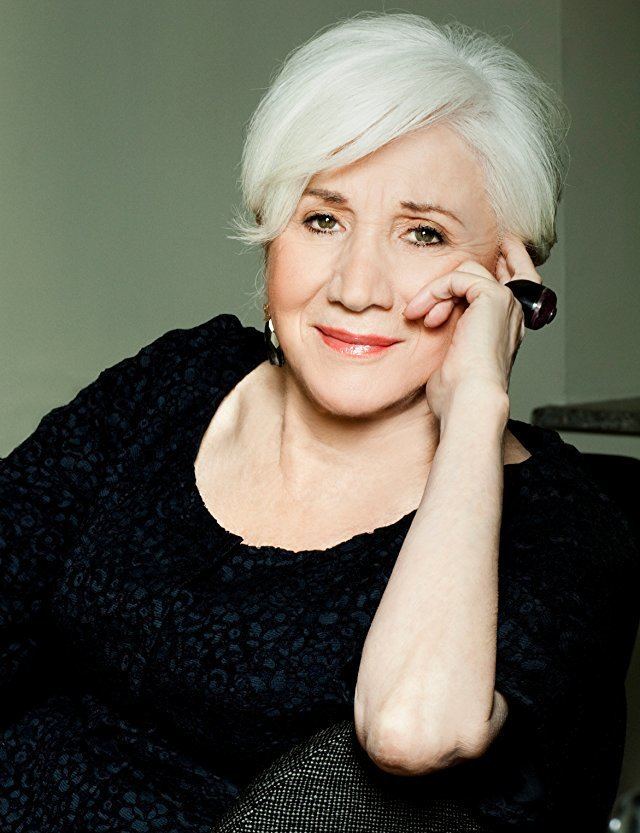 Olympia dukakis wins supporting actress 1988 oscars
Early life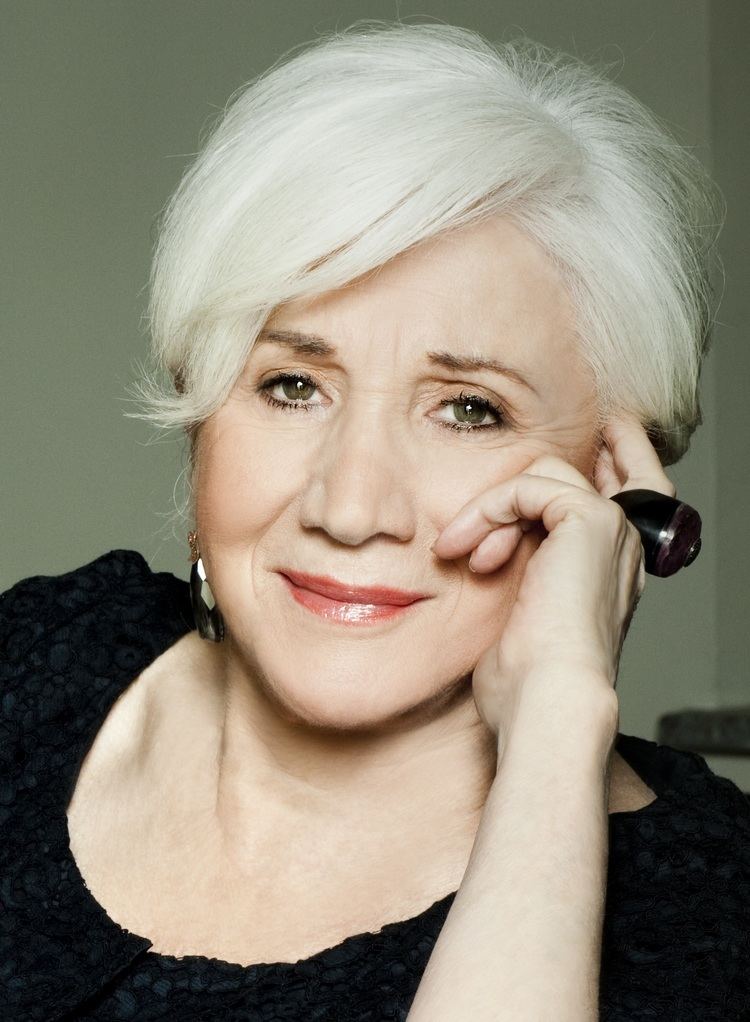 Dukakis was born in Lowell, Massachusetts, the daughter of Alexandra (née Christos) and Constantine S. Dukakis. Her parents were Greek emigrants, her father originally from Anatolia and her mother from the Peloponnese. She has a brother named Apollo and is a cousin of Michael Dukakis, former Governor of Massachusetts and the Democratic nominee for President in 1988, for whom she was a delegate from New Jersey at the 1988 Democratic National Convention. She is an alumna of Arlington High School in Arlington, Massachusetts, and was educated at Boston University.
Career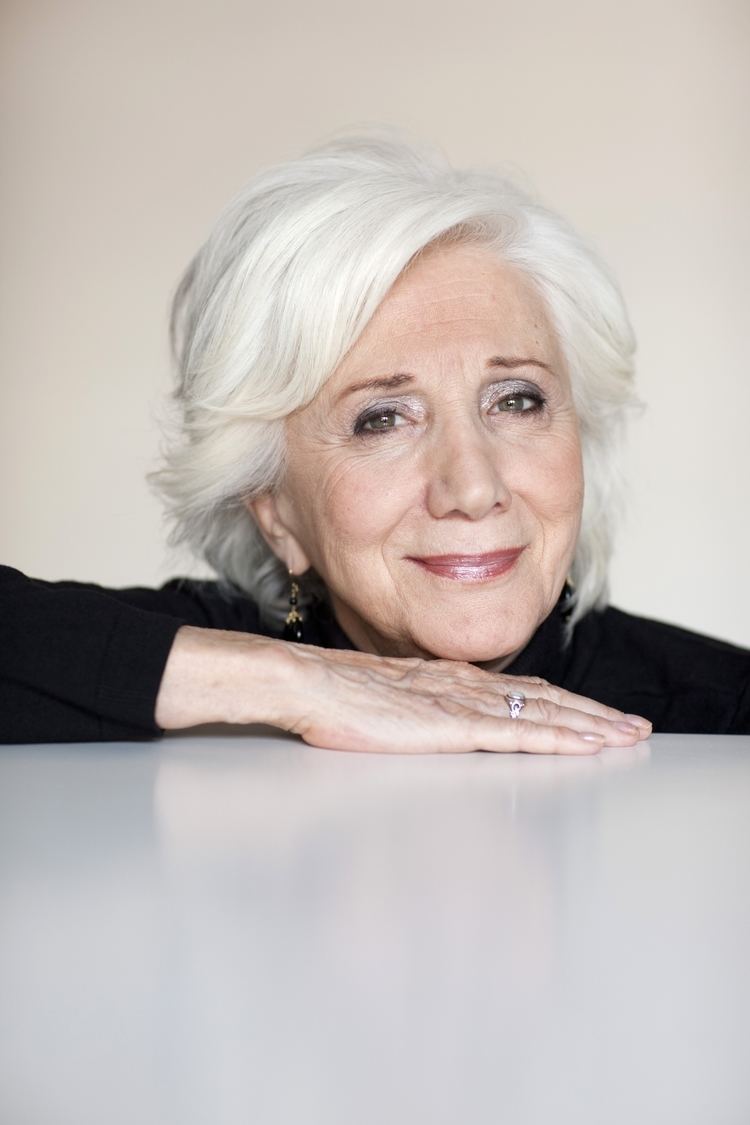 Dukakis has appeared in a number of films, including Steel Magnolias, Mr. Holland's Opus, Jane Austen's Mafia!, The Thing About My Folks, and Moonstruck, for which she won an Oscar for Best Supporting Actress. She also played the role of Anna Madrigal in the Tales of the City television mini-series, which garnered her an Emmy Award nomination, and appeared on Search for Tomorrow as Dr. Barbara Moreno, who romanced Stu Bergman. She appears as Dolly Sinatra in the mini-series of Frank Sinatra's life (1992). Her Broadway theatre credits include Who's Who in Hell, Social Security, and the one-woman play Rose. Her theater, film, and television work has also won her an Obie Award, a Drama Desk Award, a Los Angeles Drama Critics Circle Award, and a Golden Globe.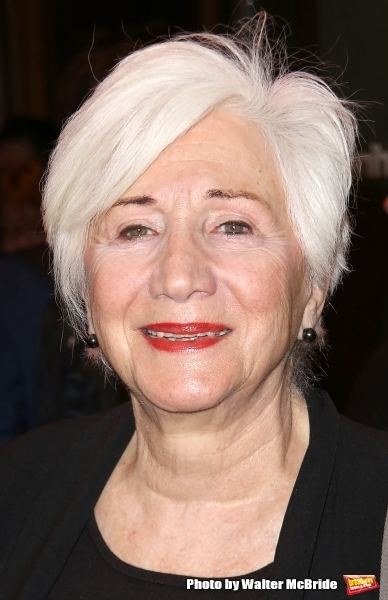 Dukakis won Academy Award and a Golden Globe for Moonstruck and was nominated for the Canadian Academy Award for The Event. She provided the voice of Grandpa's love interest for The Simpsons episode "The Old Man and the Key". In 2003, Dukakis published her national bestselling autobiography Ask Me Again Tomorrow: A Life in Progress. Recent films include 3 Needles, The Librarian: Return to King Solomon's Mines, In the Land of Women, and Away From Her, the 2006 film which cast her alongside Gordon Pinsent as the spouses of two Alzheimers patients.
In 1998, she starred as Charlotte Kiszko in the British TV drama A Life for a Life (ITV), based on the real-life story of Stefan Kiszko, a man wrongfully imprisoned for seventeen years for the murder of a child, Lesley Molseed, after police suppressed evidence of his innocence.
She recently directed the world premiere production of Todd Logan's Botanic Garden at Victory Gardens Theatre in Chicago, Illinois.
In the 2008 season of Hartford Stage, Dukakis starred in the revival of Tennessee Williams' The Milk Train Doesn't Stop Here Anymore, opposite Kevin Anderson.
In 2008, Dukakis also co-adapted and starred in the world-premiere of Another Side of the Island, based on Shakespeare's The Tempest, at Alpine Theatre Project in Whitefish, Montana.
She starred in and executive-produced the 2013 film Montana Amazon, co-starring Haley Joel Osment.
In 2011, Dukakis guest-starred on Law & Order: Special Victims Unit. She played the role of Debby Marsh, an attorney.
On May 24, 2013, she was honored with the 2,498th star on the Hollywood Walk of Fame located at 6233 Hollywood Boulevard, in the category of Live Theater.
Personal life
Dukakis has been married to actor Louis Zorich since 1962. They have three children.
Filmography
Actress
-
Montana Amazon Redux (completed)
as
Ira
2019
Tales of the City (TV Series)
as
Anna Madrigal
- Three of Cups (2019) - Anna Madrigal
- Rainbow Warriors (2019) - Anna Madrigal
- Next Level Sh*t (2019) - Anna Madrigal
- A Touch o' Butch (2019) - Anna Madrigal
- Not Today, Satan (2019) - Anna Madrigal
- The Price of Oil (2019) - Anna Madrigal
- Happy, Now? (2019) - Anna Madrigal
- She Messy (2019) - Anna Madrigal
- Coming Home (2019) - Anna Madrigal
2018
Switch (TV Series)
as
Elizabeth
- Time's Up (2018) - Elizabeth
- Amateurs (2018) - Elizabeth
- Forgive My Sins (2018) - Elizabeth
- Honor Thy Offspring (2018) - Elizabeth
2018
The Great Unknown (Short)
as
Older Woman
2018
Change in the Air
as
Margaret Lemke
2018
Eleftheromania (Short)
as
Piroska
2016
The Infiltrator
as
Aunt Vicky
2015
TripTank (TV Series)
as
Ma / Caller
- How the Sausage Is Made (2016) - Ma (voice)
- Hot Box (2015) - Ma (voice)
- Cold War 2 (2015) - Ma (voice)
- The W.A.N.G. (2015) - Caller (voice)
2013
Forgive Me (TV Series)
as
Novalea
- Holy Mary (2015) - Novalea
- Of Thy Womb (2015) - Novalea
- Full of Grace (2015) - Novalea
- Hail Mary (2015) - Novalea
- Deliver Us from Evil (2013) - Novalea
- As We Forgive Those Who Trespass Against Us (2013) - Novalea
- On Earth as It Is in Heaven (2013) - Novalea
- Thy Kingdom Come (2013) - Novalea
- Who Art in Heaven (2013) - Novalea
2015
Emily & Tim
as
Emily Hanratty (segment 'Attachment')
2013
Sex & Violence (TV Series)
as
Alex Mandalakis
- Shelter (2015) - Alex Mandalakis
- Connection (2015) - Alex Mandalakis
- Three Shots (2015) - Alex Mandalakis
- Back When I Was a Kid- (2015) - Alex Mandalakis
- Famous Last Words (2015) - Alex Mandalakis
- Atlantic Rim (2015) - Alex Mandalakis
- The Break Up (2013) - Alex Mandalakis
- One Side (2013) - Alex Mandalakis
- Loosen the Noose (2013) - Alex Mandalakis
- Surface Scars (2013) - Alex Mandalakis
- Denial (2013) - Alex Mandalakis
- Social Work (2013) - Alex Mandalakis
2015
Irene & Marie (Short)
as
Irene
2015
7 Chinese Brothers
as
Grandma
2014
Big Driver (TV Movie)
as
Doreen
2014
F to 7th (TV Series)
as
Marie
- Down to Zero (2014) - Marie
2013
The Christmas Spirit (TV Movie)
as
Gwen Hollander
2013
The Misadventures of the Dunderheads
as
Ira
2013
The Last Keepers
as
Rosmarie Carver
2012
The Misadventures of the Dunderheads
as
Ira
2011
Outliving Emily (Short)
as
Emily Hanratty
2010
Bored to Death (TV Series)
as
Belinda
- Two Large Pearls and a Bar of Gold (2011) - Belinda
- I Keep Taking Baths Like Lady Macbeth (2011) - Belinda
- We Could Sing a Duet (2011) - Belinda
- The Case of the Grievous Clerical Error! (2010) - Belinda
2011
Law & Order: Special Victims Unit (TV Series)
as
Debby Marsh
- Pop (2011) - Debby Marsh
2011
Birds of a Feather
as
Olympia
2010
Dottie's Thanksgiving Pickle (Short)
as
Mother Rose
2009
Hove (the Wind) (Short)
as
Zara
2008
Worst Week (TV Series)
as
June
- The Wedding (2008) - June
- The Ring (2008) - June
2007
In the Land of Women
as
Phyllis
2006
The Librarian: Return to King Solomon's Mines (TV Movie)
as
Margie Carsen
2006
Day on Fire
as
Dr. Mary Wade
2006
Numb3rs (TV Series)
as
Charlotte Yates
- Hot Shot (2006) - Charlotte Yates
2005
Jesus, Mary and Joey
as
Sophia Vitello
2005
Whiskey School
as
Ellen Haywood
2005
3 Needles
as
Hilde the Missionary Nun
2005
The Great New Wonderful
as
Judy Hillerman
2005
The Thing About My Folks
as
Muriel Kleinman
2004
Center of the Universe (TV Series)
as
Marge Barnett
- Marathon Woman (2005) - Marge Barnett
- Oh Brother, What the Hell Were You Thinking? (2005) - Marge Barnett
- The New Neighbors (2005) - Marge Barnett
- If You Love Something Leave It Alone (2005) - Marge Barnett
- The Work of Art (2005) - Marge Barnett
- And the Silver Medal Goes To- (2004) - Marge Barnett
- Art's Heart (2004) - Marge Barnett
- Good Parenting, Bad Parenting (2004) - Marge Barnett
- Alarmed and Dangerous (2004) - Marge Barnett
- The Lake House (2004) - Marge Barnett
- Pilot (2004) - Marge Barnett
- The Break-In - Marge Barnett
- Independence Day - Marge Barnett
2004
The Librarian: Quest for the Spear (TV Movie)
as
Margie Carsen
2003
It's All Relative (TV Series)
as
Colleen O'Neil
- Thanks, But No Thanks (2003) - Colleen O'Neil
2003
Mafia Doctor (TV Movie)
as
Rose
2003
The Event
as
Lila Shapiro
2002
Frasier (TV Series)
as
Caller #3
- Frasier Has Spokane (2002) - Caller #3 (voice)
2002
The Simpsons (TV Series)
as
Zelda
- The Old Man and the Key (2002) - Zelda (voice)
2002
Guilty Hearts (TV Movie)
as
Amanda Patterson
2001
Strange Relations (TV Movie)
as
Esther Lipman
2001
Further Tales of the City (TV Mini Series)
as
Mrs. Anna Madrigal
- Episode #1.3 (2001) - Mrs. Anna Madrigal
- Episode #1.2 (2001) - Mrs. Anna Madrigal
- Episode #1.1 (2001) - Mrs. Anna Madrigal
2001
The Wonderful World of Disney (TV Series)
as
Sara Stevens
- Ladies and the Champ (2001) - Sara Stevens
2001
And Never Let Her Go (TV Movie)
as
Marguerite Capano
2000
Brooklyn Sonnet
as
Helen Manners
2000
The Last of the Blonde Bombshells (TV Movie)
as
Dinah
1999
Joan of Arc (TV Mini Series)
as
Mother Babette
- Part II (1999) - Mother Babette
- Part I (1999) - Mother Babette
1998
A Life for a Life (TV Movie)
as
Charlotte Kiszko
1998
More Tales of the City (TV Mini Series)
as
Anna Madrigal
- Episode #1.6 (1998) - Anna Madrigal
- Episode #1.5 (1998) - Anna Madrigal
- Episode #1.4 (1998) - Anna Madrigal
- Episode #1.3 (1998) - Anna Madrigal
- Episode #1.2 (1998) - Anna Madrigal
- Episode #1.1 (1998) - Anna Madrigal
1998
The Pentagon Wars (TV Movie)
as
Madam Chairwoman
1998
Scattering Dad (TV Movie)
as
Dotty
1997
Balkan Island: The Last Story of the Century
as
Mother
1997
Heaven Will Wait (TV Movie)
as
Diana
1997
A Match Made in Heaven (TV Movie)
as
Helen Rosner
1996
Milk & Money
as
Goneril Plogg
1996
Touched by an Angel (TV Series)
as
Clara
- A Joyful Noise (1996) - Clara
1996
Jerusalem
as
Mother (Mrs. Gordon)
1995
Mother (Video)
as
Mrs. Jay
1995
Mr. Holland's Opus
as
Principal Jacobs
1995
Mighty Aphrodite
as
Jocasta
1995
Jeffrey
as
Mrs. Marcangelo
1995
Dead Badge
as
Dr. Doris Rice
1995
Young at Heart (TV Movie)
as
Rose Garaventi
1994
I Love Trouble
as
Jeannie
1994
Naked Gun 33 1/3: The Final Insult
as
Olympia Dukakis (uncredited)
1993
Look Who's Talking Now
as
Rosie
1993
Tales of the City (TV Mini Series)
as
Anna Madrigal
- Episode #1.3 (1993) - Anna Madrigal
- Episode #1.2 (1993) - Anna Madrigal
- Episode #1.1 (1993) - Anna Madrigal
- Episode #1.6 (1993) - Anna Madrigal
- Episode #1.5 (1993) - Anna Madrigal
- Episode #1.4 (1993) - Anna Madrigal
1993
The Cemetery Club
as
Doris Silverman
1992
Sinatra (TV Mini Series)
as
Dolly Sinatra
- Part II (1992) - Dolly Sinatra
- Part I (1992) - Dolly Sinatra
1992
Over the Hill
as
Alma Harris
1991
Fire in the Dark (TV Movie)
as
Emily Miller
1991
The General Motors Playwrights Theater (TV Series)
as
Laura Cunningham
- The Last Act Is a Solo (1991) - Laura Cunningham
1991
Lucky Day (TV Movie)
as
Katherine Campbell
1990
Look Who's Talking Too
as
Rosie
1989
Steel Magnolias
as
Clairee Belcher
1989
Look Who's Talking
as
Rosie
1988
Working Girl
as
Personnel Director
1987
Moonstruck
as
Rose Castorini
1986
The Equalizer (TV Series)
as
Judge Paula G. Walsh
- Shades of Darkness (1986) - Judge Paula G. Walsh
1985
Walls of Glass
as
Mary Flanagan
1983
Search for Tomorrow (TV Series)
as
Dr. Barbara Moreno (1983) / Dr. Barbara Moreno
1982
The Neighborhood (TV Movie)
as
Mrs. St. Paul
1982
Movie Madness
as
Helena Naxos ("Success Wanters")
1982
One of the Boys (TV Series)
as
Professor Ainsley
- His Cheatin' Heart (1982) - Professor Ainsley
1982
American Playhouse (TV Series)
as
Mama Nicola
- King of America (1982) - Mama Nicola
1980
Breaking Away (TV Series)
- The Cutters (1980)
1980
The Idolmaker
as
Mrs. Vacarri
1980
F.D.R.: The Last Year (TV Movie)
1979
The Wanderers
as
Joey's Mom
1978
The Doctors (TV Series)
as
Mrs. Martin
- Episode #1.3969 (1978) - Mrs. Martin (uncredited)
1977
The Andros Targets (TV Series)
as
Marina Angelis
- The Beast of Athens (1977) - Marina Angelis
1975
Great Performances (TV Series)
as
Pauline
- The Seagull (1975) - Pauline
1974
Death Wish
as
Cop at the Precinct (uncredited)
1974
Nicky's World (TV Movie)
as
Irene Kaminios
1972
Sisters
as
Louise Wilanski (uncredited)
1971
Made for Each Other
as
Gig's Mother
1969
John and Mary
as
John's Mother
1969
Stiletto
as
Mrs. Amato (uncredited)
1964
Lilith
as
Patient (uncredited)
1963
Twice a Man
as
Young mother
1962
Dr. Kildare (TV Series)
as
Anna Nieves
- The Legacy (1962) - Anna Nieves
1962
The Doctors and the Nurses (TV Series)
as
Ioana Chiriac
- Frieda (1962) - Ioana Chiriac
Producer
2022
The New Abolitionists (Documentary) (producer)
2013
Sex & Violence (TV Series) (executive producer - 14 episodes)
- Survivor's Guilt (2017) - (executive producer)
- Aftermath (2017) - (executive producer)
- Shelter (2015) - (executive producer)
- Connection (2015) - (executive producer)
- Three Shots (2015) - (executive producer)
- Back When I Was a Kid- (2015) - (executive producer)
- Famous Last Words (2015) - (executive producer)
- Atlantic Rim (2015) - (executive producer)
- The Break Up (2013) - (executive producer)
- One Side (2013) - (executive producer)
- Loosen the Noose (2013) - (executive producer)
- Surface Scars (2013) - (executive producer)
- Denial (2013) - (executive producer)
- Social Work (2013) - (executive producer)
2015
Beneath the Olive Tree (Documentary) (executive producer)
2012
The Misadventures of the Dunderheads (executive producer)
Thanks
2022
The Oscars (TV Special) (in memoriam)
2022
The 28th Annual Screen Actors Guild Awards (TV Special) (in memory of)
2021
The Year: 2021 (TV Special) (in memoriam)
2021
The 73rd Primetime Emmy Awards (TV Special) (in memoriam)
2021
The Simpsons (TV Series) (in loving memory of - 1 episode)
- Mother and Child Reunion (2021) - (in loving memory of)
2021
Tango Shalom (special thanks)
2015
Bereave (very special thanks)
Self
-
Heroes of the Theatre (Documentary) (filming)
as
Self
-
The Fate Escape (Documentary) (filming)
as
Self
-
Presenting Geraldine Page (Documentary) (post-production)
as
Self
2022
The New Abolitionists (Documentary)
as
Self
2020
The New Greek Americans (Documentary)
as
Self
2019
It Takes a Lunatic (Documentary)
as
Self (voice)
2019
Leonard Soloway's Broadway (Documentary)
as
Self
2018
Olympia (Documentary)
as
Self
2017
The Untold Tales of Armistead Maupin (Documentary)
as
Self - Actor
2016
Starring Austin Pendleton (Documentary short)
as
Self
2015
Today (TV Series)
as
Self
- Episode dated 17 August 2015 (2015) - Self
2015
Cocktails & Classics (TV Series)
as
Self
- Steel Magnolias (2015) - Self
2015
Beneath the Olive Tree (Documentary)
as
Narrator
2014
The Broadway.com Show (TV Series)
as
Self
- Episode #2.42 (2014) - Self
2012
The Hour (TV Series)
as
Self - Guest
- Episode #8.160 (2012) - Self - Guest
2012
Joe Papp in Five Acts (Documentary)
as
Self
2010
The Golden Greek: The Harry Agganis Story (Documentary)
as
Narrator
2009
The Promise of Tomorrow 1940- 1960 (Documentary)
as
Self - Host / Narrator
2009
I Knew It Was You: Rediscovering John Cazale (Documentary short)
as
Self
2007
Greatest Ever 80s Movies (TV Movie documentary)
as
Self
2007
LAGFF Orpheus Awards 2018 (TV Series)
as
Self - Honoree
- 1st Orpheus Awards (2007) - Self - Honoree
2007
Greatest Ever Romantic Movies (TV Movie documentary)
as
Self
2003
The View (TV Series)
as
Self - Guest
- Episode dated 19 April 2007 (2007) - Self - Guest
- Episode dated 31 July 2003 (2003) - Self - Guest
2006
Biography (TV Series documentary)
as
Self
- Dolly Parton (2006) - Self
2006
The Tony Danza Show (TV Series)
as
Self - Guest
- Episode #2.91 (2006) - Self - Guest
2005
Character Studies (TV Series)
as
Self
- Amanda (2005) - Self
2004
Signs Out of Time: The Life of Archaeologist Marija Gimbutas (Documentary)
as
Narrator
2002
The Greeks of Southern California: Through the Century - The Pioneers 1900 -1942 (Video documentary)
2002
Still Cher (TV Movie documentary)
as
Self
2001
The Armenians: A Story of Survival (Documentary)
as
Narrator
2001
The Papp Project (Documentary)
as
Self
2001
So Graham Norton (TV Series)
as
Self - Guest
- Episode #5.3 (2001) - Self - Guest
1997
The Rosie O'Donnell Show (TV Series)
as
Self - Guest
- Episode dated 18 April 2000 (2000) - Self - Guest
- Episode #1.172 (1997) - Self - Guest
2000
Crimes of Honor (TV Movie documentary)
as
Narrator (voice)
1999
Climb Against the Odds (Documentary)
as
Narrator
1999
Ruby (TV Series)
as
Self
- Episode #3.12 (1999) - Self
- Episode #3.9 (1999) - Self
1999
Intimate Portrait (TV Series documentary)
as
Self
- Olympia Dukakis (1999) - Self
1998
The 50th Annual Primetime Emmy Awards (TV Special)
as
Self - Nominee
1998
The Greek Americans (TV Movie documentary)
as
Self
1998
A Paralyzing Fear: The Story of Polio in America (TV Movie documentary)
as
Narrator (voice)
1996
Showbiz Today (TV Series)
as
Self
- Episode dated 29 January 1996 (1996) - Self
1994
A Century of Women (TV Mini Series documentary)
as
Joanne
- Episode #1.2 (1994) - Joanne
- Episode #1.1 (1994) - Joanne
1994
Inside the Actors Studio (TV Series)
as
Self - Guest
- Olympia Dukakis (1994) - Self - Guest
1994
Cured! Secrets of Alternative Healing (TV Movie documentary)
as
Host
1993
The Film Society Of Lincoln Center Annual Gala Tribute to Jack Lemmon (TV Movie)
as
Self - Speaker
1990
The 14th Annual Women in Film Crystal Awards (TV Special)
as
Self
1990
The 16th Annual People's Choice Awards (TV Special)
as
Self - Accepting Award for Favourite Dramatic Motion Picture
1990
Late Night with David Letterman (TV Series)
as
Self - Guest
- Episode dated 28 February 1990 (1990) - Self - Guest
1990
Live with Kelly and Mark (TV Series)
as
Self - Guest
- Episode dated 1 February 1990 (1990) - Self - Guest
1989
Donahue (TV Series)
as
Self - Guest
- Episode dated 30 November 1989 (1989) - Self - Guest
1989
The 15th Annual People's Choice Awards (TV Special)
as
Self - Presenter
1989
Steven Spielberg: An American Cinematheque Tribute (TV Special)
as
Self
1989
The Arsenio Hall Show (TV Series)
as
Self - Guest
- Episode #1.28 (1989) - Self - Guest
1988
America's All-Time Favorite Movies (TV Special)
as
Self
1988
The 2nd Annual American Comedy Awards (TV Special)
as
Self - Winner
1988
The 60th Annual Academy Awards (TV Special)
as
Self - Winner
1988
Hour Magazine (TV Series)
as
Self
- Episode dated 2 February 1988 (1988) - Self
1988
The 45th Annual Golden Globe Awards (TV Special)
as
Self - Winner
Archive Footage
2022
The Oscars (TV Special)
as
Self - Memorial Tribute
2022
That's Life!! Kilorenzos $mith in Talks... (TV Series documentary)
as
Self - In Memoriam
- In Memoriam- 2021 (2022) - Self - In Memoriam
2021
TCM Remembers 2021 (TV Special)
as
Self / actress
2021
Entertainment Tonight (TV Series)
as
Self
- Episode #40.199 (2021) - Self
2021
Good Morning America (TV Series)
as
Self
- Episode dated 3 May 2021 (2021) - Self
2021
Today (TV Series)
as
Self
- Episode dated 3 May 2021 (2021) - Self
2021
CBS News Sunday Morning (TV Series)
as
Rose Castorini
- 05-02-2021 (2021) - Rose Castorini
2019
Dolly Parton: Here She Comes Again! (TV Special)
as
Clairee Belcher (uncredited)
2016
Rock Legends (TV Series documentary)
as
Rose Castorini
- Cher (2016) - Rose Castorini
2011
The Many Faces of... (TV Series documentary)
as
Dinah
- Dame Judi Dench (2011) - Dinah (uncredited)
2006
CMT Greatest Moments: Dolly Parton (TV Movie documentary)
as
Self
2005
La Marató 2005 (TV Special)
as
Bette Tremont
2003
Cher: The Farewell Tour (TV Special documentary)
as
Rose Castorini
References
Olympia Dukakis Wikipedia
(Text) CC BY-SA