Guinea





Nzerekore Region





Nzérékoré, also spelled N'Zérékoré, is the second largest city in Guinea by population, after the capital Conakry and the largest city in the Guinée forestière region of south-eastern Guinea. The city is the capital of the Nzérékoré Prefecture. Nzérékoré is a commercial and economic center and lies approximately 354 miles/569 km southeast of Conakry.
It was the centre of an uprising against French rule in 1911. It is now known as a market town, and for its silverworking. The population was 107,329 in 1996 (census). Growing dramatically since the civil wars in neighboring Liberia, Sierra Leone, and Côte d'Ivoire, the 2008 estimated population is 300,000 [2].
The town grew rapidly after World War II when it became a centre for administration and trading. A sawmill was built and a plywood plant which has aided the local economy. The economic future of the town may rely on rich iron ore deposits found near the city.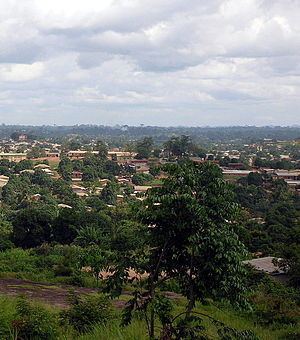 The city and the border with Sierra Leone and Liberia experienced disruption with civil war in the 1990s and early 2000s, and many refugees came to Nzérékoré during the First Liberian Civil War and the Second Liberian Civil War. Other refugees came from Côte d'Ivoire. At times the population of the city with these people has been estimated as nearly 300,000.
There were 3 days of ethno-religious fighting in Nzerekore in July 2013. Fighting between ethnic Kpelle, who are Christian or animist, and ethnic Konianke, who are Muslims and close to the larger Malinke ethnic group, left at least 54 dead. The dead included people who were killed with machetes and burned alive. The violence ended after the Guinea military imposed a curfew, and President Conde made a televised appeal for calm.
The N1 highway connects the city with Kankan in the north. The city is also served by Nzérékoré Airport.
Nzérékoré Wikipedia