Duration




Language

English




Director

Andrew V. McLaglen




Country

United Kingdom







Release date

Autumn 1979 (UK), 18 April 1980 (US)



North sea hijack a k a ffolkes u s 1980 hd converted trailer
North Sea Hijack (released as ffolkes outside the UK and as Assault Force on US TV) is a British action film from 1980 starring Roger Moore, James Mason, Anthony Perkins, and Michael Parks. It was directed by Andrew V. McLaglen and adapted by Jack Davies from his novel Esther, Ruth and Jennifer.
Contents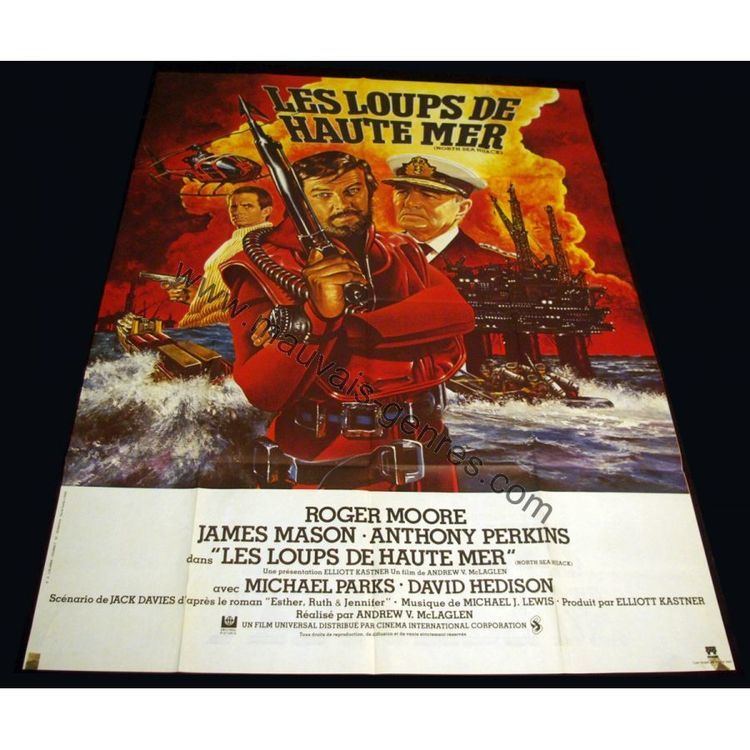 This film was a vehicle for both Moore and Perkins to try to escape typecasting. Previously Moore had been practically typecast as a womanising, happy-go-lucky playboy in such series as The Saint, The Persuaders! and James Bond. In contrast to those parts, he is shown here as a bearded, eccentric, arrogant cat-loving, misogynist showing heroic qualities as a master strategist. Moore once said in an interview that he preferred this film to all the James Bond movies he had starred in while acknowledging that he had been miscast in the lead role.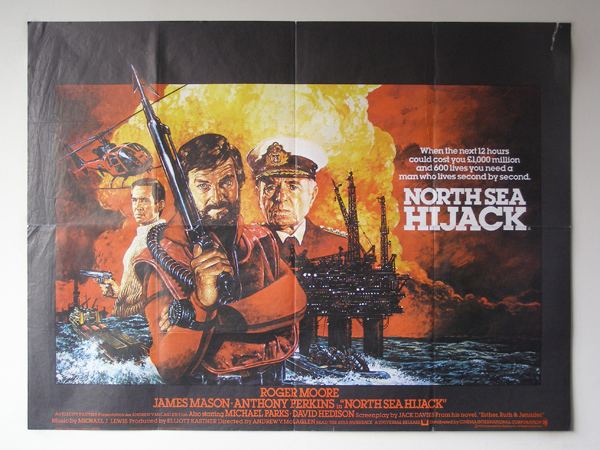 Plot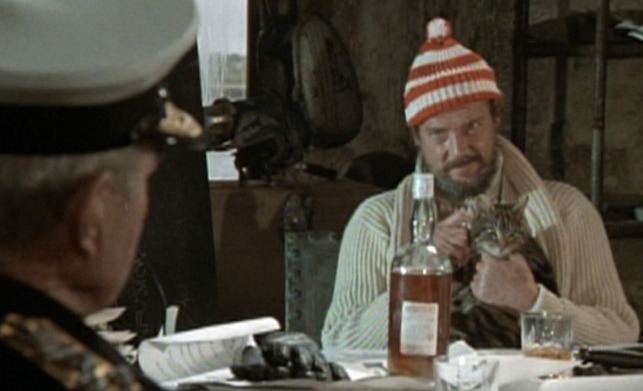 Misogynist freelance marine counter-terrorism consultant Rufus Excalibur ffolkes (Moore) is asked by Lloyd's of London to develop a contingency plan should any of the North Sea oil installations they insure be threatened.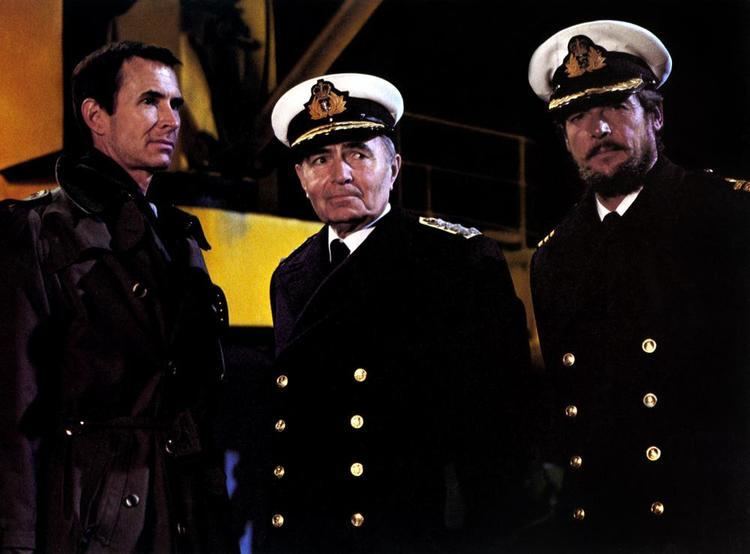 Months later, Esther, a North Sea supply ship, takes on board a group of men posing as reporters who are visiting the oil production platform Jennifer. The leader of this group, Lou Kramer (Anthony Perkins), along with his second-in-command, Harold Shulman (Michael Parks), hijacks the ship, and two scuba diving henchmen attach limpet mines to the legs of Jennifer and its oil drilling rig, Ruth. From the bridge of Esther, Kramer issues a ransom demand for £25 million or he will blow up Ruth; then, if the ransom is still not paid, he will destroy Jennifer. For good measure, he rigs Esther with explosives and has all the charges wired to a control panel that never leaves his side.
Lord Privy Seal Dennis Tipping (Jeremy Clyde) informs the British Prime Minister (Faith Brook) of the situation. The British government is opposed to yielding to terrorist blackmail, but Tipping suggests that, as a compromise, Lloyd's could pay the ransom. After Lloyd's is consulted, the Prime Minister is shown a video of ffolkes practising a rescue mission aboard a mock-up ship. He has anticipated that terrorists might hijack a supply ship and has worked out a plan. Flying out to Jennifer, ffolkes first proposes that, to buy time, a large explosion should light up the night sky, fooling Kramer into thinking Ruth has exploded by accident so that he won't push the button at the deadline. ffolkes and Admiral Sir Francis Brindsen (James Mason) are to meet with Kramer on board Esther. ffolkes makes Brindsen practice accidentally dropping cigarettes on the floor, the idea being that the admiral should distract Kramer, giving ffolkes the opportunity to kill him before he sets off the bombs; his team of commandos will in the meantime take out the guards posted on the vessel.
A sub-plot involves the imprisoned crew trying to poison their captors using the ship's medicine supply. A reporter who came with Kramer's men offers to do this, but the crew quickly suspects him to be a plant, so they tie him up. Unfortunately, Kramer has been spying on them, and when the food is delivered he forces one of the "conspirators" to drink the poisoned coffee; Sanna (Lea Brodie), the other main participant and the only woman on board, flees and apparently falls overboard.
Later, Kramer demands that Brinston and King (David Hedison), Jennifer's manager, join him on Esther, unintentionally going along with ffolkes' plan. However, Kramer doesn't trust ffolkes when he meets him and orders him to leave the ship. The reporter who got the blackmailers onto the ship gets cold feet and wants to leave, so Kramer agrees to release him. At the last moment, Kramer shoots him in the back as he is being winched aboard the helicopter.
With time running out, the Prime Minister considers paying the ransom, but ffolkes replies angrily that that would send a message that "anyone with a rowing boat and a stick of dynamite could hold this country to ransom." ffolkes still thinks he can rescue the hostages. However, to save the lives of the 697 men and women aboard Jennifer, ffolkes urges that Esther be obliterated with a bomb if his team cannot rescue the hostages in time.
Ffolkes' men storm Esther, bringing down the guards. ffolkes joins them wearing a borrowed vermilion scuba suit, but is forced to throw overboard his second-in-command, who has mistaken him for a terrorist. Sanna, who had been hiding in a lifeboat, manages to take out one of the terrorists who tries to take a shot at ffolkes. ffolkes races for the bridge as the helicopter carrying the bomb approaches. At the appointed time, Brindsen offers a cigarette to Kramer, drops them on the floor and bends down to pick them up. ffolkes appears at the window and shoots the distracted Kramer with a spear gun, pinning him to his chair. Seeing armed men running by, Schulman races for the detonator switch, but he gets impaled at the controls with a spear in each side. Just as the Royal Navy helicopter drops the bomb down its rear loading-ramp, ffolkes fires his signal flare into the sky; the helicopter pilot desperately pulls away and the bomb narrowly misses Esther, falling harmlessly into the sea.
However, Kramer isn't quite dead, and he slowly reaches for the detonator. ffolkes pulls the wires out and watches him die. Before he slumps over, Kramer's last words are, "I — still — don't — like — your — face".
A ceremony is held at ffolkes' castle to celebrate the end of the hijack. Among those present are the former hostages, the oil rig staff and the commandos. ffolkes has expressed his disdain for medals, so the Prime Minister presents the cat-loving eccentric with a new litter of kittens, named Esther, Ruth, and Jennifer. For once moved, and a little at a loss for words, ffolkes leaves amidst a round of applause to give his new kittens a saucer of milk.
Cast
Roger Moore as Rufus Excalibur ffolkes (ffolkes is an old English name that is correctly spelled with two lower-case f's. In the book, he corrects other people several times on this point, see ffolkes baronets).
James Mason as Admiral Brindsen
Anthony Perkins as Lou Kramer
Michael Parks as Harold Shulman
David Hedison as Robert King
Jack Watson as Captain Olafsen
George Baker as Fletcher
Jeremy Clyde as Lord Privy Seal Dennis Tipping
David Wood as Herring
Faith Brook as British Prime Minister
Lea Brodie as Sanna
Anthony Pullen Shaw as Robert F. Ackerman
TimothyBentinck as Harris
Philip O'Brien as Art Webb
John Westbrook as Dawnay
Jennifer Hilary as Sarah
John Lee as Captain Harry Phillips
Brook Williams as Helicopter Pilot
Titles
The film was released as North Sea Hijack in the United Kingdom, but as ffolkes in the United States and other English-speaking territories. In the United States it was renamed Assault Force when released on television in 1983.
"The film's had so many title changes I've lost count," said Moore. "But everyone seems to like the character I play."
Critical
The Guardian said "as pulp melodramas go, it's quite fun".
The Los Angeles Times called it "a vigorous but lacklustre high-seas adventure... there are lots more conferences than bravaura acts of daring... even so, it is ingenious and well crafted."
Roger Ebert and Gene Siskel selected the film as one of their "dogs of the year" in a 1980 episode of Sneak Previews.
Box office
The film was a commercial disappointment.
References
North Sea Hijack Wikipedia
(Text) CC BY-SA