No Man of Her Own is a 1950 film noir directed by Mitchell Leisen and featuring Barbara Stanwyck, John Lund, Phyllis Thaxter, Jane Cowl and Lyle Bettger.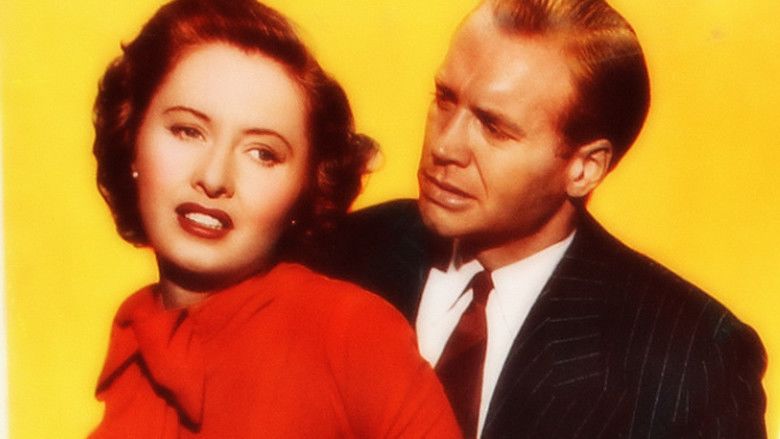 It was the second film she made with director Mitchell Leisen and it was based on the Cornell Woolrich novel I Married a Dead Man. Woolrich is credited as William Irish in the film's opening credits.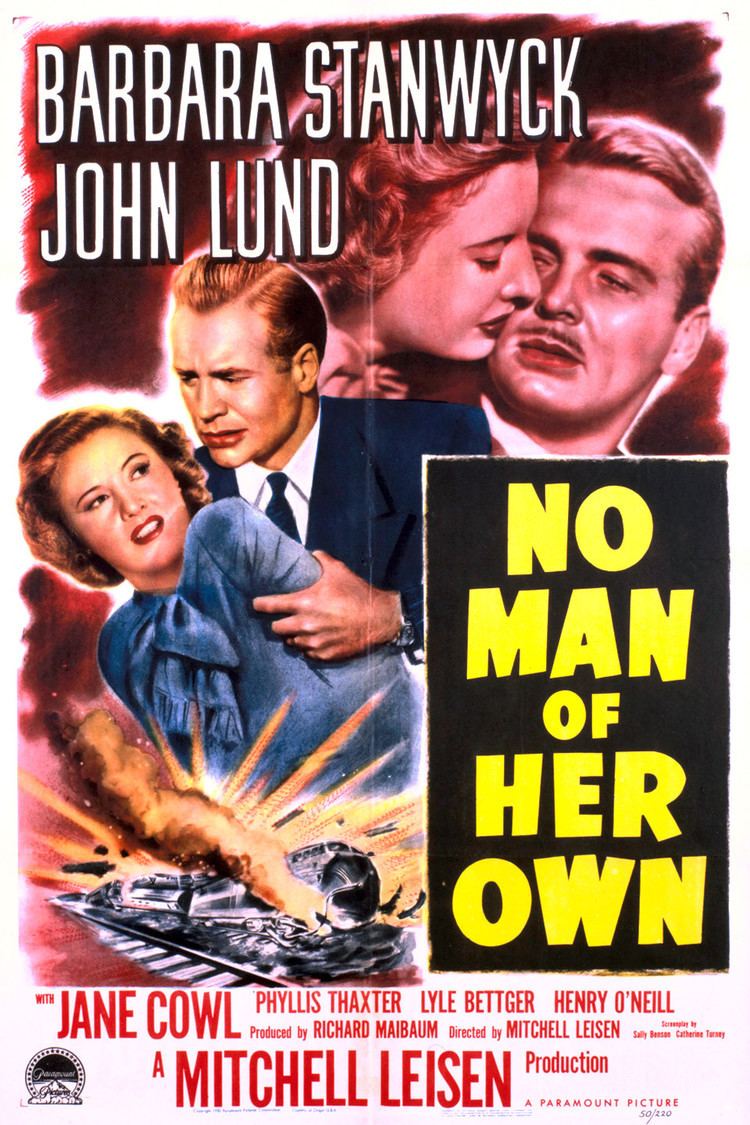 Helen Ferguson (Barbara Stanwyck) is eight months pregnant and unmarried. When she goes to her unfaithful boyfriend Morley for help, all he gives her is a train ticket back to where she came from.
The train crashes while Helen is on board, and she is mistaken for another pregnant woman, who was killed on the train. Helen gives birth to her child and is accepted by the Harknesses, the family of the dead woman's husband, Hugh Harkness, who was also killed in the train crash.
Since the family had never seen their son's new wife, they believe Helen to be her. The family believes her lapses of memory and uncertain behavior are after effects of the train wreck.
With a better life provided for her child, Helen continues the ruse while Bill Harkness (John Lund), who is the brother of the deceased Hugh, falls in love with her. The story takes a turn for the worse when Helen's ex-boyfriend and the father of her child tracks her down several months after the accident. Morley (Lyle Bettger) was called in to identify the body at the morgue after the tragic train accident, and he figures out through a series of events that Helen is hiding and now married into money. Being the conniving fellow that he is, Morley contacts Helen (now living as Patrice) and forces her into wedlock. But before his dastardly plan can take full effect, he winds up dead, and the real twist is who exactly the murderer is.
Barbara Stanwyck as Helen Ferguson/Patrice Harkness
John Lund as Bill Harkness
Jane Cowl as Mrs. Harkness
Phyllis Thaxter as Patrice Harkness
Lyle Bettger as Stephen 'Steve' Morley
Henry O'Neill as Mr. Harkness
Richard Denning as Hugh Harkness
Harry Antrim as Ty Winthrop
Esther Dale as Josie
Milburn Stone as Plainclothesman
Griff Barnett as Dr. Parker
Film critic Bosley Crowther was harsh in his review of the film, "For the fact is that it is this precisely—a lurid and artificial tale, loaded with far-fetched situations and deliberate romantic clichée's. And the script which Sally Benson and Catherine Turney prepared from a novel by William Irish (I Married a Dead Man) makes a silly botch of same. This sort of female agonizing, in which morals are irresponsibly confused for the sake of effect, makes diversion for none but the suckers, we feel sure."
Variety magazine was more upbeat in their review, "No Man of Her Own combines an adult love story with melodrama, runs off with the intensity of a full-bloom soap opera, and is altogether satisfying screen dramatics ... Barbara Stanwyck does a beautiful job of portraying the heroine ... [and] John Lund wraps up his role as the man who falls in love with a girl he believes to be the widow of his dead brother. It's a fine job."
The film was remade several times: The Japanese film Shisha to no Kekkon (1960), the Brazilian TV miniseries A Intrusa (1962), the French film J'ai épousé une ombre (1983), and by Hollywood again with Mrs. Winterbourne, starring Shirley MacLaine, Ricki Lake and Brendan Fraser. There is also a 1970 Super Hit Bollywood remake, Kati Patang, for which Asha Parekh won the Filmfare Best Actress Award.