Nationality

India




Name

Niyaz Ahmed




Education

Manipal University







Born

December 25, 1971 (age 43) Paras, Maharashtra, India (

1971-12-25

)


Fields

Bacterial Genomics and Molecular Epidemiology




Institutions

University of Hyderabad (2008 -) Universiti Malaya (2010 -) and Academy of Scientific and Innovative Research (2013 -)




Alma mater

Manipal University (Ph.D)




Notable awards

National Bioscience Award, Infection Genetics and Evolution Medal, Fellow of the Royal Society of Chemistry
Hajj umrah ka tariqa hajj training camp 2015 by niyaz ahmed tayyabpuri madani
Niyaz Ahmed is a professor of microbial sciences, genomicist, and a veterinarian by training, based in Dhaka and Hyderabad.
Contents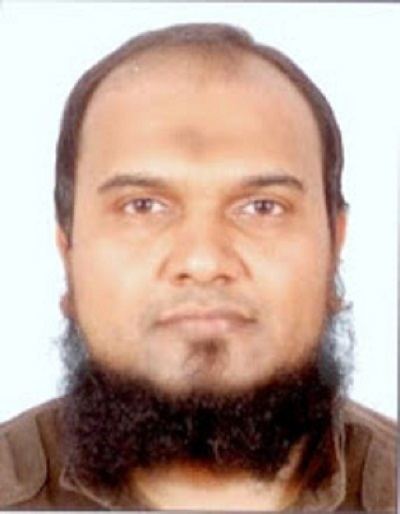 Shanti Swarup Bhatnagar Award Winner HOU Prof Dr Niyaz Ahmed | Face to Face | HMTV
Appointments and assignments
Niyaz Ahmed is appointed as Senior Director from 1 November 2016 at the ICDDRB, Dhaka, Bangladesh and serves as a member of the Senior Leadership Team (SLT) of the Centre while on leave from the University of Hyderabad.
Training and career
Ahmed graduated in Veterinary Medicine in 1995 (Nagpur) and obtained further degrees in Animal Biotechnology (MS) (NDRI, Karnal) and Molecular Medicine (PhD) (Manipal University). In December 2008 he joined the University of Hyderabad as a member of the Faculty and served as Chairman of the Department of Biotechnology and Bioinformatics. Currently, he is serving as Senior Director at the International Centre for Diarrhoeal Disease Research, Bangladesh in Dhaka, Bangladesh. Ahmed is also affiliated with the University of Malaya, Kuala Lumpur, Malaysia as a Visiting Professor of Molecular Biosciences at the Institute of Biological Sciences. He also serves as Adjunct Professor of the Academy of Scientific and Innovative Research, India.
Professional recognitions and Fellowships
Niyaz Ahmed served as Section Editor (Genomics and Microbiology) of PLoS ONE (from August 2008 to September 2013). Currently, he is providing editorial oversight to the "PLoS ONE Prokaryotic Genome Collection". Ahmed also serves as a member of the PLoS International Advisory Group. and was the founding Editor-in-Chief of Gut Pathogens, published by BioMed Central Ltd. (London). Ahmed is a member of the International Society for Genomic and Evolutionary Microbiology (Italy) and currently serves as its General Secretary. He is also a member of the Faculty of 1000 Biology and has been elected to the Indian National Academy of Sciences. Ahmed served as an panelist for the research proposals submitted to European Commission's Seventh Framework Program. Ahmed was admitted as Fellow of the Royal Society of Chemistry in January 2015.
Editorial Board Positions
In addition to those mentioned above, Niyaz Ahmed is serving or has served as a member of the editorial boards of the following scientific journals:
1) Emerging Microbes and Infections 2) Systems and Synthetic Biology 3) Infectious Agents and Cancer 4) Annals of Clinical Microbiology and Antimicrobials 5) Journal of Molecular Engineering and Systems Biology 6) F1000 Research 7) Microbial Genomics (MGEN) 8) Scientific Reports
Graduate teaching and research
Ahmed teaches courses in 1) Molecular Biology (laboratory), 2) Metagenomics, 3) Biosafety and Intellectual Property 4) Research Ethics and Management and 5) Comparative Systems Modeling to Master's and Doctoral students, at the School of Life Sciences, University of Hyderabad. His current research interests include genomics, evolution and molecular pathogenesis of the two co-evolved human pathogens, namely, Mycobacterium tuberculosis and Helicobacter pylori, in the context of evolution of adaptation mechanisms, and acquisition and optimization of virulence during colonization/infection. Ahmed also has interest in comparative genomics of bacterial pathogens obtained from single patients at different occasions and this approach nurtures his concept of 'chronological evolution and replicative genomics' as tools to study host-microbe interaction over time. Ahmed's group has developed a widely used multilocus sequence typing scheme for species level identification of pathogenic Leptospira with a potential to replace the highly ambiguous serotyping method that currently is used for Leptospiral strain identification. Ahmed has also worked extensively on the nomenclature, taxonomic status, genome sequencing and functional characterization of Mycobacterium indicus pranii, a non-pathogenic mycobacterial species with very high translational promise as an immunotherapeutic.
Important Awards and Honors
(1) National Bioscience Award for Career Development- 2011; (2) Shyama Singh and Balamati Devi Award - Indian Association for the Advancement of Veterinary Research - 2007 (3) Academy Professor, Academy of Scientific and Innovative Research, India (Adjunct) - selected April 2013 (4) University of Hyderabad Chancellor's Award 2015 (5) Best Oration Award for Basic Research - 2015 (XXVIIIth International Workshop on Helicobacter and Microbiota in inflammation and Cancer, Nicosia, Cyprus, 24–26 September 2015) (6) Shanti Swarup Bhatnagar Prize in Medical Sciences - 2016 (7) Microsoft Azure Award for Research in Public Health - 2017
References
Niyaz Ahmed Wikipedia
(Text) CC BY-SA