Full Name

Mary Dooley




Role

Film actress




Name

Nita Naldi





Years active

1920–1929




Occupation

Actress




Siblings

Frank Dooley







Born

November 13, 1894 (

1894-11-13

) New York City, US


Died

February 17, 1961, New York City, New York, United States


Spouse

J. Searle Barclay (m. 1929–1945)




Parents

Julia Cronin, Patrick Dooley




Movies

Dr Jekyll and Mr Hyde, Cobra, A Sainted Devil, The Mountain Eagle, The Ten Commandments


Similar People

Natacha Rambova, Theda Bara, Rudolph Valentino, Fred Niblo, John S Robertson
Nita naldi cobra zigeunerblut max mensing egon kaiser orchester
Nita Naldi (November 13, 1894 – February 17, 1961) was an American silent film actress. She was usually cast in the role of the "femme fatale"/"vamp", a persona first popularized by actress Theda Bara.
Contents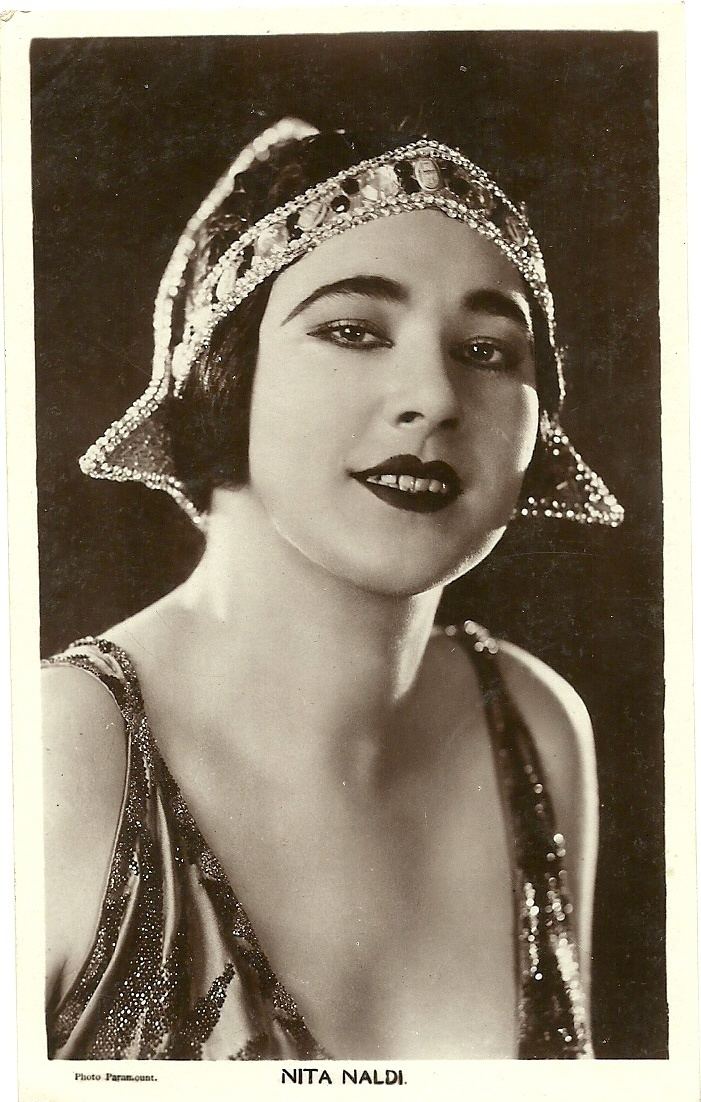 Early life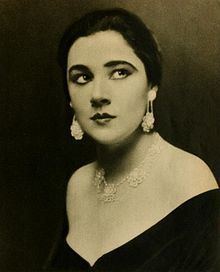 Nita Naldi was born Mary Dooley in New York City into a working class Irish family in 1894 (she was the daughter of Julia (Cronin) and Patrick Dooley). She was named for her great aunt, Mary Nonna Dunphy, who founded Academy of the Holy Angels in Fort Lee, New Jersey, which young Mary Dooley attended in 1910. Her father left the family in 1910, and her mother died in 1915. The latter event left her to care for her two teenage siblings, which forced Naldi to seek work. She took several odd jobs, including artists' model and cloak model. Eventually she entered vaudeville with her brother Frank. By 1918 she debuted on Broadway as a chorus girl at the Winter Garden in "The Passing Show of 1918."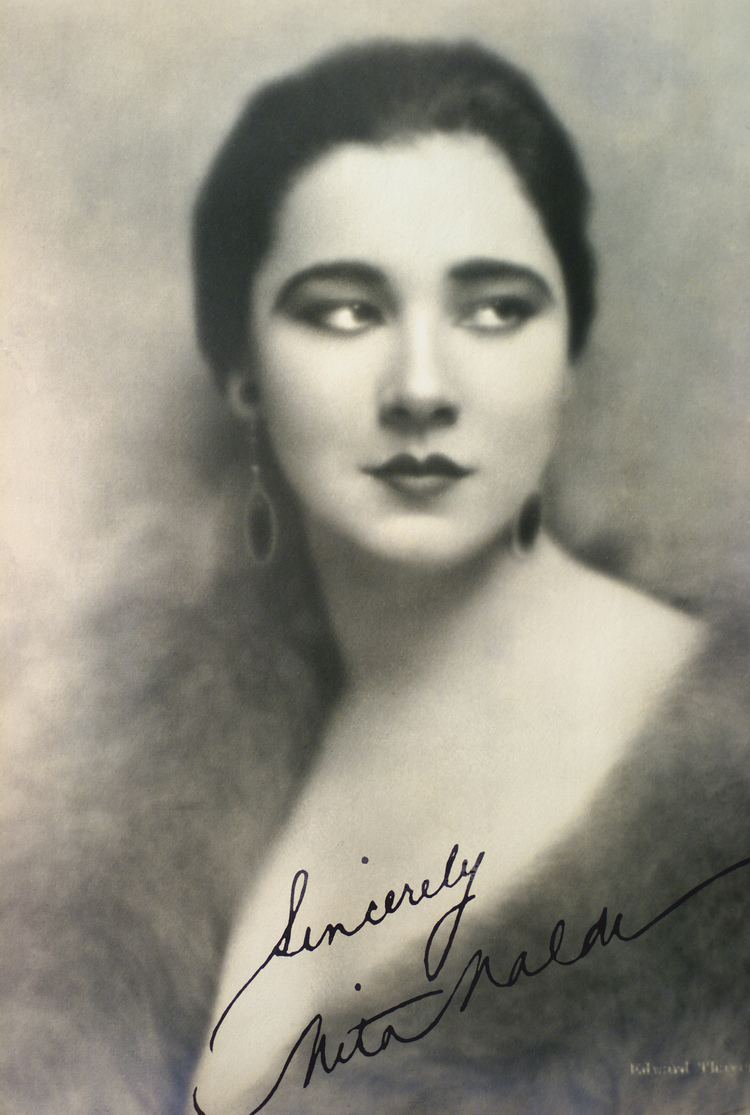 Her appearance in "The Passing Show of 1918" led to more stage jobs, and soon Naldi found herself in the Ziegfeld Follies of 1918 and 1919. At this time she changed her name to "Nita Naldi," which was an homage to a childhood friend named Florence Rinaldi. She continued working on Broadway, and after a well received performance in "The Bonehead," Naldi was offered a stint with well-known producer William A. Brady. Brady cast her in his play Opportunity in 1920.
Film career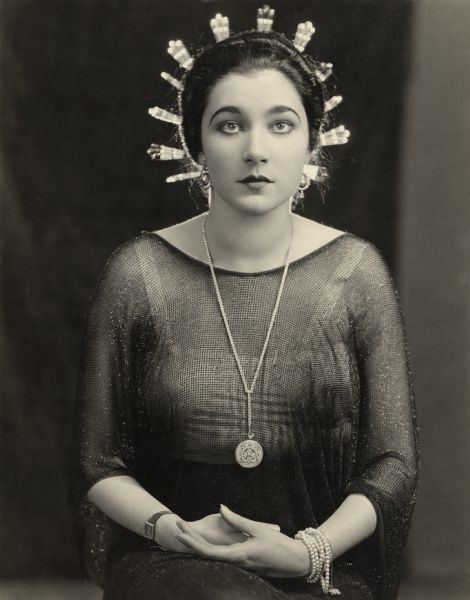 Naldi was asked to perform in a short film with Scottish comedian Johnny Dooley (no relation). She quit the film after realizing that Dooley had romantic intentions with another woman. She was then offered a role in A Divorce of Convenience with Owen Moore. After those two films, she had small roles in several independent films before being selected for Dr. Jekyll and Mr. Hyde with John Barrymore. The role in the film would give Naldi much prestige. During the production of Dr. Jekyll and Mr. Hyde, Barrymore and Naldi became friends, and stayed friends for many years, with Barrymore lovingly calling her the "Dumb Duse".
Naldi was selected by Spanish author Vicente Blasco Ibáñez for the role of Dona Sol in film version of his novel, Blood and Sand (1922). Naldi was signed by Famous Players-Lasky for the role, and it became her first pairing with screen idol Rudolph Valentino; the film was a major success, for it gave Naldi the image of a vamp, which would follow her for the rest of her Life. Naldi and Valentino were never romantic, and she would be one of the few to befriend his wife Natacha Rambova though that friendship would sour when the Valentinos divorced.
During this time, she posed for famous pin-up artist Alberto Vargas, who painted Naldi topless next to the bust of a satyr.
While Valentino went on his one-man strike, which prevented him from appearing on film, Naldi took on several Famous Players-Lasky roles with growing importance including The Ten Commandments (1923), directed by Cecil B. DeMille. When Valentino returned and fixed his contract woes, she joined him for his final Famous Players-Lasky film, the now lost A Sainted Devil (1924). Naldi left the company soon after.
In 1924 the Valentinos and Naldi traveled to France in order to do research for the film The Hooded Falcon which was never made. Upon returning to California, the duo made Cobra. The film was not well received, and Cobra became the last film in which Naldi and Valentino starred together.
The Valentinos' marriage was ending around this time. After Valentino signed a contract with United Artists, he banned Rambova from the set. She was given her own film as a consolation. Naldi starred in Rambova's production What Price Beauty? (1925). The film suffered distribution problems, was barely noted at the time, but is noteworthy for being actress Myrna Loy's first screen appearance.
After finishing the Dorothy Gish film Clothes Make the Pirate, Naldi left for France for a short vacation, where she married J. Searle Barclay during this time. Despite multiple rumors that she had retired, Naldi began work on several films, including Alfred Hitchcock's second directorial effort, 1926's The Mountain Eagle. She is often mistakenly credited for appearing in Hitchcock's The Pleasure Garden.
Naldi made two films in France and one in Italy before retiring. Despite having an acceptable voice, Naldi never made a talkie.
Later life
Due to the financial reversals caused by her retirement from films, as well as the Depression, Naldi filed for bankruptcy in 1932. She went back to the stage with Queer People and The Firebird in 1933. The press had been critical of her weight since 1924, but reviews to her appearances in both plays were especially harsh this time around—so harsh in fact that Naldi filed suit against one paper in 1934 for $500,000. The suit was dismissed in 1938.
In 1942, Naldi was considered for For Whom the Bell Tolls but did not receive the part. She never made another film. That same year she began appearing in a revue in New York with Mae Murray reciting the 1897 poem "A Fool There Was" in full kitsch.
In 1952, she had a notable role in the play In Any Language, co-starring the legendary stage actress Uta Hagen. In 1955, she coached Carol Channing how to vamp, for Channing's new musical The Vamp. Channing would be nominated for a Tony award for Best Actress in a Musical for that role.
Also in the 1950s, Naldi appeared on the television series Omnibus.
Personal life
In 1929, seven years after the success of Blood and Sand, Naldi was named as a party in the divorce of then 54-year-old millionaire J. Searle Barclay from his wife of 16 years. Barclay and Naldi had met in 1919 during her stage days and had lived together with her sister in New York since 1920. The pair married in August 1929 on a visit to France. Naldi returned to the United States in 1931, alone, and filed for bankruptcy two years later. Naldi did not speak of Barclay until after his death in 1945. He died penniless.
Despite rumors, Naldi claimed to have never been romantic with either Valentino or Barrymore. In 1956 she was rumored to be engaged to a Park Avenue man named Larry Hall, but no union took place. Naldi had no children.
Death
Naldi spent her final years in New York City, where she died of a heart attack in her hotel room at the Wentworth Hotel on West 46th Street a little over three months after her 66th birthday. She was buried in the family plot at Calvary Cemetery in Queens, New York.
Recognition
For her contribution to the film industry, Nita Naldi was honored with a star on the Hollywood Walk of Fame at 6316 Hollywood Boulevard.
Filmography
Dr. Jekyll and Mr. Hyde (1920)
Life (1920)
Common Sin (1920)
Last Door (1921)
Experience (1921)
Divorce of Convenience (1921)
Snitching Hour (1922)
Reported Missing (1922)
The Man from Beyond (1922)
For Your Daughter's Sake (1922 reissue of Common Sin)
Channing of the Northwest (1922)
Blood and Sand (1922)
Anna Ascends (1922)
You Can't Fool Your Wife (1923)
The Ten Commandments (1923)
Lawful Larceny (1923)
Hollywood (1923) cameo
The Glimpses of the Moon (1923)
A Sainted Devil (1924)
Don't Call It Love (1924)
The Breaking Point (1924)
The Mountain Eagle (1925)
Marriage Whirl (1925)
The Lady Who Lied (1925)
Cobra (1925)
Clothes Make the Pirate (1925)
The Unfair Sex (1926)
The Miracle of Life (1926)
The Nude Woman (1926)
What Price Beauty? (1928)
La Femme Nue/The Model From Montmartre (1928)
Die Pratermizzi (1928)
References
Nita Naldi Wikipedia
(Text) CC BY-SA