Country

Japan




Area

99.96 km2


Mayor

Masahiro Kouno




Population

482,640 (2010)




Region

Kansai







Colleges and Universities

Kwansei Gakuin University, Mukogawa Womens University, Kobe College, Hyogo College of Medicine, Mukogawa Womens University Junior College Division




Points of interest

Kidzania Koshien, Mount Kabuto, Nishinomiya Shrine, Kanno-ji, Kitayama Botanical Garden



Map of Nishinomiya
Nishinomiya (西宮市, Nishinomiya-shi) is a city located in Hyōgo Prefecture, Japan, between the cities of Amagasaki and Ashiya. On April 1, 2005, the city of Nishinomiya celebrated its 80th anniversary. It is best known as the home of Kōshien Stadium, where the Hanshin Tigers baseball team plays home games and where Japan's annual high school baseball championship is held. It is also the location of Kwansei Gakuin University, a private university founded by American missionaries in the nineteenth century. Nishinomiya is an important commercial and shipping city in the Kansai region with the third largest population in Hyōgo Prefecture.
Contents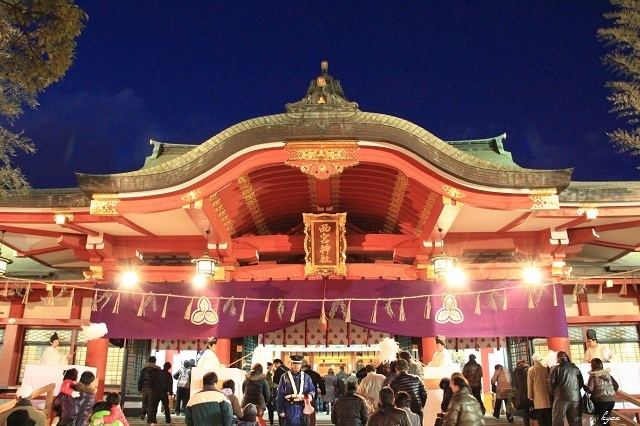 As of October 1, 2011, the city has an estimated population of 483,598 and a population density of 4,800 persons per km². The total area is 99.96 km².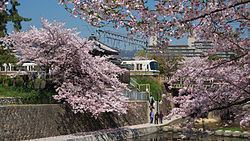 Lost in kansai the best burger in japan awajishima burger jr nishinomiyahanshin kokudou
Japan summer 2012 nishinomiya gardens by night
Topography
Nishinomiya City is located in the south-east of Hyōgo Prefecture between the cities of Kobe and Osaka. It is bordered by Osaka Bay to the south, the cities of Amagasaki, Itami and Takarazuka along the Mukogawa and Nigawa rivers to the east and by a part of the Rokko Mountains and Kobe City to the north. The city can be divided into two areas: a mountainous area in the north and a coastal plain in the south. Situated in the middle is Mount Kabuto (309 meters), a landmark of the city.
History
April 1, 1924: Opening of Kōshien Stadium
April 1925: Nishinomiya Town became a municipal organization.
April 1933: Nishinomiya merged with Imazu Town, Shiba Village and Taisha Village.
February 1941: Nishinomiya merged with Koto Village.
May 1942: Nishinomiya merged with Kawaragi Village.
April 1951: Nishinomiya merged with Naruo Village, Yamaguchi Village and Shiose Village.
January 17, 1995: Great Hanshin earthquake disaster. Nishinomiya City received widespread damage.
Economy
Furuno, a global electronics company, whose main products include marine electronics and medical equipment, has its headquarters in the city.
Agriculture
Since most of the farmland is located within the urban district, Nishinomiya agriculture is in a difficult situation and it worsens every year. Currently, efforts are being made to improve farming in order to make it profitable by growing such marketable products as soft vegetables for the big markets of Osaka and Kobe. Other efforts include effective land use by growing crops in greenhouses using hydroponic techniques and development of techniques for safe products.
Residential districts
Nishinomiya is situated between the major cities of Kobe and Osaka. Luxury neighborhoods are common in this city, especially in areas near Ashiya. Some of the shopping malls in Nishinomiya are the Lalaport Koshien and the Hankyu Nishinomiya Gardens.
Universities and colleges
Konan University Nishinomiya Campus "Konan Cube"
Kwansei Gakuin University
Otemae University
Kobe College (Women's university)
Seiwa College and Junior College
Hyogo College Of Medicine
Mukogawa Women's University and Junior College
Shukugawa Gakuin Junior College
Koshien Junior College
High schools
Hōtoku Gakuen High School, with a prominent baseball team
Culture
Hirota Shrine - Hirota Shrine was called Nishi no miya (

"the West Shrine"

) by aristocrats in Kyoto. That is the origin of the city name.
Hyogo Performing Arts Center
Kannō-ji
Koshikiiwa Shrine
Nishinomiya Shrine
Mondo-yakujin (Tōkō-ji)
Much of Grave of the Fireflies is set in Nishinomiya.
Nishinomiya is the setting for the popular light novel, manga, and anime series The Melancholy of Haruhi Suzumiya.
Points of interest
Kitayama Botanical Garden
Mount Kabuto
Sister and friendship cities
Sister cities
Spokane since September, 1961 (U.S., Washington)
Friendship cities
Londrina since May, 1977 (Brazil, Paraná)
Shaoxing since July, 1985 (China, Zhejiang)
District of Lot-et-Garonne and Agen since April, 1992 (France,
Burlington (U.S., Vermont)
Aquitaine
Amami since October, 1981 (Japan, Kagoshima) (formerly Naze)
Yusuhara since March, 1991 (Japan, Kōchi)
Special products
Sake - Japanese Rice Wine
Najio Japanese Paper
Bamboo Crafts
Japanese Candles
Notable people
Nagaru Tanigawa - author of the light novel series Haruhi Suzumiya
Yuichiro Nagashima - Japanese Kick Boxer
Ryūsui Seiryōin - Japanese novelist
Hōsei Yamasaki - Japanese comedian
Eizo Sakamoto - heavy metal musician
Mana Ashida - Japanese child actress
Kaoru (musician) - lead guitarist of Dir En Grey
Yuya Matsushita - Japanese singer and actor
Mina Myoui - American born Japanese singer of Korean group Twice
Akira Tozawa - Japanese professional wrestler
Best fast food burger chains in america
References
Nishinomiya Wikipedia
(Text) CC BY-SA