Nick James Mileti (born April 22, 1931 in Cleveland, Ohio) is an American author, retired lawyer, former businessman, sports entrepreneur and former sports franchise owner who was, during the 1970s, the owner of the Cleveland Indians, Cleveland Cavaliers, Cleveland Crusaders hockey team, the Coliseum at Richfield and radio station "3WE" WWWE AM/1100 (now WTAM).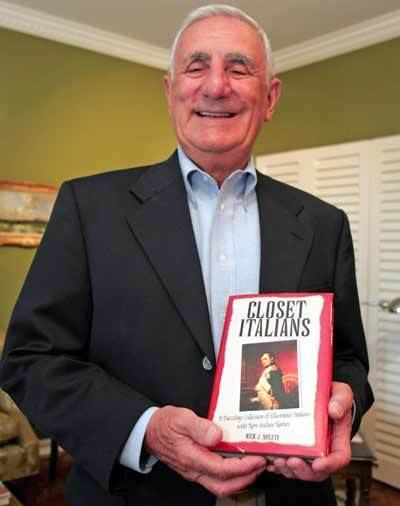 Mileti spearheaded a group that purchased the ownership rights to the NBA's Cleveland Cavaliers in 1970 to enter the league as an expansion team, paying a fee of $3.7 million; he eventually sold his twenty percent interest in the team in 1980 for $1.4 million. Another syndicate he headed purchased the Indians in 1972 for $10 million from Vernon Stouffer.
In his sports ownership heyday, Mileti was a master of leverage of sorts, owning 51 percent of his enterprises with little of his own money at risk.
Using a hard work ethic, business savvy, which included many contacts, and a high energy level, Mileti, who was able to pull himself up from his working class upbringing in Southeast Cleveland, put himself through college, graduating from Bowling Green State University (BGSU) in 1953. The BGSU Alumni Center is now named in his honor. He was a member of the Theta Chi fraternity at BGSU. Following his time at BGSU, he earned a law degree from the Moritz College of Law at Ohio State University in 1956. After military service he opened a law practice in Lakewood, Ohio and became prosecutor there after befriending the mayor. He became involved in sports after serving as chairman of the Bowling Green alumni association and organizing a BGSU game at the Cleveland Arena. Shortly thereafter he purchased the Arena and its prime tenant, the original Cleveland Barons hockey team. Recognizing that the Arena needed another tenant, he succeeded in obtaining an NBA expansion team.
His partnership that purchased the Indians included Howard Metzenbaum and Ted Bonda.
In late 1972, Mileti formed Ohio Communications with veteran radio executive Jim Embrescia, which acquired WKYC AM/1100 and FM/105.7 from NBC, renaming them "3WE" WWWE-AM and "M105" WWWM-FM. Mileti then moved the radio play-by-play rights for the Indians and Cavaliers, as well as pioneering sports talk host Pete Franklin's Sportsline, to WWWE, turning the 50,000 watt clear channel signal into a sports radio powerhouse.
During 1973, when it appeared to the Indians' bank creditors that Mileti had spread himself too thin, Mileti named Bonda as the team's executive vice president. Mileti sold his interest to Bonda and other investors in 1975.
Mileti also founded and was the principal owner of the short-lived CFL team, the Las Vegas Posse in 1994.
Mileti has become a writer in retirement; to date, he has published three books.
Closet Italians: A Dazzling Collection of Illustrious Italians with Non-Italian Names (2004)
Beyond Michaelangelo: The Deadly Rivalry between Borromini and Bernini (2005)
The Unscrupulous: Scams, Cons, Fakes & Frauds that Poison the Fine Arts, (2009) Bordighera Press