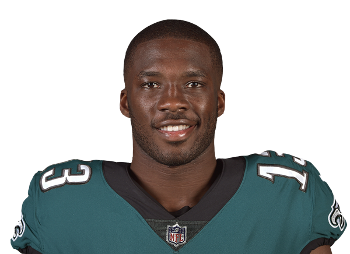 Agholor was born in Nigeria. He moved to the United States when he was five years old. He attended Berkeley Preparatory School in Tampa, Florida where he played running back, wide receiver and defensive back for the Berkeley Buccaneers. He was rated by Rivals.com as a five-star recruit and was ranked as the third best wide receiver in his class. He committed to the University of Southern California in January 2012 over Notre Dame, Oklahoma, Florida, Florida State, and Alabama.
As a true freshman in 2012, Agholor played in all 13 games as a backup wide receiver. He had 19 receptions for 340 yards and two touchdowns.
As a sophomore in 2013, he became a starter. Agholor started all 14 games, totaling 56 receptions, 918 yards, and 6 touchdowns as a receiver. Along with being the leading receiver, Agholor returned punts and kicks for the Trojans. He returned 18 punts for 343 yards and 2 touchdowns, and 10 kickoffs for 175 yards. Agholor was recognized as a second-team All-American by numerous sports outlets for his punt returning. Agholor returned as a starter his junior season in 2014. He led the team with 104 receptions for 1,313 yards and 12 touchdowns.
After his junior season, Agholor entered the 2015 NFL Draft.
Agholor was selected by the Philadelphia Eagles in the first round with the 20th overall pick of the 2015 NFL Draft. He signed a four-year contract on May 7, 2015, worth around $9.4 million with a signing bonus of $5.1 million.
On December 13, 2015, Agholor scored his first NFL career touchdown in a matchup against the Buffalo Bills. It was a 53-yard reception from quarterback Sam Bradford. During his rookie season in 2015, Agholor played 13 games with 283 receiving yards and a touchdown. During his second season in 2016, Agholor played 15 games with 365 receiving yards and two touchdowns.
On March 13, 2017, it was reported that Agholor will switch from the #17, which he wore in his first two seasons, to the #13. He opted to give the No. 17 to newly acquired free agent wide receiver Alshon Jeffrey.
In June 2016, Agholor was accused of sexually assaulting a dancer at Cheerleaders Gentleman's Club. Agholor was at the club located nearby the team's off-season practice site with two Eagles teammates.
On July 15, 2016, it was announced that Agholor would not face charges in the investigation.