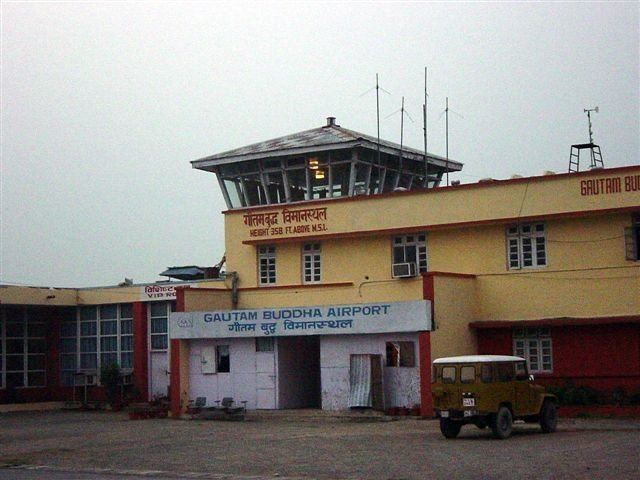 Nautanwa is located at 27.43°N 83.42°E / 27.43; 83.42. It has an average elevation of 89 metres (291 feet). The town is located in the Terai region, in the foothills of the Shiwalik Himalayas.
Nautanwa is a Tehsil/Block in the Mahrajganj District of Uttar Pradesh. According to Census 2011 information the sub-district code of Nautanwa block is 00944. There are about 259 villages in Nautanwa block.
Brick clay is abundant everywhere and bricks are made outside the town areas. The soil in the area is light sandy or dense clay of yellowish brown colour. The sand found in the rivers is medium to coarse grained, greyish white to brownish in colour and is suitable for building construction.
The land seems to be blessed by Buddha's presence. On North (Kapilvastu, Lumbini, Nepal) it has the birthplace of Buddha, and south of it has the death place of Buddha. And on the east is Sita's Birthplace Janakpur(Nepal). As per local ethnohistorical record, it is said that this place is very much related to Buddha. This place is associated with the Buddha period. It is said this is the place where Gautam while renouncing the worldly life and travelling for searching for knowledge travelled through this place. After coming from Kapilvastu (present day it is the region between Birdpur tehsil of Sidharthnagar district and Taulihwa region of Kapilvastu district of Lumbini Anchal of Nepal) towards the eastern India present day Bihar region, he changed his princes cloth and gave to his attended and wore new cloth of ascetic life. It symbolizes the attending just a new body of sage or knowledge seeker instead of prince puzzled in worldly pleasure. That is region why this name Nau-new and Tan-body is called.
Close to Nautanwa is the town of Sonauli which is the border of India and Nepal which is 7 km from Nautanwa.
As of 2001 India census, Nautanwa had a population of 29,259. Males constitute 52% of the population and females 48%.
Nautanwa has an average literacy rate of 62%, higher than the national average of 59.5%: male literacy is 71%, and female literacy is 52%.
In Nautanwa, 17% of the population is under 6 years of age.
Nautanwa is well connected by road and railway. Sonauli at Indo-Nepal border has a Uttar Pradesh State Road Transport Corporation which connects major cities of Uttar Pradesh, Rajasthan and Delhi.
The town has a railway station called Nautanwa railway station, which is the closest to Lumbini in Nepal and it is the last Station from India End. The two countries have an open border without restrictions on the movement of Nepalese and Indian nationals. There is a customs checkpoint for goods and third country nationals.
[Maa Banailiya Temple] is one of the most famous Temple in Nautanwa which, constitutor was from scheduled cast saint, Pyare Das. Now the temple is also acting as a halting place for the tourists.
Chanchai Mata Temple is also a Goddess Durga temple which also holds a hard respect amongst peoples.
Kali Ji's temple in Parsohiya Mohalla is also a famous temple.
Shri Shri Hanuman Mandir has been recently built in 2012 inside the premises of Kali Ji Ka Mandir. And also, a beautiful temple of Lord Hanuman is rebuilt in premises of Maa Banailiya mandir.
Every Year on 20 January a Shobha yatra is conducted which starts from temple premises and goes through the whole market of Nautanwa and ends back at the temple, and on every 21 January, a Jagran organises at temple premises. A large gathering is expected every year.
Being stated on the border place all the caste and religion can be found in Nautanwa. They all live peacefully celebrating the festivals and eve of each other.
Nepali currency is quite common there. Although people here live very peacefully but the entire area and the surrounding areas are mostly covered by Jaiswal's a Hindu subcaste which is prominent in the north-eastern Uttar Pradesh.
People here also get indulged in wrong activities to earn money but accordingly they are thrived by the law and order here. Many criminals and terrorists were caught from the bordering area who tried to enter in the country. 'Abhishek Gaud' is one boy in this city and he was win the drawing competition in the 1st rank in ntw,this competition is aranged from 'SPREADING SMILES SOCIETY' is the private company from 'Abhishek Joshi' and other great mans thanking yours for reading this paragraph and this compeition complete in Nautanwa Inter College, Nautanwa, Maharajganj in U.P.