The town was originally called Nandalluru. It derives its name from Nandi, the vehicle of Siva. Aalaya means house/ dwelling in Sanskrit. Since it is surrounded by nine nandis it is called Nandi Aalaya which, over period of time, became Nandyala or Nandyal, the present name of the place. These nine temples are Garudanandi, Krishnanandi (also called Vishnunandi), Mahanandi, Naganandi, Prathamanandi, Shivanandi, Somanandi, Suryanandi and Vinayakanandi. These temples draw pilgrims from various places. Nandyal had a population of 200,746 at the time of the 2011 Census.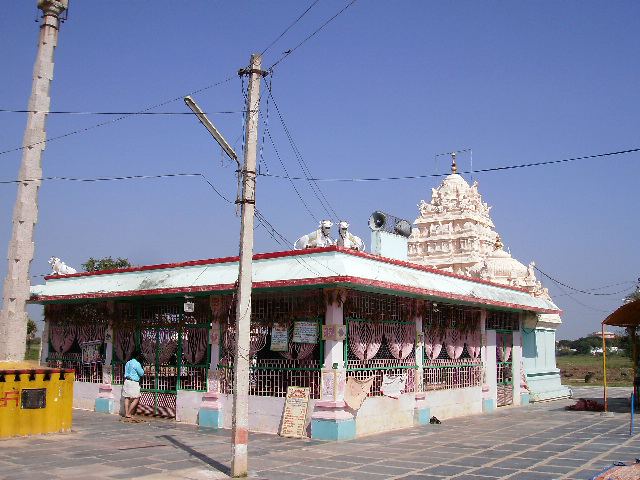 Nandyal has been an important pilgrimage site since the days of the Vijayanagar Kingdom due to the nine Nandi temples mentioned above. It was the introduction of the railways in 1890, however, that led to its rapid development. It became a municipality in 1900 and was visited, among others, by Mahatma Gandhi, Dr. Rajendra Prasad, Jawaharlal Nehru and Indira Gandhi.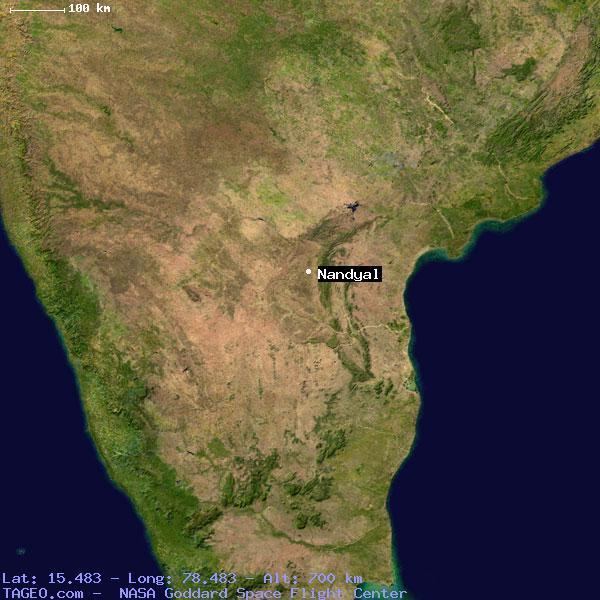 Nandyal is surrounded by hills with the Kundu River on its west, the dense forests of Nallamala Hills to the east and granite mines to the south.
The town is rich in water resources like reservoirs. These give it an equitable climate throughout the year. However, summers can be particularly hot. The average temperature is around 28 °C.
The city is a major hub of industry and agriculture. It is rich in natural resources like granite and marble. There are many rice mills and oil mills and industries which produce milk, soft drinks, sugar, PVC pipes, etc. Some of the renowned industries in the town are the Milk Dairy, Nandi Polymers, S. P. Y. Agro, Nandi Steels, etc.
Nandyal municipality was constituted in the year 1899. The jurisdictional area is spread over an area of 19 km2 (7.3 sq mi). Its urban agglomeration is spread over an area of 28.88 km2 (11.15 sq mi) which includes constituents of Nandyal municipality, out growths of Moolasagaram, Noonepalle and partial outgrowths of Udumalpuram, Ayyalur.
P.V. Narasimha Rao was an Indian lawyer, politician, and activist who served as the ninth Prime Minister of India (1991–1996), registered his record-breaking victory in 1992 from Nandyal (Lok Sabha constituency). Neelam Sanjiva Reddy, the sixth President of India, serving from 1977 to 1982, and the only person to be elected President of India unopposed, fought the Lok Sabha election from Nandyal constituency as a Janata Party candidate. He was the only non-Congress candidate to get elected from Andhra Pradesh in that Loksabha elections. He was unanimously elected Speaker of the Lok Sabha on 26 March 1977. This is only constituency which has given a President and a Prime Minister to India.
Nandyal is a part of Nandyal (Assembly constituency) for Andhra Pradesh Legislative Assembly. Late Bhuma Nagi Reddy was the former MLA of the constituency from YSR Congress Party. It is also a part of Nandyal (Lok Sabha constituency) which was won by S. P. Y. Reddy of [(YSR CONGRESS PARTY)].
In the by elections conducted 23 August 2017, Brahmananda Reddy from TDP won by 27,456 votes against YSR Shilpa Mohan Reddy
As mentioned and listed above, Nandyal is surrounded by nine bull temples known as the Nava Nandi. Sri Yaganti Uma Maheswara Temple near Nandyal has the world's largest Nandi idol. As per the Archaeological Survey of India, the rock grows at a rate of 1 inch (2.5 cm) per 20 years. Nandyal is also the gateway to Belum Caves, Mahanandi and Srisailam.
The city is well connected by road and railways. The NH18 is well connected to Kurnool, Tirupathi, Kadapa etc. The Andhra Pradesh State Road Transport Corporation operates bus services from Nandyal bus station. Nandyal Junction is administered under Guntur railway division of South Central Railways.
The primary and secondary school education is imparted by government, aided and private schools, under the School Education Department of the state. The medium of instruction followed by different schools are English, Telugu.