Music director

T. R. Pappa

Produced by

P. Neelakantan

Release date

31 August 1961

Cast

M G Ramachandran

,

Rajasulochana

,

M R Radha

,

M N Nambiar

,

E V Saroja




Similar movies

Related P Neelakantan movies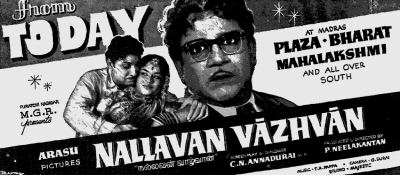 Nallavan Vazhvan ("The Good one will live") is a 1961 Tamil-language drama film directed by P. Neelakantan. The film features M. G. Ramachandran and Rajasulochana in lead roles. The film, had musical score by T. R. Pappa and was released on 31 August 1961. The film didn't do well at box-office and ran for 80 days. It was the 50th film for MGR.
Contents
Plot
Accused inequitably of a murder, the nice Muthu (MGR), judged and sentenced to death, succeeds however, to flee. He will have to himself confuse the culprit, Nalasivam (M. R. Radha), the local personality, of the most well-to-do, above suspicion, in priori. During its escape, disguised as shaman, Muthu leads investigation its survey and can matter on the indestructible support of some women. First of all, his, young and beautiful Chandra (Rajasulochana) (that he saved formerly, captivates, already hands of Nalasivam), of its mother (Lakshmi Prabha) and the one that he considers as its young sister Chenbagame (E. V. Saroja). But the husband of the latter, the inspector of police, in charge of this case, tough Madhavan (M.N.Nambhiyar), friend, nevertheless, Muthu, convinced as for him, his guilt, does not stop pursuing him. Whereas the hired men thrown by Nalasivam cross the region in search of the fugitive to kill him. In front of such threats, will Muthu manage to put, in time, the hand on the unique witness (P.S.Seethalaksmi) which could exonerate him?
Production
Here, MGR finds for the third time, his favorite director, Pa.Neelakandhan which also produces this 50th MGR, via his Arasu Pictures. The future director of another MGR of the 70s, IDHAYA KANNI, A.Jaganadhan makes its debuts, as Neelakandhan 's assistant. Just like the lyric writer Vâlee, with two texts. The dialogues are signed by 'Arignar' Anna, personally. The movie is built with the key elements of Hitchcock, recurring theme of its cinema, "The man accused of a crime committed by an other one, a thrown in a pursuit race, to exonerate itself and find the real culprit".
Soundtrack
The music composed by T. R. Pappa. Lyrics by M. K. Athamanathan & Vaali. Playback singers are Seerkazhi Govindarajan, A. L. Raghavan, P. Leela, P. Suseela & S. Janaki.
Vaali wrote 2 songs for the first time to M. G. R and collaborated to many hit songs in future.
References
Nallavan Vazhvan Wikipedia
(Text) CC BY-SA
Nallavan Vazhvan IMDb