India




Bengali, English, Gorkhali, Santhali




West Bengal




Jalpaiguri



Nagrakata is headquarters of Nagrakata (Community development block) in Malbazar subdivision of Jalpaiguri district, West Bengal, India.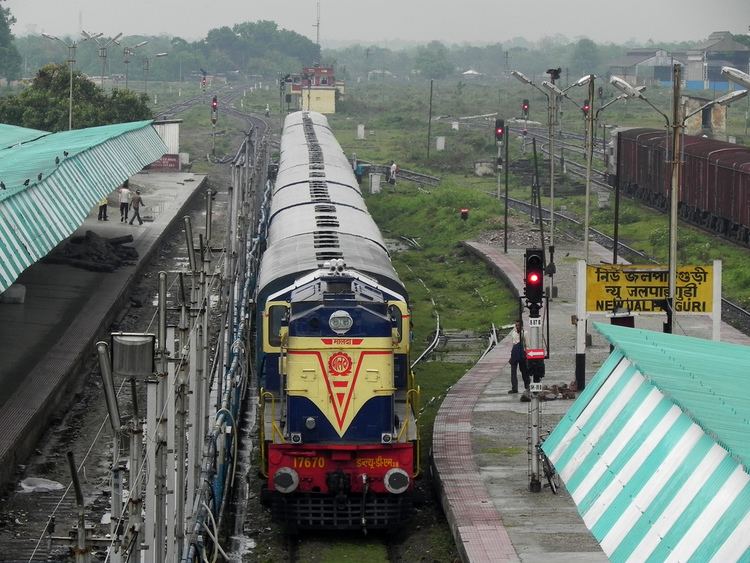 Nagrakata was a small location in the British period but there was 14 tea gardens together named as doors tea company. Nagrakata station was the important railway station for dispatching CTC tea all over the world. Tea Research Association is located here from that time. A big workshop was settled for all 14 tea gardens near the station.There is a club named European club from the British time, also a big play ground named club ground surrounding the club. The scenic beauty and the green tea gardens make Nagrakata be a wonderful place in doors area. The Bhutan border near Jiti T.G. is also a excellent of its kind. Hilla T.G. is a wonderful beauty of nature. The natural beauty of Nagrakata attract the Britishers that time and they planted Tea gardens, roads and train lines for development of the place. Now this place will be a very popular tourist spot for its natural beauty if the Government take the initiative.
It is located at 26°54?0?N 88°55?0?E at an elevation of 214 m above MSL.
National Highway 31C passes through Nagrakata. It is a station on the New Jalpaiguri-Alipurduar-Samuktala Road Line.
Nagrakata Wikipedia
(,)http://upload.wikimedia.org/wikipedia/commons/e/e8/Bongaigaon_(BNGN)_Passenger.jpg(,)http://3.bp.blogspot.com/-InkAKRoDdNo/VKuZGYoYDvI/AAAAAAAAFIQ/Kn7-gn1e1-Y/s1600/IMG_2156.JPG(,)http://upload.wikimedia.org/wikipedia/en/f/fd/IIT-KGP.jpg(,)http://i.ytimg.com/vi/n4-WU52E1dI/0.jpg
(,)http://www.photoswinprizes.com/wp-content/uploads/2012/04/Cont1-930x543.jpg(,)http://images.fineartamerica.com/images-medium-large/nagrakata-jalpaiguri-shubhankar-adhikari.jpg(,)https://c2.staticflickr.com/8/7026/6630221721_57edafb1e1_b.jpg(,)http://www.photoswinprizes.com/wp-content/uploads/2012/04/QW1-930x620.jpg(,)http://static.panoramio.com/photos/large/77556655.jpg(,)http://omicsgroup.org/journals/JGNDimages/2167-0587-3-107-g003.gif(,)https://pbs.twimg.com/media/B8mNqNZCYAA2l8Z.jpg(,)http://omicsgroup.org/journals/JGNDimages/2167-0587-3-107-g001.gif(,)https://c1.staticflickr.com/7/6045/6243338933_257e5f03be.jpg(,)http://i1.ytimg.com/vi/q18XJbVyMXg/0.jpg(,)http://mw2.google.com/mw-panoramio/photos/medium/78295352.jpg
(,)http://images4.mygola.com/fea8616b8232babf2b64e783aab345b1_1394341902_l.jpg(,)https://farm6.staticflickr.com/5005/5279112505_d795bbd79a_s.jpg(,)http://images4.mygola.com/bf0890836cfc6660ced0afdebf45916b_1359458061_l.jpg(,)http://www.anagrasarkalyan.gov.in/gallery/emrs-nagrakata.jpg(,)https://c2.staticflickr.com/4/3621/3332718001_e37f3972af_b.jpg(,)http://www.jaldhakariverviewresort.com/images/content/b1.jpg(,)http://www.telegraphindia.com/1120618/images/18nblJal1.jpg