Scientific name

Murex trapa

Higher classification

Murex




Similar

Murex,

Muricidae

, Gastropods, Molluscs, Vokesimurex
Murex trapa, common name the rare-spined murex, is a species of sea snail, a marine gastropod mollusc of the family Muricidae, the rock snails.
Contents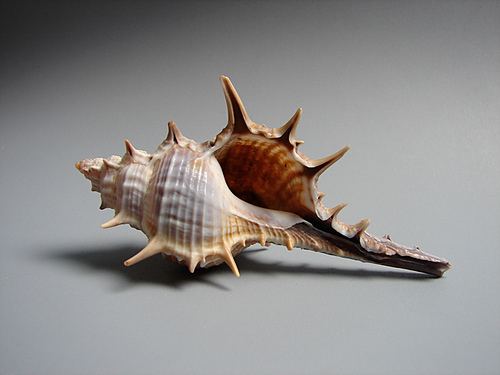 Distribution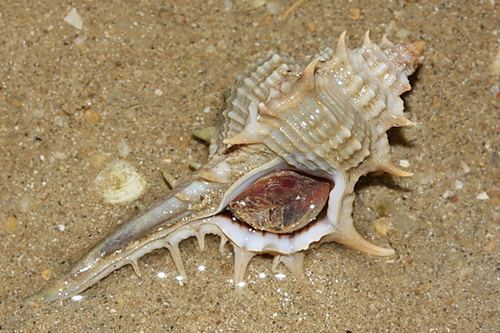 This species is widespread from Madagascar and Mascarene Islands, South-Eastern India, Sri Lanka and the Andaman Sea to southern Indonesia, Philippines, Taiwan and Southern Japan.
Habitat
Murex trapa can be found in demersal, sandy habitats.
Description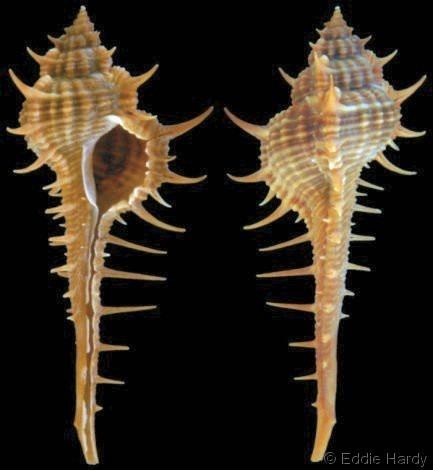 Shells of Murex trapa can reach a length of 50–124 millimetres (2.0–4.9 in), with a diameter of 8–21 millimetres (0.31–0.83 in).
These moderately large shells are fusiforms or club-shaped, with hight and acute spire and prominent spiral ridges. shell surface is normally light brown or blue-gray with some yellowish-brown on spines. The body whorl shows three spiny varices. The aperture is lenticular, with a white interior margin and deep red-brown within. The outer apertural lip is crenulated. The sipholal canal is straight and moderately long (about 13-47 mm.). Three to four short spines are restricted to the basal half of siphonal canal.
Biology
The Rare-spined Murex is an active predator, mainly feeding on other molluscs and barnacles.
References
Murex trapa Wikipedia
(Text) CC BY-SA