Date

25 December 1995 (1995-12-25)

Similar

Murder of Richard Everitt, Murder of Roy Tutill, Towpath murders

Died

25 December 1995 (aged 18)
Louise Smith (c. 1977 – 25 December 1995) was an English woman who went missing after leaving a nightclub in Yate, South Gloucestershire in the early hours of 25 December 1995. Following an extensive search for her, in which around 10,000 volunteers took part, her body was discovered at a quarry in Chipping Sodbury by two schoolboys on 17 February 1996. The body was formally identified as that of Smith two days later.
Contents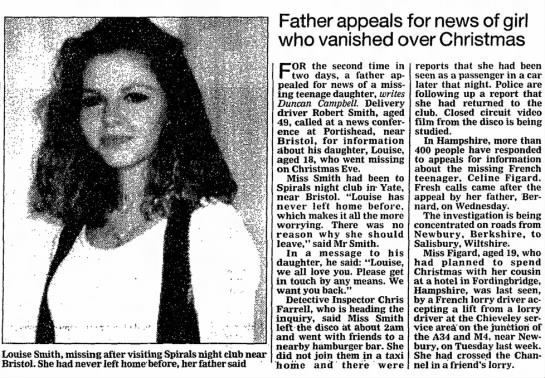 Following the discovery of Smith's body, a DNA screening programme obtained samples from over 4,500 men, and DNA samples found on Smith's body linked the crime to David Frost, a 22-year-old civil engineering student on work experience in South Africa. Frost was arrested and charged with Smith's rape and murder after returning to the UK in April 1997. After originally denying murdering Smith, he pled guilty at his trial on 9 February 1998, and convicted and sentenced to life imprisonment.
Disappearance
Smith, an 18-year-old clerical worker, had spent the night of 24–25 December 1995 with friends at a disco at Spirals nightclub in Yate Shopping Centre in Yate, near Bristol. She was captured on CCTV leaving the disco just after 2 a.m. After going to a hamburger bar with her friends, she declined two offers of a lift home, deciding to walk home instead. At 8:30 a.m., Smith's father noticed she was not in her bed. After failing to find her, her parents telephoned the police later that morning.
Smith's father and brother made a televised plea for her return on 28 December. On 14 January 1996, around 10,000 local volunteers assisted police in a five-hour search for her in and around the Chipping Sodbury area.
Body discovery and pre-trial investigation
On 17 February 1996, two schoolboys who were playing near the disused Barnhill Quarry noticed the naked body of a woman covered in tree branches on the lip of a 100 ft (30.5 m) cliff face on the edge of the quarry. A murder inquiry was launched, and the body was formally identified as that of Smith on 19 February upon being recovered from the quarry. Her body was decomposed and had been disturbed by foxes, and a post-mortem examination could not establish the cause of death. Police were, however, able to obtain a sample of DNA from the body due to the cold conditions. Smith's handbag was found nearby along with other possessions and clothes.
Throughout the fourteen-month long investigation into Smith's death, police questioned over 14,800 people, including 200 who were at the Spirals nightclub disco on the night of her disappearance, and a number of men seen near Yate Shopping Centre around the time she was last seen. By March 1997, over 4,500 men had given samples of their DNA in a DNA screening programme. Among them was David Frost, a civil engineering student who had been captured on CCTV outside Spirals nightclub shortly before Smith went missing. Frost had agreed to a DNA test, but left for a working placement in South Africa before the test could be carried out. The police gained a mouth swab from him in March 1997, and his DNA matched that found on Smith's body. After returning to the UK, Frost was arrested at Heathrow Airport after returning to the UK in April, and charged with Smith's rape and murder.
In interviews with the police, Frost initially denied killing Smith, saying that he had met her as she returned from the nightclub disco on 25 December 1995, and left her to walk home after a consensual sexual encounter with her, but later said that he had asphyxiated and strangled her in panic after she began crying and screaming, saying, "She was crying louder and louder, and I tried to calm her down, reasoning with her. Then I put my hand on her mouth and tried to stop her screaming. She went silent.". However, he continued to deny murder, saying her death was unintentional.
Trial and conviction
Frost's trial took place at Bristol Crown Court on 9 February 1998, and was due to last two weeks. Frost pleaded guilty to the murder of Smith, and was sentenced to life imprisonment on the first day of the trial. The court heard that Frost had a non-consensual sexual encounter with Smith, killed her and left her body on the edge of Barnhill Quarry. Passing sentence, the judge, Mr Justice Bell, told Frost, "It was an evil thing that you did in the early hours of Christmas Day two years ago – taking the life of Louise Smith. There is only one sentence for murder and that is life imprisonment." Frost denied a further charge of rape, a plea which was accepted by the prosecution. He was given a minimum term of 14 years.
Aftermath
In 2000, Smith's brother, Richard, then 25, faced an enforcement action for non-payment of damages to David Frost's family, which he was ordered to pay for damage caused to two cars belonging to the Frosts. Richard Smith had appealed the compensation order, and the enforcement action was adjourned by the North Avon Magistrates' Court.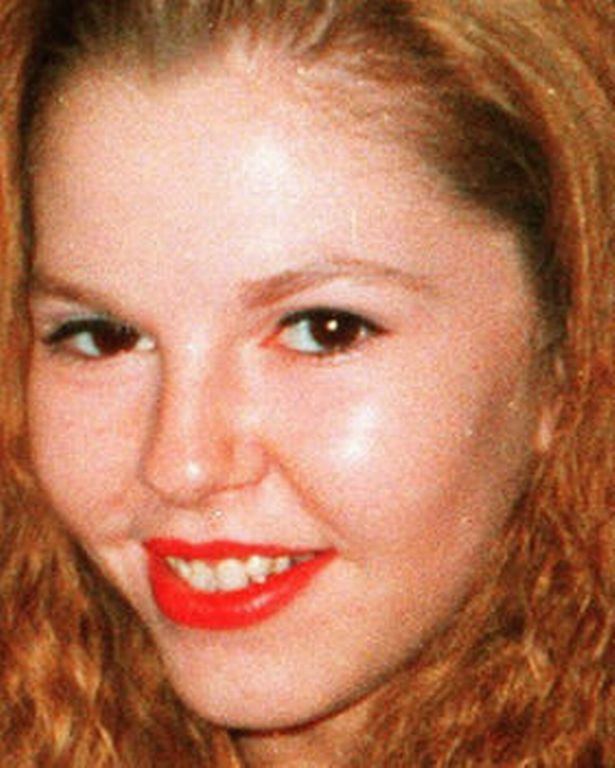 References
Murder of Louise Smith Wikipedia
(Text) CC BY-SA