Mumbai Express is a 2005 Tamil language comedy film directed by Singeetam Srinivasa Rao and written and produced by Kamal Haasan. It stars Kamal Haasan himself in the lead role alongside Manisha Koirala, while Nassar, Pasupathy, Sharat Saxena and Santhana Bharathi amongst others play pivotal role. The music was composed by Ilayaraaja, while Siddharth and Ashmith Kunder handled the cinematography and editing respectively. This movie was dubbed in Telugu as well with the same name.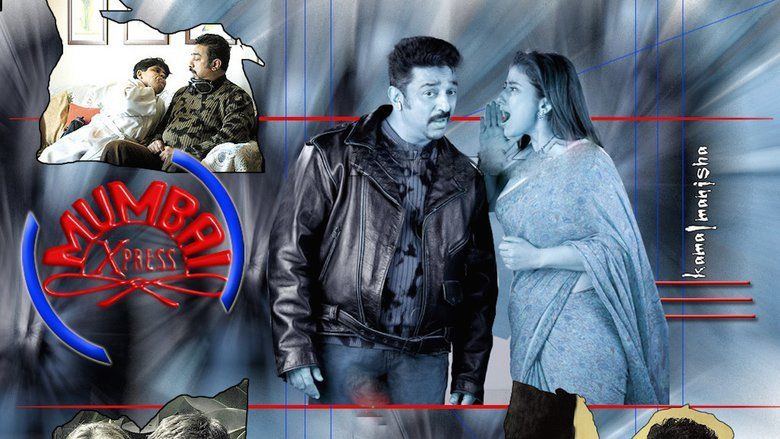 The film was simultaneously made in Hindi with different cast except lead pair as Mumbai Xpress and released on the same date in April 2005.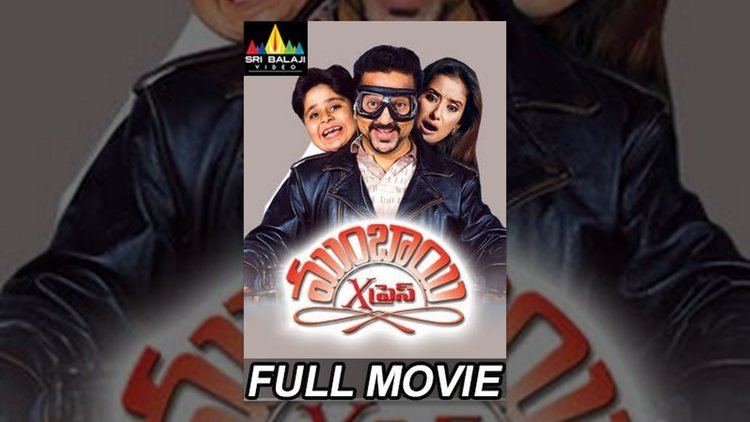 Three amateur thieves plot to kidnap the young son of wealthy Chettiar (Santhana Bharathi) from school. They do a trial run. However, on the eve of the kidnap, the guy whose job is to operate a crane in this plan is hospitalized. The services of Avinasi a.k.a. Mumbai Xpress (Kamal Haasan), brother of Kovai Sarala, a deaf stunt man performing daredevil bike acts, is roped in. Twists and turns take place where the other two gang members are hurt and invariably our Mumbai Xpress is left to perform the task all by himself. He kidnaps a wrong boy, Daddu (Hardhik), the illegitimate son of Ahalya (Manisha Koirala) and police officer Rao (Nassar), but manages to get a huge ransom from Chettiar by default.
A brawl takes place between the original kidnap planners - Chidambaram (Pasupathy), Johnson (Vaiyapuri) and Avinasi - in handling Ahalya's child, but Avinasi delivers the child unhurt to his mother. He eavesdrops into her tele-con with Rao where Rao wants to settle both the ransom and sever his ties with her. Ahalya pleads and coaxes him to help her get the ransom which Rao is willing to pay. The child takes a fancy to Avinasi and wants him to be the man in their life, and gets him to agree (or else he would throw himself from a multi-storied building).
Ahalaya wants either Rao's or Chettiar's money which Avinasi is holding, whereas Avinasi is in love and wants to be that protective person. Rao appoints Chettiar to handle the ransom and what follows is a series of mix-ups.
In October 2004, it was reported that Kamal Haasan had agreed to act in Singeetham Srinivasa Rao's next venture, a Tamil-Kannada bilingual comedy film titled Mumbai Express. Kamal Haasan was set to fund the film and Crazy Mohan was approached to write the dialogues, though the writer later pulled out of the venture. Madhuri Dixit turned down the opportunity to star in the film, as did Tabu citing date problems. The film was officially announced on 8 November 2004, where Kamal Haasan revealed that the film would be made in Tamil and Hindi, with the former version also featuring Nassar, Pasupathy and Vaiyapuri while the latter would include Mahesh Manjrekar, Om Puri and Saurabh Shukla in its cast. The team faced further problems though trying to find a heroine for the film with Bipasha Basu and then Kajol also turning down the opportunity to star in the bilingual. Basu later stated she was unsure if audiences would accept her in the role of a mother of a 10-year old boy, citing this as the reason she refused the film. Finally in mid November 2004, the team agreed terms with Manisha Koirala and the actress flew to Chennai to take part in a photo shoot. During production the film faced criticism for having an English title, though Kamal Haasan remained undisturbed by the controversy.
During the making of the film, Kamal Haasan suffered a minor injury which resulted in severe bruising, though his co-passenger on the motorbike in the stunt escaped injury. The film geared up for an 14 April release clashing with the Rajinikanth starrer Chandramukhi and the Vijay starrer Sachein, while a Telugu version was also planned to be dubbed from the Tamil film. Kamal Haasan launched an audio company called Rajkamal Audios, just to release the film's music and held a special opening event at Prasad Labs.
The movie opened to mixed reviews across 321 screens. Raj Kamal International was successful in having the first digital film implemented (shot in the pioneering Red epic camera) a no-profit no-loss affair thus opening up a new path for potential filmmakers and India's forey into the digital film making.they used 3ccd camera
Yele Nee Etti - Kamal Haasan, Sunidhi Chauhan
Poo Pootathu - Sonu Nigam, Shreya Ghoshal
Kurangu Kaiyil Maalai - Tippu
Vande Mataram
Idemi Vintha - SPB, Kamal Haasan
Lera Addu Tappuko - SPB, SP Shailaja
Naa Kanulalo Evaro - SPB, Chitra
Vandemataram